Tour leader interview with Davis Paez – Galapagos holidays, Ecuador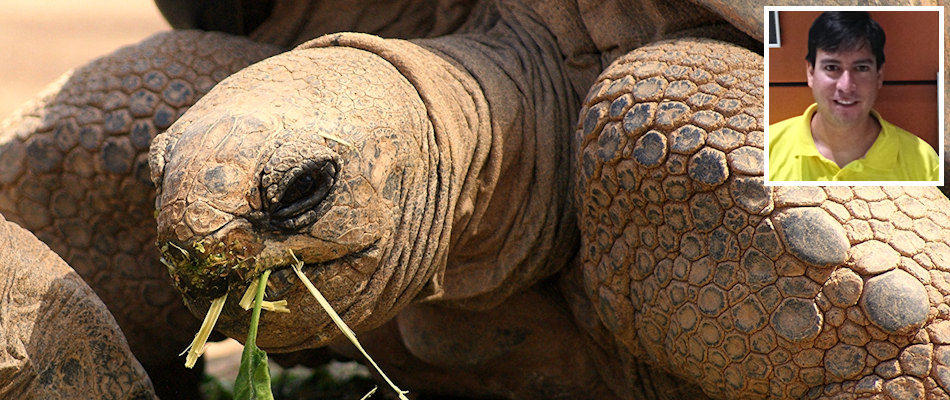 Galapagos giant tortoise and (inset) Davis Paez (Photo by
5of7
)
Leader interview: Davis Paez – Galapagos holidays, Ecuador
David completed his degree in General Biology in Quito before taking guiding course offered by Galapagos National Park. He now leads cruises around the archipelago, and his knowledge of biology helps him answer even the toughest questions from his passengers.
When he's not on the boat, he enjoys doing sports – exercise makes him relax. He also likes to travel around Ecuador with his wife – but admits that nowhere is quite as incredible once you've been to Galapagos.
I like meeting people that go to Galapagos knowing what they are expecting to find and enjoying what they encounter on the islands.
I'm not sure if some people think this is like a Caribbean cruise – you always stay on board doing things that you could enjoy in towns or cities, but Galapagos is a different experience.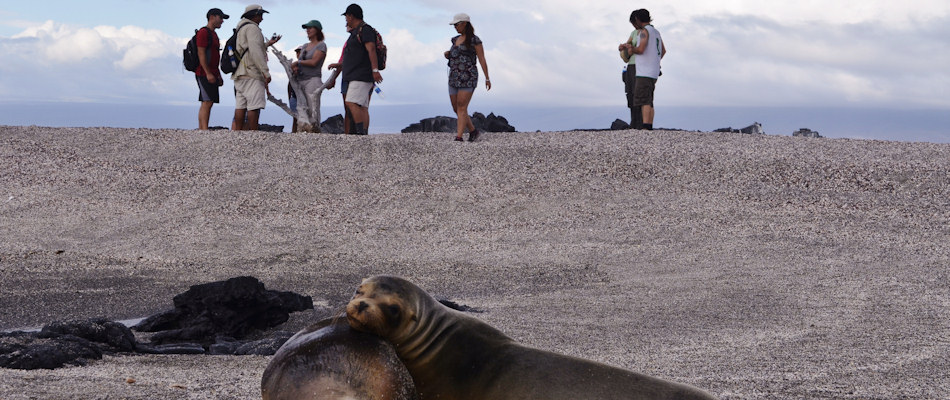 Although this is a cruise, there's a lot of hiking, a lot of kayaking – all of the activities are outside of the boat.
The boulders are big to walk in some areas, and the temperature could be hot, and we have the sunlight over our heads it's also a bit challenging sometimes.
Something unexpected happening in Galapagos is always very good I think.
Like a whale suddenly getting very close to the ship, or a pod of dolphins are in the surroundings and we decide to jump in the water – that is unexpected and also not very easy to swim with dolphins. They swim really quickly! Without breaking the national park rules we can do that and change the itinerary. The rules are really important in order to preserve what we have.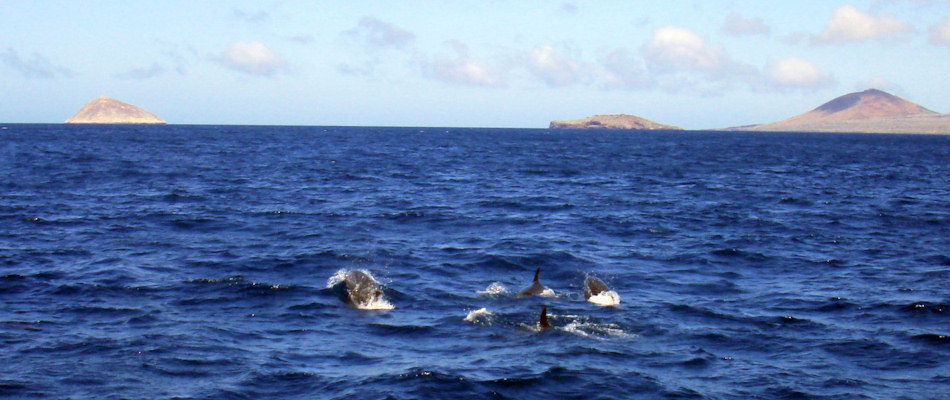 Once when we were doing a panga ride – a panga is a local name for a dinghy, we were following an orca and the orca got really close – the orca is bigger than the boat!
That was one of the few times that I was scared but fortunately nothing bad happened. The group was excited; I think they were thinking it was like SeaWorld where the animals are under control! Sometimes as a guide you have to hide your feelings, pretend you are not scared. Fortunately everything was alright.
The word you need to know is chévere – it means awesome!
Most of the time people are always happy, they always enjoy what they find, so they like the word chévere!
There is an invertebrate that grows on the rocks called chitón that is used a local dish.
It has a shell, it's always on the rock so it also has a black colour so it is well camouflaged. Then you need to use a hammer or maybe a pair of pliers to take it off the rocks – but local people are not allowed to take so many now. In the season, lobster ceviche is always great. It's pretty much the same as in Peru, there's lemon, but in Peru it's a bit more strong and a bit more sour so it helps to "cook" the seafood. But here in Ecuador the lemon is not very strong so you need to cook the lobster and then have it as a lemon soup. It's cold and it helps to refresh especially when the weather is hot outside.
I always let the guests know that the Galapagos has no risk, so there's no wildlife that may attack you, that may poison you.
The only emergency that we may have is because of our own problems when we are really excited and enjoying birds flying around and not paying attention on the rocks. It's not because of the island, it's because of people! I think most of the accidents happen on the trail because people fall and twist their ankles, so that's the warning I give every time.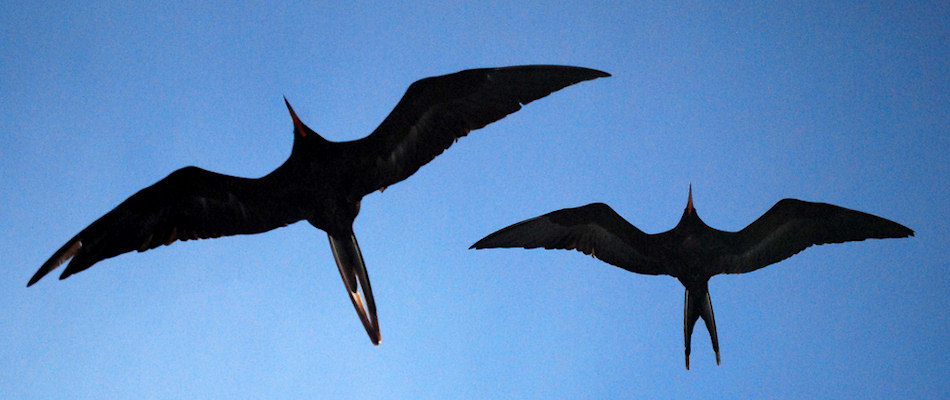 Bird watching (Photo by
ms.akr
)
We prefer small boats because the time is yours. There will be some groups from other ships visiting the island, but we can find ways to isolate ourselves from them.
On a big boat maybe you will have more facilities on board, they may be a bit better so you don't have seasickness problems, but on big boats you have four or seven groups visiting the island at the same times, so you need to go at the pace that the other groups are going. You are not free, you are not independent.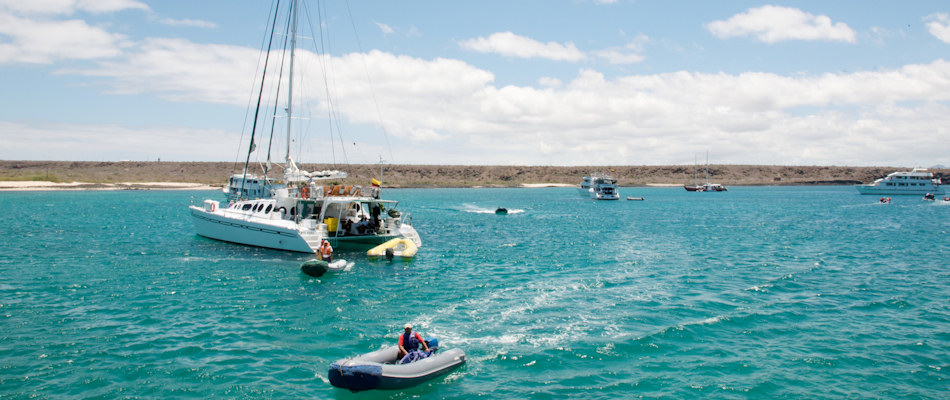 Sometimes people come here and think that it's a third world country so our laws or our judges don't work very well.
But in Galapagos everybody is always trying to help with the preservation. Sometimes they think that because they've paid a big amount of money they are allowed to do anything, but it's basically the same rules that everybody has to follow – touching animals, bringing food or things like that. They are excited, we understand that, but they also have to understand that we have regulations.
Espanola in particular is really rocky. So some of the trails are difficult.
I always advise the guests to bring long sleeves, pants and shorts. It's so hot, but if that is going to help prevent sun burning, it's important. And also our body is going to cool down as it will release liquids.
When I'm working I always want the guests to be happy, and sometimes people feel so excited for what they have experienced so they are kind of emotional.
Some people have cried – that's memorable because it means we have done a good job for them. So that may be considered my most memorable time.
It depends how the guests react to the regulations we have. If they are easy going and understand our regulations, for me it's always a pleasure to say "yes!"
Maybe extend the itineraries if we are still within the national park laws, if the group deserve it – why not do that? The captain is flexible, the crew members are flexible, sometimes extending from 90 minutes into two hours, I can discuss with the group if they want to lose some snorkelling time as we found something amazing on the hike.
I have noticed that people from the UK are always challenging because they read a lot and they want to come here and prove that what they have read is true.
Also I always keep asking them interesting and challenging questions. But some people are just planning to have fun so I also have to manage with that.
Sometimes I decide with my wife to go and do trips here within Ecuador.
When we want to have a really good time we like to go travelling. But after Galapagos, honestly, it would be hard to find a better place!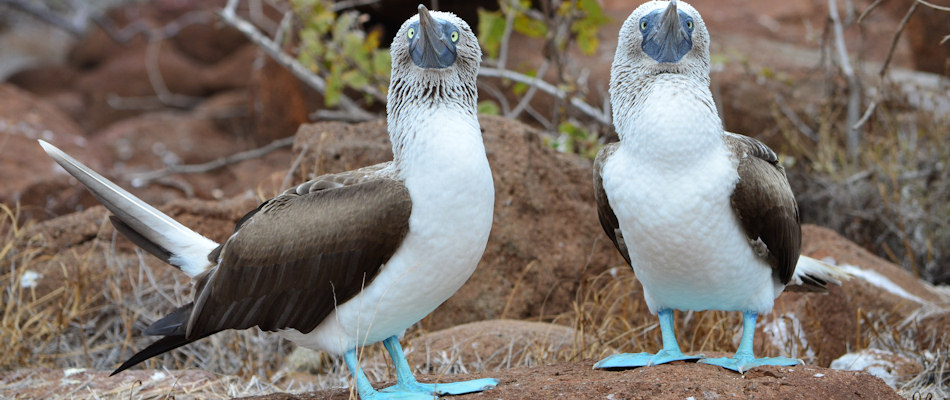 Find out more about this trip
Continue reading about this
Galapagos holiday in Ecuador