Tour leader interview: Often Konzoro – Gorilla safari and Masai Mara
Originally from Nabwani in western Kenya, Often moved to Nairobi in search of work. He has now been working in tourism for over 13 years, and has won four awards for his work – including the Overall Tour Leader Award in 2011.
Often has worked harder than most to be this successful. Forced to drop out of high school after both his parents died, he worked in a succession of jobs in order to pay for English classes and to complete his education. Working his way up from cook to driver to guide, he learned many skills which have helped him become such an inspiring tour leader, who loves sharing firsthand stories about Africa. But Often hasn't forgotten his roots; when he's not on the road he's back home tending to his chickens and milking his cows.
When I do my pre-departure meeting I always tell the clients – if you see anything please do ask me, don't tell me when we get to the campsite, better to tell me when on the spot when we can talk about it or learn about it.
So mostly I'm in the back of the truck with the clients, and when the clients see something on the way they ask me and we can talk about it in the truck. We can also talk at the campsite when we sit down just after dinner. When we are driving along and we pass the villages, I tell them about the villages if I see the houses or anything, about the roundhouses from a long, long time ago. These are the moments I enjoy.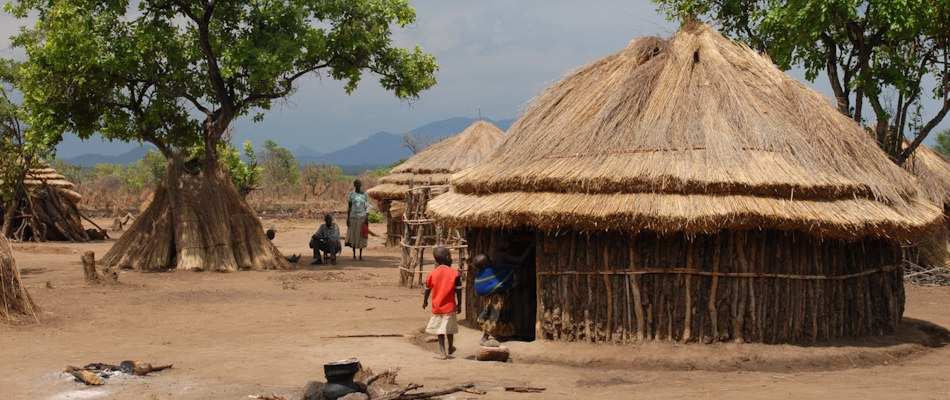 There is a place in Lake Mburo where we sit around the fire and I teach my clients some of the African songs.
Especially the song "Jambo, jambo bwana, habari gani?..." the song says, "Hello, hello, all my friends you are welcome to Kenya..." I teach that to my clients, it's a Swahili song but I explain it to them in English.
In Bunyonyi there is a local guide that takes my clients on the village walk, to visit the local school and so on, and there is a lady who is an old lady now, she's about 82 or 83 years, but she's very funny.
Her name is Rebecca. When the clients go to her she always shows them how they make sorghum [similar to millet] using two stones – you remember a long time ago how people used to make flour using two stones? They put down the big stone and put the sorghum on that stone and then grind it with another stone. She's very funny, she shows the client how to do that, she's very cheeky though! If the clients have beards she'll touch their beards, a very funny lady.
Mostly I tell my cook to make something local. The main local food is called ugali.
We boil water, when it's boiled we put [maize] flour in and stir it. It's like mashed potato. We stir it and it becomes very hard. It can go with any stew – beef stew, vegetable stew, chicken… you can eat ugali with anything. There is a local vegetable that you just boil and eat them like that with the ugali. But with the clients I always make it tasty, so I fry it with onions and tomatoes and salt. But it has to be local.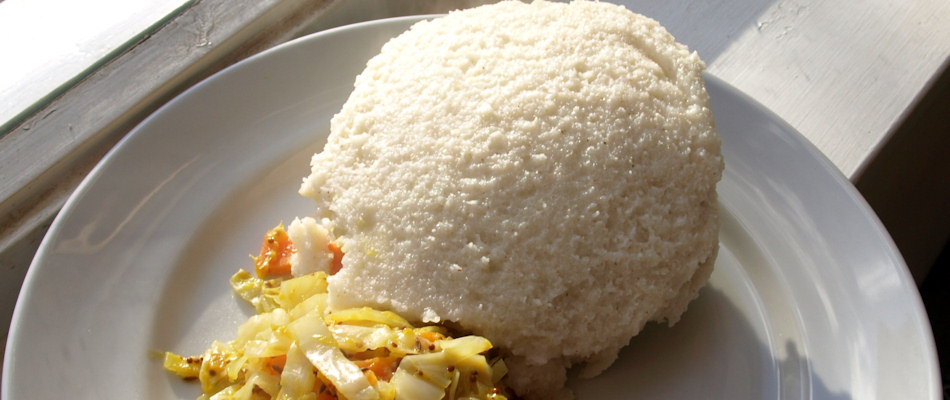 We do learn some words in Swahili. If someone is going to bed I say lala salama – "sleep well."
Some of them are interested in learning Swahili or another local language so they write it down. They go back home and I stay in touch with them, they send me emails. Sometimes when the clients go home they start looking in Swahili books and writing to me in an email – Jambo! Habari? Which is "Hello! How are you doing?" They sometimes ask me in the email what does this mean and I will tell them. I speak three languages – my mother language is my tribe language which is Luhya, then I speak Swahili –all Kenyans speak Swahili – and English.
There is a campsite right inside Nakuru National Park. Where we camp there is no fence. One time, lions came into the campsite.
There were only two lions but we could hear them roaring, they were very, very close. In Nakuru there are always animals. The zebras and even the honey badgers come to that campsite at night. Buffalos – but I'm not scared of buffalos. I always say to my clients if anything comes to the campsite, don't throw anything to them. Just watch them and leave them alone. But sometimes the clients do get scared. Even myself, I was afraid because I saw the lions walking around the campsite. I was awake all night wondering what would happen, but I didn't show the clients! Everyone was very, very scared and they went to the tents straight away and wanted to sleep. But in the morning, they all said, "that was an adventure! We've had an adventure! That was very good to see a lion in the campsite and not on a game drive."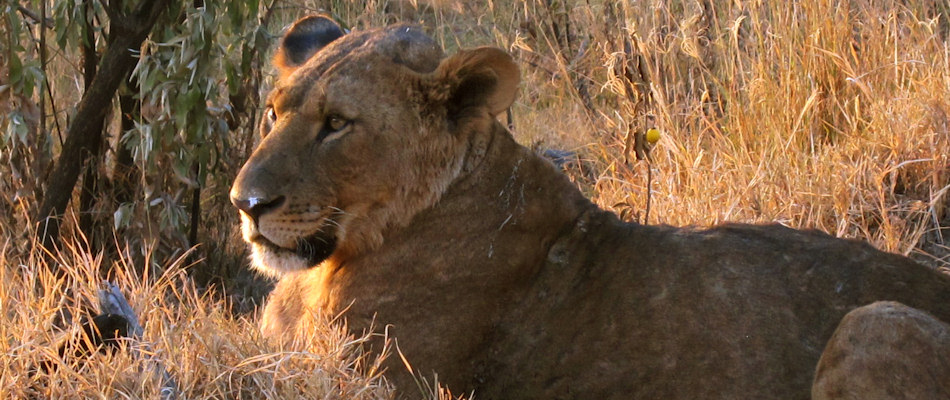 If I'm at home and not working I have things to look after, my livestock here.
I have some chickens, milking cows, you know the locals here we milk the cows by hand – we don't have any machine! Where I was born and where I live now I have two cows that I milk by hand, and looking after the chickens, taking the eggs from where they lay them – so I look after livestock.
My parents died a long time ago and I didn't have school fees to continue in school. So I dropped out before I learned much in school, but I have been learning as I go.
Before I started doing overland tours, I started working and getting paid and then maybe on Saturdays and Sundays I go to school to learn. When I started working I was paying my school fees to learn English and things, and then I went to school for tour leading, I went to school to do mechanical work and driving. When I started touring, I didn't know about cooking, about driving… But when I started doing that I had to go to school for cooking and that's when I started driving, doing mechanical work. So I've been paying for that and when I go to Nairobi, when I have time, I go to school to refresh myself!
When I was young I knew I liked to see animals in the bush, and where I was born there was nothing like that.
So when I came to Nairobi there is a park called the Animal Foundation and so I went there to see the animals and I just decided to be a tour leader. There was a place where I was working and there was a driver who was helping to do the mechanical work on the trucks and he told me that there was a tour going to Nairobi National Park and he took me with him to see things in the park. So I went to school for tourism – and now I am here and I found myself as a tour leader.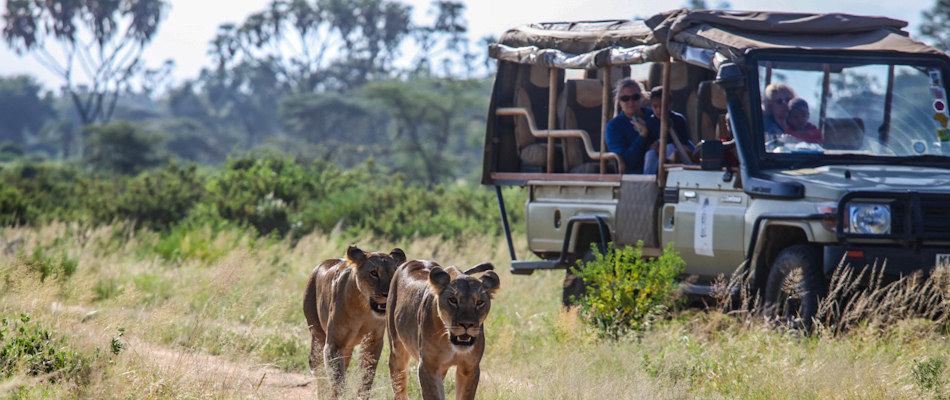 On a game drive (Photo by
ninara
)
Find out more about this trip
Continue reading about this
Gorilla Safari & the Masai Mara