Tour leader interview with Saurabh Joshi - India small group food adventure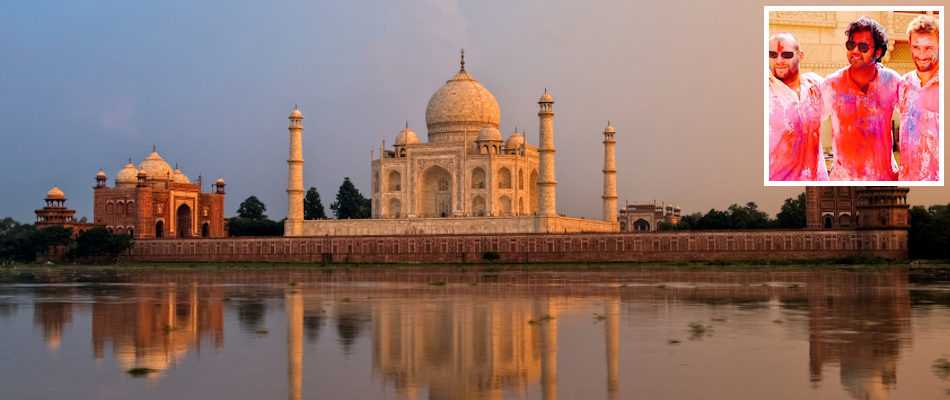 Taj Mahal and (inset) Saurabh Joshi
Leader interview: Saurabh Joshi - India small group food adventure
Saurabh grew up in Jaipur, where he studied hotel management before moving to the UK, to do a Masters degree in International Hospitality Management. During his four years in Leeds, as well as playing a lot of cricket, he met quite a few tour leaders - a job he had never known about before. He describes himself as "a talkative person who loves telling stories" - so he immediately knew this job was for him, and he returned to India to become a tour leader three years ago.
Saurabh says that as well as his local knowledge of Rajasthan, his time spent in the UK has been invaluable - as he can understand tourists' expectations, and help them deal with the new culture.
Misconceptions happen a lot, but I don't blame either side - the travellers or the local people.
In general India is a very complex country. It's very hard to understand it, part of it is trying to maintain the GDP and contend with the developed parts of the world - and part of it is still practising the ancient things, like travelling in a bullock cart, dressed up like in the 17th century. It happens.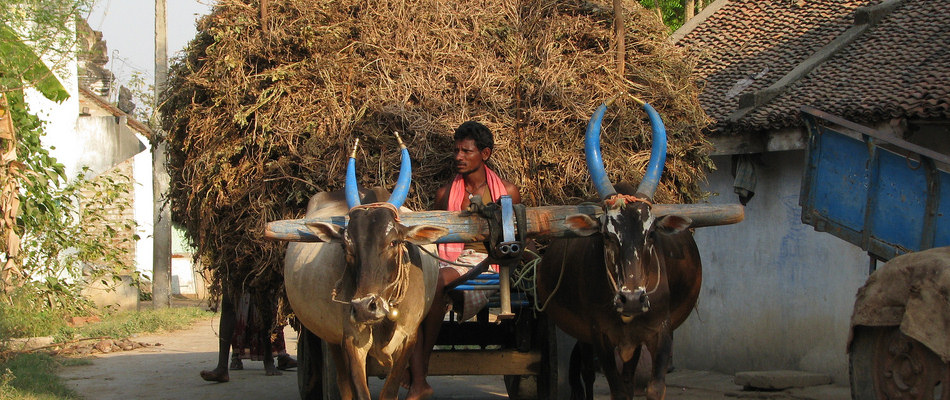 We were going in a bus recently and we spotted a man who was dressed in traditional Rajasthani attire and he was on his bullock cart so we stopped for a picture - it was really nice.
Then all of a sudden his phone started ringing and people got really shocked. We laughed, actually! They said - what is this? If you can afford to have a mobile phone why are you on the cart? Or if he is on the cart - then why has he got a mobile phone? People coming from outside India have this perception about this country. Either it's very bright, like the IT sector, or we are the ancient country. But they need to see the transition we are going through. It's a young country, only 60 years old, trying to get through the whole transition. The gap is still massive between the modern and the ancient. The cities don't reflect the whole country. I don't say that the villages are the whole representation either; it's a great mix. It's a crazy mix that creates so many hilarious moments I would say.
I must say my favourite viewpoint is in Udaipur from the rooftop of the hotel. The sunsets we see there - it's mesmerising.
It's so scintillating, you can't forget it. I took this photo three years ago when I started leading trips in India. That picture is still my wallpaper - I haven't changed it! You go on the rooftop, look towards the west. Udaipur is surrounded by the Aravalli mountain range and it has so many lakes around. So to the west it looks like a carpet - all green mountains going up. Between that you have the lake, and the sunsets behind the mountains, you are literally living in the heart of the town. For me that's the best.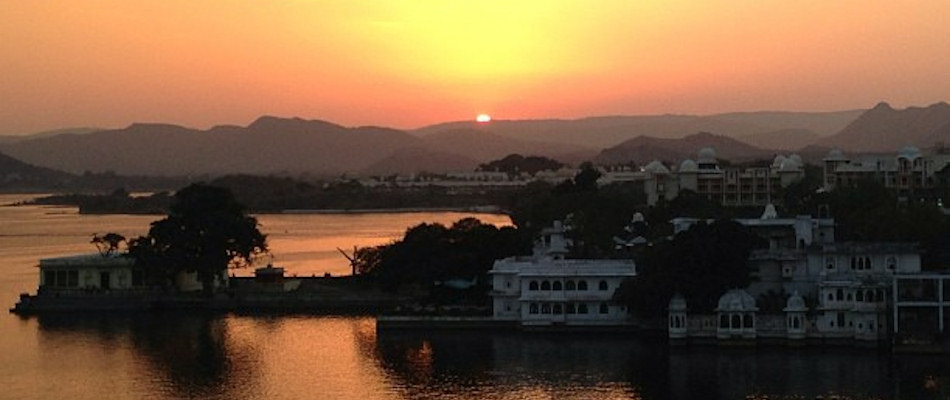 Viewpoint in Udaipur (Photo courtesy of Saurabh Joshi)
The song I relate to on the trip is a Hindi song from a movie called Saadesh, and the words are "yun hi chala chal".
What it actually says is "keep moving like that, it's your life, your vehicle, turn your wheels." And that is how it should be done in India - you have to keep going, and that's. Things will come, things will pass - some nice things and some bad things, but you have to keep going on. It's composed by A. R. Rahman, it's a really beautiful song. If you look at the video you will understand it.
I cook - that's how I survived in England. My first meal there was at Gregg's and then I decided that I needed to start cooking!
So my favourite recipe is for gatta curry. We eat chickpea flour a lot, so for the gatta curry you make a dough with lukewarm water and chickpea flour. You put some spices in it, like salt and a little turmeric and cumin and chilli, and then you make it shaped like a sausage and then you boil it. Once it is boiled you cut that sausage into small pieces, and the size is like a two pound coin in diameter, a little bigger. Then you cook it into a yogurt-based gravy. Now, the restaurants have started putting it on their menus. Earlier, no one was making it. These recipes take a long time, so most commercial places were not doing it. But this is really popular in most households, and I haven't had a guest so far on my trip telling me they didn't like it. You eat it with chapattis; you don't have it with rice. It's very traditional, in my family once in a week we would have it.
Jugaard means "innovative arrangement" - it is the most useful local word! When we say "everything is possible, sir" - that's jugaard.
When you don't find a seat on the bus, you apply jugaard and you get the seat. When you need to alter your recipe in the restaurant, you ask the chef to do "jugaard" - he will do it for you. Even if they don't do it, it will definitely being a smile as jugaard is the word that operates the country here. The whole country works on adjustments - this is jugaard. It's finding spare seats, an arrangement, anything. It has its own Facebook page! If you are in a shop and you don't get something, just use this word. The shopkeepers, they love it. Jugaard is a very typical Indian word, which we know that not many other people do. With salutations like "Namaste" - everyone knows that.
We work on the concept of filling the blanks. We're a country of 1.2 billion people living very closely to each other - so the concept of personal space is very different here.
And that's the first way that visitors get challenged; there's no space for them. And with 1.2 billion people, we can't afford to have that much space for ourselves. We have to live close by. So the whole country works on filling the blanks. The day you learn to fill in the blanks, that could be a car in traffic, that could be you in the queue - the moment you learn the art of filling in the blanks, you'll have a great time in India. The country accepts you, and you fall in love them. That's the best expression I can say.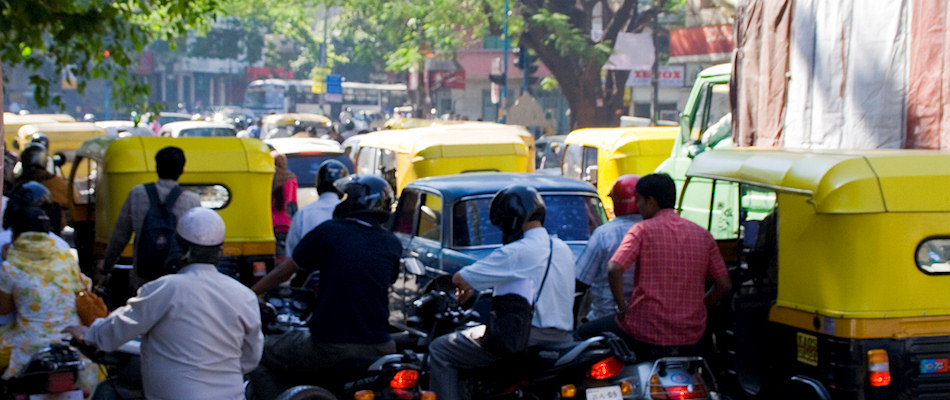 On this trip food is the theme, but you still have to see India. If you are missing the food on the street, you're missing the whole concept of it.
Since it is a food trip, you've got to be a little adventurous. We go around the streets and try the delicacies; you don't just eat everything, but we try and get a flavour of it. And if you're not open to spicy food and things like that, you'll definitely not enjoy it. I had a person who needed to eat gluten free. In India we have all sorts of restaurants. You can go to the high-end restaurant, you can go to the street market. But the street vendors - they can't get gluten-free samosas, they can't get gluten free breads, you know? It's not possible when they are cooking it on one stove for 50 people at a time. So these travellers miss a lot, and I feel bad. You will still see the places, but you will miss the core of the food trip.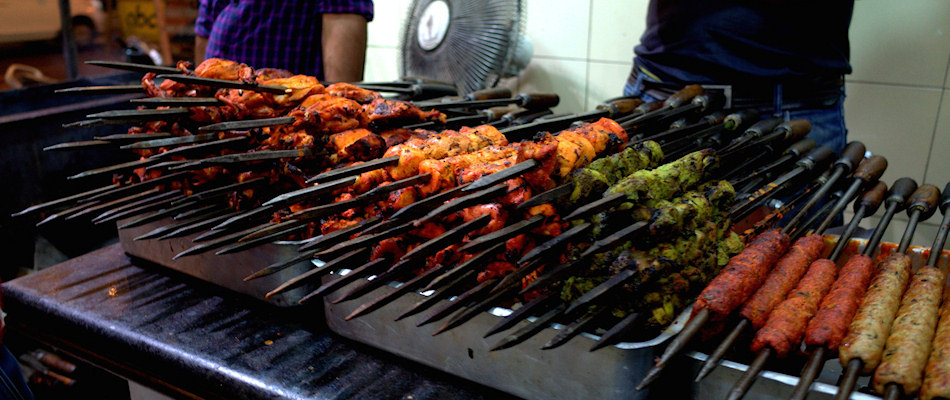 We are heaven for vegetarian people. We are the world capital - they can come and enjoy as much food as they want, there are many varieties.
Every day you can have something different. Gluten is a big problem because you're missing out a lot in northern India, and then you can't eat rice all the time. Some things are really great with the naan only, like the gatta curry. You can eat it with rice, but it's not the authentic way of eating it.
Sometimes people book trips thinking they are going to be eating Indian food served on a platter only, like you are eating at the dining table.
So there are misconceptions about the street food - they go, "wow - we can't really eat that," and the confusion arises. With the street food it's a tough call - but that's why we travel with them, to tell them ok, this is tested, this is the best place to try things. Sometimes with local practices, when they see people eating dough with their hands, they get confused.
We take a tour of a spice farm in Goa, and the fragrant aroma, the freshness of the spices, leave you literally spellbound.
Then they serve a meal afterwards, using all the fresh spices, and everything is perfect. It puts you into a food coma! In the south it tends to be spicier. Food is spicy anyway in India, but not every meal will burn our mouth. But if you compare it to the European food, it has more flavours. And in the south, they put a little bit more.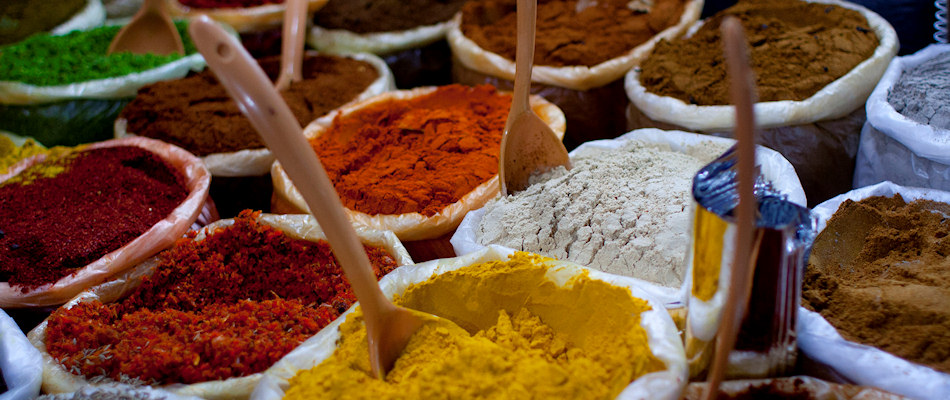 Writing is a budding hobby; last year I started a Facebook page and I wrote about my experiences with my travellers.
I analysed things, how they think of the places, the shopkeepers, the little chai wallas and things like that. Chai is my medium of telling stories, and I love telling stories so I started that page. I keep posting things on it, so it keeps me busy. It's a really wonderful experience to reflect on your trips. I include local people also - there are some chai vendors who work in a very small place just next to the fort, so you get to know their stories - both negative and positive. So I try to put their stories there.
People travel here for stories. If they want to travel for luxury, they can go to Bahamas. If you come to India, you'll get stories. And if you accept it, it will be a good story.
If you don't accept it, it'll be a horrible story for you. So that's the toughest bit of the trip, I guess. To make people understand they've got to have the right approach. With food and travel - people cannot really enjoy it if they have a closed mind. You've got to see India through all the difficulties we have over here. We get to see poverty, you'll get a culture shock... but you can't separate that. You can't be staying in a really flashy hotel to get the real experience. The streets will be the same. And sometimes people fail to understand that and then they make it very hard for themselves to enjoy. So explaining that culture - I explain things like that with the street food, they cook it out in the open, but it's all good. When they are making chai, they boil it six times - but people fail to understand this is how it is.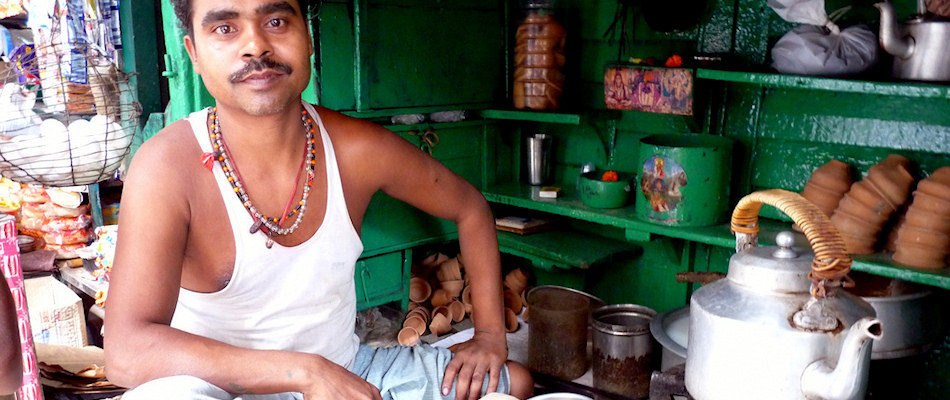 I had a very special moment with my group recently, on 14th January. That's the kite flying festival in Jaipur.
We fly kites from the rooftops or from our houses. The idea is to cut the neighbours kite, string. I happened to be with my group in Jaipur, that's my hometown. So I asked everybody if they wanted to fly kites. I love that, that's one of my favourite things since I was a kid. So we all went to my house, my parents were there, and a few of my family members came as well. Looking at them, the travellers talking to my family and my family accepting them and talking to them was really amazing. And people were enjoying food, and we taught them how to fly kites... it was great, a real experience. I will cherish that moment for a long time. It's giving a greater cultural experience to show them a real thing - this is how I live, I could not give a better example.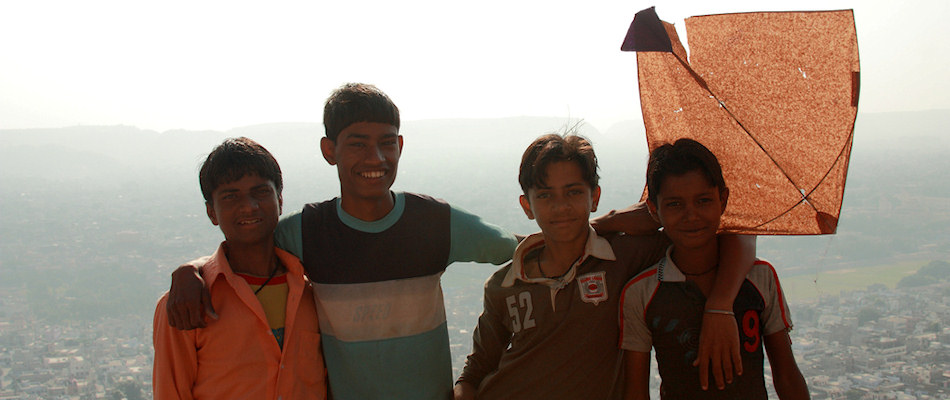 We talk about travellers having misconceptions, well in India, we have misconceptions about travellers also.
So for my family I would say also it was a good example to see how travellers can be. Locally, people think they only come here to see the poverty, or they only come here to see how it's not. So my job is like being a teacher - but I try to be a teacher for both sides. I could see that happening - how people were sharing knowledge and experiences and having fun at the same time. That was brilliant. So that was my most precious time recently, I would say. I don't usually get that sort of opportunity, to take people home things like that, I go to friends' houses but our trip is so fast, but on that day we could do that. I had a chef on my trip; she cooked food with my mother and things like that so everyone enjoyed it.
Recently I bought cups made of dried coconut shells in Goa.
They are made of small coconut shells, beautiful, very creative. And that was very unique, so I had to buy that! I think that's a good souvenir. There is a drink there that they make with cashew, and they serve it in those coconut cups.
In Bijaipur, we go and stay in the family house of Rao Narendra Singh, which is actually a castle around 350 years old. His ancestors were ruling 90 villages around it.
I'm a big fan of this gentlemen; he carries all his royalty with him when he is walking around, when he's being hospitable to his guests, he's amazing at that. But at the same time, when he walks out of his castle, you see how he gels will the local villagers. On my last trip I remember I saw him fighting with the local officials as they were putting electricity poles in the villages and they were putting them on the farmers' land - he was there arguing with them. So the villagers love him. In his hotel he has appointed local villagers to make food, serve food - everything is local, everyone is local. The villagers don't go out and get exploited, he is actually generating jobs within the village. So he has two personalities - when he is royal, and when he is a man of the village. For me he is really interesting. And Castle Bijaipur Hotel is my favourite place on all of my trips to stay. You have all this royalty, and all the hospitality is amazing there. Then you just walk 100m out and you have a village and they are selling chai on the street and all those things... so it's a brilliant combination for a traveller. You have all the comfort inside the hotel, and you get great exposure out side of the hotel. It's really gorgeous.
Find out more about this trip
Continue reading about this
India small group food adventure