Tour leader interview with Tyler Palma - Japan group holiday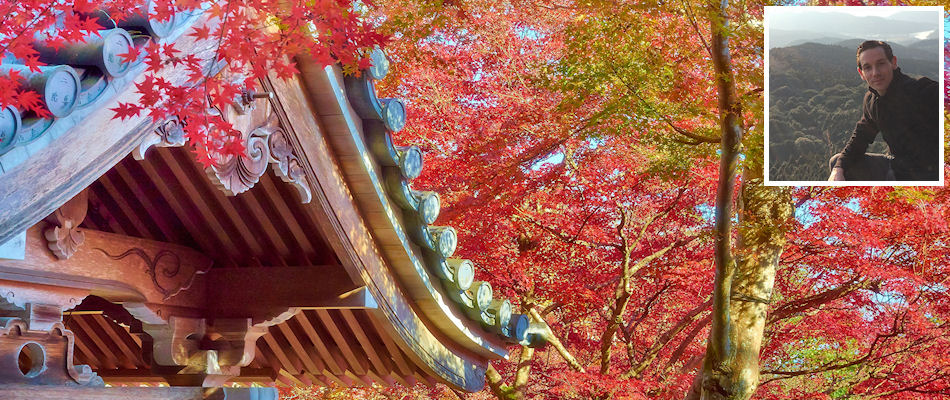 Temple in autumn and (inset) Tyler Palma (Photo by
Moyan Brenn
)
Leader interview: Tyler Palma - Japan group holiday
Tyler Palma's palm must be an interesting one to read, given that his travels have taken him to over 67 countries, although the travel line has now come to a stop in his much loved Tokyo where he has lived for the last seven years. Originally from Wyoming, USA, Tyler's passion for and commitment to Japanese culture are totally catching when you travel with him as a group leader in Japan. He has become a fluent Japanese speaker, practises Japanese calligraphy and is an aficionado of Japanese art. It's not all high art with Tyler, though. Want to find the best local bar? Want to know everything you need to know about whisky? Ask Tyler.
One of my favourite viewpoints on this trip is when we take a ferry across an inland sea to a little island called Miyajima off Hiroshima.
The ferry trip to the island is just spectacular. You are going to a sacred island, so you've got this tree covered island with little temples dotted at the base of it, and in the water you have these oyster farms, which are just pieces of wood, but very pretty to look at. And we are usually there until about sunset so most times we can sit out and have a beer and watch the sunset with this beautiful inland sea scenery in front of us.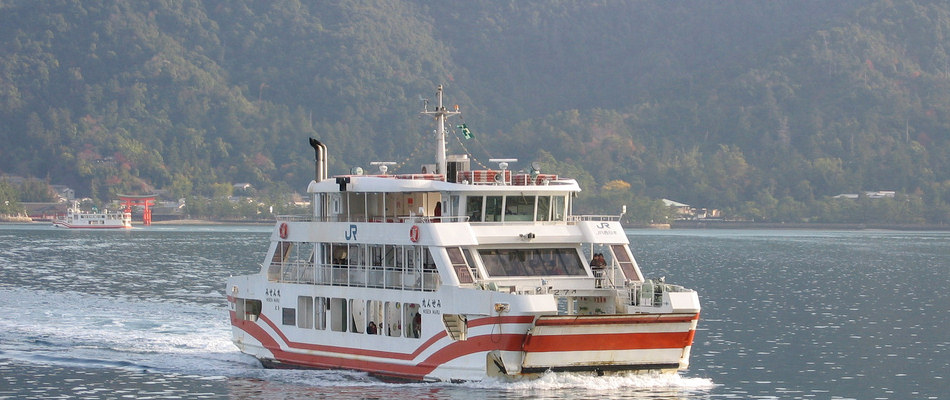 Having a drink in public is not an issue in Japan, like in other parts of the world, such as the USA where I am from.
This is refreshing for a lot of travellers. And even for those people from countries where it is allowed, there is just no stigma against it, and if you were to open a beer in a park you wouldn't be labelling yourself as some sort of misfit or otherwise. The Japanese go out every spring to watch the cherry blossoms, with baskets and bottles of booze, and that is really fun.
My favourite souvenir on this trip is a temari, from the city of Matsumoto.
They used to be children's toys made out of old kimonos but over time they have turned into their own art form. They are beautifully decorated balls, and they come in different sizes but they really are spectacular to look at. They range from £10-£300, but you get really nice ones for around £10.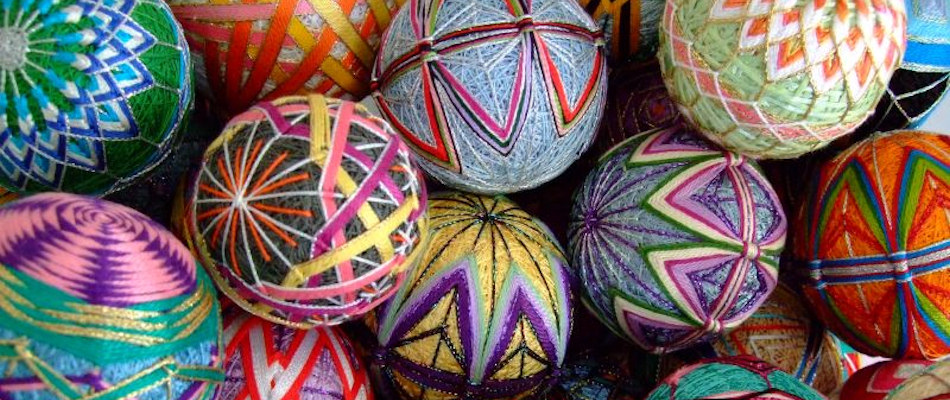 Japanese "temari" thread balls (Photo by
Just Leon.
)
One of my favourite places to take people for a drink in Kyoto is an old bar run by an old lady, who tallies up the bills on an abacus.
Which is quite amazing in this technologically driven country. It is just this really old bar and the lady looks like she came out of the past, as she comes by with her little abacus, tallies up all the drinks and then gives you the bill. She is probably my favourite character that we meet on this trip.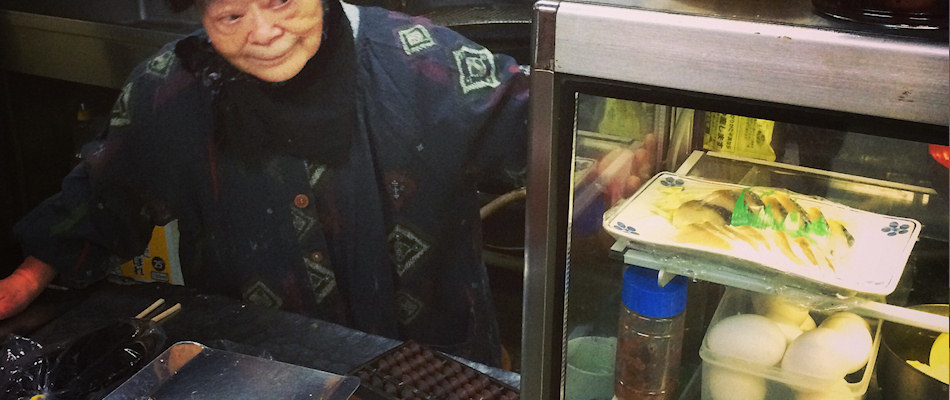 Tallying up the bills on an abacus (Photo by Palma)
The bathing culture is very traditional for the Japanese, but coming from another country, not everyone is used to it.
One of the things that they often do at traditional Japanese inns is switch the hot springs. Even if they have two hot springs. But because they want people to feel the uniqueness of each of the hot springs, they will often change it, because the Japanese feel that there is something different to be appreciated with each hot spring. So one might be for men in the afternoon and the following morning it is women's. And I did have one poor lad visiting who did not notice that they had been changed, and barged into the women's baths and realised when it was a bit too late. Everybody was fine about it, and just turned around. He was bright red about it for the next day or two, but everybody was pretty understanding.
Sometimes if the whole group is interested, we will often go and see a geisha perform. When it does happen, it is pretty magical.
It is quite an expensive thing to do, and so we don't always do it but, if the whole group is interested, we can split the cost between everyone and so it becomes relatively affordable. We meet a local person first who shows us around the geisha area and tells us more about the history, which is great because it does away with any preconceptions about the geishas. Then we go into a small venue such as a sake tasting bar, and the geisha arrives, introduces herself and dances for us in a private section or room. We get to look at her kimono and ask her questions, such as why she wanted to enter this profession, as opposed to going onto university or something else. And so it is a peek at something that not many other people get to see in Japan. It is always a huge highlight of our tour when it happens and people leave with a greater appreciation of why this is such an important cultural aspect of Japan and what makes it so unique across the world. And very special.
Geisha and Geiko (Photo by Tyler Palma)
There is a famous textbook that all the Japanese kids have to read in school called The Chrysanthemum and the Sword. It was actually written by an American woman in 1946 to give insight to the Americans about the Japanese during the war. And she had never even come to Japan!
Even today, they still read this book in school, because it was so well written. And it is amazing that she was able to write it having never been here or met a Japanese person. So, she wrote it for Americans, but the Japanese were so impressed with what she wrote that they have adopted it into their school curriculum, because they feel that she almost got them better than they could get themselves. Which is quite surreal really.
Okonomiyaki is one of the things that isn't very well known overseas as far as Japanese cuisine goes, but it is usually visitors' favourite dish.
A bit like an omelette, it is cheap and cheerful, it is often made at the table yourself, or cooked in front of you. You choose your ingredients and your toppings. Okonomiyaki literally means 'as you would like it cooked' because you get to tailor it to your tastes. And it is not only popular with all the customers, but a lot of fun to cook it at your table. In Japanese homes they will have a griddle that they can put in the middle of the table, exactly like a French raclette, and they often cook a big Okonomiyaki and then divide it, serving it almost tapas style.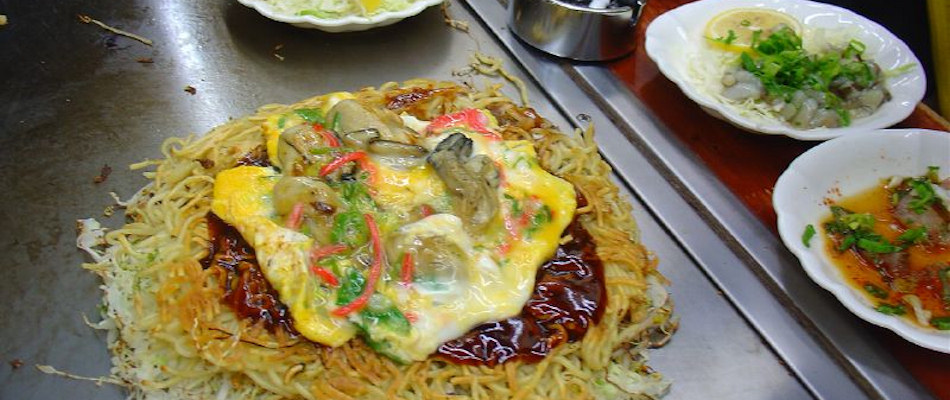 The best bit on our trip is most definitely the snow monkeys relaxing at the Yudanaka hot springs.
You just get amazing photos and it is everybody's favourite on the trip. I was just up there last week, and there they were, sitting in the hot springs cuddled together and it really is amazing. And you can get right next to them too for great photos. There is some place where you can get in a hot spring with them too apparently, but I don't feel quite comfortable doing that with the monkeys!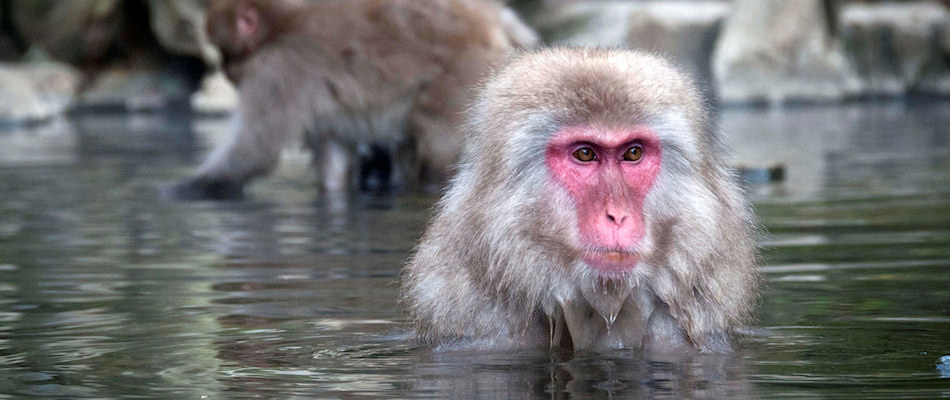 Okini is a word for thank you in Japanese, but only in a local dialect around Kyoto.
But if you use it, the local people always get a big kick out of it, and there is plenty of opportunity to say thank you too. But saying it in the local dialect makes you feel like a real traveller, rather than just someone passing through.
It can be so overwhelming to be in Japanese stations where you have literally millions of people that pass through a day.
So a great survival tip is to ask local people for help when needed, because they are truly friendly to a fault. If you ask them directions they will usually walk you to the place rather than point you in the direction of it. And another good tip is to trust the people that you do talk to, because it is also a place where it is very, very uncommon to be ripped off.
There can be scary moments in Japan of course, because obviously it is a country of tsunamis and earthquakes. But on our trips, I think one of the scariest times was with the bullet train.
When they come into the stations they only stop for about ninety seconds in total, and I have to get everyone on this train in a very short period of time. One time we were trying to get onto a train, and there must have been fifty or sixty school kids alighting at the door that we were trying to get on at. So, by the time they had all gotten off, we had about eight seconds to get everyone on this train, with all their luggage, so I was quite scared that we were going to leave someone on the platform, but we did make it in the end luckily. Indiana Jones style, I think. Those doors do close fast, and they do not open up again for anything. They are manual though, and so they do try to look for people.
The Japanese do have quite a lot of things to eat that they know require an acquired taste and are difficult for first timers.
So when they see somebody who they know is up for trying new things, especially someone who they know is going to be polite, they will try and feed them something really odd or difficult to handle and watch their reaction. So, a good tip is to realise when that joke is being played on you , enjoy it and make the most out of it.
One of the biggest misconceptions about the Japanese is that they are very restrained and workaholics.
Foreigners think that the Japanese are so focused on work that there is no time for fun, but when you go out to the local bars and restaurants and see these people having fun after work, you realise it is very much a work hard-play hard society. In that although there is a lot of work to be done, there is a lot of fun to be had as well. Watching Japanese at a bar, and sharing pints with them is something that a temple can't really compare to in my opinion.
There are lots of different sounds in Japanese public places, especially where business people are meant to be in order to alleviate stress.
Such as fake bird noises. There are different melodies played for different station stops rather than just announcing the station name. Something that is fun and quite unique to Japan.
I live very close to one of Komazawa Park, which was used for the 1964 Olympics, and so I spend a lot of my own time there.
It is very big, and there is a strong community spirit to the people who live and hang out there. There are great restaurants, and it is just a great place to go, take a bottle of wine, sit in the sun and watch the cherry blossoms. There is a massive cycle path, joggers everywhere, baseball stadiums and skateboard parks. And you can hire a bike there too.
Sunglasses, an umbrella and your IC Card are the three most important things to have in your daypack on this trip.
Sunglasses are really important as it is a very sunny country, surprisingly. And just to contradict myself, you also need a small folding umbrella for those short rain storms that can pop up. And the IC Card, or transport card, can be topped up as you go along, and then you can use it on all the different forms of transportation. But you can also use it in convenience stores, or vending machines, even buy a bottle of beer with it. So having it means you never have to deal with the shrapnel of small change, or calculate train fares and so on.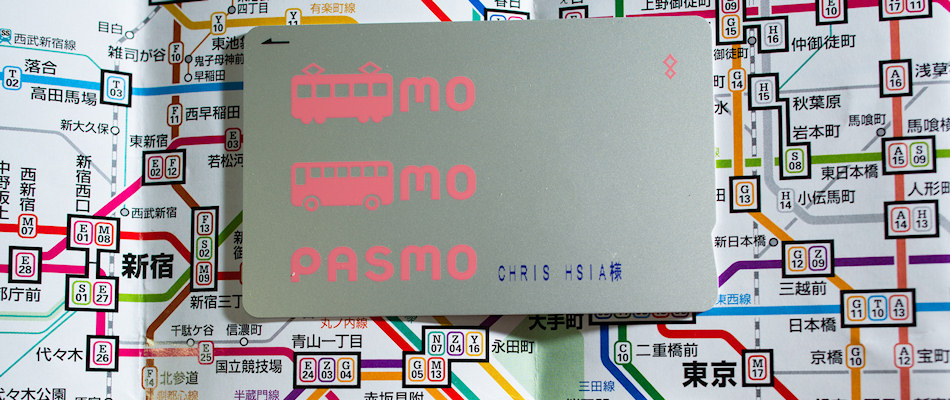 One of the most special things that we do on this trip is go and listen to monks chanting in Nagano, really early in the morning.
We are often the only ones there, with absolutely no one else around. Just our group watching these groups chanting, and for me as much as the clients themselves, that is a really special moment. I have been there maybe forty times but it never gets old, and at times like that I always say that I have the best office in the world. This is early in the trip, and we do monks and monkeys in the same day, so it is always a great day.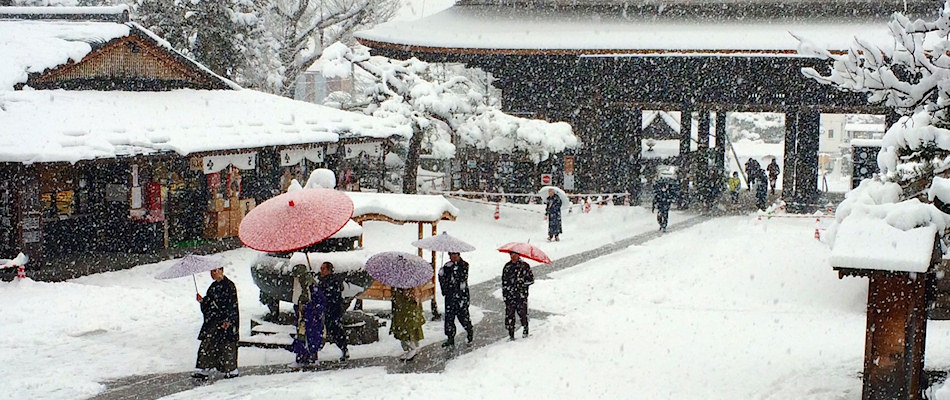 Nagano Early morning procession (Photo by Tyler Palma)
Seeing tourists stick chopsticks straight up in rice makes me want to scream 'no!
Although it seems quite convenient, and they do stick up quite easily in rice, it is very bad etiquette in Japan and quite shocking to local people. It is associated with death, and the only time that the Japanese do that is during Buddhist funerary rites. And so, if they see that, immediately there is a strong connection to, say, their grandfather's funeral, or sad times that they have experienced. However, I will say that the Japanese are so understanding and not judgemental, so they are maybe more forgiving than the tour leader in this case. The correct thing to do is to set them down on top of your bowl instead.
I truly love it when I see a tourist suck up the courage to chat with someone on a train, or talk to a local in a restaurant.
It can be so easy when you are travelling in a group to simply stay with the people you are surrounded by, but when I see people breaking away from the group, and making connections with local people on their own, it is a really good sight. It means that they are finally comfortable enough in the destination to make their own connections and use advice that maybe I had given them early on, and do something in the Japanese way. And the Japanese people have smiles ear to ear when that happens too.
The toughest bit of my trip, and sorry if it sounds cliché, but it really is saying goodbye to everybody.
After two weeks of travelling around the country and going out and having fun together, you really can become quite close to the travellers and so, for me, this is always the tough part of the trip.
Find out more about this trip
Continue reading about this
Japan small group holiday