Interview with MD Ali McLean - Northern Lights tailor made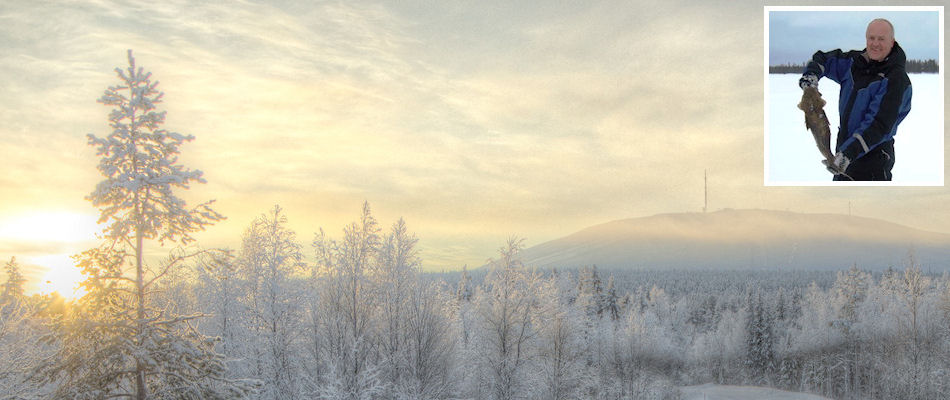 Landscape and (inset) Ali McLean (Photo by
edweerdt
)
Interview with MD, Ali McLean - Northern Lights tailor made tour
Ali McLean founded his tour company back in 1999 after he realised that the two things he wanted to do with his life were travel and adventure sports. "My favourite winter activity is night time snowmobiling to the summit of Olos Fell from Jeris," he says. "You can't beat it."
The question shouldn't be where is the most beautiful viewpoint on this itinerary, it should be where isn't?
Harriniva is situated over 230km north of the Arctic Circle and around 4km outside the small town of Muonio. It is deep in the heart of Finnish Lapland, and the whole area is simply stunning in winter - deep snow, vast landscapes, forests, rivers and ice blue skies stretching endlessly to the horizon all make it very hard to drag your eyes away from any vista.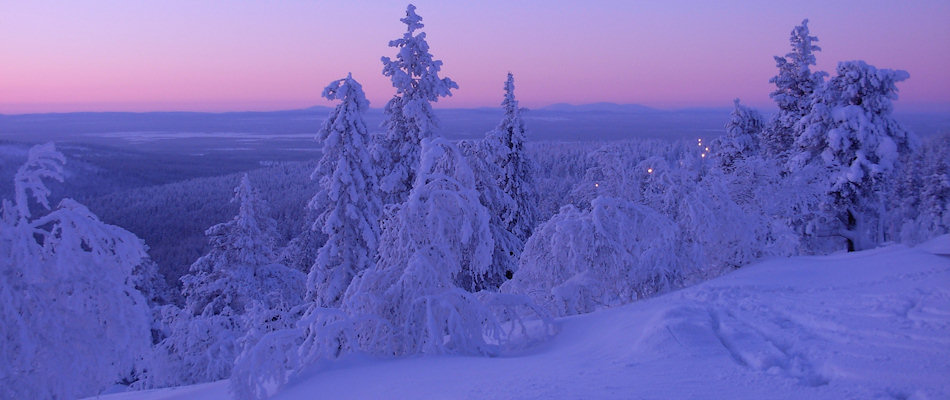 In the heart of Finnish Lapland (Photo by
TPfoxes
)
I will never forget the first time I saw the Northern Lights.
I had been to northern Scandinavia quite a few times previously and I had never seen them. I had colleagues who would send me texts saying things like 'Northern Lights blazing across the sky. You really should see this.' Of course, they are never guaranteed, but I was starting to think I'd never see them. The following year I was in Nellim and it was about 11pm and I was sat in front of the fire nursing a beer when the owner of the hotel ran in and shouted at me to come outside that second. I went outside in a t-shirt - it was -17oC - and stood on the shore of Lake Inari watching the sky ablaze with swirling, moving, shimmering bright green lights right overhead. It was about 20 minutes before somebody realised I was in severe danger of getting hypothermia if I stood there any longer. It was spellbinding; the most mesmerising and magical thing I have ever seen. When you first see them against the black of night surrounded by total silence, it almost defies belief.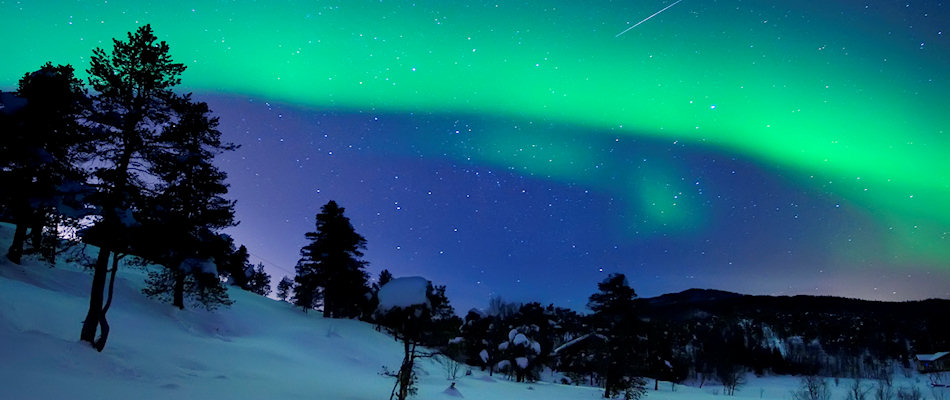 One of the most interesting characters I've ever met on this trip is Jari, the local shaman. He is at once terrifying, engaging, kind, gentle and spiritual.
He helped me catch a huge fish when we went ice fishing, which was very cool because I was there with my wife and kids at the time. We went out in a reindeer pulled sleigh to Lake Jerisjavi, where Jari had dug two holes and placed nets a couple of days earlier in order to come back and fish the traditional Sami way. My kids, who were six and three at the time, helped me pull these nets out of the lake and with them came a massive fish. We caught others too, which Jari then cooked for us over an open fire.
Even when you think you know a destination, the unexpected can still happen.
I once went to get water from the stream when staying in an overnight wilderness cabin in a local forest near Muonio and contrived to fall in after breaking through the thin ice. I had to thaw out in front of an open fire completely naked…much to the amusement of my travel companions.
There is a fantastic local recipe called 'glow fried salmon'. It's so simple, but so delicious.
The salmon is placed on grills, which are then stood upright next to an open grill pit fire. The fish is left for about an hour and you can't help but think "Oh great! Dry fish for tea," but the natural oil in the salmon keeps it moist and it is invariably the best salmon I have ever tasted.
Once, during an overnight dog sled safari, we were sitting around the table just chewing the cud when the dogs started howling outside.
We went outside to see what the problem was and there directly above our heads were the Northern Lights in full flow. It was really rather primeval what with the isolation and the wolfish howls of our canine trail partners. Spine tingling and astonishing and so many other things too.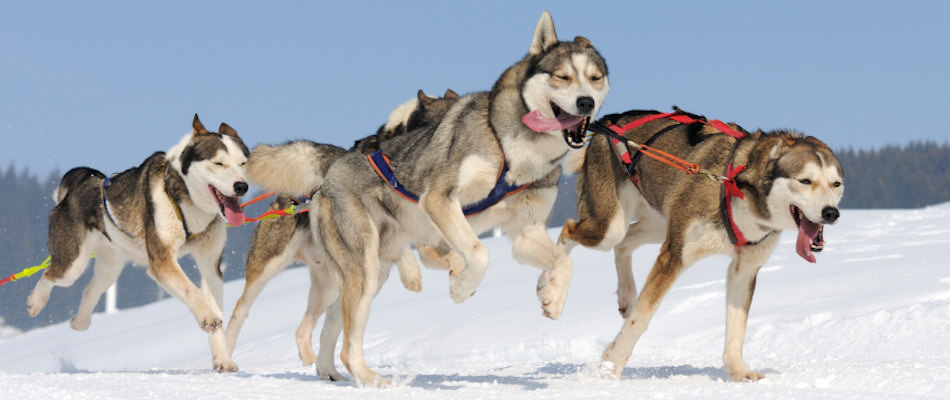 In Lapland, you'll never go thirsty or hungry if you learn to say 'Lapin Kulta' and 'poro'.
Lapin Kulta is the local beer and poro is absolutely delicious reindeer meat (sorry, Rudolph...)
My number one top survival tip for this trip is to bring thermal long johns.
They may not be sartorially elegant, or particularly sexy, but when you are outside in -25oC they will become your absolute best friend ever. Ever. Ever. It can get very, very cold, so if your idea of a great holiday is lightly grilling under a burning Mediterranean sun then stop reading right now!
Besides long johns, the three most important things you should have with you in your daypack are…
Lip balm - it is so dry; sun glasses - the sun reflects off the snow just as much as it would in a ski resort, and, lastly, a buff, which is a multifunctional piece of headwear - it can keep you head warm, your cheeks warm, your neck, your chin, pretty much anything warm.
Sometimes, usually in late-March, when snowmobiling over a frozen lake you can hit a patch of snow that has turned a bit slushy after exposure to the sun. It's pretty scary.
Even though we would only ever go out snowmobiling when it's safe to and while I know the ice is ridiculously thick, hitting the melted stuff does set the butterflies a-tumbling in my stomach.
There is a four-hour period of every day in December that the locals call 'blue time' - it's neither night, nor day, but a grayish, blue glow and it is ethereal and beautiful.
People think that Finnish Lapland is pitch black for six months of winter. Nothing could be further from the truth. Come March, there are far more daylight hours than we get here in the UK.
In the Arctic, your senses get treated to things they're probably not used to - it's just pure nature, punctuated by the occasional howling sled dog.
Standing on a frozen Arctic lake late at night and simply listening to the silence is something you can't experience anywhere else. Sitting around an open fire at midnight on top of a Lappish fell and listening spellbound to our local guide's eloquent tales of the north is also incredibly precious. Moments like that just don't happen enough.
I once had a lady turn up in the Arctic wearing stilettos.
Don't wear stilettos when you arrive in the Arctic, you will almost certainly have to be carried from the plane to the terminal. Do, however, listen closely to your local guide, he or she knows so much more about this part of the world than you do.
Find out more about this trip
Continue reading about this
Northern Lights tailor made holiday in Finland