Traveller interview: Catherine, on her Spanish and family activity holiday in Spain
See / go back to these
Learn Spanish and family activity holiday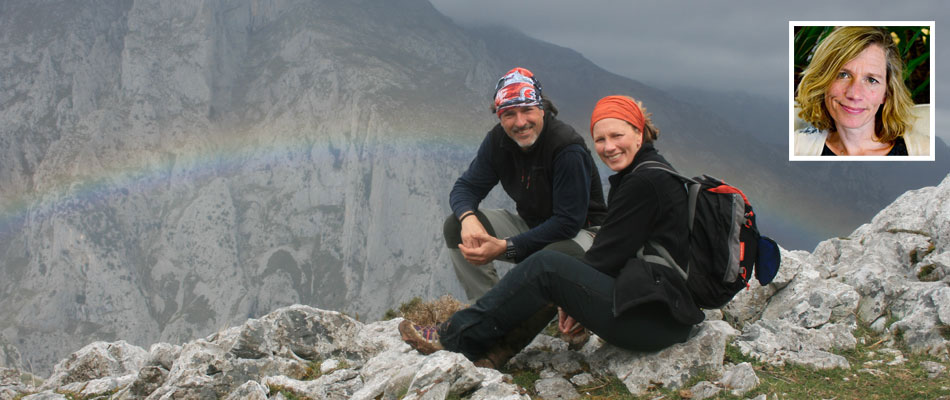 Picos de Europe with guide. Photo by Catherine Mack
Responsible Travel's writer Catherine chats about her week long
holiday in the Picos de Europa mountains of northern Spain
, which includes Spanish language tuition in the morning and outdoor activities in the afternoons.
As told to Responsible Travel writer Joanna Simmons.
Why did you decide to book this trip?
It was because of my son Hugo, who is 15. I got a letter from his school saying there was a Spanish trip to Madrid to support his GCSE Spanish studies. It was £500 for four days and the highlights were visits to the Prado and the Real Madrid stadium. I was so disappointed with that and with the fact that the school doesn't do an exchange any more. It was just uninspiring, so I thought, 'I can do better.'
I came across this trip in northern Spain and thought, yeah. I knew Hugo would have peer pressure to go on the school trip, so I would have to come up with something really cool to make up for it and for the fact that he would be going away with his mother rather than with his mates. I showed him a picture of the Via Ferrata we'd be climbing and the snowshoeing and he said, "yes please!"
Where did the holiday take place?
Our base was the village of Panes, which is a gateway to the Picos de Europa mountains. It's really small, in the middle of the countryside, and the sort of place where some people still have sheep in their back gardens, or cider presses in their stone sheds. All surrounded by meadows and high limestone peaks. There's a choice of different accommodation; we stayed in a self catering apartment and most families choose this. The food is super cheap, there's a supermarket and restaurants, too, and you don't need a car.
What is a typical day on this trip?
In the morning, you have four hours of language lessons. There were six of us altogether. Then lunch and, as this is Spain you get time for a long lunch. There are plenty of breaks within the lessons and lunch is long enough for food and a siesta, then you meet up again at 3pm for activities. We did two different hikes, snow shoeing, paddle boarding and scaled a Via Ferrata. Ana, the owner, works in partnership with three or four local guides and providers. Each activity takes three to four hours.
Did everyone on the trip have different language abilities?
Yes. Hugo had been sent an online test before we went to gauge his level, but I had told Ana that I was a complete beginner. I had about enough Spanish to order a coffee, and even that was a challenge. We were in separate classes and different classrooms throughout, and I was on my own for the first couple of days with Ana, who leads many of the lessons herself – brilliantly, too.
How did you get on with the Spanish lessons?
After my first lesson, I knew I was going to sign up for lessons when I got home. I loved using that side of my brain again. On day one, I thought, this is fantastic. And I was just about formulating sentences by the end of the week which, according to Ana, was a good achievement.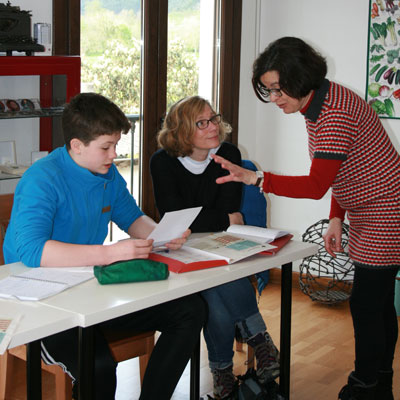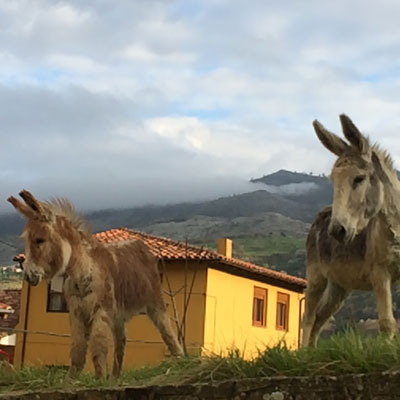 Teaching and donkey photo by Catherine Mack
Is the learning all classroom based?
No, the lessons are very skilfully planned, with a bit of grammar, then maybe a walk around the village, to discuss what you're seeing. Or you write a postcard and go to the post office to send it. On the morning we arrived, Ana sent us on a shopping trip to the small bar-cum-shop in the village. That was in at the deep end! So, there was an interactive side to both the lessons and the activities, and although there was plenty of time in the classroom, neither of us ever got bored. Throughout, Ana and all the guides also really communicated the joy of the Picos, and their love of that area.
Did Hugo enjoy the lessons, too?
He loved the whole thing. I was so pleasantly surprised by his confidence and willingness to just go for it and speak. He might not have done that if he'd been with his peer group. He loved the lessons, bounced into them every day, bounced back in after a coffee break. He loved his teacher Celina, too. There wasn't a single aspect that he didn't love. I wish he could come out of school with the same enthusiasm!
One nice thing was that we would meet at coffee break and I had thought he might be embarrassed to be with his mum, but he was really supportive of me and my learning. He'd say: "Well done, Mum, you just said a whole sentence," which was so sweet.
And what about the activities?
They were great. The first hike involved taking the funicular up to Bulnes, a tiny village not accessible by car, and hiking from there. We were guided by Carlos. All the guides were great with adults and young people. There is no pressure to speak in Spanish when you are out on activities, but of course you are encouraged to do so, if you want. The guides seem to be used to flitting between both languages all the time. Hugo was happy to speak in Spanish on the activities, but I was a bit shyer about it. And was glad of the time to let my brain rest!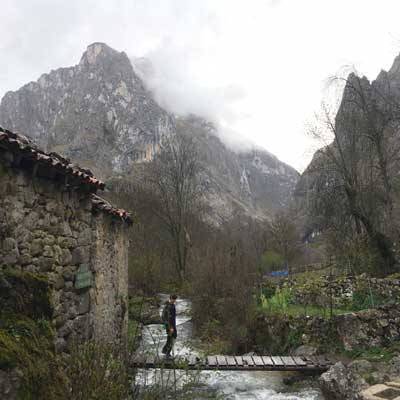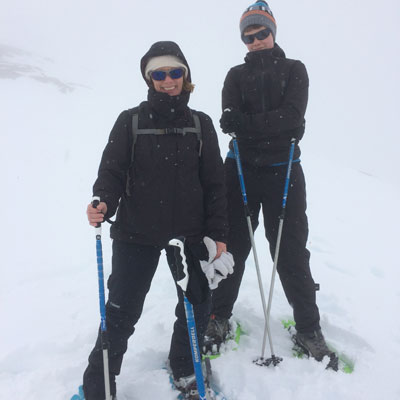 Walking and snow show photo by Catherine Mack
You did snow shoeing, too. How was that?
I loved it! I said to the guide, "I could do this all day." We did it in Fuente Dé. We took a cable car up to higher peaks. There are no ski resorts here, so the cable car is simply for hikers and snow shoeing. Hugo had never experienced full on, snow covered peaks or ridden in a cable car, so that was really exciting for him. I had snow shoed before in a bog in Estonia, but not on actual snow. The guide also taught us mountain safety, how to avoid areas of avalanche risk and use the GPS, so it was all really helpful.
We also did some stand up paddle boarding in Embalse de Palombera, on a lake at the confluence of two rivers, the Nansa and the Tanea. It was pouring with rain that day and I was slightly dreading it. The gorgeous Guillermo, our guide, was so enthusiastic though, and we all just got into it. I had done SUP on the sea before, and it was a disaster, so I was nervous as I didn't want to get too wet. But I was able to stand up from the word go and I loved it; total convert! It's really relaxing, using all your core muscles, and I found it really meditative. The rain stopped and we practised on the lake then went down a river between limestone cliffs. I'd love to go back and paddle there when the sun's out, it would be stunning.
What was the most physically demanding activity?
The Via Ferrata. It's an old system for scaling cliffs and mountainsides with the assistance of steel cables, ladders and carabiner clips. It was incredible. I was really nervous about it as I'm not good with heights, but Hugo was beyond excited about it! There is some climbing and you do need strength. I had abseiled down the ArcelorMittal Orbit sculpture in the Olympic Park so I knew I could do it. The guide was excellent and explained all the safety procedures. He said "try to find the right hand holds in the rock but also listen to the rock, I believe it speaks to us and will tell you the right points to find."
Sounds like a busy five days!
It was, but we stayed for a day either side of the trip, and I'd recommend that. Hugo opted out of one of the hikes one afternoon. I decided it was totally up to him, but did point out that we don't come to special places like this all the time. But he was exhausted and enjoyed having some time to himself, which was great. The deal was that he had to make a tortilla for dinner, so he went into town and shopped for the ingredients, which was a great experience for him. And I got to have a hike with some other adults.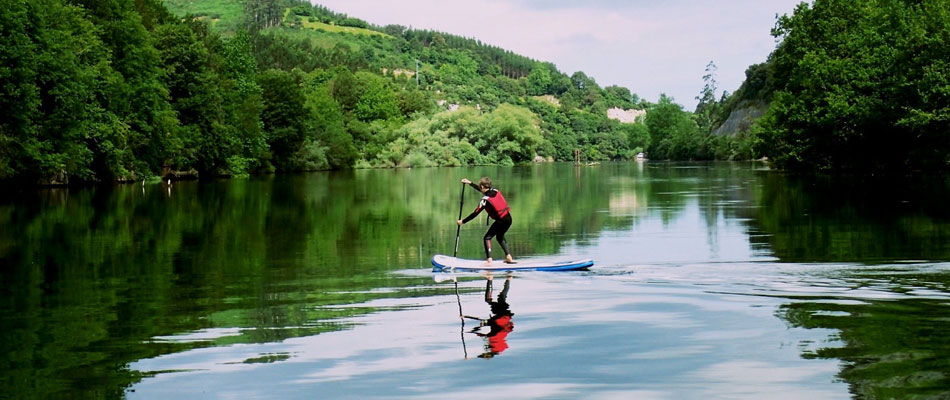 Paddle boarding photo by Guillermo Silva Pobar
What did you think of the Picos region?
I had never been to the Picos before, or to the north of Spain, but it had always appealed to me. The Picos are really close to the sea, so you feel as though you're in the Alps but in 15 minutes you can be on the coast. I loved it. It's really quiet; I was just delighted by how rural it is. Everybody knows everybody. I'm from Ireland and I was trying to think of an equivalent, and it would be a bit like going to learn English (or indeed the Irish language) in Co Donegal.
We arrived at night and there was a taxi transfer to the village. Then the next morning we opened the shutters to blue skies and mountains and all we could hear was cow bells. That was the soundtrack to waking up every morning. It was another world, really peaceful.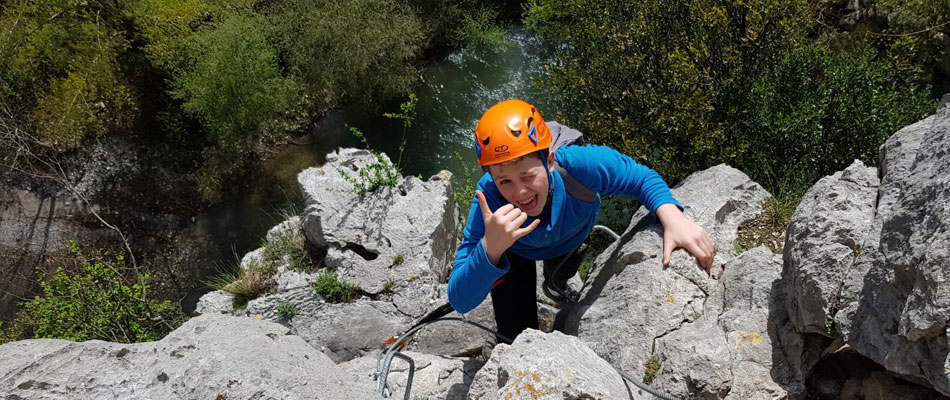 Climbing photo by Andrés de la Torre
Do you have any sense memories from your trip, other than 'sight' ones?
Probably the smells. Being that time of year there are all the wild flowers and herbs such as thyme or sage. As we went along, the guide would pick some and pass them along for us to smell. Also, the smell of the orange blossom. At one café in particular when we ordered orange juice, he went down to the bottom of the garden, picked some oranges and came back and squeezed them! It was just a beautiful time of year to go. Things were still green and fresh everywhere.
How was the food?
It's really cheap to eat and drink. After the activities, we'd take the guide to the local bar and you could get a round of drinks for six or so people for about seven Euros. We ate a lot of cheese, and cider is a big feature of the area. You get that mix of inland food, things like chorizo and meats, but also extraordinary seafood and fish. So there's a fishmonger in Panes, which you wouldn't get in most mountain towns anywhere else. We had to keep reminding ourselves that we were so close to the sea.
Any packing tips?
It's all about layers, because the weather is so changeable. Waterproof hiking trousers were invaluable. Bring lots of good base layers. They provide walking poles, and you do need them.
Has this trip influenced where you might go in future?
Just before I went on the trip a friend said to me "this is going to be a long term project for you, learning Spanish, I'm sure" and I realised that I hadn't really thought about that. For me, I'd thought it was just a trip to help Hugo improve his Spanish, so it was a nice surprise how much I enjoyed learning Spanish, too. I'm determined to keep it up. I love to travel and learning Spanish will make me more confident about travelling in Spain and South America.
Find out more about this trip
Continue reading about this
Learn Spanish and family activity holiday