Leader interview: Brett Smith, on his family trip to Slovenia
See / go back to this
Slovenia family activity holiday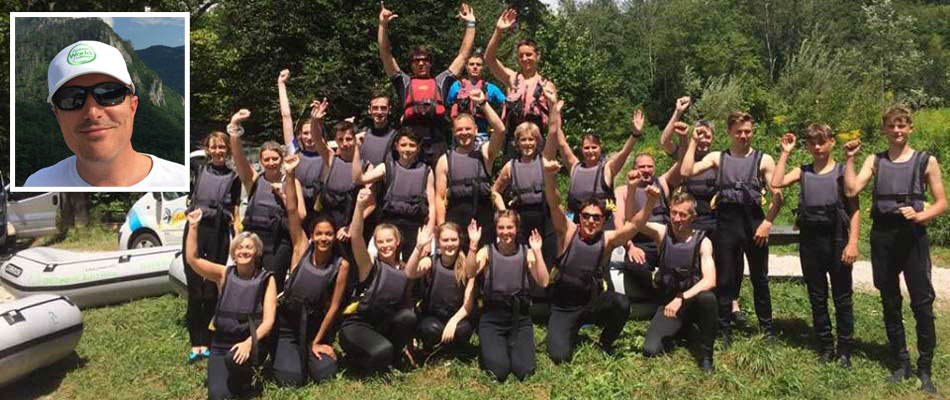 Swimming in Slovenia. Photo by Brett Smith
Brett Smith has been leading tours for nearly 15 years, primarily family adventure holidays in Slovenia and Croatia.
As a parent himself, Brett is well versed in helping parents to relax, keeping teenagers entertained, and ensuring youngsters don't get into too much mischief. However, he confesses, like most parents, his influence diminishes when it comes to his own kids. When he's not leading tours, Brett still loves being active outdoors, with running, snowboarding, kayaking and stand up paddle boarding all helping to maintain his adventurous spirit and oneness with nature. Closer to home, Brett is a volunteer at the LWS Night Shelter which is a non profit organisation set up to provide food, shelter and company for homeless and vulnerably housed people in Leamington Spa and the surrounding area.
Here, he chats with our travel writer Chris Owen about his
Slovenia family activity holiday
, designed for families with teenagers.
What is the best bit about being a tour leader in Slovenia?
For me, Slovenia symbolises being outdoors and there's nothing better than having a really varied mix of outdoor activities to help travellers get into the swing of things. Some of Slovenia's scenery is absolutely pristine and being a part of the landscape, just for a short while, is definitely one of the best bits of being a tour leader. We have some real 'Huckleberry Finn' moments during the course of the week and seeing kids, and adults, enjoying life in the wild really makes me smile.
Where is the most beautiful viewpoint within your Slovenian itinerary?
I'd say that the panoramic view from above the cloud line in Krvavec Adventure Park, near Ljubljana, is simply stunning. This is such an incredible background to a day of activities and never disappoints no matter whether you're visiting in the summer or the snow-covered winter.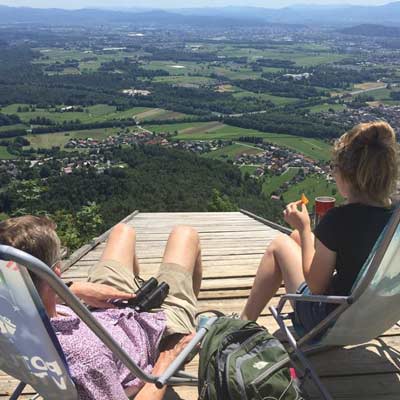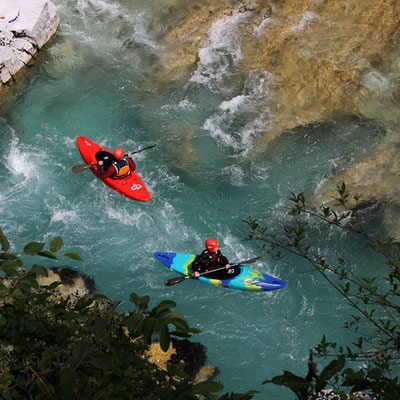 View and kayaking. Photos by Brett Smith and
neiljs
.
Do you have a favourite souvenir from Slovenia?
The only souvenir I have from Slovenia is a small toy dragon which is the symbol of Ljubljana and, I must confess, now the property of my youngest. Other than that I've got loads of photographs and videos taken from my time on tours. These are not only great for publicising what we do and where we go as part of Green World but also great souvenirs of many, many happy times spent in Slovenia.
Is there a song which sums up this trip for you?
I would go for 'Happy' by Pharrell Williams as it really sums up how I feel leading families and small groups into some of Slovenia's most gorgeous scenery. Seriously, Slovenia's landscapes are like picture postcards and if you're not smiling as you cycle past mountain peaks and flower-filled pastures, or bounce over white water rapids onboard an inflatable raft, then you're never going to be!
Has anything amusing ever happened as a result of cultural misunderstandings or etiquette?
Not in Slovenia. Slovenia is very modern and international so unless you're way off grid most people are used to tourists and speak English. Although this could be seen as not having a truly Slovenian experience it's totally the opposite. Being able to chat to local people in English and learn a few words in Slovenian are both easy to do and give families, especially, the chance to relax and feel comfortable straight from the off.
Can you teach us a local word or expression that will come in useful in Slovenia?
Start with '
hvala
' – it means thank you and is pronounced kind of like 'koala'. Even though English is widely spoken in Slovenia, I always encourage my groups to learn at least a few words and they nearly always return home being able to say hello, goodbye, please and thank you.
What is the most unexpected thing that has ever happened to you as a tour leader in Slovenia?
We always try to ensure that our groups are made up of likeminded travellers or families with kids of a similar age. This really helps everyone to get on with each other straight from the start with kids, especially, making firm friends within minutes of meeting each other. With this in mind, a couple of years ago I had a group that had two single parents with teenage children. Let's just say the parents really 'connected' whilst on holiday and last year I received a message from them both to say that they were getting married!
Do you have a top 'survival' tip?
I'd say that although it is generally hot in the summer (typically high 20°Cs to low 30°Cs) Slovenia also has an alpine climate which can get chilly the higher up you go. Layers are by far the best means of fending off the cold with trips into the Krvavec Mountain Range definitely best appreciated with sun cream, shades and plenty of warm layers to peel off or put on as the day develops.
What kind of traveller would you definitely not recommend this trip for?
I wouldn't recommend this holiday for anyone who doesn't like sports or trying new things and is not interested in nature. Just smiling is sometimes all you need to make the most of your time in Slovenia with a positive attitude to everything – from the food to early starts – ensuring you really get to experience the best of the country without worrying too much about the little differences. We always ask our travellers to come with open hearts and big smiles.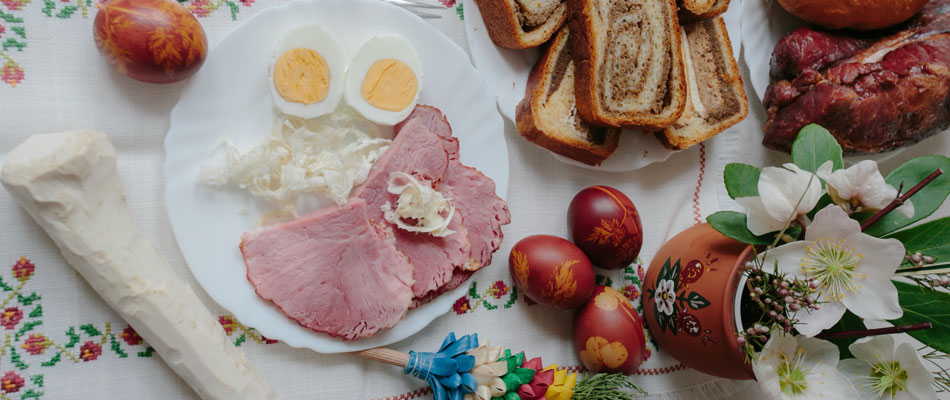 Has there ever been a situation where you've been afraid?
The very first waterfall drop on the kayak day is always interesting; obviously I've done it numerous times and it's safe, but it's also higher than people expect and the teenagers especially love this activity. It's normally our first activity so it's definitely a baptism of fire! I think that being a little bit afraid is part and parcel of the adventure. Pushing yourself to overcome a challenge can be really rewarding, build self confidence and help families to bond as they undertake activities together. I'd never force anyone to do any activity that they didn't want to but sometimes when you see the face of someone who's done something that they never thought they could achieve, it's really rewarding. I think a little bit of peer pressure can also go a long way to helping kids conquer fears.
Are there any things local people particularly like to make jokes about? And can you give us an example?
Just like at home most jokes revolve around their neighbouring countries, but as we work with the neighbouring countries to Slovenia I'll be diplomatic and say 'no comment!'
Are there any common misconceptions about this trip or Slovenia in general?
Slovenia is often confused with Slovakia – you might remember President Bush making that blunder. It's often a great idea to learn more about Slovenia's history before you arrive. As part of the former Republic of Yugoslavia it has been through some incredibly hard times and a bit of historical research is definitely something I'd advise to iron out any popular misconceptions. Also, as Slovenia borders Italy, Austria, Hungary and Croatia, there are lots of similarities – especially in the cuisine – that can take travellers by surprise. I'd say just come with an open mind and take the country and the people at face value.
Can you describe some of the best sensory experiences on this trip?
I do love the smell of the pine forests in Slovenia. They always feel so much more intense within the clean and crisp mountain air. In fact everything feels cleaner, fresher. Some of the views from the high ropes course on Krvavec are simply epic – pine forests and mountain peaks for as far as the eye can see. If you're looking for the real taste of Slovenia then a trip to the capital, Ljubljana, is off the scale when it comes to variety. It really is a paradise for foodies with everything from market stalls to tapas bars to steak joints and Italian-style pizzerias adding to a very affordable night out.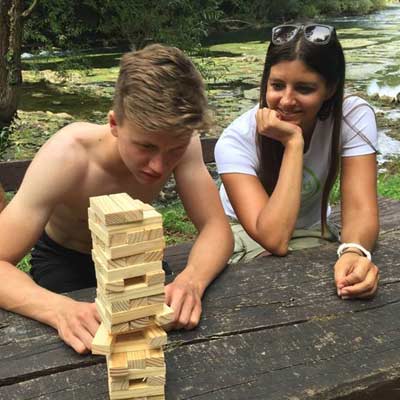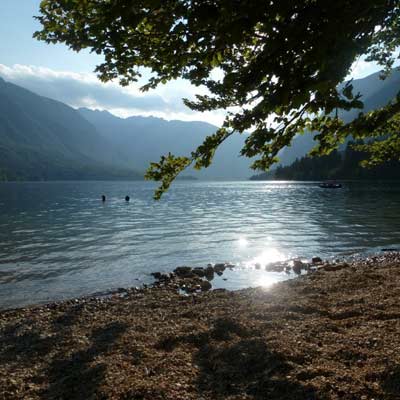 Photos by Brett Smith
How do you like to relax in Slovenia when you aren't working?
I love Slovenia's lakes – Lake Bled and Lake Bohinj, especially. Whenever I have the chance I'll grab my bike and go cycling on the shoreline before stripping off and taking a dip. In summer the water temperature is absolutely perfect and just the best way to cool off and relax on a free day or after a tour.
What's the toughest bit of the trip?
It sounds like a cliché – but saying goodbye. You can imagine during a week of active fun you make some great friends and share some hilarious moments, and I am very lucky to have met so many nice families. I think this kind of holiday always attracts open-minded, fun and spirited people which is why it can be tough finally having to go your separate ways.
What three things are most important to have in your daypack for this trip?
Water, sun cap and a pack of Haribo!
Holidays are precious time for people, but a job for you. What is the most precious time you have had with your visitors to Slovenia?
The most precious time for me is that subtle moment when parents start to relax and you can almost see the weight of anxiety falling off them. The other moment is on the flip side when the kids start mingling and socialising freely. I adore it when I see the teenagers just playing cards, chatting with each other and keeping off their phones for an unusually long while.
What makes you want to scream 'No!' at tourists? And what makes you want to scream 'Yes!' at them?
I would say 'no!' to anyone coming to Slovenia with a closed mind and, perhaps, a demanding attitude where they expect everything and everyone to be exactly the same as they are back home. Conversely, I'd say 'yes' to everyone coming with an open mind, a warm heart and fun, positive spirits.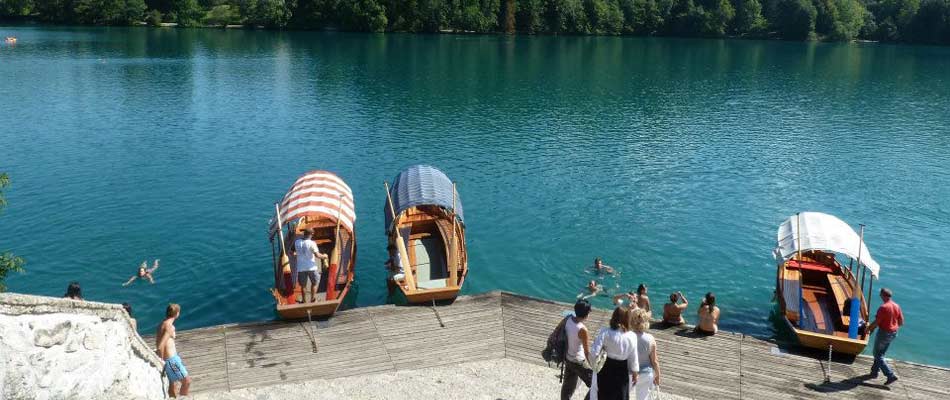 River. Photo by Brett Smith
Find out more about this trip
Continue reading about this
Slovenia family activity holiday