See / go back to this
Small group tour to Iran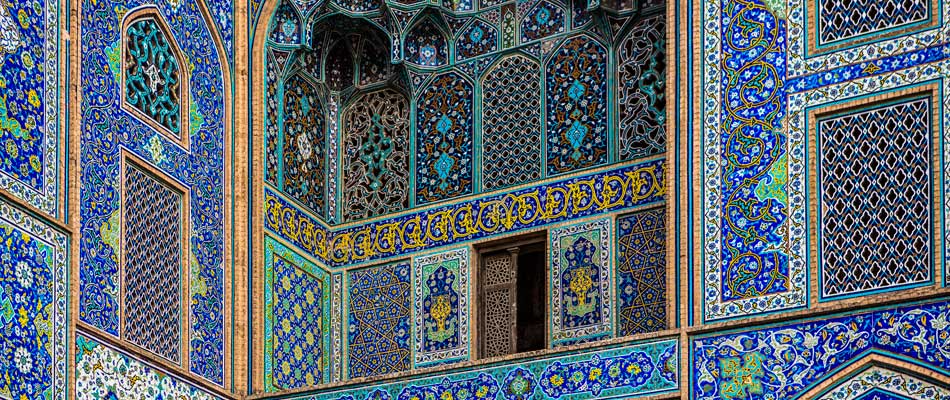 Imam Square. Photo by Stephanie Diggon
Traveller interview: Stephanie Diggon on her small group tour to Iran
Stephanie Diggon went on a spectacular 16 day,
small group tour to Iran
, and shared some of her experiences with us. She urges everyone to just go for it and thinks that Iran is a very special place indeed. Read more of her thoughts below as she chats with one of our travel writers, Catherine Mack.
People are wary of visiting the nation behind the news, and so it is lovely to chat with someone who has had such a great experience in Iran, Stephanie.
Yes, the political rhetoric in Iran is holding people back, which is such a shame. I was there over Easter and it was during their New Year period, and we saw lots of families out and about enjoying time together and having picnics and so on.
What made you want to go to Iran? Had it been on your list for a long time?
I have been to other Middle Eastern countries and Iran has been on my list, but the
Foreign and Commonwealth Office
has recently changed its travel advice. But I really wanted to visit before the bigger tourism organisations started going there.
Did it live up to expectations?
It more than lived up to my expectations. It was fabulous. The people were really friendly, welcoming and so pleased that we were visiting their country. For example, we went to mosques and at one of them there was a sign that said 'Ask us anything!' Which of course, we did! And of course their historical sites are amazing. If you have an interest in history and ancient civilisations, it is a really good place to go.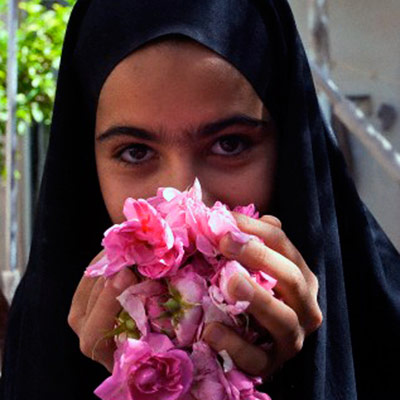 Did you learn or use any of the local language?
The local language is Farsi and no, I didn't learn anything because I found it too hard to remember. They do say 'salam!' as a greeting which is similar to Arabic, which was about the only thing that I could say.
What is your favourite souvenir or present?
I went out with enough US Dollars to buy myself a small rug, which folded up neatly and fitted in my suitcase. I am thrilled to pieces with it.
Have you been on a small group tour before?
Yes I have, I have been to
Madagascar
and
Myanmar
. On this trip to Iran, the eight of us quickly formed a cohesive group of two couples and four singles. Three girls and one guy travelled solo, so a good mix. The tour attracted well travelled, intellectually curious travellers.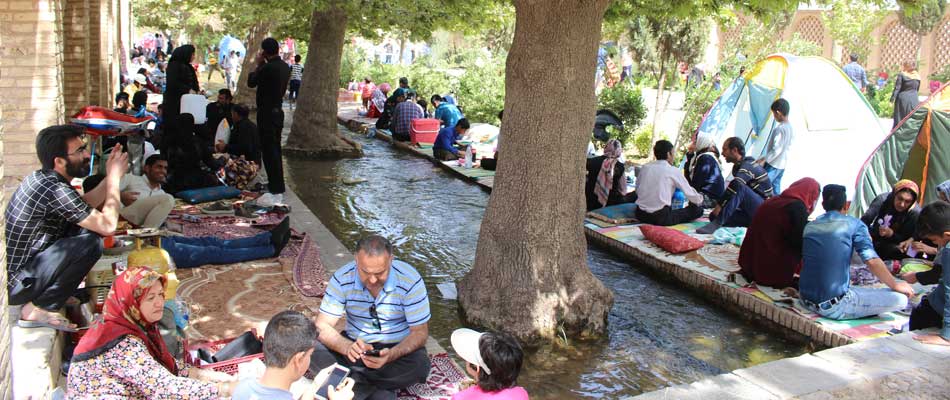 Families. Photo by Stephanie Diggon
Were your preconceptions very different from reality?
I was pleasantly surprised at the level of independence enjoyed by women. They are not accompanied in the street, they drive, go to university, hold down good jobs. We met one woman who was a mechanical engineer, but she wanted to retrain as a tour guide so she came and spent some time with us. But later that day she was going to a family wedding where all the women would be in one room and all the men in another
We visited ancient Zoroastrian sites in Yazd and a 20th century Armenian Church in Esfahan, which was relatively modern, but it did show religious tolerance. Many Iranians welcomed us to their country and told us how proud they were of their heritage.
How was it being on the road? There were some long journeys weren't there?
We travelled some distance in our minibus through vast, empty landscapes, but I was expecting that, as it is a large country. Kerman was the most easterly destination, only a few hundred kilometres off the Pakistan border.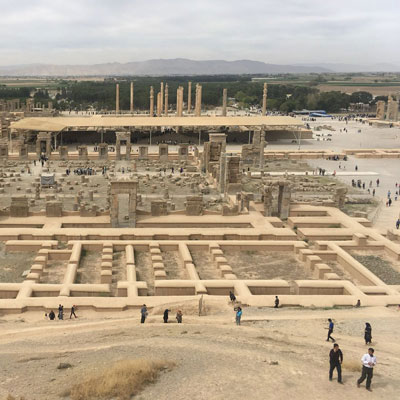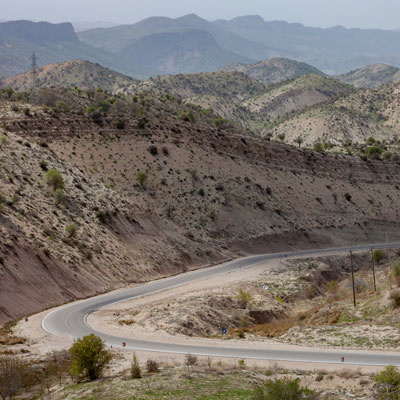 Persepolis and Fars Province. Photos by Stephanie Diggon and
by Ninara
Every day was better than the last. We saw the best of the best and we had a magical experience. We visited some fascinating museums and the Golestan Palace in Tehran. Shiraz was really lively, with Persepolis nearby. The highlight was Isfahan – where it rained, much to the delight of the local people. The main square is amazing with wonderful architecture, fountains and arcades.
Were you happy with your guide?
Our expert guide, Ali Reza Asadolahi, understood Western sensibilities and explained the history, culture and current affairs. He seemed to know everybody in Iran. Secondly, the other guides were very respectful of him; he must have a great reputation.
Where was your best sleep?
We stayed overnight in a small, family run hotel in Abyaneh, a little mountain village. Houses in the village were made with mud bricks – very attractive. The women in our party were invited to take our scarves off at dinner; it felt so liberating! The accommodation throughout the tour was good quality and within easy reach of tourist areas.
How did you feel as a woman travelling there?
Personally, I felt safe at all times. We had to observe their customs when it comes to clothing. We covered our heads with a headscarf, wore trousers or a floor length skirt, and a long sleeved tunic. In a couple of mosques we were provided with a
chador
to wear which covers the whole body except the face. As they are a large square of fabric, these were difficult to wear with cameras, backpacks etc. In the mosques, however, tourists are treated as honorary men.
Do you have any sense memories from your trip, other than 'sight' ones?
Oh yes. We went to see the Citrus Garden in Shiraz where the scent of orange blossom filled the air, it so was refreshing.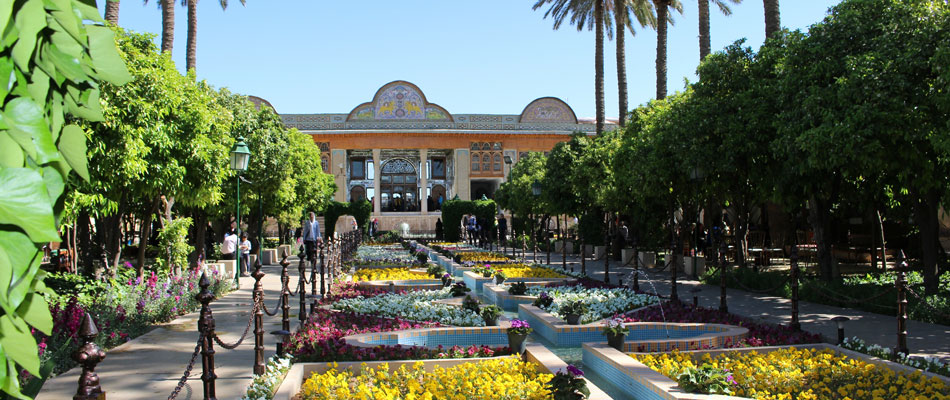 Citrus Garden. Photo by Stephanie Diggon
Was there one local person that you met whom you will always remember?
Probably the imam whom we met at one of the mosques who let us ask him all sorts of questions. We asked him how old he was, how he got to be an imam, if he was married, did he have children, would he want them to become imams, too? He answered us kindly and openly.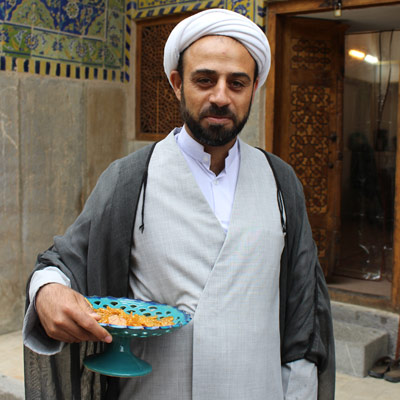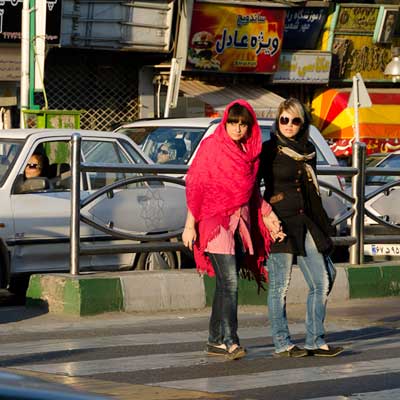 Imam and girls. Photos by Stephanie Diggon
Did you find anything that was a bit underrated there, which turned out to be a pleasant surprise?
Several UNESCO listed Persian gardens were on our itinerary. They were designed to represent Paradise, and they feature water, fountains, flows and falls so they were refreshing places to visit, especially on a hot day. Years ago Iranians developed a water management system that brought water from the mountains through a system of underground channels up to 70km long. In this way desert towns thrived and supported ancient trade routes. I had never heard of this. We saw some extraordinary mosques, some with exquisite tiling, others with brick domes. The architecture and workmanship were breathtaking.
What is your favourite photograph?
In the National Museum in Tehran, I just loved a very simple head of a statue made in lapis lazuli and found at Persepolis. This blue can be seen all over Iran, in mosques, gardens and crafts.
Has this trip influenced where you would like to go next?
I am saving up for my next 'hot and sticky' holiday. I'd like to go to Botswana, Bhutan or the Pantanal in Brazil – and that that's just places starting with the letter B! There is just so much to explore. For these holidays I always go to Responsible Travel first, because you do all the research! I also like to go for as long as possible. My trip to Iran lasted 16 days; 10 days is never enough for holidays like these!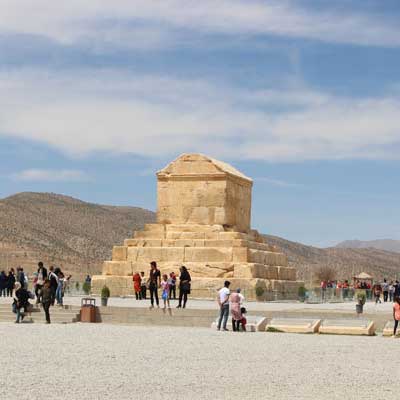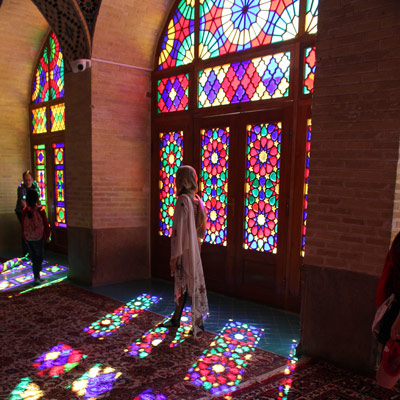 Iran tomb and prayer hall. Photos by Stephanie Diggon
Find out more about this trip
Continue reading about this
Small group holiday to Iran