Traveller interview: Cathal Murphy – Sudan holiday, desert explorer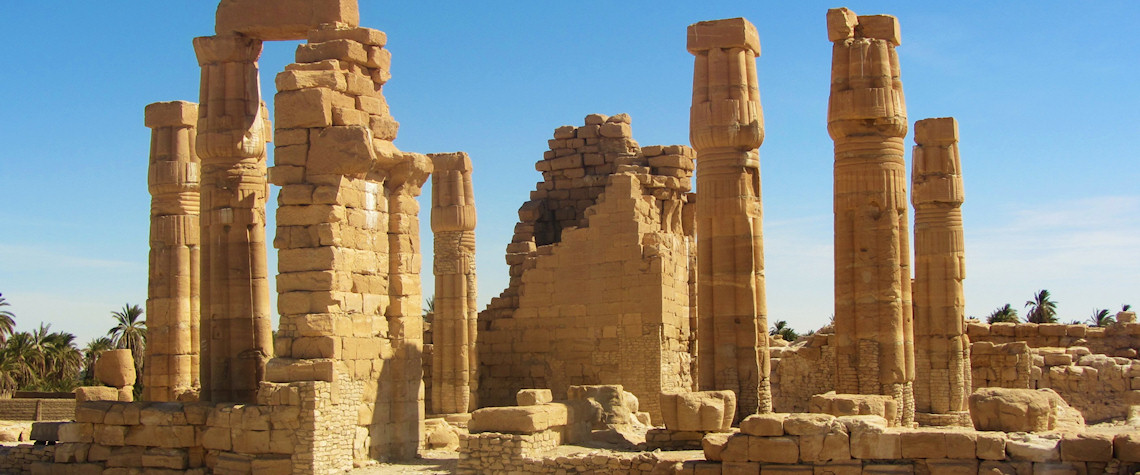 Ruins in Sudan (Photo by Cathal Murphy)
An Irishman originally from Cork, Cathal is a nurse living in Saudi Arabia, and loves to travel. Here, he chats about his trip with Responsible Travel writer, Catherine Mack.
What made you want to go to Sudan?
To be honest, about six years ago I just came across a coffee table book about unusual places to visit in the world. It was broken up into different sections, Middle East, the Pacific, North America and whatever. Sudan came up as one of the places. And one paragraph in it was about the pyramids there. Of course I had heard about the pyramids growing up, and knew about them in Egypt but other than that, I didn't know they were anywhere else. Also, I work in the medical profession and, particularly in Ireland, have worked with a lot of Sudanese doctors and have always thought they were very, very nice people. So, that just made me want to go. When I initially researched it, and realised how close it was to Saudi where I live now, it seemed a bit difficult as there weren't any tour operators going there at that time, and you needed an invitation to go. So, I put in on the back burner for a while until I spotted this trip and then decided to go ahead with it. It is a fairly new trip, and it was really brilliant.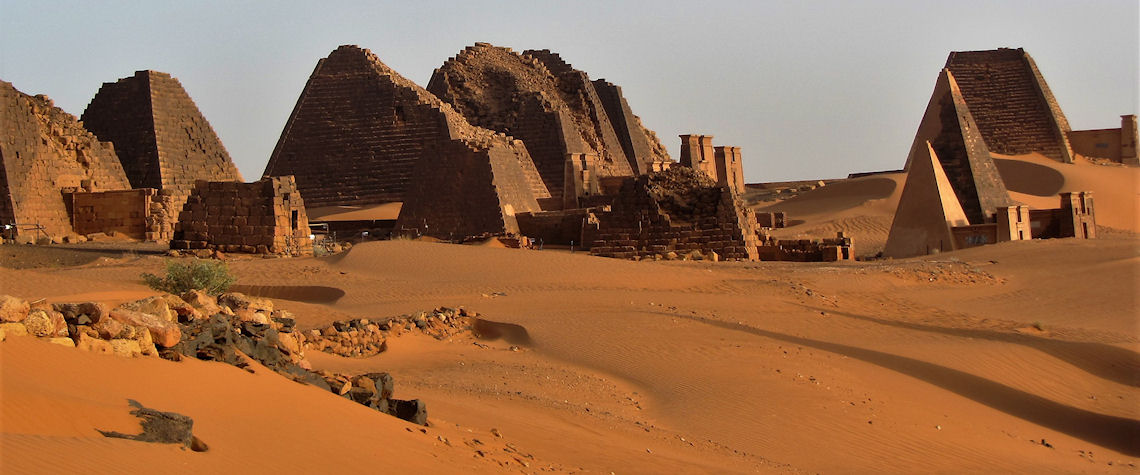 Pyramids (Photo by Cathal Murphy)
What is the most useful thing you packed, or wish that you had packed?
I suppose it is like every camping trip you go on, as the whole trip is wild camping. So you need your head torch, blow up pillow, sleeping bag and so on. But also, although you are going to the desert and think it's going to be really warm, and worry that at night it might be too warm and you won't be able to get to sleep it's actually the opposite. With temperatures dropping in such an open space, it is actually quite chilly at night time. There was one person on the trip who didn't have a sleeping bag with them and they definitely felt it.
To be honest I wish I had packed some warmer clothes. Even sitting around in the evening, having a beanie or a cap of some sort, stuff like that. Because once the wind builds up in the open desert, it is very chilly. In hindsight, I should have known, going from one desert to another desert. In Saudi the temperatures also drop quite low in winter, so I should have had the cop on, but I didn't!
I also should have brought some longer trousers, as I had a lot of shorts. But actually I forgot what a reserved country it is, so having some extra long trousers would be good, from a cultural point of view.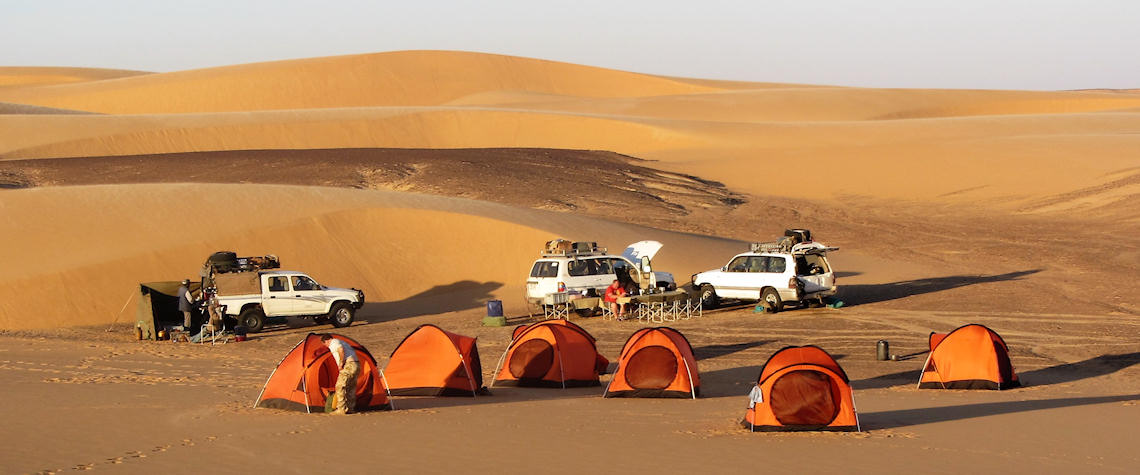 Camping in the desert (Photo by Cathal Murphy)
Did you learn or use any of the local language?
Being based in Saudi, I have a little bit of conversational Arabic, and Arabic is what they speak. So, I was able to pick up a few words of their slang. This was an advantage when I came back and met one of the Sudanese doctors at work, and was able to use the slang, and she looked at me as if to say 'where did you pick that up from?'
What is your favourite souvenir or present?
When I go travelling I actually do like to bring back something from each country. We did get the chance to shop in the souks area, but I found that a lot of the stuff on offer was the same that I had from Saudi. But the one thing that I did bring back with me that was lovely, was one of the drivers that we had on the trip, gave me his prayer beads. Which I think was quite an honour. They really were very, very nice people.
Were your preconceptions of Sudan very different from reality?
The one thing you forget is that you don't have to travel too far in the desert to see the landscape change very rapidly. Within an hour you can have really red sand, or flat plains, and within 30 minutes or an hour you can have sand dunes or even rubbly-type desert. Particularly from the desert to the west of the Nile to the desert to the east of the Nile, which are completely different. You would think you were in different countries. In the western desert where we spent our first couple of days, it was very rich, red coloured desert, with a lot of sand dunes. Whereas in the east, there were more flat plains, with a lot more rubble, stony type desert. Plants and trees were still quite scarce, except along the riverbed of the Nile, which was a lot greener, with grassy marsh areas.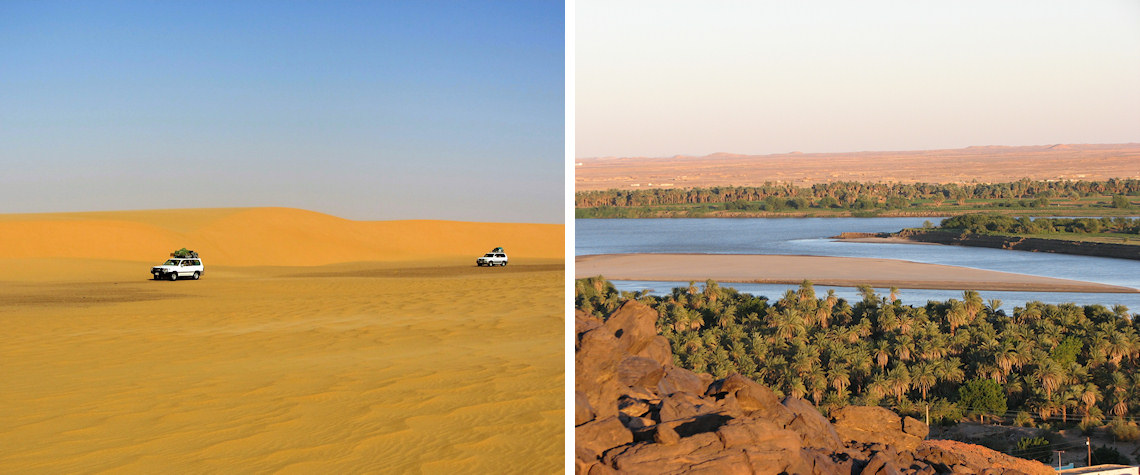 Changing landscapes (Photos by Cathal Murphy (left) and
Motaz Altahir
(right))
Where was your best sleep?
As the nights went on, I just got more comfortable sleeping on a more solid surface, on the ground in a tent. I suppose, just getting more exhausted as the days went on meant that I just slept better every night. You know, that sort of way? We did have one night in a guesthouse, where you have a bed and where you think you are going to have your best night's sleep. But actually it was probably the one night where I slept less, because it was in the city, and warmer, and the room got a bit stuffy. So actually I didn't sleep well that night.
What did you think was going to be hard that turned about to be ok?
Like on any trip, particularly when travelling as a solo person, you are always anticipating what the rest of the group is going to be like. So - will we gel, will we not? If there will be one person who tries to take on the leader role and try to dictate things, or there is always one person who is late in the mornings and keeping people behind. But in fact, this group was fantastic and I would easily travel with any of them again, or indeed together as a group again. So, that turned out very well. There were eight of us altogether, and in terms of age range, I am 34 and I was the youngest. The oldest was 74, a Dutch Canadian lady, a grandmother of seven or eight kids. She was amazing. The rest were around the late 40s, early 50s mark. But that was pretty much as I anticipated, as I knew that most people on this trip would be very experienced travellers. But the age range doesn't bother me, and it turned out to be a fantastic trip and I have no regrets.
Was there one local person that you met whom you will always remember?
The whole group of Sudanese who came with us out into the desert, really. They were all fantastic, and will always stick out in my mind from this trip. They were so warm and welcoming. Nothing was a problem, and they were always happy. Particularly the three drivers of our 4x4 trucks, who had very little English. But, you know, non verbal communications can actually go a lot further than verbal communications. And the tour guide himself was a fantastic fella, they were very open people. And anything you asked, even personal stuff, like about their lives and their upbringings, they were very open. They were just all fantastic, and all on a par. There were just never any issues. And the fact that they were so easy going made us all very relaxed travellers as well.
What is the local way of greeting?
The local nomad people, out in the desert where we went through some very small villages, were really warm and welcoming, would put their hand out to shake your hand, and always very open. And didn't mind if we took photos of them, although we were all very good about asking to take photographs. Watching the local people themselves, they have their own sort of handshake, tapping each other's shoulder first, and then shake hands. Then they would ask a question like 'how are you?' and then go for another handshake. Then 'how is your family?' or 'how is your work?' and with each question came another handshake.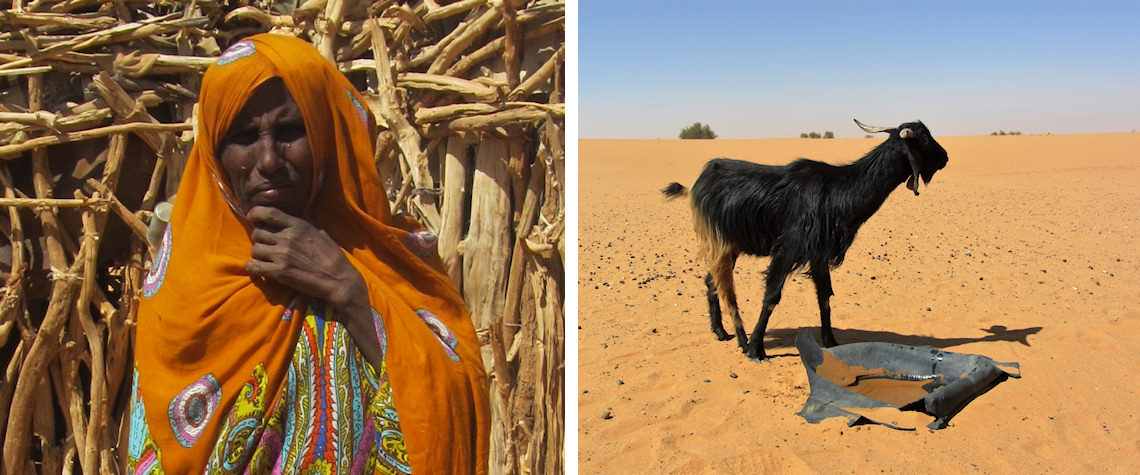 Visiting small villages (Photos by Cathal Murphy)
How about underrated, in that it was a pleasant surprise?
Just how beautiful and tranquil it is in the desert when you are way out there, away from normality and reality, I suppose. And civilisation really, when you are so far out. When you are in the city day in, day out, you forget just how nice it can be.
What is your favourite photograph?
Probably some of the ones at the pyramids, but also some of the people, as I love taking shots of people.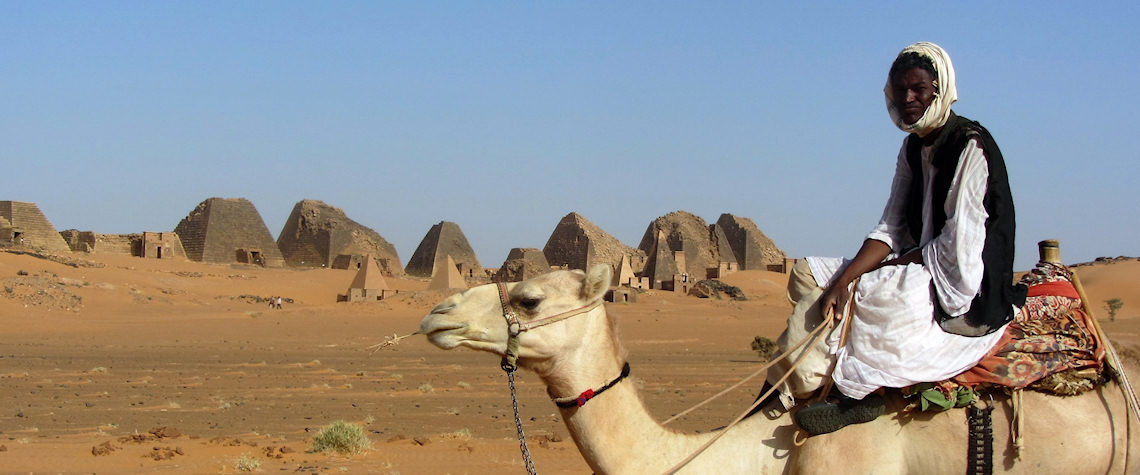 Camel rider at the pyramids (Photo by Cathal Murphy)
Has this trip influenced where you would like to go next?
I am not sure if it has influenced me, as I am a frequent traveller and I kind of have my own list set out. I have never been to Greece and I've been to Turkey, but just a beach holiday. But I have never been inland or travelled around. So, I am thinking of doing a 15-day trip in June that starts in Athens and goes through the Greek Islands, and then into Turkey and inland and then Istanbul. So, I am not sure if this last trip has influenced that, but I suppose the one thing that has changed, is that I had thought about going back home to Ireland for those three weeks in June. But I had such a great trip I thought, oh well, someday I'll return to Ireland, Ireland is always going to be there! And so it probably has influenced me to do more travelling, as opposed to sitting still.
Find out more about this trip
Continue reading about this
Sudan holiday, desert explorer