Interview with co-founder Vivianne – Trinidad and Tobago nature tours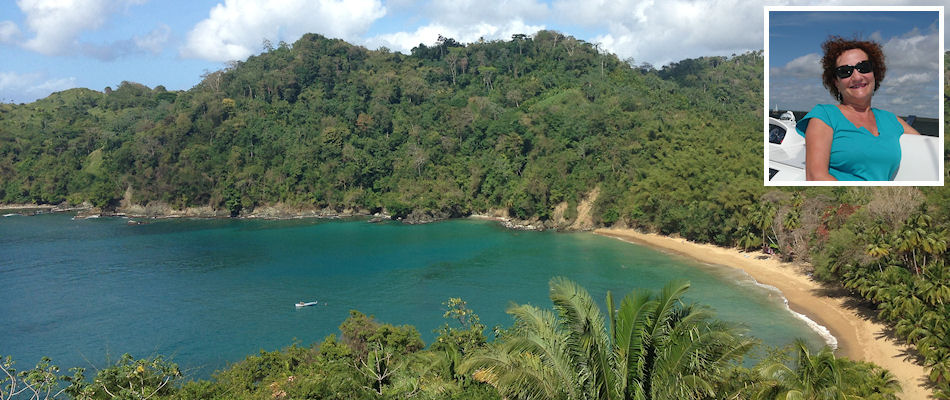 Englishman's Bay, Tobago and (inset) Vivianne McGrath (Photo by
David Surtees
)
Interview with co-founder Vivianne - Trinidad and Tobago nature tour
Vivianne created this tour company with her brother, Gilbert Bastyra as both are lovers of nature and, in particular bird watching. However, Caribbean culture is at the heart of what they offer guests, so Vivianne has worked to incorporate people into their mix just as much as birds and other wildlife. Seeing a swarm of scarlet ibis stops Vivianne in her tracks and moves her to tears as quickly as the sound of steel pans. Responsible tourism is at the core of all the itineraries, whether it is taking guests to lunch at a small beach hut, or seeking out rare birds. Vivianne knows not only what makes Trinnies tick, but also what makes tourists tick.
One of the best words in Trinidad and Tobago is 'limin', which just means chilling out.
They drop the 'g' at the end of the word, but everyone limes in Trinidad and Tobago. Another good local word is 'maco', which just means minding other people's business really. People love gossiping and talking about other people. So they say 'I am macoing you, or you are macoing me'. 'Petong' is another one, which means teasing, because they are great joke makers and teasers in Trinidad and Tobago.
Some of the guides that we use are really interesting characters, such as Newton George, our bird watching guide. What he doesn't know about birds and nature is not worth knowing really.
In Grande Riviere, in the north east of Trinidad, where you go to watch the turtles, they have these amazing people who live in that area called the Earth People. They live a life that is a cross between Rastafarianism and different African religions. But basically they believe in the natural world and the earth. There is a character called Jacatan, and he is a guide who works in that area. He takes people up on hikes to see the waterfalls and so on, but also he will take them to his home, and where he grew up, and meet his hundreds of children who are running all over the place. He is quite a character, and very committed to his Earth religion. Of course they smoke lots of ganja but they live this very natural life - everything is grown, there is no technology in the house, and it is one of the reasons that corner of Trinidad is really safe. They are not into crime, as they are just too good for that.
I always buy foodie things like pepper sauce, pepper jelly or rum to bring home as gifts for people. They are always to do with food.
And of course, Angostura Bitters, which are a unique recipe coming from Trinidad, and are only made there. They are famous for being used in cocktails, but you can use them in cooking for just about anything from shepherd's pie, spaghetti or anything. If you put Bitters in, it just brings out the flavour. I put the pepper jelly and pepper sauce in just about everything I cook too, as it spices it up. The pepper jelly is a bit sweeter and not as hot as the sauce, so better if you don't want things too spicy. The best brand is Viv's, which is my name, but I don't make it! They actually make it with the Scotch Bonnet Peppers.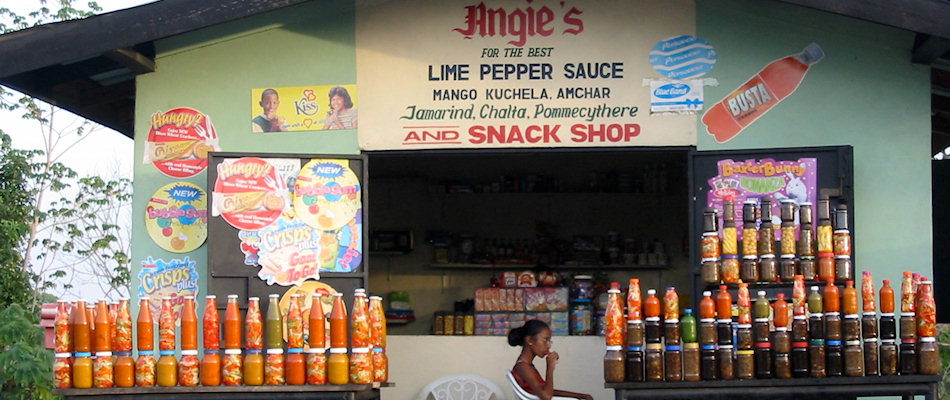 The big thing in Trinidad, when you are 'limin' with friends and having drinks, they will always have dips with everything.
And it's all to do with the pepper sauce, so if you just have a mayonnaise and add pepper sauce and garlic, which is easy easy, this is a dip. Or you can throw in some tuna fish, or asparagus, artichoke or something like that. But as long as it has garlic, lime and pepper sauce, that's a dip.
There is just music everywhere in Trinidad and Tobago.
The music that I love is the older Calypso style, rather than drum and bass that they all like to listen to now. Mighty Sparrow is like the Elvis or the King of Calypso and nowadays Machel Montano is the man. Calypso really is the sound of Tobago. But of course if you really want to chill, steel band is just great and going to pan yards before Carnival to hear them practising is one of my favourite things to do.
The most amazing thing on this trip is seeing the nesting leatherback turtles. It is just phenomenal and just makes you want to cry really.
The other thing that takes your breath away is when the scarlet ibis fly into Caroni Swamp. Even if you are not a bird watcher and you aren't into birds, you go out in a boat into the swamp at dusk, on calm gentle water, and you just moor up and wait for these birds to come. And then they fly in from miles away to roost in the trees. First they come in ones and twos, and then half a dozen, and then before you know it the whole sky is red with hundreds and hundreds of scarlet ibis. It is almost like a ballet, coming in from different directions, then swirl around, and roost on trees - it is a stunning experience and takes people's breath away. There are probably greater numbers in our winter, January, February or March, but it happens all year round, which is amazing.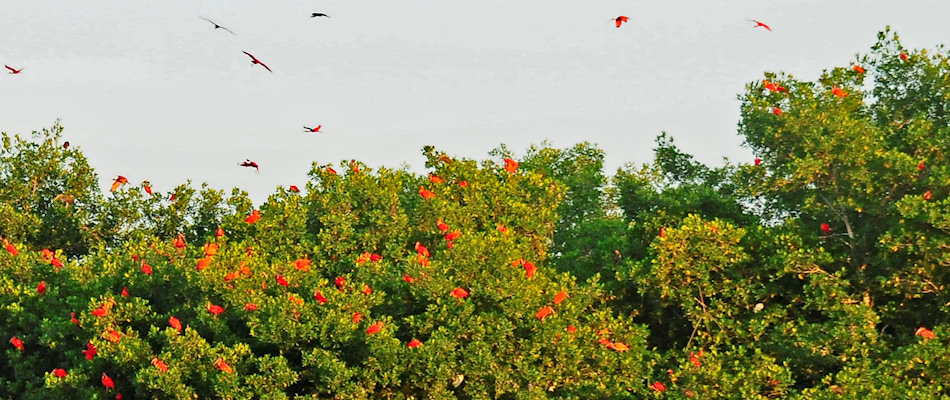 Scarlet ibis (Photo by Vivianne McGrath)
This is a nature trip, so it is not for anyone who wants five star resort-like service. You also have to be patient for this trip too.
Patient for nature, but also patient for people, because that is just the way they are here. So, if you want slick resort service, this is absolutely not for them. If you are happy to go with the pace of life here, and just watch and wait for nature, it will be wonderful. It is not one of these group tours where you get up early every morning, go on the road all the time and just tick things off. It isn't like that at all. It is a relaxed trip, where you will get to know the people too. You will see lots of nature, but at an easy pace.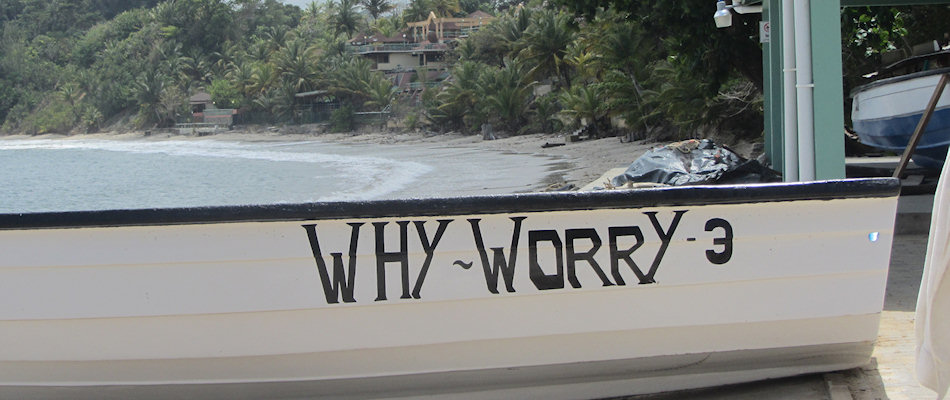 It's a personal thing, but I don't like bats. You will see every type of natural life on this tour from snakes to spiders, bats, all kind of things.
And you have to love nature, because the place where you stay, Mon Plaisir, on the beach where the turtles live, bats fly in and out of the room at night. It is very comfortable and it has all the mod cons that you want, but it doesn't have glass in the windows. I don't mind them as long as they don't fly into me, and I always worry that they might, but of course they never do, because they have radar.
People here love to make fun of the tourists, about them getting sun burnt, getting their hair braided and so on.
They just tease - they do it with each other too, but they do like to make fun of the tourists. It isn't nasty at all, they just love to tease. So, actually, if you don't have a sense of humour, you might struggle with this too! Real twitchers who can come on our trips can be a bit serious sometimes, for example, but really you do need to be able to relax here.
Don't forget to have a showerproof jacket in your daypack on this trip, in case there is a short sharp shower, which is often the case in the rainforest.
It's not a rainforest for nothing.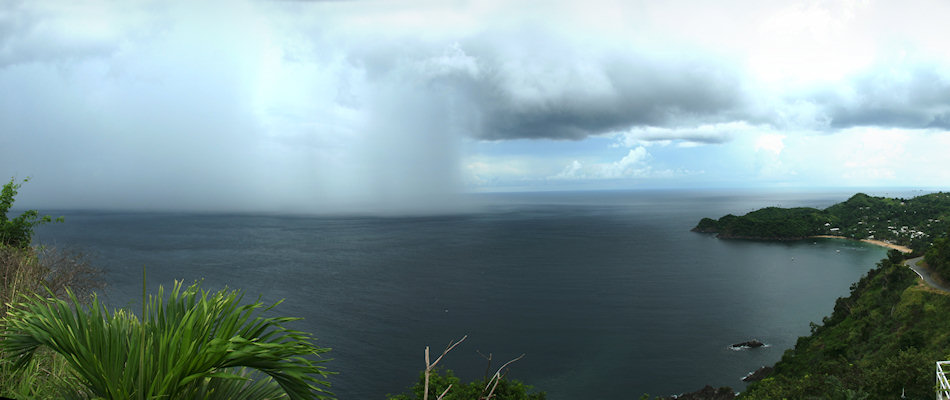 The one thing that makes me want to scream 'no!' at tourists is when they don't respect the environment, throwing litter, or taking music onto the beach, or making noise in quiet places.
Our visitors don't do that, it's the cruise ship ones that don't get it. I was at Englishman's Bay in Tobago the other day, which usually has nobody on it at all, and there happened to be a cruise ship in, and it was just horrible. They just really were not in tune with what was going on. They had brought food with them, rather than buying from the small place to eat on Englishman's Bay that sells local food. They were not spending money there, but eating their own food on the beach, and then just leaving litter around as well. They also stripped off and went topless and so on, and in the Caribbean people don't really do that. The local people were laughing really, but I just found it rude to be honest. It was also shocking to see because I have never seen that on Tobago, because they have so few cruise ships. But they must be coming now, and they are going to more remote places, which is such a shame.
The thing that makes me say 'yes' to tourists, is when they just love nature.
All the places that we stay have an outdoor space, such as a veranda or a balcony, and when I see them sitting on their verandas, just watching, or looking at trees, the sea and nature, with smiles on their faces, it is just lovely to see. They can sit for hours and just look, and be content.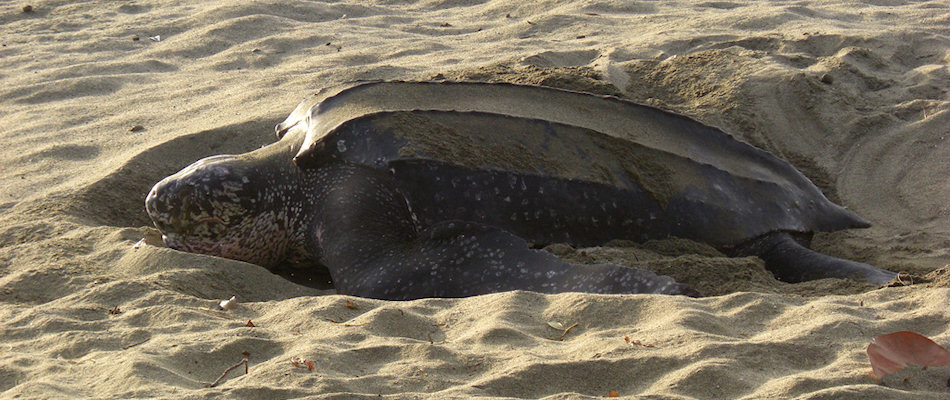 A leatherback turtle laying her eggs (Photo by
Paul Mannix
)
Find out more about this trip
Continue reading about this
Trinidad and Tobago nature tour