Laos parks & museums visit - travel journal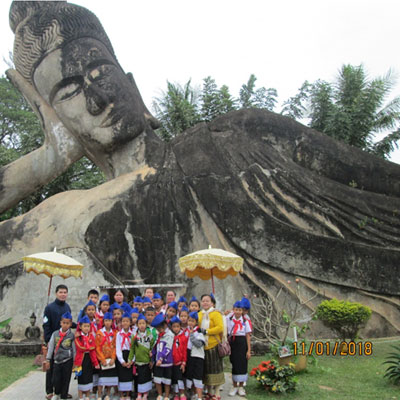 On Thursday 11th January 2018, Peuan Mit (Friends International Laos) took a group of 37 children (including 20 girls) aged between 10 and 14 from Phonthong Primary School on an excursion to visit the Buddha Park (Wat Xieng Khuan), Inpeng Ethnic Cultural Park, Souphanouvong Museum and Kaysone Phomvihane Museum. The children were accompanied by two social workers, one nurse and five public school teachers from Phonthong Primary School. The trip was led by a driver from our tour operator Buffalo Tours, our social workers and school teachers and was funded by Responsible Travel.
Children who participated in the trip were from Phonthong community and study in grade 4 and 5 at Phonthong Primary School. Peuan Mit outreach/prevention team has worked with these children and their families directly in their communities since 2014, to prevent more children from resorting to street work. The outreach and prevention activities consist of advocacy against neglect and abuse, information dissemination about safe behaviour and support in access to education, vocational training, etc. This community is located around 20km from the city and close to the dump site. Some of the families engage in working on the dump site.
Date:
11 January 2018
8:15am:
The Buffalo Tours bus picked up Peuan Mit staff at the Drop In Center, the bus arrived at the village at 9:00am to pick up the children and teachers at the school and then started the tour at 9:20am. During the whole trip in the bus our social workers introduced themselves as well as the children and teachers. They also entertained children by organising games, telling stories, asking questions, singing songs and provided information about each site they were going to visit. They also provided some snacks.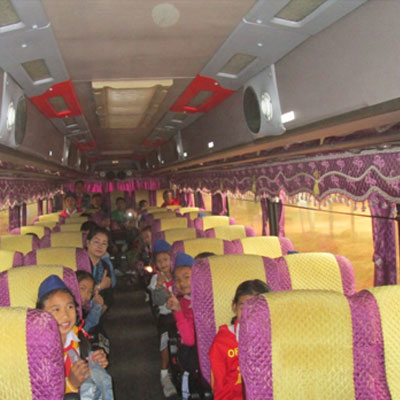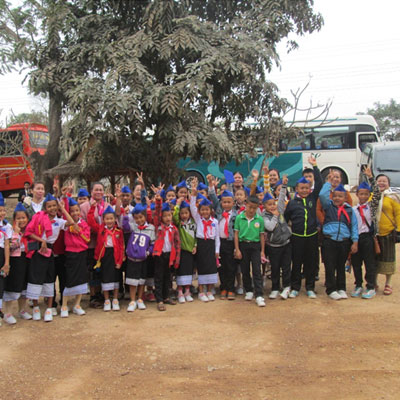 10:20am:
It took one hour to arrive to the Buddha Park and we arrived at 10:20am. The children spent one hour looking around all the huge statues. Everyone looked excited and happy to see so many different types of statue.
11:40am:
After visiting the Buddha Park, the group moved to Inpeng Ethnic Cultural Park to enjoy lunch in a nice setting surrounded by trees. At 1pm the group moved on to visit Souphanouvong museum.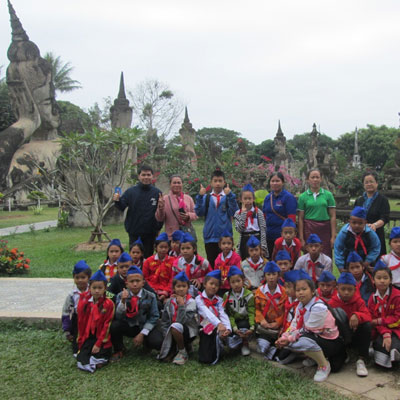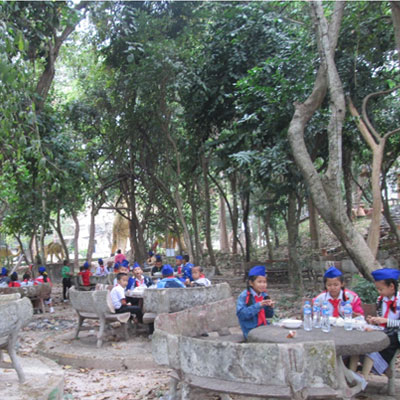 1:30pm:
The bus arrived at Souphanouvong Museum. The group received an introduction from one of the museum's staff, and spent one hour on a tour, learning about the history of Prince Souphanouvong who was the figurehead President of Laos from December 1975 to August 1991.
2:30pm:
After completing the visit at Souphanouvong Phomvihane museum the group forward to Kaysone Phomvihane museum. The staff at the museum were very welcoming and supportive. They stay there for one hour and discovered the history of former president Kaysone Phomvihane who led the fight for Lao revolution.
3:40pm:
After visiting the museum, the group headed back to the community and the Peuan Mit social workers continued their activities in the bus with a singing competition and Q&A on life skills. The winner received some hygiene materials, such as toothbrush, soap or shampoo. The hygiene materials are part of the contribution from other Peuan Mit donors to the mobile school.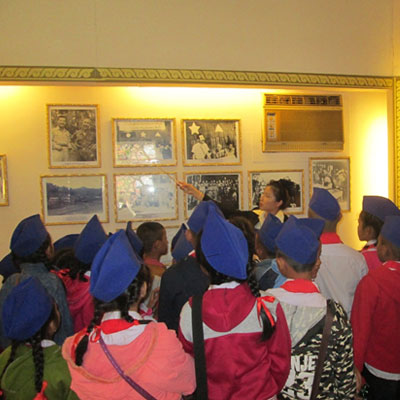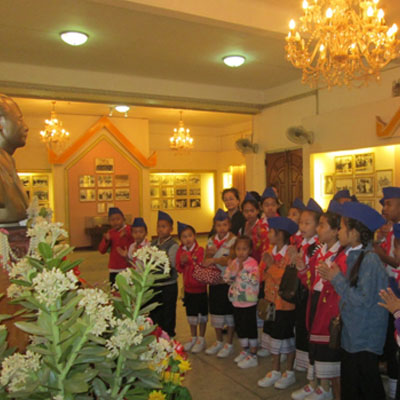 4:40pm:
Everyone arrived back at Phonthong. Before returning to their respective families, the children and teachers thanked the organiser and Peuan Mit's staff as the trip was very successful and informative. All the children were happy and enjoyed learning new experiences.
Impact:
The excursion was very successful. Not everyone had visited these three locations before, especially Kaysonphomvihan Museum, an important historical place. The children understood the difficulties our leaders and ancestors had to go through to build a better future for new generations. They also learned and acknowledged the history by experiencing and discovering new places. Being in a different environment to their classrooms has facilitated their understanding. The main obstacles of this trip was the bad roads in some areas that made some of the children feel car sick.
Quotes from the day
"
"Today I was so excited to visit many beautiful places! My favourite part was the big dinosaurs at Inpeng Park"

"We had so much fun! Everyone was smiling and laughing! But for me I felt a little bit tired because I was car sick"

"This is my first time to enter a museum, there are so many things to discover inside! Learning about the history of our country was also very interesting and makes me proud of my country"

"I am really happy to have been to the park and take pictures with my friends, we are going to show the pictures to our school"

"I want to thank my teachers and Peuan Mit staff for making me discover so many new places. I hope we can do this more often and discover more other nice places in Laos"
"
About our partner organisation:
Friends International is an award winning social enterprise founded in 1994 that saves lives and builds futures for the most marginalised children, young people, families and communities in South East Asia and around the world. It works to create a future where all children are safe from all forms of abuse, and become functional, productive citizens who contribute to a more peaceful, equitable and sustainable world. Friends works in Cambodia, Indonesia, Laos and Thailand, and with 45 partners around the world, to provide comprehensive service to marginalised urban children, young people and their families. Since its inception, Friends has supported the education, well being and sustainable reintegration of more than 300,000 vulnerable children, young people and their families.