Laos museum, parks & temple visit - travel journal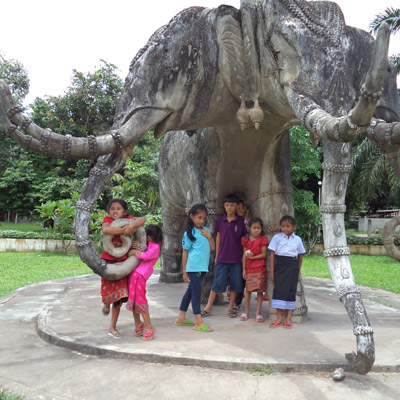 On Friday 22 August 2017, Peuan Mit (Friends Laos) took a group of 39 children (22 girls) age 10-14, on an excursion to Kaysone Phomvihane museum, Buddha Park (Wat Xieng Khuan), Inpeng Ethnic Cultural Park and Souphanouvong museum. Accompanied by four social workers and two public school teachers, the trip was led by a driver from Buffalo tours and the site tour guide, funded by Responsible Travel.
The children who participated in the trip were the from Ladkhuay community. Most of them study at primary school in years four and five, but some had also dropped out of school or had never been. Peuan Mit's Outreach/Prevention team has been working with these children and others like them, and their families, directly in their communities to prevent children from resorting to street work since 2010. The outreach and prevention activities consist of advocacy against neglect and abuse, information dissemination about safe behaviour and support in access to education, vocational training, etc. This community has been in existence since 1990 and is located 10 km from the city. In this area, there are more than 1000 families who have moved from different provinces seeking a better life in the capital city, Vientiane.
Date:
22nd August 2017
8am:
The Buffalo Tours bus picked up Peuan Mit staff at the Drop-in Center, before continuing on to Ladkhuay village to pick up the group of children and teachers at 9:30am. In the bus the social workers, children and teachers all got to know each other, and then they organized games, storytelling, questions, songs, and information about each visit site to entertain the children. They also enjoyed various snacks.
10am:
the group arrived at Buddha Park, and they spent the time there for three hours to look around all the huge statues. Everyone looked excited and happy to see so many big and small statues.
12am:
After visiting Buddha Park the group had lunch at the park before moving to the next location. The group spent the time in Inpeng Ethnic Cultural Park for one hour and at 1:30 the group moved to Souphanouvong museum.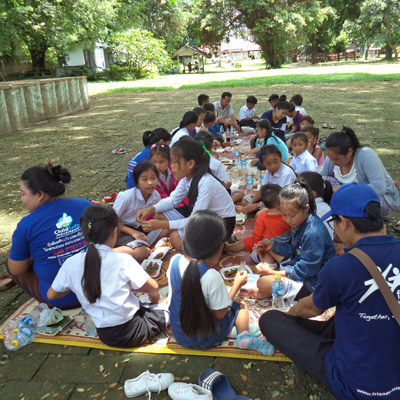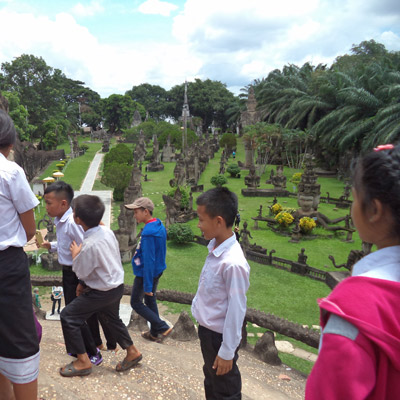 2:30pm:
the bus arrived at Kaysone Phomvihane museum. The group separated in half, group one visiting inside the museum first, while the other group explored outside, and then they swapped. Staffs at the museum were very welcoming, and spent one hour on the tour, explaining the history of former president Kaysone Phomvihane who led the fight for Lao revolution. In total, the visit lasted one hour.
3:30pm:
after the visit at Kaysone Phomvihane museum was over, the group headed back to the community. Peuan Mit social workers continued to entertain the kids on the bus with a singing competition and a Q&A on life skills. The winners received some small hygiene materials as prizes, such as toothbrushes, soaps or shampoos. These were the contribution of other Peuan Mit donors who fund the Mobile School.
4:20pm:
The bus arrived at Latkheay village, and all the children went back to their homes accompanied by their teachers.
Impact:
The excursion was very successful, as not everyone had been visited these three locations before, especially Souphanouvong museum which was the location requested by the children themselves. They also learned about and acknowledged the history by experiencing it for real, rather than learning in the classroom, making it easier for them to remember. The main challenge of the trip was the weather; it was raining too often - however it was a successful trip overall because many of the children had never visited these places and it was a great opportunity for them to learn and enjoy themselves.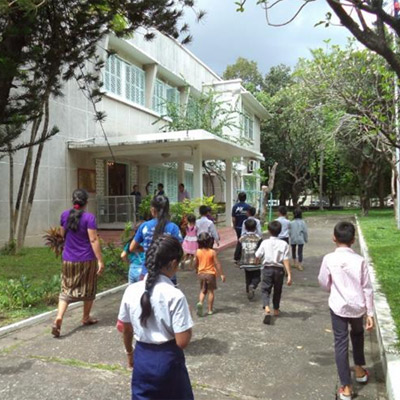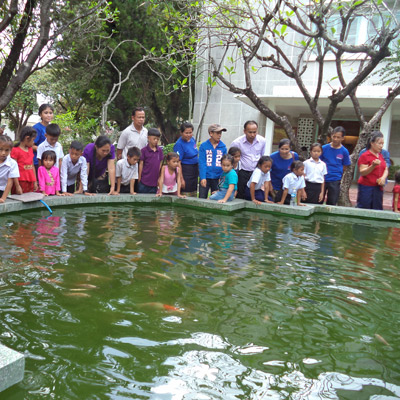 Quotes from the day
"
"I am so happy because I never visited these places before."

"It was very fun today, I want to go again."

"We made a plan to wear school uniform which felt more polite and smart, and is better clothes for us to visit the museum in."

"My friends wanted to climb up to the cave, but I was worried because it is too high for me."

"I'm happy to spend time with my friends during school holidays, otherwise we hardly get to see each other."
"
About our partner organisation:
Friends international is an award –winning social enterprise founded in 1994 that saves lives and builds futures of the most marginalized children youth, families and communities in South East Asia and around the world. It works to create a future where all children are safe from all forms of abuse, and become functional, productive citizens who contribute to a more peaceful, equitable and sustainable world. Friends works in Cambodia, Indonesia, Laos and Thailand, and with 45 partners around the world, to provide comprehensive service to marginalized urban children, youth and their family. Since its inception, Friends has supported the education, well-being, and sustainable reintegration of more than 300,000 vulnerable children, youth and their families.