Global Ghost Gear Initiative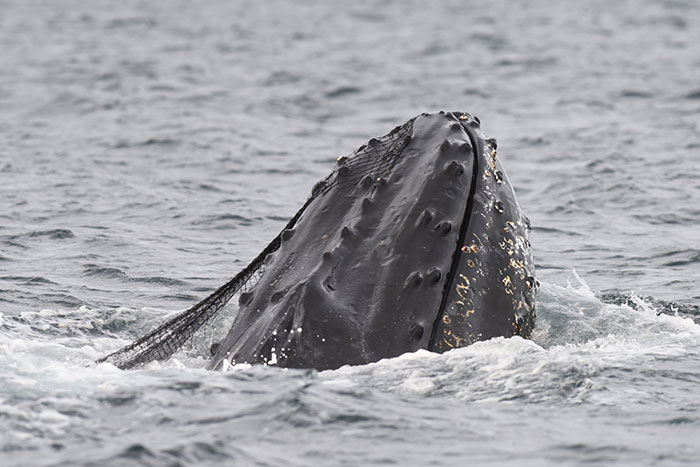 Photo credit: J. Towers
The effect that abandoned fishing nets or 'ghost' gear is having on oceans is astronomical. Over 100,000 marine mammals are killed every year as a result of entanglement in the nets. The World Cetacean Alliance and its team of volunteers are coming up with innovative ways to solve the problem, from beach cleans to working with entrepreneurs to develop new product ideas which make use of old fishing nets, there is much that can be done to save our oceans.

The World Cetacean Alliance (WCA) is the world's largest Partnership working to protect whales, dolphins and porpoises (cetaceans). Together they represent 70 Partners in 35 countries. The Partners of the World Cetacean Alliance aim to conserve and protect cetaceans and their habitats in the world's oceans, seas and rivers, to ensure their continued health and survival. We talk to Dylan Walker, CEO for the WCA to find out more.
Take action!
1. Do a two minute beach clean next time you are on a beach
2. Make something creative with old fishing nets and post to #neteffect tagging @worldcetaceanalliance


Here we talk to Dylan Walker about the Net effect campaign
What's the name of the campaign?
'The Net Effect'
When did it launch?
1st July 2016 (following a trial in 2015)
Tell us about your campaign in a nutshell?
There is a ghost net crisis in our oceans. Ghost nets are fishing nets that have been accidentally or even deliberately left or lost at sea. These nets can entangle fish, dolphins, whales, sea turtles, sharks, and other marine life. The nets restrict movement, cause starvation, and suffocate animals that need to return to the surface to breathe. They kill over 100,000 marine mammals and countless other wildlife every year. The WCA is placing volunteers on whale watching tour boats around the world to inspire and encourage the public to recycle ghost fishing gear. The campaign will seek solutions to the impacts of ghost gear on marine wildlife by:
1. CREATING a market for fishers, recyclers and consumers.
2. REDUCING the need to dispose of unwanted fishing gear.
3. PROVIDING a value for a previously worthless product.
4. PROMOTING the removal of lost gear from beaches and the sea.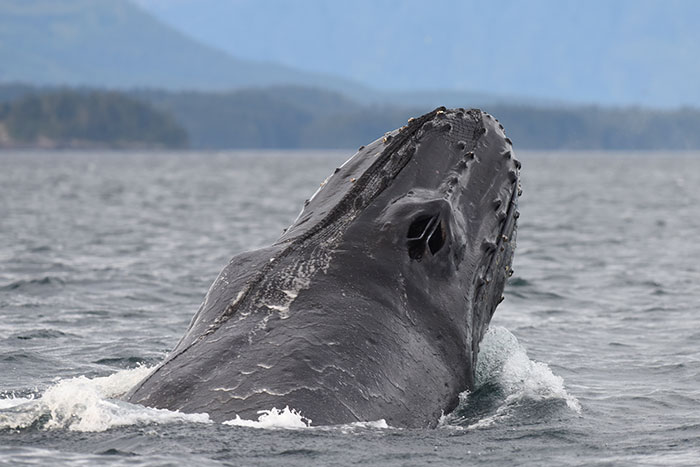 Photo credit: J. Towers
What inspired this campaign?
In 2014 we ran a survey with our responsible whale watching partners to understand which issues they were most concerned about. They rated entanglement of marine mammals in fishing gear as their biggest worry. Many of our partners regularly find cetaceans, turtles or seals entangled in ghost gear, and even those that don't often see scars or other injuries on cetaceans from entanglement in nets and ropes in other areas. This shared concern gave rise to this campaign.
Share with us a story about a person / place / animal that's currently getting a rough ride because of these issues?
Only today we received the sad news that an endangered North Atlantic Right Whale has become fatally entangled in fishing gear. The autopsy officially reported the cause of death as 'severe entanglement', with gear wrapped around the whale's head, flippers, and tail. Whales often survive for months after initial entanglement, with nets causing painful injuries that often eventually lead to death. The death of this whale illustrates that entanglement is both a welfare and conservation concern for marine animals and an urgent priority for us to address.
What change needs to happen to make things better?
The WCA is working as part of a larger coalition of organisations, including fishing industry and seafood representatives, collaborating to reduce the impact of ghost fishing gear on marine wildlife: the Global Ghost Gear Initiative
http://www.ghostgear.org/
. The good news here is that lost fishing gear isn't just bad for wildlife, it's bad for fishers too, as replacing gear is expensive and lost gear often continues to catch commercially valuable species. This presents an opportunity for us to work with the fishing industry worldwide to reduce the volume of lost gear.
How will the world be a better place if and when you succeed?
The wonderful thing about seeking solutions to this issue is that everybody wins! That means that there is reason, and incentive, for all partners to work together collaboratively, and that's a great model to replicate in other places and for other issues. Solving this problem means that fishing communities can fish more sustainably, ensuring the long-term viability of their livelihoods whilst reducing impacts on target and non-target (bycatch) species of marine wildlife. Another benefit is the opportunity to upcycle hard wearing plastic nets and ropes into useful products, encouraging people to take them out of the ocean or off our beaches and convert them into something useful. The value of this process, and the message it sends to consumers, is vital to encourage society to incorporate sustainability as a core value.
If you had a mega-phone for 10 seconds on a rooftop to get your message out, what would you shout?
It can take an endangered North Atlantic Right Whale six months to die from entanglement in ghost fishing gear. Let's find innovative solutions to end this problem.
What three things can we all do to help?
1. Next time you are at the beach, we challenge you to do a
two minute beach clean
to see how much ghost gear you can collect.
Just remember…
be careful when collecting the ghost gear as it may be sharp!
2. Help untangle the sea by buying a product made from ghost fishing gear. Go to
www.ghostfishinguk.shop/
to see our list of cool things to buy!
3. Get creative with some ghost gear from the beach or harbour by trying to create something useful with it, like a bracelet, keychain, or your very own innovation. Show us your creations using #neteffect and tagging @worldcetaceanalliance and help us to develop new and exciting products that could even be made commercially!
What's the campaign website?
https://www.ghostgear.org/

Do you have a target end date for this campaign?
It's ongoing - one of our global programmes so no end date at the moment.
Take action!
1. Do a two minute beach clean next time you are on a beach
2. Buy products made from old fishing gear
3. Make something creative with old fishing nets and post to #neteffect tagging @worldcetaceanalliance


Responsible Travel's view
"
"For us humans, the thought of being trapped or entangled, unable to escape is the ultimate nightmare. However, this is the reality for many of our most precious ocean mammals every day and there is something that can be done about it. Spread the world and get creative today; let's help free our oceans of this web of horror."
"