The charities we have supported through donations
We are determined that our impact on the world comes not just from generating demand for responsible tourism and hence benefiting destinations and local people through our core business, but also through direct donations from our bottom line to related charities. We believe that the success of the one should feed the commitment of the other.
Team charity events

Our staff enjoy a good challenge and Responsible Travel supports, encourages and donates to any events or sponsored challenges undertaken by staff members to help them fundraise for charity.
Between 2006 and 2015
we donated 13 percent of our profits to charity
. You can read about some of these charities below.
The World Cetacean Alliance: £1450
The World Cetacean Alliance
is the largest global partnership working to protect whales, dolphins and porpoises (cetaceans). They not only aim to conserve and protect these intelligent creatures and their habitats but are also committed to preventing all cetaceans from being held in captivity except for rehabilitation and release purposes. We are proud to be working in partnership with WCA on our joint '
Say No to Orca Circuses
' campaign.
Elephant Family: £250
Asian elephants are amongst the world's most magnificent and threatened species. But sadly the future for this iconic animal is under threat as the spread of human settlements continue to infringe upon their natural habitats. Their long term survival depends on diffusing such conflict and securing their corridors of travel – a challenge
Elephant Family
are determined to meet. Since their launch in 2002, they have been working hard to secure elephant and wildlife habitat whilst supporting local communities to promote human-elephant coexistence. Key campaigns also include promoting elephant welfare, an issue which is also important to us here at Responsible Travel - please read our
Elephant Conservation guide
for more information.
All Out Africa Foundation: £250

All Out Africa is a responsible travel company and a non-profit foundation which focuses on supporting social and environmental projects in Swaziland, Mozambique, South Africa and Botswana. Our marketing director, Tim Williamson, volunteered with his family in Swaziland with All Out Africa and set up the swimming programme after learning about the large numbers of children who drown whilst playing and washing in the dams and rivers. Brighton based swim club, Pool to Pier (part of Brighton Swimming School) has now hosted three annual "Swazi swims" between the Brighton piers and have raised over £3,000 so far. These funds go directly to pay the wages of a swimming teacher for a year in Swaziland and the purchasing of much needed swimming equipment.
Surfers Against Sewage: £250
Surfers Against Sewage (SAS)
is an environmental charity that runs community action projects aimed at protecting the UK's oceans, beaches and waves for all to enjoy sustainably. Campaigns target a range of coastal environmental issues from marine litter, sewage pollution and toxic chemicals, to shipping, industry, coastal development and climate change – all things which also matter to our coastal swimmers in the Responsible Travel office!

Just a Drop: £15,000
Every 20 seconds, a child dies from a water related disease. Moved by this plight,
Just a Drop
was launched in 1998 as an international water aid charity. Fiona Jeffery, the charity's founder, learnt that just £1 can deliver clean water to a child for up to 10 years. Just a Drop was born, based on the premise that if people can be encouraged to give a little then collectively we can make a huge difference.
The Born Free Foundation: £1,100
The Born Free Foundation
is an international wildlife charity working throughout the world to stop individual wild animal suffering and protect threatened species. With the help of a global network, they take action to save lives and keep wildlife in the wild.
PLOD / Action Medical Research for Children:
Responsible Travel staff completed a gruelling, non-stop 40 mile '
PLOD
' walk along the South Downs Way to raise money for
Action Medical Research for Children
. For over 60 years Action Medical Research for Children have been saving and changing lives through medical research and have spent over £100m, funding some amazing breakthroughs in research from polio to ultrasound scanning in pregnancy.

Trailwalkers / Oxfam:
Trailwalker is an epic endurance challenge where teams trek 100km in 30 hours across the stunning South Downs National Park. Our Help Desk Manager, Rosy, took part raising money for Oxfam, a global movement of people working towards a world without poverty.
Brighton Half Marathon / Village-to-Village:
Village-to-Village UK is a small non-governmental organisation which works to promote rights and relieve poverty in rural Africa. The main focus of their work is fundraising for Village-to-Village Tanzania, who implement projects in Education, Sustainable Agriculture and HIV/AIDS. Staff from Responsible Travel completed the Brighton half marathon, raising £1,085 for solar panels for their health centre in a village called Uchira, which is set at the foot of Mount Kilimanjaro.
Shanti Trust: £1,500
Brett and Lara Pollard have been working with the local communities near their lodge on Lake Malawi since the land was donated to Lara's mother by villagers in return for support in building schools and providing assistance through various projects (school building and finance of running costs, tree planting, school feeding programme, women's groups). Funds donated by Responsible Travel went towards building a small cultural centre to provide an outlet for villagers to sell traditional handicrafts; money raised through tours and visits to the centre are used to help local craftspeople set up their own weaving, carving or pottery businesses.
ActionAid in Cambodia: £1,500
ActionAid
is an international NGO whose primary aim is to work against poverty and injustice worldwide. In Cambodia, they are helping people to discover their rights and entitlements after years of oppression and poverty – which includes creating access to good health care. Funds raised here went towards supporting a project to establish a community healthcare programme and provide healthcare training for rural Cambodians, thus empowering them to address their own health needs.
The TESFA Fund: £1,800
Responsible Travel's founder Justin Francis chose The TESFA Fund, highly commended in the 2005 First Choice Responsible Tourism Awards, following his trip to Ethiopia. Our donation was used to benefit the village, including buying a motorbike.
Justin says: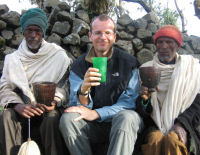 "The first part of my trip involved a very remote trek. We saw no tourists at all. By the third day we'd reached a tiny community of about 50 households – our 'lodge' below. The nearest rough road was about 30km away. Although the people are desperately poor people rushed out of their tiny fields to offer us food they had grown.
"I discovered that through tourism they had – for the very first time ever – been able to save some money ($500). This is pretty much a lifesaver for them as even in a good year for the rains they only just have enough food. If the rain fails they are in serious trouble. Off their own backs they decided to use some of their savings to set up a micro credit programme to loan money to other members of their community so they can start trading in grain and diversify their incomes to reduce their risk. In essence tourism had given them a chance they've never had before.
"TESFA is exceptionally well run. They have three camps about 60km apart, with remote communities in each that cannot be contacted by phone. They have no vehicle to coordinate clients and bookings and rely on getting a lift from a local charity's car.
"It means they waste days of time and have their (local) manager stranded for days at a time. Most big donors won't fund vehicles – despite it being the very thing that the community need most. For this reason, we decided to buy them a motorbike, which would make the world of difference to them, mean they can take more bookings, and literally change lives."
You can read more about
their Lalibela accommodation
.
The Woodland Trust: £2,000
The Woodland Trust is a leading UK woodland conservation charity; protecting ancient woodland, restoring and improving the biodiversity of woods, creating new native woodland, and increasing people's understanding and enjoyment of woodland. They care for over 1,000 sites throughout the UK and are keen to engage people in their activities. All their woods are freely open to the public and they run a programme of events including tree planting and woodland walks. Our donation has enabled more children to plant trees as part of the Trust's campaign Tree for All. "It made me feel part of the world. I would love to do it again; planting a tree gave me a great feeling inside, a real feeling of happiness." –
Lucy Beech, age 10

Archelon Sea Turtle Protection Society, Greece: £1,000
Archelon is a non-profit making NGO dedicated to protecting sea turtles and their habitats in Greece through monitoring and research, developing and implementing management plans, habitat restoration, raising public awareness and rehabilitating sick and injured turtles.
Afrikids: £1,500
AfriKids
works to support and expand the work of local individuals and groups in Northern Ghana, including Laadi – the founder of Mama Laadi's House, a local foster home. Laadi cares for children who are orphaned or who were found on the street and were unable to be placed back with their families. The children may have physical or mental health conditions, learning difficulties, or have been cast out as "spirit children" – a traditional practice which, through education programmes, AfriKids has virtually ended in this region. Laadi herself lived on the streets as a child but managed to rebuild her life and train as a nurse – she has cared for hundreds of children over the years and many return regularly to the foster home as adults to help out and show their gratitude. Responsible Travel's contribution went towards the building of a new foster home, and former director Paul Snudden also released a charity single, whose proceeds were donated to AfriKids.
Kawaza village Basic School, Zambia: £300
Justin Francis first visited Kawaza in 1999, when the school had just 327 pupils and four teachers, and no girls passed their grade 7 exams. When he returned in 2005, 551 pupils were attending from local village. The school was now staffed by 10 teachers, and 10 girls were expected to pass their exams. Our donation helped build a new classroom, and as part of the wider project, teachers' houses were refurbished, over 50 vulnerable children were sponsored though school and eight of the 16 teachers were funded.
Friends of Conservation: £905
FOC
was founded in 1982 to help prevent wildlife and habitat degradation in the Masai Mara - one of the most ecologically important regions of the world. Since that time they have gained a reputation as one of East Africa's leading conservation bodies and work alongside some of the most progressive minds in this arena.
Other contributions we have made
Other organisations we've donated money to include
i-rescue
,
Save the Rhino
, Lewes Railway Land Conservation group (after
volunteering with them
),
Kiya Survivors
, Tourism Concern,
Hebridean Whale and Dolphin Trust
.
Adventure under Sail
, TravelPledge and the Tijhza Emergency Relief Fund.
Office volunteering

We also close our offices for one or two days each year for
volunteering days
with local charities and organisations. Past volunteering days have included days helping to dig holes, coppice woodland, build fences and get involved in beach cleans at Lewes railway land local nature reserve; Sheepcote Valley; Brighton Beach, The Green Gym and Stanmer Park, part of the South Downs National Park, where we spent the day coppicing.
Stanmer Park is often on the lookout for people happy to lend a hand for the day in the great outdoors, so if the idea of some coppicing, fence post-building or bonfire stoking gets your volunteering passion ignited, you can find out more information
here
.