Swap screens for screams of delight on family holidays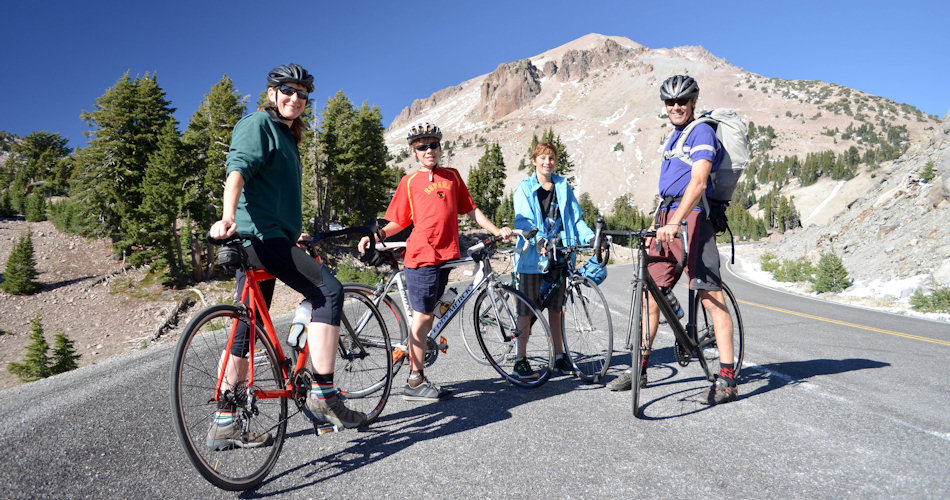 Screens have long been central to family life, with all eyes focused on It's a Wonderful Life in the old days, or Facebook frenzies these days. Having a digital detox for many kids would be worse than banning chocolate. But overdose comes to us all, and a family adventure holiday that makes Wi-Fi withdrawal a total breeze, while uniting you through unforgettable experiences, will rekindle that family glow you felt as a child yourself, and remind you that it really is a wonderful life.
Peru
Paddington is so last year. Explore
Peru's real offerings with your teenagers
, a country with as many traditions as the Inca Trail has steps, it's like a rite of passage into adulthood coming here. In fact, it's great when your kids get older, as you can get to live the dreams with them that you didn't manage to achieve when you were young. Explore Peru's Pacific coast to the Inca Trail, the ancient streets of Cusco to the traditional markets of the Sacred Valley. Trekking on the Inca Trail all the way to the top at Warmiwañusca, or Dead Woman's Pass, at 4,200m, camping out on these magnificent terraces, and getting your head around the ethics of the porter culture, is experiences your children will never forget sharing with you. Now is the time to do it with them, before the gap year mania lures them there without you.
Camping in America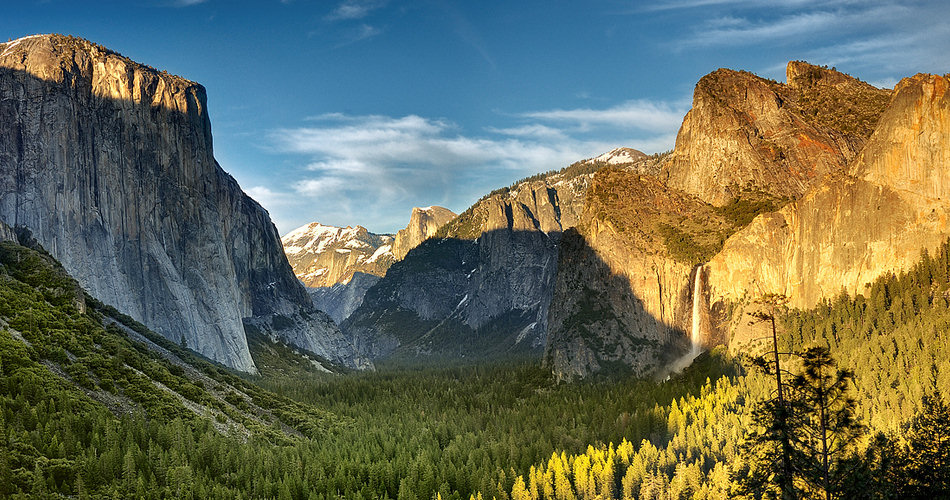 If you mention American 'parks' to most children they will, sadly, probably be able to name you half a dozen theme parks they have on their wish list. It might be hard, therefore, to convince them that the natural wonders of
America's national parks
are just as overwhelming. But once they take in their first view of the Grand Canyon, a Navajo guided back roads tour in Monument Valley or a serious bike ride through Yosemite National Park, the Sierra Nevada mountain range in the background, and the Merced River to cool down in afterwards, parks will take on a whole new theme in life. And getting to camp under the stars in these extraordinary locations just quickens the process of converting your young ones to the real thrills of life.
Finland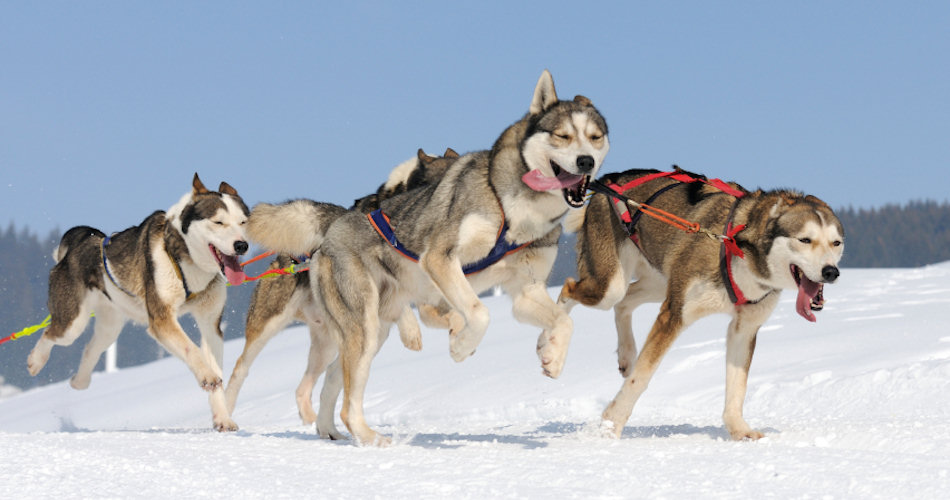 Husky dogs in Finland
Watch the children's faces light up. Literally, under the Northern Lights and metaphorically, when they go husky sledding across the wilderness areas of
Finnish Lapland
. Electronics are swapped for electrons and protons, which illuminate the remote spots around the Pallas-Ylläs Park far up in the north west of Lapland, home for a week as you bed down in wilderness hotels and cabins along your adventurous journey. Forget your Facebook friends as the family team of huskies become your best friends for the week of sledding and swishing through untrodden snow. Lose track of time, as you have lunch out in the wilds by the heat of an open fire. And lose all sense of embarrassing parents as you all indulge in what is a run of the mill family experience in Finland. The sauna. Oh, and get the kids Roddy Doyle's book 'Wilderness' before you go, fiction that captures the drama of this holiday just perfectly.
Walk the Alps with a donkey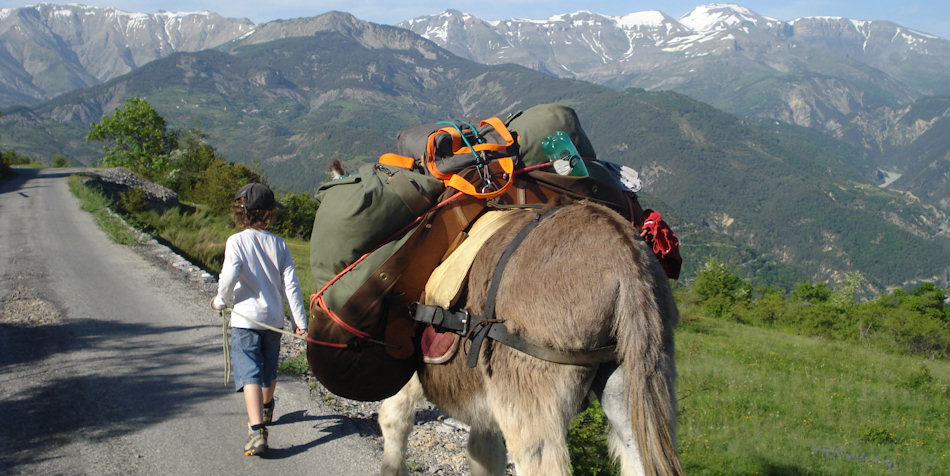 Child with donkey (Photo by Catherine Mack)
It's all very Biblical, arriving into town in search of an inn with a donkey, except that in this case, there is always room at the inn. In fact, there is nothing to worry about at all on this
family walking holiday
other than getting yourselves from exquisitely alpine A to mindnumbingly beautiful B, with donkey in tow. The donkey plays a number of important roles: porter for all your bags, food and water, mountain guide, protector, motivator and, by the end of day one crossing the Mercantour National Park in France's lower Alps, the family best friend. When you arrive at your gite or auberge, dinner is waiting for you, and you are sent off the next day with the most gourmet picnic you have ever seen. By the time you have conquered cols and navigated valleys, you will feel like the veritable Von Trapps, because this is pure family time just walking and talking. With a bit of the proverbial arguing over maps thrown in, in some cases.
Family cycling holiday in Kenya and Tanzania
You know those ads where they try to convince you that 3D TV or Xbox games are totally real? Just wait until your children get the chance to
cycle across open savannah
to Kenya's Amboseli National Park and along the wilderness areas of the lower slopes of Mt Kilimanjaro. Or along Tanzania'a Rift Valley Escarpment. Bike rides are interspersed with safaris, visiting a Maasai village, hiking in Tanzania's Usambara Mountains or going on a game drive at the Ngorongoro Crater. And if discovering these two African dream destinations from a saddle isn't enough, the finale is cycling back down through rainforest to the tropical palm lined coast, with farewell cycle through Tanzania's coastal Saadani National Park. So, 3D TV or cycling in the foothills of snow-capped Kilimanjaro and then wild camping under a cloudless African sky? #Nuffsaid.
Croatia - sea kayaking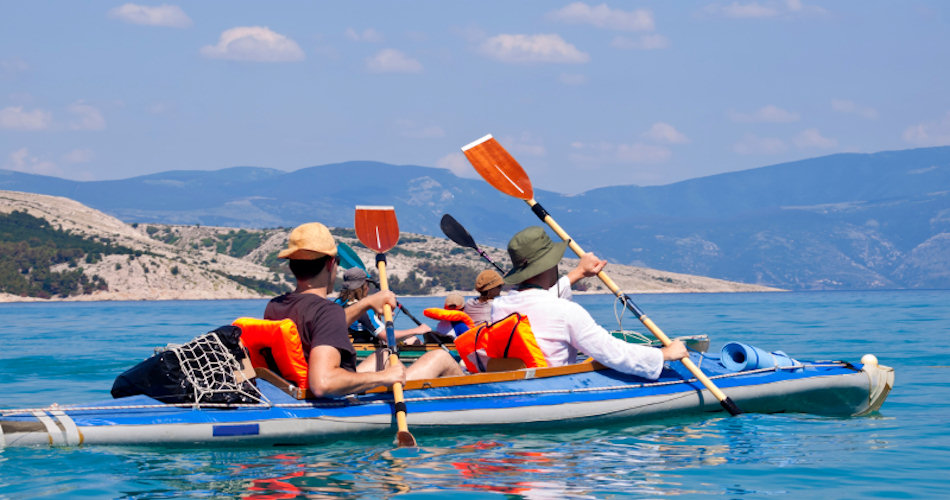 Sea kayaking in Croatia
Bliss out on a car free island in
Croatia
where the only charging of batteries to be done is your own personal ones. Landing on the white beaches of the Elafiti Islands archipelago or the blissful island of Vis is like an instant digital detox. And although you might think that sea kayaking with kids might be stressful, it actually has the opposite effect. By going with a professional guide, you hand over the parental reins completely, allowing you get to take a back seat and mellow out on the water, either in a double kayak with your child, giving you that bonding in a boat experience. Or go for a single sea kayak, sit back and watch your children revel in the joy of paddling. Back on dry land, these islands are also places for children to go a little feral and be given the freedom to run and roam that few get to experience today.
Family adventures on the Galápagos Islands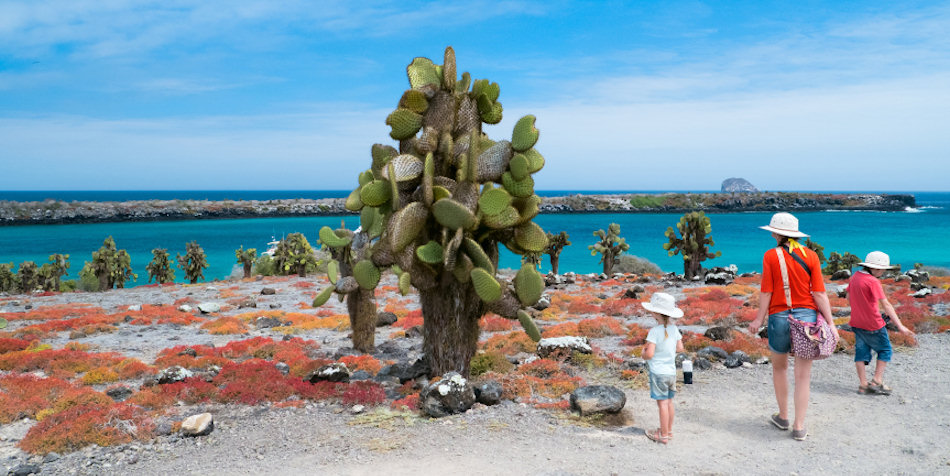 Family in the Galapagos
You can't get more gobsmacking than the
Galapagos Islands
really. Combine it with a trip to mainland Ecuador which is surprisingly small, accessible and, consequently, great if you are travelling as a family. Crammed into an area the size of the UK, the habitats range from the steamy Amazon jungle and high Andean paramo, to bird-filled cloud forest and mangrove-lined coast, while majestic colonial cities shelter in the foothills of snow-capped volcanoes. All this before you've even reached the Galapagos, where wide-eyed sea lions, giant tortoises, and penguins show no fear of their human visitors, and happily pose on wave-battered rocks while you and your family remain totally transfixed. This is a nature holiday without epic journeys or dramatic expeditions and with enough variation to keep the children vying for the next adventure - canoeing down the Amazon one day and watching penguins preen themselves the next.