Top 10 least gay-friendly travel destinations
When it comes to overseas travel, LGBT (Lesbian, Gay, Bisexual & Transgender) rights are a hot topic. The 2014 Winter Olympics in Sochi, Russia brought these issues to the forefront of travel – and since then, there has been a rollercoaster of news, from Uganda's Anti-Homosexuality Act, to Ireland voting overwhelmingly in favour of same sex marriage. Put together with help from the Human Dignity Trust, an NGO fighting for LGBT rights globally, and in no particular order, we share what we believe to be the least friendly holiday regions for the LGBT community.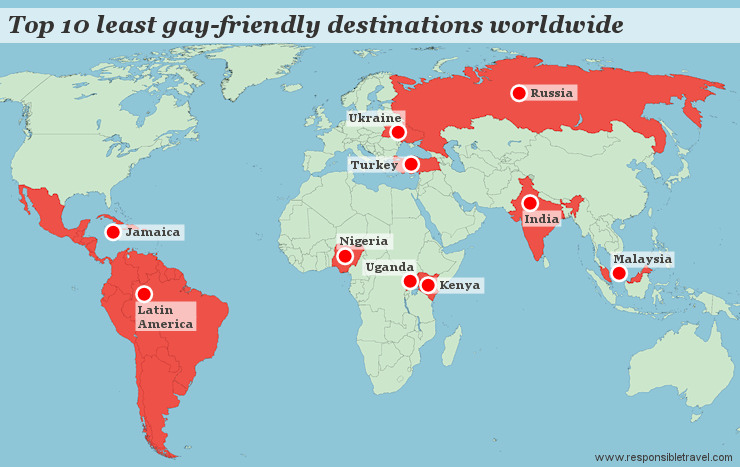 Uganda
Land of the awe-inspiring mountain gorilla, with an equally jaw-dropping stance on LGBT rights. Chillingly the Ugandan President has pledged to sign a bill which will see homosexuals face a life sentence in jail. This could become law at any time. Read more about
LGBT rights in Uganda
.
Russia
The 2014 Winter Olympics invited the world to Russia, but to us it seems that the Olympic ethos of equality hasn't extended to LGBT rights. Recent legislations make it illegal to educate minors about "non-traditional" relationships and there are a large number of reports documenting hate groups persecuting homosexuals.
Malaysia
This paradise of island beaches, unique wildlife and vibrant cultures has made our list not only for its British colonial-era anti-LGBT laws, but also for its laws criminalising cross-dressing. It has also been reported that the Ministry of Education has given guidelines to parents on how to spot the 'symptoms' of homosexuality in their children.
Jamaica
It's not all sunshine and smiles in this famously upbeat Caribbean nation – the danger of violence towards LGBT persons is high, driven in part by the popularity of "hate music", with some major and popular artists recording extremely homophobic lyrics.
India
When it reversed its 2009 legislation decriminalising homosexuality, India's Supreme Court has essentially declared that an estimated 30-40million LGBT persons are now living as criminals. Although prosecutions are rare, police and vigilantes now have the power to harass homosexuals.
Nigeria
Not a particularly popular tourist destination we admit, but its truly shocking stance on LGBT rights earns its place in the list. Homosexual activity is punishable by death in certain Nigerian states and the country has also passed a law criminalising LGBT organisations.
Kenya
Well-known for its fabulous wildlife, less well known for its colonial-era laws criminalising homosexuality. Currently prosecutions are rare, but Kenyan law-makers have responded to President Obama's recent call for African nations to respect LGBT rights by calling for the enforcement of these laws.
Ukraine
Ukraine makes the list as the government is considering similar legislation to Russia, against "propaganda of homosexuality" and NGOs have already been declared as "foreign agents".
Latin America
At a glance, Central and South America look like great regions for gay travel; most countries have decriminalised or indeed never criminalised homosexuality, major cities like Rio de Janeiro and Buenos Aires have flourishing gay scenes, and Argentina has led the way in equality laws. However, according to the 2012 Trans Murder Monitoring Project, between 2008 and 2014, 78 percent of the murders of transgender people reported throughout the world took place in Latin America.
Turkey
Despite the tranquillity of its pristine beaches and the sparkling Mediterranean, levels of violence are high. Turkey also registered a high number of murders of transgender people.
Don't ignore the power of the "pink pound"
Here at Responsible Travel we believe that destinations and governments need to consider the impact of their attitudes. According to a 2012
GETA (Gay European Travel Association) report
, European LGBT travellers alone are estimated to spend £39-42 billion annually, making this a market many countries cannot afford to ignore, particularly when combined with the spending power of other travellers sympathetic to human rights issues. We believe that in an era of globalisation, driven by powerful instant communication, homophobia is no longer socially acceptable in any form and Governments must respect and recognise individual choice and freedom.
So what can you do?
Justin Francis, Managing Director of Responsible Travel says "Ultimately as travellers we all have a personal choice as to which destinations visit and how we make our protest. If you do decide to visit these countries, by travelling responsibly and choosing to support local craftspeople, hoteliers, guides, farmers and traders your trip can help enlighten and educate, bringing benefits to the people that need it most, rather than supporting government regimes. You can also make a stand back home by voicing your opinions through online petitions or supporting organisations such as the
Human Dignity Trust
. If you do choose to boycott a destination make sure your reasons are voiced to the people with power to make a change".