10 ways to tell if your ecolodge is greenwashing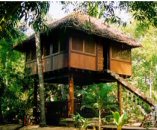 'Eco' and 'ecolodge' have become buzzwords used by terrific organisations dedicated to conservation and benefitting local people - but also by those seeking to exploit its marketing potential for economic gain with little or no regard for destinations.
Without getting into the intracies of composting toilets, how can the tourist decide between the genuine and the not so genuine?
10 ways to tell the difference
Ask the lodge owner if they have a written policy regarding the environment and local people. If its not written down ('yeah, yeah we do all that stuff') then it probably means they're are not taking it seriously.


Ask them to describe the single contribution to conservation or local people that they are most proud of.


Ask them how they measure their contribution to conservation and local communities.


Ask the lodge owner how many local people they employ, what percentage this is of the total, and whether any are in management positions.


Ask them what they have specifically done to help protect the environment and support conservation, and which local charities they work with.


Ask them what percentage of produce and services are sourced from within 25km of the lodge.


Ask them how they treat waste water (coral and other wildlife is being destroyed by Caribbean hotels pumping effluent out to sea), and how they cool their building (the responsible design and positioning of buildings in warm climates can harness shade and breezes to ensure they are naturally cooler – without the need for air conditioning)


Ask them what information and advice is provided to guests on local cultures and customs.


Ask them if they employ guides from the local community. Local guides not only provide unmatched insights into local cultures, but are also aware of areas/behaviour that might cause offence among local people.


Ask them for ideas on how you might get involved with local people and conservation in a worthwhile and rewarding way for you and the destination.

Interested in staying in an ecolodge? Check out our ecolodge accommodation. We've done all the screening for you!