"A fantastic overview of Nepalís diverse highlights, this tailor made trip includes trekking in the Himalayas, wildlife in Chitwan and the culture and architecture of Kathmandu and Bhaktapur."
Highlights
Kathmandu | Pokhara | trek to Khare | rafting on the Trisuli River | Chitwan National Park | wildlife viewing | village visit | Bhaktapur
Description of The Heart of Nepal trek, tailormade
Encompassing outdoor activities and a trek through the heart of Nepal, wildlife watching, Nepalese culture and the traditional architecture, temples and arts of the Kathmandu Valley, this tailormade trip combines a little of all the aspects that make Nepal so popular. Our trek takes us through valleys, canyons, forests full of birdlife and to ridges for stunning views of the mountains. At Chitwan we are sure to see rhinos and other wildlife as we take an elephant-back safari. If the gods are with us we may even see that most magical of creatures, the Royal Bengal Tiger.

Kathmandu City took its name from a building known as Kasthamandap (the 'House of Wood') which is still in the centre of the old city. Durbar Square, with its old Royal Palace and many temples, is a main focus of the city. The area around Thamel and Freak Street is a constant bustle of tourists and craft sellers, and used to be known as the place where the 'hippy travellers' hung out. The 'Kumari Bahal' (House of the Living Goddess) is a temple which has the unusual honour of being home to a living goddess. She is rarely seen outside of the temple, but you may get a glimpse of her in her inner courtyard. We have a day's guided sightseeing in the city to take in the major areas of interest, including many of the fantastic temples and architectural masterpieces.

Pokhara is west of Kathmandu, way beyond the Kathmandu Valley, in the foothills of the Annapurna range. Pokhara is Nepal's version of a 'resort' town, picturesquely situated on the edge of Lake Phewa (Phewa Tal). It is in a beautiful setting with views of Machhapuchhre Fishtail' mountain. On arriving here, we drive through the Tibetan refugee camp to near Dhampus Fhedi where our five day trek begins after lunch.

The trek takes us from Dhampas to Khare and is mostly at an altitude of under 2,000m, so problems due to altitude should not occur. The trekking is moderately challenging, but by no means meant for people with ambitions on Mount Everest! You will enjoy some stunning views as the trek passes through Landrung, Ghandrung and Chandrakot. Your sherpas will accompany and guide you, helping you with setting up camp and cooking each night.On your return to Pokhara, we drive to Charaudi on the Trisuli River for a day of exciting and scenic rafting. We raft to Kuringhat, then camp before enjoying another morning's rafting.

After lunch you leave the river and drive to your lodge in Chitwan National Park. Chitwan is the best known and most popular park in Nepal. You will be impressed by the range of wildlife you can see here: tigers, rhinos, sloth bears, wild boars, rare antelopes and langurs. Chitwan has one of the last populations of armoured single-horned Asiatic rhinoceros, now numbering some 400 individuals, as well as being home to about 80 Royal Bengal tigers. The park boasts around 50 species of mammals and 500 species of birds. You can take an elephant-back safari to spot the wildlife, or you can go on a hike through the park, take a canoe ride along the river or stick to the more conventional jeep safaris.

Back in the Kathmandu Valley, just east of Kathmandu is the attractive city of Bhaktapur. It has a very mediaeval feeling, and many of the buildings, mainly built of brick and wood, have intricate wooden carvings typical of Newar craftsmanship. The original centre of the city is Tachupal Tol (also known as Dattatreya Square). Here the imposing Dattatreya Temple and Bhimsen Temple are found, and down a narrow lane nearby is the famed 'Peacock Window' (a marvel of Newari carving). Bhaktapur's Durbar Square has a number of interesting architectural features including the impressive Golden Gate, and houses the National Art Gallery in the west wing of the Royal Palace.
Day-by-day experiences
| | |
| --- | --- |
| Day 1: | We arrive in Kathmandu and transfer to the hotel for overnight. |
| Day 2: | Today we enjoy guided tours of Kathmandu and Patan City. |
| Day 3: | We transfer to the airport to take our flight to Pokhara, then drive through the Tibetan refugee camp to near Dhampus Fhedi where our trek begins after lunch. We trek to Dhampas (1787m) and take in the stunning views. |
| Day 4: | Trek to Landrung (1646m). |
| Day 5: | Trek to Ghandrung (1951m). |
| Day 6: | Trek to Chandrakot (1563m). |
| Day 7: | We visit the British Agricultural Centre. Our trek ends at Khare. After lunch we will drive back to Pokhara. |
| Day 8: | Today we drive to Charaudi on the Trisuli River for a day of exciting and scenic rafting. We raft to Kuringhat. |
| Day 9: | After another morningís fun rafting we have lunch, after which we leave the river and drive to our lodge in Chitwan National Park. We enjoy wildlife viewing on elephant back and a visit to a nearby village. |
| Day 10-11: | Wildlife viewing in Chitwan |
| Day 12: | Morning game viewing, then drive back to Kathmandu. |
| Day 13: | Half day tour of the nearby ancient town of Bhaktapur. |
| Day 14: | Transfer to the airport for flight home. |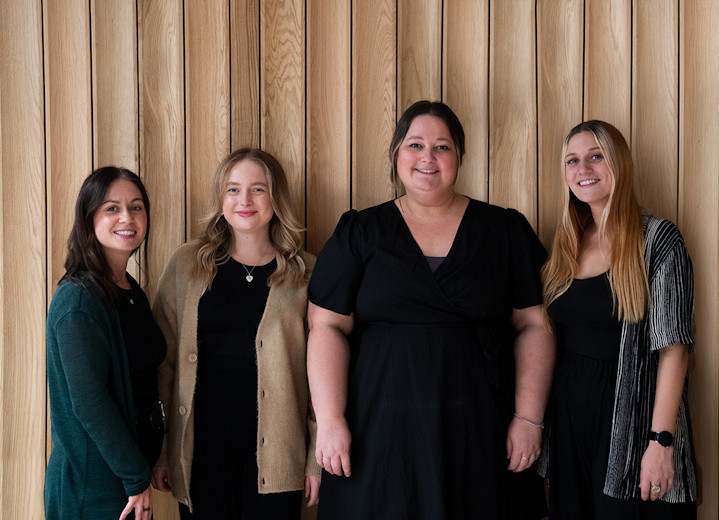 Departure information
This trip can be arranged at any time to suit you, and adapted to your requirements as necessary. Please contact us for further details
Holiday type
Tailor made holidays
This trip can be tailor made to create a unique holiday for your individual requirements by travel experts with intimate knowledge of the destination. It is a more luxurious trip that will suit those who enjoy immersing themselves in new cultures and environments before relaxing in comfort. As this trip can be tailor made it would be helpful if you could you provide the following information: rough budget per person (stating with or without flights), your address and postcode, contact phone number, preferred date of travel, length of trip, number of passengers, preferred countries and areas within those countries, specific interests & type of accommodation.
Responsible tourism
Responsible tourism: The Heart of Nepal trek, tailormade
The Nepali company with which we work is committed to encouraging sustainable tourism which benefits the Nepali people and environment. They also undertake huge environmental campaigns. Recent successes include the government's decision to implement a ban on two-stroke motorcycles in the Kathmandu Valley (a major cause of air pollution), and the imposition of a large tax on plastic bags (to encourage the use of recycled paper bags).

In 1998 they received a prestigious environmental award. Working with them, we employ only Nepali staff, help to educate their staff and encourage conservation awareness, donate to social welfare projects, plant trees to combat deforestation, collect rubbish form the areas we operate in, and financially support nature conservation organisations such as Bird Conservation Nepal.

We were voted most responsible tour operator by UK NGO Tourism Concern. On average 75% of the cost of your trip - excluding flights - remains in the destination.

Flights are automatically carbon offset through The Travel Forest, which plants 10 indigenous trees on your behalf (currently in northern Tanzania). Whilst the primary motivation for planting the trees is to offset carbon emissions, the project also works as a poverty alleviation and environmental improvement scheme.


Popular similar holidays
Wildlife tour through India
From £2499 - £8899 16 days including UK flights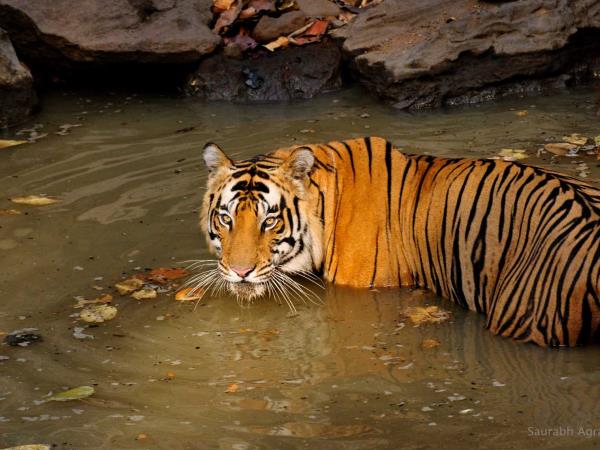 Best of Indian wildlife with tiger, leopard and sloth bear
From Rupee165000 - Rupee195000 12 days including domestic flights only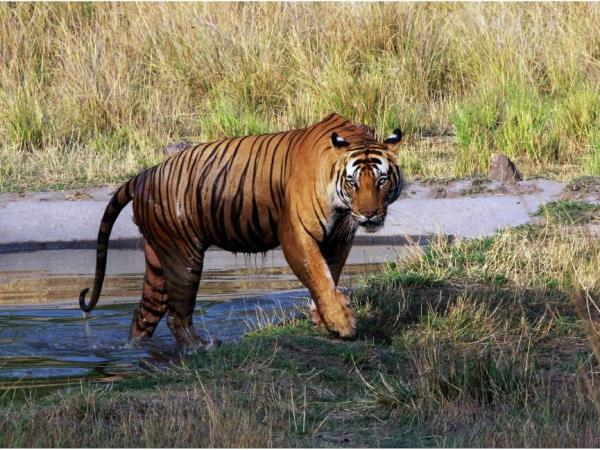 A chance to see the majestic tiger in the wild
From £725 - £950 9 days excluding flights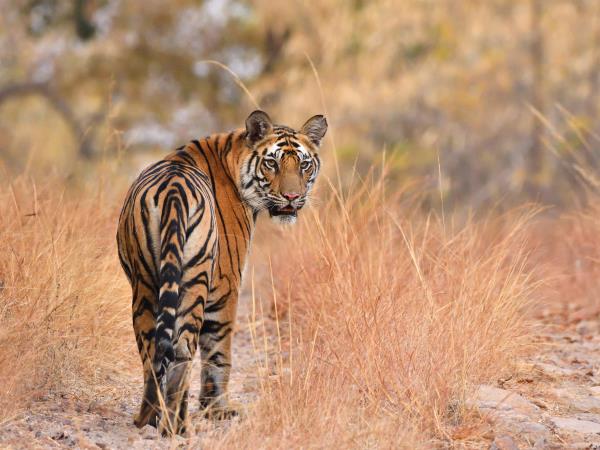 A tour for those who wish to see tigers and other wildlife
From Rupee135000 10 days including domestic flights only