Description of Andalucia self guided walking holiday, twin centred
Walking from 2 beautiful 'white villages' ensures you experience the best that Andalucia's Sierra de Grazalema Natural Park can offer without the need to pack and move on every day. The walking programme is flexible and varied with a choice of routes each day, from easy to moderately easy. Then, at the end of each day's walking, look forward to the comforts of carefully-selected hotels and memorable meals.

We are a small family venture, established since 1995, committed to providing you with a delightful walking holiday. We've built our reputation on delivering the highest quality walking experiences, meticulous attention to detail and dedicated customer service. You can relax in the knowledge that all routes have been extensively researched by us. Hotels and restaurants too have all been personally tried and tested.

Highlights:

• relaxed, easy, scenic walks along carefully-selected routes
• a choice of walks with flexible distances
• comprehensive commentaries enhance the walks
• 2 excellent hotels in outstanding locations
• pools at each hotel for relaxing after your walk
• restaurants offering excellent, authentic food
• exploring picturesque mountain villages and world-famous Ronda

Climate:

Andalucia is a year-round destination for walking.

Our hotels:

La Mejorana is wonderfully located in the heart of the beautiful village of Grazalema. There's a lovely pool and terrace set in beautiful gardens. Each room has a bathtub and mountain views. We recommend the village's best restaurants for traditional, authentic dining, just a stone's throw from the hotel. Your last 3 nights are spent at the highly-acclaimed, family-run Molino del Santo, Benáojan. If you look at their website you can see for yourself its idyllic setting. Here you can dine under the stars. Jamie Oliver recently named The Molino as his 'restaurant of choice' – and you'll find out why!

Grading of Walks:

Walking in the Grazalema Natural Park can appear daunting with many well-known routes traversing high mountain terrain. All the walks in our programme are gentle, relaxed and flexible, with options for shortening the walks if required. There is a choice of route to suit and you can be sure you will find one to match your requirements. If you would like on one day to be accompanied by a local wildlife expert, we can arrange this.

Included in your holiday:

• Detailed, accurate route notes written by ourselves
• Proper marked-up maps and waterproof map case
• Uniquely comprehensive commentaries on the history, rural traditions, culture and nature of the area
• Detailed information on planning your trip, transfers, recommended bars, restaurants and places to visit en route
• Self-guided tour of Ronda
• Excellent hotel accommodation with gardens and pools

Excluded:

• Flights and car hire (advice included)
• Insurance
• Lunches in local restaurants and bars, (allow €10-15 on average) or picnics
• Optional entrance fees in Ronda
• Drinks and items of a personal nature
Day-by-day itinerary
| | |
| --- | --- |
| Day 1: | Transfer from the airport to the Hotel Mejorana, your wonderful home for 4 nights in the heart of the Sierra de Grazalema Natural Park. Dine locally at one of our recommended restaurants. |
| Day 2: | Rio El Bosque: (Easy 4 miles/6.5 km or Moderate 6 miles/9.5 km) After breakfast, drive through stunning mountain landscapes. Today you walk between two picturesque whitewashed villages, Benamahoma and El Bosque, enjoying the shade of the woodland canopy, the river El Bosque accompanying you throughout. This is a delightful walk, one of the classic walks of the Sierra de Grazalema, the route punctuated with rock pools, waterfalls and footbridges. Amongst the lush vegetation you'll find a variety of flowers, shrubs and trees and, hidden in the branches, a great number of birds. You're likely to hear the song of the nightingale and glimpse woodpeckers and warblers. The fast-flowing waters are also home to all sorts of creatures. It's a lovely introductory walk with few noticeable gradients. You can opt to walk either one way or both ways. After lunch at the Bar Majaceite, you can visit the village of El Bosque and possibly the excellent botanical gardens. This evening we recommend dining at one of Grazalema's excellent local restaurants. |
| Day 3: | Peñón Grande or Zahara: (Easy 3 miles/5 km or Moderate 6 miles/9.5 km) The moderate route ascends from Grazalema through superb isolated mountain scenery with unparalleled views. Picnic on top of the world surrounded by mountain peaks. With luck you will see the Spanish Ibex and other wildlife, perhaps a booted eagle or griffon vulture. Wild flowers and orchids abound. Enjoy the sense of being in the high sierras without having to worry about sheer drops or difficult gradients! For the option, we visit beautiful Zahara. Some say, with reason, that this is the most stunning white hilltop village in Andalucia and from the heights of its imposing castle you'll enjoy amazing views over the surrounding countryside. Despite Zahara's lofty position, you'll enjoy gentle walking on easy paths surrounding the castle. You journey today through the most stunning mountain scenery imaginable, panorama after panorama unfolding before you. Lunch in the square then explore charming Zahara before returning to Grazalema. Dine at one of Grazalema's most authentic restaurants. |
| Day 4: | Villaluengua del Rosario: (Easy 5 miles/8 km or Moderate 6 miles/9.5 km) After a short drive you'll set off from Villaluengua del Rosario, a beautiful small whitewashed village enchantingly tucked into the side of the mountain. For an easy walk, you can drive up the hill to start and thereafter the walk is almost totally flat and easy along broad smooth tracks which lead to magnificent meadows alongside the Sima Del Republicano, in spring carpeted with wild flowers. Here, you're likely to see eagles and vultures; in fact they may even observe you from lofty crags while you enjoy your picnic lunch below! You'll pass an isolated farmstead and enter contrasting cork forests where undoubtedly you will make your first encounter with the wild black pigs! At the end of the walk you can relax with a drink or explore the village, visiting the bullring and the cheese factory where you'll be able to watch the award-winning Payoyo cheese being made and, of course, enjoy some delicious samples! Dine at one of our recommended restaurants in Grazalema. |
| Day 5: | Puerto del Boyar and Grazalema: (Easy 3-4 miles/5-6.5 km or Moderate 7 miles/10 km) From Puerto del Boyar walk as far as the goat farm for the easy walk. The views are stunning and you will enjoy a real feeling of being in the high sierras. Return by the same route on an easy flower-lined path to Grazalema for lunch at our favourite tapas bar. In the afternoon we include a tour of this beautiful village where you'll discover hidden corners including a flour mill and blanket factory. The 'moderate' walk will take you between the jagged peaks of the Sierra del Endrinal, enjoying the experience of journeying from one village to the next as the people of the sierras have done for centuries. The views across remote, wild country are magnificent and you're likely to see bullocks, horses, wild black pigs and goats. Picnic up in the mountains before descending to Benaocaz for a cool tinto de verano. Return to Grazalema or, if there's time, you can visit nearby Ubrique, home to Spain's leather industry. If you need a new handbag or belt, here's your chance! Transfer to the Molino Santo Hotel for a memorable dinner under the stars. |
| Day 6: | Excursion to Ronda: (Easy 3 miles/5 km) A day trip to Ronda to enjoy breathtaking views of a spectacular city clinging to the edge of a precipice, high above the plain, its magnificent bridge spanning the awesome gorge below. The terrain surrounding Ronda changes to fertile expanses of rolling farmland and olive groves. With our comprehensive guide you'll explore picturesque streets where intricate wrought-iron balconies ablaze with flowers overlook ancient cobbled squares. You can visit the cathedral, the Mondragon Palace, the House of San Juan Bosco and the famous bullring. After a tapas lunch, the afternoon is free for you to browse and further explore buildings and gardens before returning to the peace and beauty of your hotel. Alternatively your hotelier has produced a new self-guided walk in the local area surrounding the hotel which he will make available for you if you prefer a country walk or if you have, perhaps, visited Ronda before. Dine this evening at the Molino. |
| Day 7: | Benaoján and Jimera de Líbar: (Easy 5 miles/8 km in the morning with an optional additional 1.5 miles /2.5 km in the afternoon) Your last day is designed to be relaxing, spent in and around Benaoján. You can walk to Jimera de Líbar on the famous 'gorge' walk along a picturesque smugglers' trail between isolated villages, rising high above the Rio Guardiaro. This valley, surrounded by mountains, is exceptionally beautiful. The route is lush with plant and wildlife and this 5-mile walk makes a fitting end to your week's excursions. After a cooling drink in the bar at Jimera de Líbar, take the train back along the Ronda to Algeciras line to Benaoján for a memorable lunch at the Molino. In the afternoon you may choose to spend your last afternoon relaxing by the pool or under the shade of a fig tree or, alternatively, if you have energy to spare, there's an extra walk around the village for an hour or so. A farewell dinner this evening under the stars at The Molino. |
| Day 8: | Depart Benaoján for transfer to the airport. |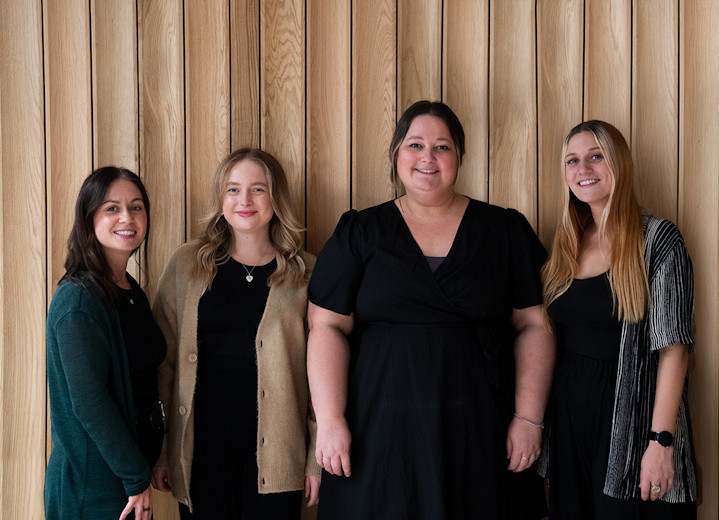 Departure information
This trip can be tailor made throughout the year to suit your requirements
Responsible tourism
Responsible tourism: Andalucia self guided walking holiday, twin centred
Environment
Walking is the least carbon intensive way to travel, keeping the environmental impact of our holidays to a minimum. We aim to balance the environmental impact of travelling with the benefits sustainable tourism can bring to local economies. We therefore focus the main part of our walks in the Grazalema Natural Park in areas that are as much as possible 'off the beaten track', providing our clients with authentic experiences removed from mass tourism. The small hotel we use in Benaoján has been in the ownership of the same family for many years and employs staff from the local community.
In our small home office we recycle paper, cardboard, ink cartridges and printed material to reduce the waste in landfill sites. We purchase recycled printer cartridges, paper, envelopes, labels, pens, toilet tissue, bin liners. We turn off printers, photocopiers, computers, battery chargers and transformers at the end of each day and avoid 'screen savers', use energy-efficient bulbs and low-energy appliances. We cut CO2 emissions by maintaining heating thermostats at the lowest comfortable setting. We do not use tumble dryers nor take disposable plastic bottles to the countryside, instead promoting the use of water bottles manufactured by companies like Sigg.
We use printed materials only where necessary, preferring to keep our customers informed electronically via email, electronic newsletters and our website. We encourage clients to remit their payments electronically via PayPal or by bank transfer.
Community
We support local projects, craftsmen and artisans; for example, we include in our itinerary a visit to a local flour mill still involved in the production of flour. Likewise, walkers are encouraged to visit the local blanket factory and leather factories where they can buy locally-produced goods. People invariably buy leather or woollen products as gifts or souvenirs. We introduce our clients to the foods and specialities of the region, such as local honey.
Where possible we use small privately-run hotels like the Molino Santo which has been run by the same family for many years. They employ only local staff. We suggest local restaurants for dinners and lunches, establishments preparing their menus from locally grown produce purchased from local farming families who have worked the land for centuries. When packed lunches are required, we recommend local bakeries, delicatessens and fruiterers. By recommending different restaurants each evening and by using two different hotels, we aim to support a wider range of local enterprises.
We use local transport companies for transfers and liaise with local tourist offices. We include detailed and comprehensive commentaries to accompany our routes, thereby ensuring that our clients can learn something of, and understand, local culture and traditions, history and nature. We believe that we have made valuable economic contributions to local rural businesses, bringing them repeat business, and it is our aim to continue to do so.
Popular similar holidays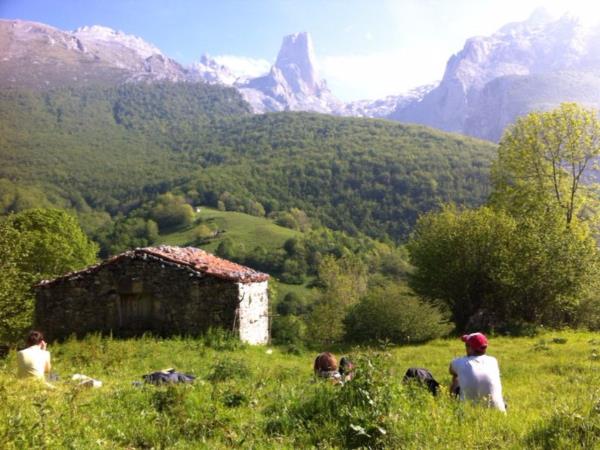 Spanish classes + stunning hikes in Picos de Europa
From €400 7 days excluding flights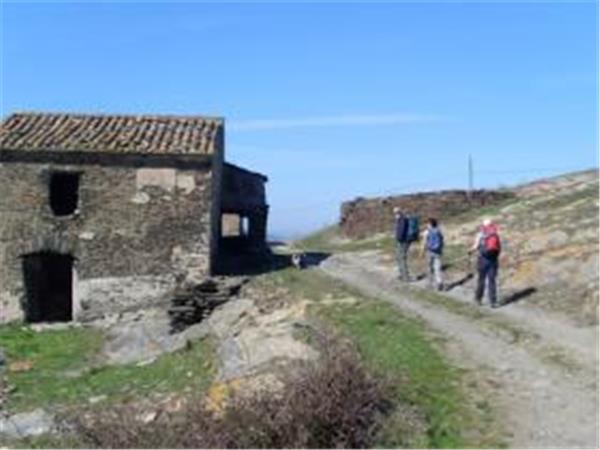 Self-guided walking holidays in Catalonia
From €715 - €799 8 days excluding flights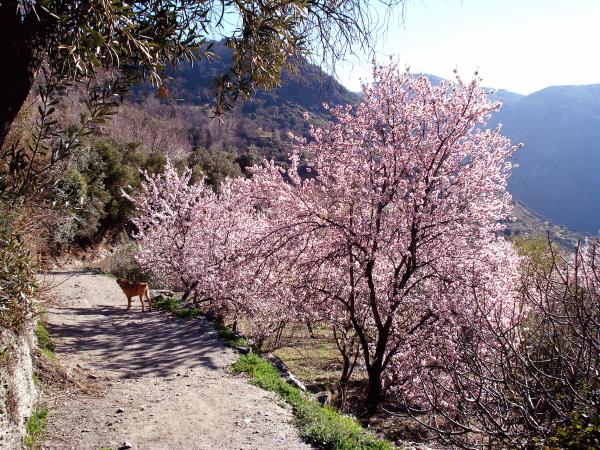 Guided walking holiday, Andalucia, with writer Chris Stewart
From €1295 8 days excluding flights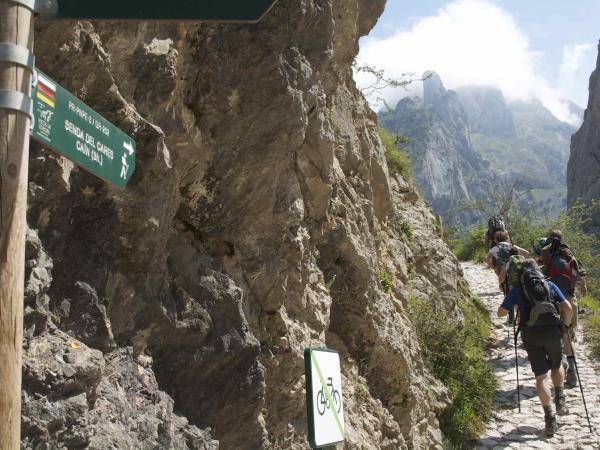 Hike through beautiful mountains staying in rural inns
From £1050 8 days excluding flights