"In one of the best places in the world to see cetaceans, this six-day whale and dolphin watching holiday goes one step further with full days at sea and a chance to contribute to an ongoing research project."
Highlights
Full days at sea on a 12m stable catamaran | Guided by a marine biologist and leading cetacean expert | On average six to eight species spotted each holiday | Contribute to an ongoing cetacean research project | Horta | Free time to explore Faial Island
Description of Azores holiday watching whales and dolphins
This holiday offers you the chance to meet the whales and dolphins of the Azores - an amazing 27 different species have been observed in the Archipelago. In general you might see 6-8 species during a tour but if you visit in the spring, you may see some of the ocean giants, such as Blue, Fin or Humpback whales migrating past the islands. Sperm Whales and several dolphin species can be sighted all year.

Your guide, Lisa Steiner, has studied these animals in the Azores since 1988, when she joined the "Song of the Whale" the research vessel of IFAW. When they moved on, Lisa stayed behind. Just by being on the boat, you support her research. She has been involved in discovering 5 species not previously seen in the Azores. She also discovered movements of female sperm whales between the Azores and Canary Islands as well as several males moving between the Azores and Norway! All just by using photographs taken during your holiday! She has also provided photos for matches of Humpback whales between the Azores, Cape Verdes & Norway. Blue whales are also matched to others in the Atlantic. Without you, these discoveries may have never been made.

This tour has full days out at sea on a 12m catamaran, rather than the half day tours in RIBs offered by most companies in the Azores. You'll leave at 9am and return around 4pm, with lunch provided on the boat. You'll spend the day at sea looking for whales & dolphins. The boat is directed by a lookout on land as well as local staff using an on-board directional hydrophone to locate the animals.

When you spot a group of whales or dolphins, data is collected on how many, what the position is, are there calves in the group and the all-important photo-id pictures to identify the individuals. Lisa can even recognise some of the sperm whales as they dive! If sperm whales are found, you will follow the group as long as possible, trying to identify as many different animals in the group as possible. With the baleen whales, the boat will stay with them long enough to get an idea of what behaviour they are exhibiting and an id photo as well, then you'll carry on to look for more! It's the same with the dolphins. If any of the animals exhibits signs that they are disturbed by your presence, the boat will move on to others.

On your return to harbour, you have time for a refreshing drink at a local cafe, a shower, a nap or all of the above before we meet up for dinner between 630 & 7pm. At dinner, you'll be able to discuss the sightings of the day and Lisa will often show photos taken during the day and the details of any sperm whale matches (if there has been time!). Meals are taken in a couple different local restaurants during the tour and vegetarians can be catered for.

On your shore day, you choose what to do; be it climbing Mt. Pico, or sitting in a cafe or on the beach. Many opt for a tour of the island, either a full day jeep tour, including lunch & museum entry or a half day in a taxi to see the highlights. You can explore different restaurants for lunch and dinner on these days, as they are not included in the tour.


If you would like some help or advice, or just want to discuss your ideas for your next trip, do give us a call.
Responsible tourism
Responsible tourism: Azores holiday watching whales and dolphins
Environment
We have been operating tours since 1993 and over the years, have acquired a lot of knowledge on ways to approach the various species we observe that cause a minimum of disturbance. If we detect any signs of disturbance or avoidance, we will not chase the animals. Since our trips to sea are for the whole day, we do not have to race other boats to get to an animal first; we can take our time. Identification photographs are taken of several species. These photos enable us to track their long-distance movements. Success with sperm whales, showing movements of the females between the Azores and Canary Islands and the males from the Azores to Norway. Humpback Whales have been matched between the Azores and Cape Verde Islands. Several blue whales have been identified in multiple years, indicating a preferential migration route. Students have used bottlenose dolphin photographs for several theses, showing that these animals are resident in the Azores.
Since the main waste disposal on the islands is landfill, all of our clients are urged to leave any extra packaging at home. We also ask that they take used batteries back home when they leave. We encourage guests to use a water bottle filled from a tap, rather than drinking bottled water. We no longer have a paper brochure or pre-departure booklet. Recycling is done whenever possible, although facilities are limited on the islands.
Clients are reminded that water is a precious resource and they should turn off the tap, when brushing their teeth, or in the shower while lathering up in order to use less.
The Azores is rich in renewable energy sources. Several islands have geothermal and most now have wind turbines, providing up to 25% of the energy.
We use local transportation for transfers from the airport. The boat uses diesel, so is more efficient than petrol engines used by RIBs.
Most of the food that we consume during the tour has been grown or manufactured on the islands, with the exception of fruit, which is shipped from the mainland. The Azores fishery is listed as one of the sustainable fisheries in Europe, using pole & line to catch most of the species and it doesn't have to travel far to reach your dinner plate. The meat is also sourced locally and in the countryside, you can see the cows in the fields.
Community
During your stay here, you have a day to explore the islands on your own. We recommend various options available, such as jeep tours, taxi tours, where you could go walking and museums you should visit. These are operated by local people, rather than an extension of our company. Options for your shore day lunch and evening meals are discussed the day before, so you can choose to try somewhere new, or go back to one of the restaurants that we use regularly.
We were involved in the creation of the first guidelines for whale watching in the Azores and continue to provide input on issues such as swimming with dolphins to the local authorities.
We have participated in local clean-ups of beaches and riverbeds. We share information on the negative effect that plastic rubbish in the sea has on marine life.
We employ a local skipper to operate the boat during the tours. We also use a lookout to spot the animals for us during the tours. Lisa is employed as the biologist during the tours, and although not locally born, she has spent most of her adult life working with the marine mammals of the Azores and promoting responsible watching of them.
Guests are encouraged to visit local museums which detail the history of the culture of the Azoreans, the culture of whaling as well as the botanic gardens which highlights the endemic plants of the islands. We make sure that the clients are aware that all of the scrimshaw that they see for sale in the shops is not allowed to be transported into the UK or US because it is covered under CITES, the trade in endangered species, and we do not want to create a market for these carvings which come from the teeth and bone of the whales. We point out where they can buy these types of carvings made out of cow bone, wood or vegetable ivory.
We remind our guests that the Azores are predominantly Catholic islands and they should respect that by dressing conservatively. We suggest that if they would like to take a photo of a local, they should ask permission before doing so. Our pre-departure booklet has some useful Portuguese phrases that clients can use to say Good Morning, Afternoon, please & thank you.
1 Reviews of Azores holiday watching whales and dolphins
---
Reviewed on 15 Jun 2018 by
Margaret Woskett
1. What was the most memorable or exciting part of your holiday?

Seeing the whales at close quarters, particularly a mother and calf on our firs day at sea.


2. What tips would you give other travellers booking this holiday?

If there is any possibility you might be seasick take medication before you go out to sea. On all three days I went out at least one person was sick and so was
unable to enjoy the whale watching.


3. Did you feel that your holiday benefited local people, reduced environmental impacts or supported conservation?

Yes. The whale watching trips were very respectful of the wildlife, and were also used to record information about the local whale population. We were also
taken out to local restaurants that benefitted the local economy.


4. Finally, how would you rate your holiday overall?

It met my expectations and was really enjoyable. I saw lots of whales. I only wish the weather had been better, as there was high winds and rain, and only one sunny day.
---
Popular similar holidays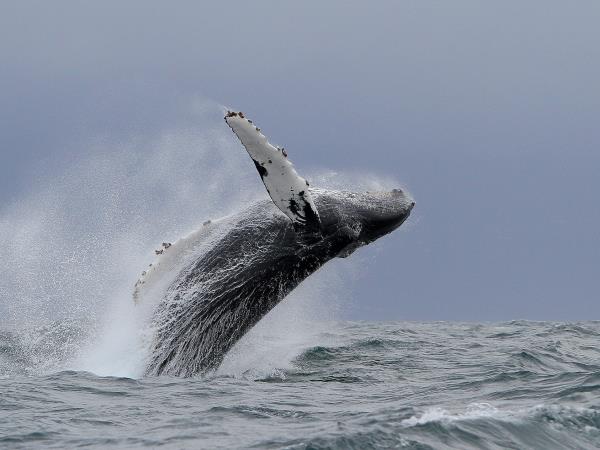 The Azores is one of the best spots for spotting whales – and this is our top selling tour
From £610 - £745 7 days excluding flights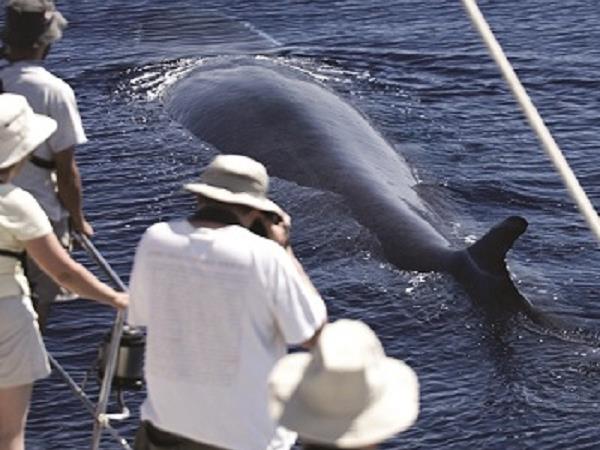 Visit the Azores at the best time to see Blue Whales
From £1290 7 days excluding flights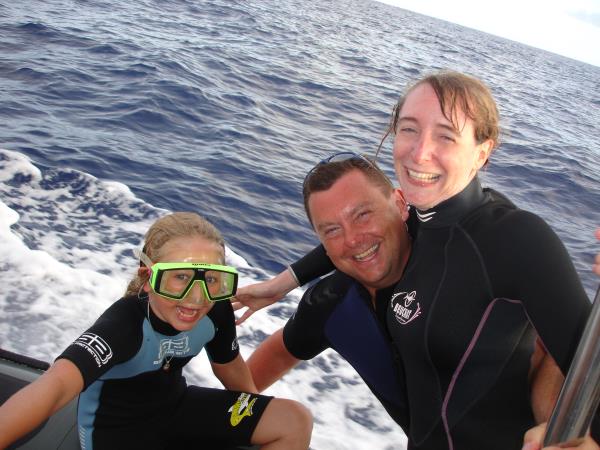 A family focused adventure and experience of a lifetime
From £675 7 days excluding flights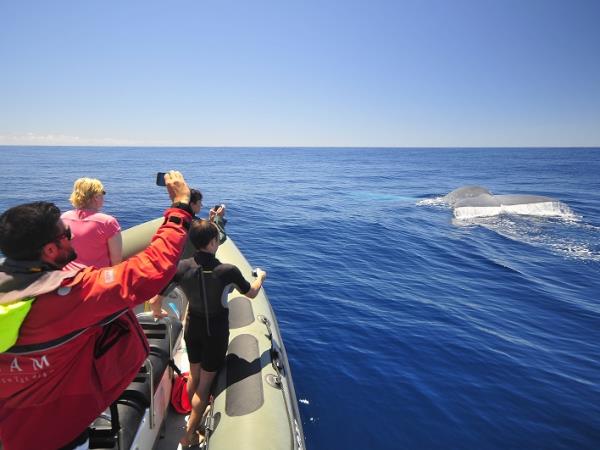 Best time to see Blue Whales in the Azores
From £890 7 days excluding flights