"An innovative and inspiring trip blending Nepal's landscape and people with helping rebuild a quake-damaged village."
Highlights
Helping Nepalese earthquake rebuild | Trisuli River rafting | Pokhara | Hill communities | Himalayan peaks | Exotic forests
Description of Trek & volunteer in Nepal, help rebuild it
When a series of massive earthquakes struck Nepal in 2015, it killed over 8000 people and destroyed or badly damaged hundreds of thousands of buildings – houses, schools, temples. This innovative and inspiring trip offers a chance to experience the unforgettable landscape and life of Nepal, while also taking part in the ongoing rebuilding effort in one village – Kakithok, five miles from Kathmandu.

The project includes several days helping build temporary housing as well as permanent homes and schools, offering support to quake victims, and helping with educational material and awareness of how to remain safe from natural disasters in the future. 30% of the tour price package will also be used to aid quake victims.

Your experience of Nepal broadens out with a blend of (not too strenuous) trekking, rafting, wildlife safaris and village visits. One typical day includes a scenic drive to Charudi, the put in point for an exhilarating rafting ride through Grade 2-3 rapids on the Trisuli River, before heading to the lovely lakeside city of Pokhara.

A day spent trekking to Ghandruk combines insights into local slate-roofed Gurung communities with magnificent views of iconic Himalayan peaks such as Annapurna South, Himculi, Fishtail Mountain and Ganga Purna Himal – while the walk to Tadhapani takes you through a unique traditional agricultural terrrace terrain, forests of rhododendron, oak, magnolia and orchids, along with an idyllic hillside lunch and those ever-present Himalayan peak views.

Other treks include climbs to Ghrepani, the Deurali Pass and Poon Hill – and descents to Banthati and Ghorepani. You'll also spend time in the quaint village of Hile and have lunch in another hill settlement, Uleri.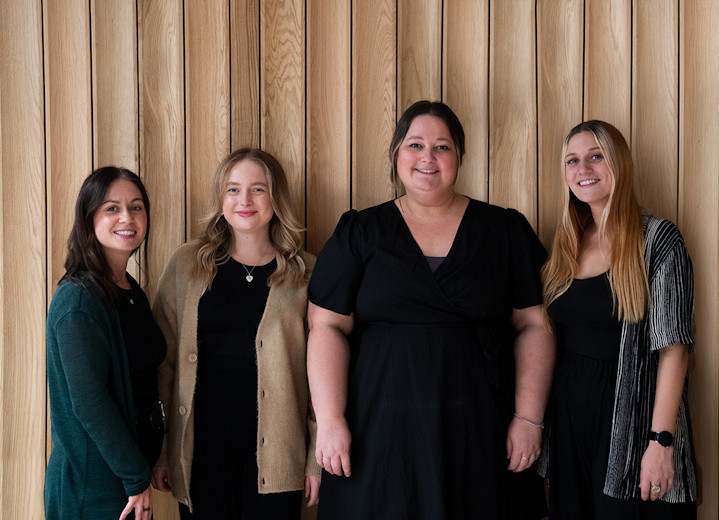 Departure information
This trip can be tailor made throughout the year to suit your requirements
Responsible tourism
Trek & volunteer in Nepal, help rebuild it
Carbon reduction
Your holiday will help support local people and conservation. We must also reduce CO2. Learn about the CO2 emissions of this holiday and how to reduce them.
Environment
*We stay with local tea houses/ lodges operated by local communities in the hilly region which minimize the impact on the environment by using kerosene/gas fuel instead of fire wood, managing garbage disposal properly.

*Our guide will give a briefing about Responsible Tourism and how to minimize the impact on nature: trash disposal , purification of drinking water, not picking up flora or fauna on the way, litter removal, using kerosene fuel for cooking rather than fire-wood.

*We provide information on how to preserve the environment, for example: Do not leave trash and dispose it in appropriate places, or if possible provide food wastage to domestic animals. Pay a little extra to the porter to bring back non disposable trash by duffel. Avoid bathing or washing clothes in streams, etc.

*Due to this trip the living standards of local people are much better than before as they have far more job opportunities.

*The small group size of 4-10 people will minimize the impact on the environment.

* Previous experience is not needed. It is a great chance to share a moment with local people and enjoy traditional customs
Community
*Tourism generates income for the local community. For example: by purchasing local products such as fresh fruits, handloom products, meat, drinks, and fresh vegetables this provides job opportunities etc.

*This trek is based on local lodges/ hotels and resorts. For example, we stay in a trekking lodge and local peoples homes.

*On this trip volunteers will work in Kavresthali Village and the school to support locals and observe their activities.

* We support to local schools and health posts: to donate some amount of educational materials to kids as per seen the condition of school and students. It does by company and also as per tourist on this trip. Support to local health post by giving medical materials.

*We offer support to Kvresthali villgae and school by providing certain percent amount of income this trip, to rebuild home, school and goat farms as well as supporting reading and writing to improve adult literacy for women.

*We use local men-power for example: a well-trained and experienced local guide will be in the trip. Hire local porters with rental equipment according to the type of trek. The weight limit for equipment will be 20-25 kg. All field staff will be travelling insured.
3 Reviews of Trek & volunteer in Nepal, help rebuild it
---
Reviewed on 05 Feb 2016 by
Sarah McFadyen
1. What was the most memorable or exciting part of your holiday?

The trekking. The scenery was stunning, the people are so friendly and helpful. The guide and porter provided by the operator were excellent.


2. What tips would you give other travellers booking this holiday?

If you are particularly interested in the volunteering aspect, we would recommend that you contact the company in advance and ask them to confirm what you are going to be doing. They never gave us a straight answer when we tried to tie them down and find out what we would be doing. We would suggest that if you want to do volunteering, don't go with this operator but find someone that can guarantee the volunteering aspect of the trip. Also, we were told there would be a tour of Kathmandu. We were very much looking forward to a local guide showing us round, so we planned nothing else for the day. However, the guide didn't meet us till after 11am, and only walked us to the Monkey Temple and back, and that was the end of the tour. Very disappointing. We could have done this ourselves, and because of the timing of this walk, we missed our opportunity to visit Durbar Square.


3. Did you feel that your holiday benefited local people, reduced environmental impacts or supported conservation?

Yes, but not as much as it should have benefitted local people. Coming on holiday to Nepal at this time is important to put money back in to help them rebuild. However, the main reason we chose this holiday was for the opportunity to spend 2-3 days helping to rebuild somewhere that had been destroyed in the earthquake. This aspect of the holiday was removed by the local tour company, but they were not honest and upfront about this. They evaded the question whenever we asked, and, when we got to the days we were supposed to be volunteering, and they were unable to evade the question any longer, they gave us an ad hoc visit to a greatly damaged village that they stay in and took us to a school that had already been repaired in an unplanned visit, and it was quite embarrassing when the principal turned and asked us why we were there, as we didn't know either. Extremely disappointed that we were unable to do some volunteering work as we would not have chosen this holiday otherwise. It may have been because of the fuel crisis as we were informed that building materials were not able to be brought into the country, but if the company had been upfront about this, we would have requested to extend the trekking portion of our holiday and seen more of this stunning country.


4. Finally, how would you rate your holiday overall?

We'd have to split our rating into 2 parts. From the start of the holiday up to the end of the trekking was 5 star. The greeting and logistics were well organised, including having to deal with the fuel crisis. However, after returning to Kathmandu, we would have to rate this portion of the holiday with 1 star (if 0 stars is not an option). We appreciate that there are difficulties tour companies must have been facing at this time, but we are a couple who appreciate honesty and are also flexible, but this honesty was not forthcoming, as much as we tried to obtain open and honest answers from the company. During the trekking portion of this holiday, we were fairly certain we were going to rebook with this operator, but by the end of the holiday, we would absolutely not, and would not recommend them to other travellers due to their lack of openness and honesty. We loved Nepal so much though, that we have already rebooked to go back with another company.
Read the operator's response here:
Hi,
Thank you very much for your kind feedback .We believed that tour report from our valued clients will help us in making more effective on our service and always we try to maintain the best standard.
It is very pleasure to inform you that Rebuild Nepal Program has designed for travelers in helping to local people; especially it supports to quake victims communities. So, 2-3 days will take you in areas/ schools which greatly impacted by earthquake of April 25th, 2015. It gives an opportunity to share the feeling of quake victims and experience of how impacted by quake. What things should be aware and how can we safe by natural calamities, which technical things do not forget to metalize in the period of restoration houses. Main principle of visiting places to grow up the cooperative feelings and they get the useful information from visitors.
According to program, we took our respected client Sarah McFadyen in karkithok village, situated northern part of Kathmandu where over 45 houses destroyed by earthquake and over 300 local people are impacted. Then we went to school. The class has bringing in the operation after some part repaired and other parts are under maintenance that it observed and then she returned back to Kathmandu.
We celebrated lighting festival together. She wished to visit Swyambhunanth Temple which it was optional program. We went Swyambhunath Temple by walking which it took about 25 minutes from the hotel. To visit Kathmandu Durbar-square very short distance from hotel, if she showed interest, it would be organized definitely because our main aim is to make happy for all our valued customers. It was a difficult time to operate tour on time due to fuel crisis because of border blocked, but all travelers were traveling with us that were able to organize on time and all went smoothly.
Finally we assure you of our best service at all times.

---
Reviewed on 01 Nov 2015 by
John Green
1. What was the most memorable or exciting part of your holiday?

So many; the time spent in the village north of Kathmandu meeting the villagers rebuilding after the earthquake, the incredible views of the Annapurna range during the Poon Hill trek, seeing a baby rhino with its mother from the back of an elephant, the flight past Everest are the ones that come to mind first.


2. What tips would you give other travellers booking this holiday?

To quote from the Wizard of Oz - "Toto, I've a feeling we're not in Kansas anymore!". Just remember you are there experiencing a totally different country where life can be much more challenging than in many developed countries.
Electrical power comes and goes, the internet even more so and the food, whilst wholesome and nourishing, will probably be different to what your used to. That's the beauty of it!


3. Did you feel that your holiday benefited local people, reduced environmental impacts or supported conservation?

All the food and accommodation was at smaller, locally run hotels guest houses or restaurants, so we feel that the local economy benefitted. In the Annapurna park there are clean water stations to refill bottles, so reducing the impact of discarded water bottles.


4. Finally, how would you rate your holiday overall?

We took our grandson (10) on a trip to see other ways of life, plus providing some physical and mental challenge. The holiday provider was brilliant making all the arrangements for us. Transferring funds to pay went very easily and they selected very good guides to accompany us. We were in Nepal just at the height of the Indian fuel blockade - a challenging time, but Achut, Kershaw and their team went to a lot of trouble to ensure that this had minimal impact on our trip. We had a truly memorable time.
---
Reviewed on 31 Aug 2015 by
Shelley Munro
1. What was the most memorable or exciting part of your holiday?

I really enjoyed the chance to learn about another very different culture and geographic location. I was very amazed at how tropical the climate is in Nepal, even though we were at such high altitudes. The Nepali people impressed me very much because they are so resilient and hardworking. During the stay in Chitwan I very much appreciated the chance to see 60 bird species that were completely new to me as well as others wildlife such as elephant and rhino!


2. What tips would you give other travellers booking this holiday?

Be prepared for a very wet trekking experience if you go during the monsoon season like I did! I brought too many clothes for a cold climate and not enough for the hot, damp weather. When your feet get very wet while trekking, tape up your big toenails for the downhill days so that your toenails don't get lifted inside your shoes.


3. Did you feel that your holiday benefited local people, reduced environmental impacts or supported conservation?

Yes, but only for the few people that worked directly with me. Very good care was taken of me at all times, but I would have appreciated more opportunities to help out more directly in affected areas.


4. Finally, how would you rate your holiday overall?

Oveall, this was a very good holiday. I knew that I was arriving in the monsoon season and I brought an open mind to deal with the unpredictable weather. I very much appreciated the close look at Nepali culture and found the whole trip to be a wonderful learning experience!
---
Popular similar holidays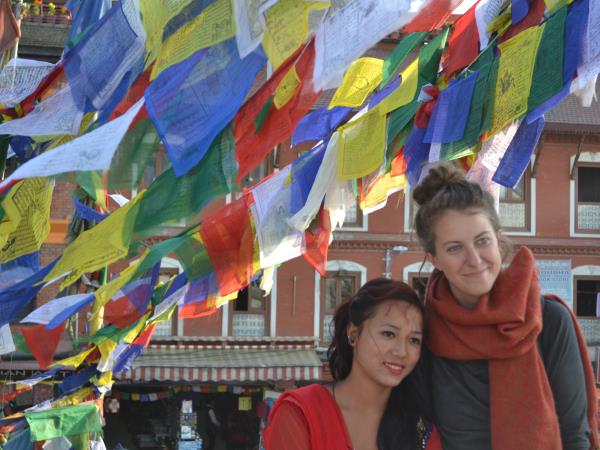 Volunteer in beautiful Nepal, visit Chitwan jungle & Pokhara
From US $925 7 days excluding flights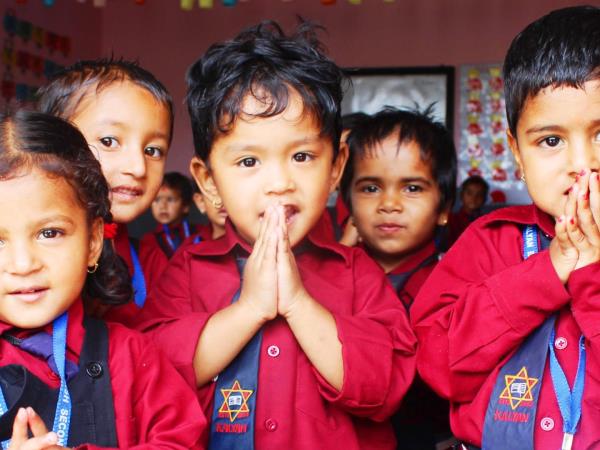 Volunteer with children in Pokhara, Nepal
From £1695 - £3145 4 weeks excluding flights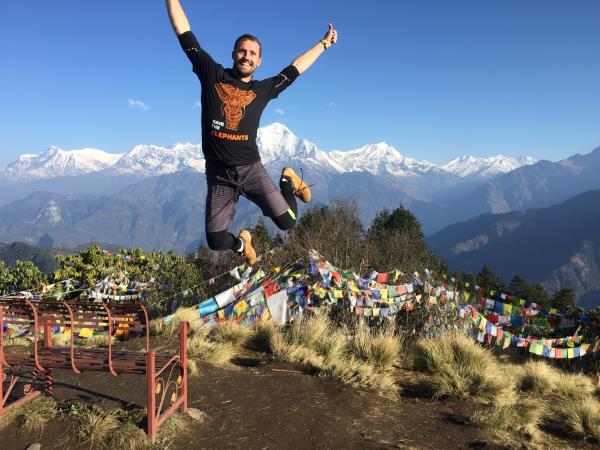 Tax deductible volunteering & trekking Adventure! Click here
From £1399 14 days excluding flights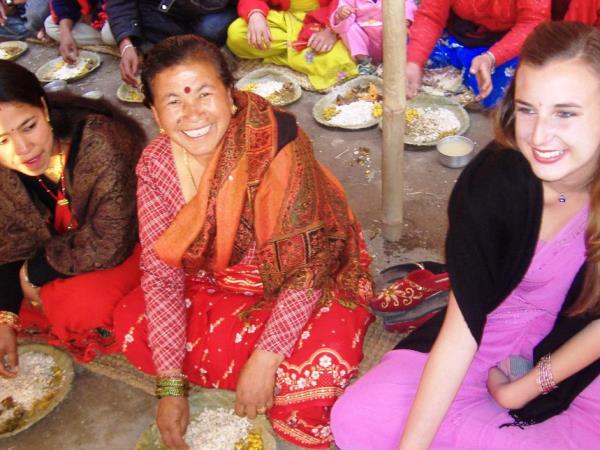 Join a women's empowerment project in Pokhara, Nepal
From £1295 - £3145 14 days excluding flights