Chukotka and Wrangel Island cruise, Russia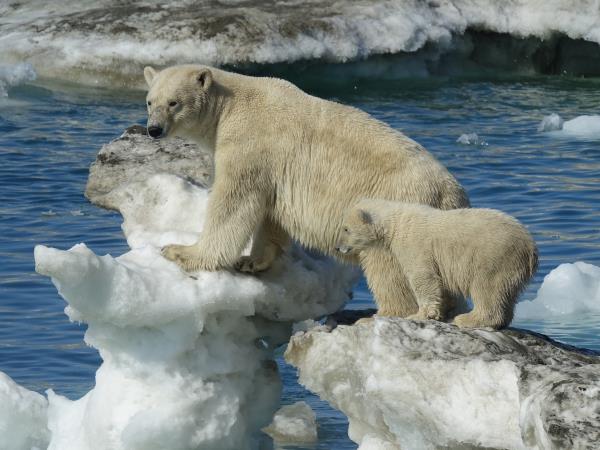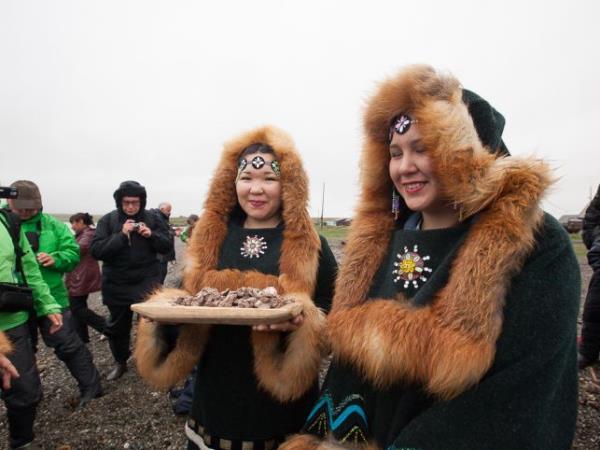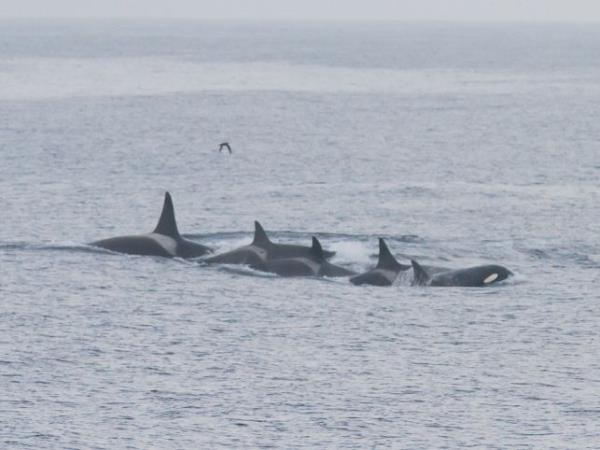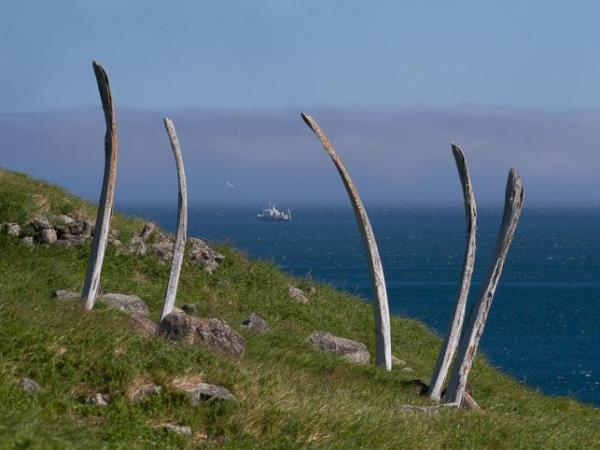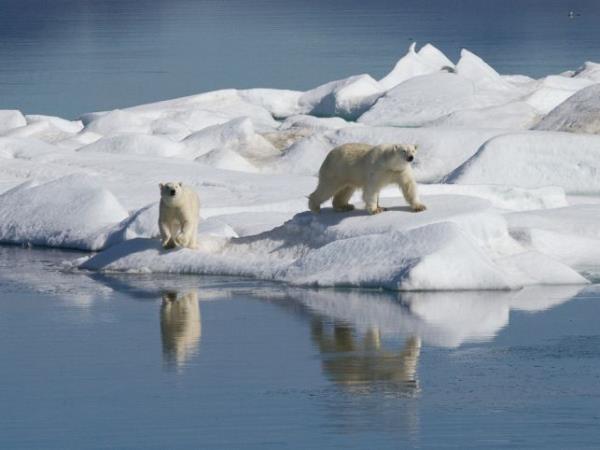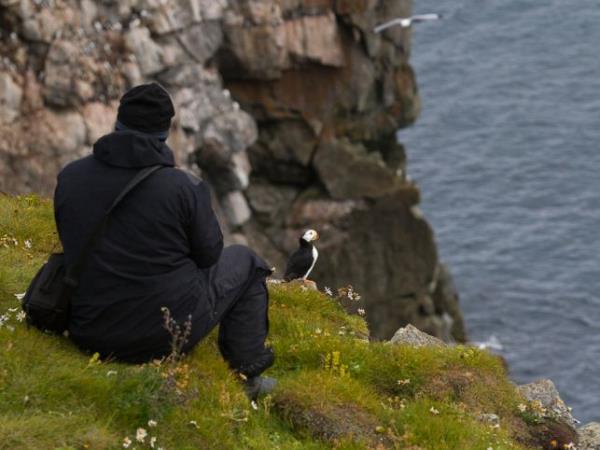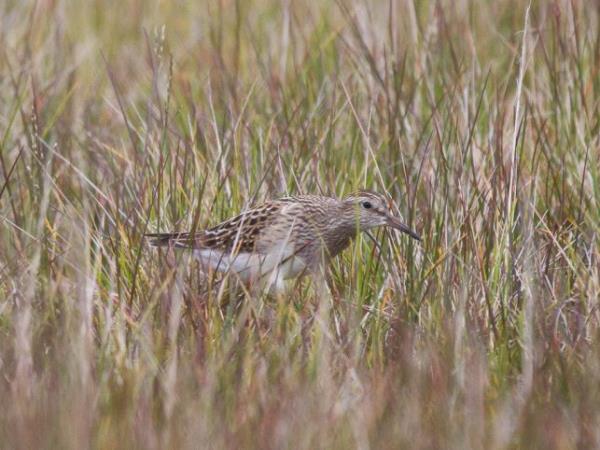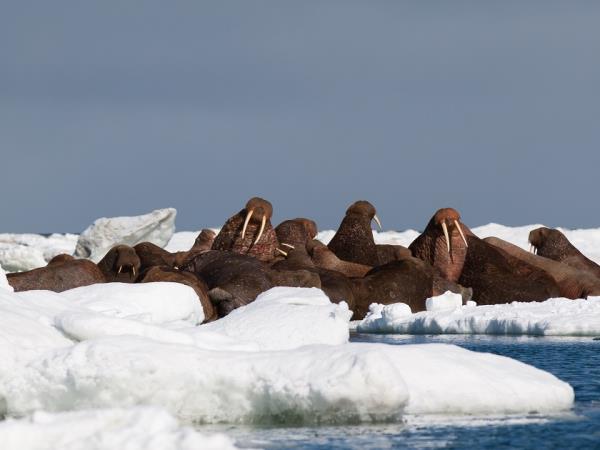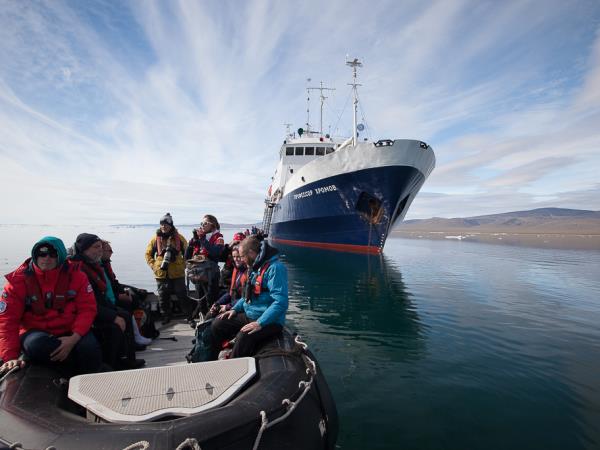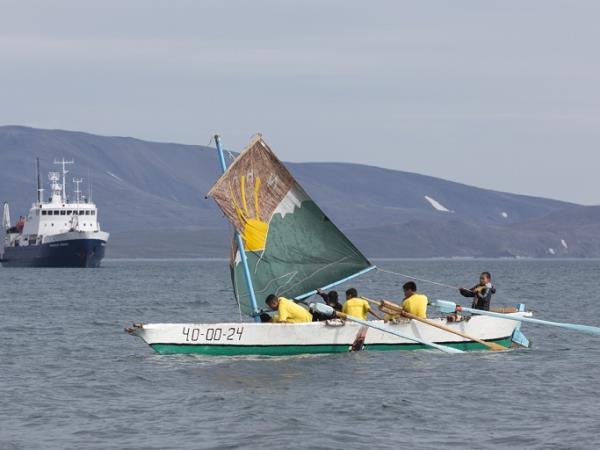 An extraordinary voyage into Russia's far east, a frozen land of indigenous communities, reindeer herders, walrus hunters and polar bears.
Annual Beringia Arctic Games
Wildlife on Chukotka including brown bears, Arctic foxes, wolverine, ground squieerls & reindeer
Wildlife on & around Wrangel Island including whales, walrus, polar bears
Egvekinot Museum
Drive across Arctic tundra
Meet Chukchi reindeer herders
Zodiac cruise along bird cliffs
Whale bone alley
Hot springs
Cape Dezhnev - the continent's most northeasterly point
Kolyuchin Island
Additional charges: Landing Fees $500pp Includes: Pre/Post cruise transfers and all shore excursions.
On board ship accommodation and meals. Excludes: Laundry, drinks, gratuities.
all flights, visas, travel insurance.
Description of Chukotka and Wrangel Island cruise, Russia
The Chukotka Autonomous Region in the far east of Russia covers an immense area, the size of France and England together. However, few people have ever heard of it – and even the majority of Russians know little about this wild, eastern outpost, thousands of miles from Moscow yet within sight of Alaska at its closest point. Just 50,000 people inhabit this immense landscape; the majority are Russian but there are also large numbers of indigenous Chukchi, Inuit, Koryak, Chuvan, Even and Yukaghir people. As the Cossacks invaded from the west, this was the last region they managed to take over – resisted by the Chukchi until the late 1800s.

The indigenous people here lived largely nomadic lifestyles, best suited to the harsh conditions and extreme seasons and weather. But this did not sit well with the Soviet regime, and in the 1930s and 1940s Stalin's policy of collectivisation, with its focus on collective farms, was hugely damaging to their nomadic traditions. On top of that, Chukotka's proximity to the USA during the Cold War meant the area was heavily militarised; at times troops outnumbered civilians. Without their nomadic lifestyle to sustain them, the Chukotkans became dependant on the state to provide supplies, and when this lifeline was removed following the collapse of the Soviet Union in the 1990s it had disastrous consequences. Roman Abramovich was elected as Governor of Chukotka in 2000. Fortunately he recognised the incredible wealth of this forgotten land, with its rich natural resources and Arctic wildlife, and today Chukotka is a valued part of the Russian Federation – though climate change still threatens this fragile fauna and flora.

Just North of Chukotka, where the Chukchi Sea meets the Arctic Ocean, the island of Wrangel is a UNESCO World Heritage Site. There are so many denning female polar bears here that it has been nicknamed the "polar bear maternity ward". Once the ice retreats each summer, the bears come ashore and this Chukotka and Wrangel Island cruise aims to provide ample opportunities for observing them. Enormous walrus, too, line the shores, along with snow geese, snowy owls and other bird species which come here to breed. Wrangel Island is also associated with the wreck of the Karluk – the Canadian Arctic expedition ship which was crushed by ice and sank here in 1913, and many other heroic tales of Arctic exploration have unfolded in these perilous waters.

One of the most fascinating parts of this Chukotka and Wrangel Island cruise is the opportunity to meet local people, learn about their deep connection with this seemingly harsh land and the sea, and to hear the stories of their life here. The tour coincides with their annual festival and regatta – a unique opportunity to experience Chukotka traditions and celebrations. Away from the ship, we head deep into the vast tundra, discovering the dwarf tree species which have adapted to this brutal climate, and the wildflowers which bloom across the landscape. We'll try and spot reindeer, brown bears, Arctic foxes, ground squirrels and elusive wolverine on the mainland, heading to Wrangel Island to look for polar bears, walrus and whales.
Map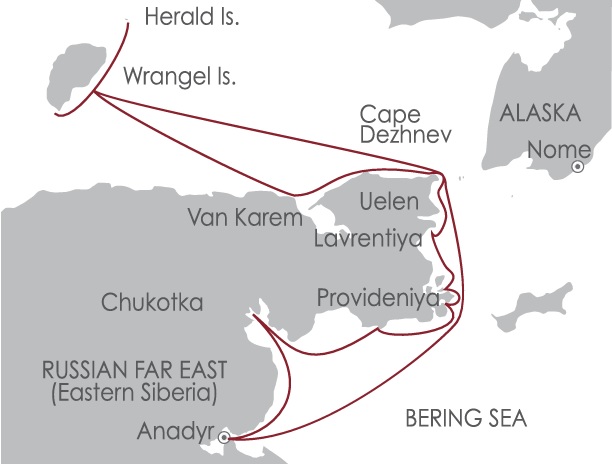 Price information
Check dates, prices & availability
Reviews
1 Reviews of Chukotka and Wrangel Island cruise, Russia
---
Reviewed on 04 Aug 2017 by
Maxwell Leonard
1. What was the most memorable or exciting part of your holiday?

Most memorable was lack of Polar Bears sighted - cruise advertising "promised" more. We saw more than enough Guillemonts and a few whales surfacing, but nothing exciting.


2. What tips would you give other travellers booking this holiday?

The ship is very small, affected by moderate seas, and is lacking in safety features. Both my wife and I would have not been thrown to the deck and injured if there had been a grab(safety) handle on the wall outside the bathroom, and I would not have been thrown off the chair (twice) if there had been a grab handle along the front of the desk in cabin 426. Not recommended for older travellers.


3. Did you feel that your holiday benefited local people, reduced environmental impacts or supported conservation?

Yes, payments by the ship and purchases by passengers would have helped locals.


4. Finally, how would you rate your holiday overall?

Disappointing. Organisation was rather amateurish. Lecturers, with the exception of Moshi, were just average, the meals were adequate. Rodney's business activities interfered with our interests - the three hours mucking about with motor-bikes meant we had no chance of making Herald Island in daylight hours
Read the operator's response here:
It is very disappointing to read Mr. Leonard's comments and equally troubling that we have not heard directly from him to possibly work with us to redress his problems in some fashion.

We have a very open policy when marketing our voyages and post the entire trip log and species list from all past voyages to give passengers an idea of what to expect. The full voyage log is online and also I have attached it below for convenience. While 6 polar bear sightings is particularly low for this area, it is the nature of nature to be unpredictable and as we are the only expedition ship working these waters we sometimes experience vast differences in wildlife encounters.

Our ship is not particularly small at 72 Meters in length but occasionally we encounter rough seas and there is ship movement that some passengers who are not particularly stable find arduous to deal with. When we encounter major storms and rough seas we recommend those passengers who are finding the ship movement difficult to deal with to limit their activities and on rare occasions to remain in their bunks and batten down their staterooms until we find a better course or until the storm abates. There was one evening on this voyage where we encountered 3 metre seas which is very uncommon for these costal cruises and I am very concerned to hear Mr. Leonard was injured as there was no report from our ship's Doctor of his problems and I will follow up immediately to work out exactly what occurred.

Mr. Leonard's comments about the Expedition Leader's business is purely a failure on our part to communicate the situation properly to the passengers.
We tend not to boast about our efforts to help the local communities and endeavour not to let it affect the voyage itineraries. With our Responsible Travel ethos we are constantly working with the local communities to help when possible, which includes transporting people, boats, ATVs, even tractors and building materials to out of the way locations. In the instance mentioned we were helping local park rangers move their vehicles which was mandatory for our visit to the Park and if we had not transported the ATVs we would not have been allowed access to the Island. I will write a full explanation to Mr. Leonard to explain what obviously was not made clear to him during the voyage.

We are very proud of the lecture staff which include several Russian local guides as per our responsible travel ethos that we have managed to put together and have received many accolades for their interpretation work from many guests this season The staff on the voyage worked for several voyages. and their bios are added here to give some indication of their training, capabilities and background.

CHRIS COLLINS – Lecturer/Zodiac Driver
Chris has been a keen birder for as long as he can remember and has visited over seventy countries and territories around the world in search of birds. He
fell in love with ship-based expeditions after being the first birder to do the full Atlantic Odyssey (Ushuaia to UK via many of the islands of the Atlantic) in
1998.
Since then Chris has spent the equivalent of over three years at sea exploring many of the world's oceans and these have included voyages off South Africa,
New Zealand and Australia, as well as Antarctica, Belize to Ushuaia, the Java Sea, Southern Indian Ocean and Central Pacific.
Chris has been working with us for over twelve years and first visited the Russian Far East on the Spirit of Enderby in 2007 and this will be his ninth season travelling on the ship in Russia. He is, therefore, one of only a handful of wildlife guides who has extensive experience of this incredible part of the world.
As a result of his passion for this region, Chris has field experience of almost all the birds we can expect to see and was lucky enough to be part of the our field teams which discovered new breeding populations of Spoon-billed Sandpipers in 2011 and 2016. More generally, he has seen over 5,400 species of birds on his travels around the world, however, whilst at sea he also very much enjoys looking for cetaceans and has seen 70% of all whale and dolphin species, a feat comparatively few marine biologists have achieved. He has photographed many of those we could potentially encounter on this voyage and will be very happy to share his knowledge of these creatures with you as well as birds.
Although professionally qualified as a Chartered Accountant, Chris gains far more of a 'buzz' sharing his knowledge of birds with others than working with figures. He has been on the managing Committee of the Neotropical Bird Club since the mid-1990s and spent a number of years on the Editorial Committee of the widely acclaimed Neotropical Birding magazine.
LISLE GWYNN – Lecturer/Zodiac Driver
A mixture of rugged Celt and English gentleman, Lisle grew up among the heaths of southern England where, as a teenager, he quickly developed a
preference for birds and beasts over video games and parties. After graduating from a British university chosen solely for its birding potential, a scholarship
from the Percy FitzPatrick Institute of African Ornithology led him to the beautiful Cape of South Africa, a place he now considers a second home. There he
spent several years birding widely whilst studying birds of prey and fynbos endemics.

With more than a year at sea under the belt, spent across most of the world's oceans, Lisle is a knowledgeable and obsessive 'Petrelhead', with tubenoses
and marine mammals being two of his greatest passions in life. When not at sea, he works for Tropical Birding as a bird and wildlife photography guide,
leading tours across 6 continents.

Lisle joined his first Heritage Expedition 'South Pacific Odyssey' as an Enderby Trust Scholar; this ignited his fascination for the Pacific region and he is
excited to be back this season now as a lecturer for your Russian Far East experience.

ANDREW BISHOP – Lecturer/Zodiac Driver
Andrew hails from King Island, a small island just north of Tasmania, Australia. He completed his university studies in Hobart at the University of
Tasmania in 2001, earning a double major in Geology and Environmental Geography. Since then he has travelled the world, visiting all seven continents,
climbing a few high mountains and enjoying the experiences and challenges different nations and cultures can offer.

In 2010, after spending several years mainly focused on working as an exploration geologist in the remote areas of Australia, he began working as an
expedition guide and lecturer to the Antarctic Peninsula, South Georgia and the Falkland Islands. Since then he has completed over 50 trips to this region
working in the capacity of Expedition Leader, Assistant Expedition Leader, camping guide, second mountaineer guide and lecturer. Andrew is also a
proficient Zodiac driver with many hours of experience in both favourable and inclement conditions.

Since 2012 he has also been guiding to the north polar regions including the northern isles of Britain, Jan Mayen, the Svalbard Archipelago, Iceland and
Greenland. More recently Andrew has broadened his focus, exploring the more tropical and remote regions of the world, travelling and guiding to the mid
Atlantic islands, the Seychelles, the Maldives, Sri Lanka, and the South West Pacific Islands. He is passionate about the outdoors and aside from his
interest in geology he also enjoys interpreting and explaining the physical environment and observing all forms of wildlife.

Extra staff
GRIGORY TSIDULKO – Lecturer/Zodiac Driver
Grigory Tsidulko is a researcher and consultant based in Moscow, Russia. His main interests and expertise include the behavioural ecology and
conservation biology of marine mammals. He's carrying two masters' degrees in marine biology and in ecology from Moscow Sate University.

For over two decades Grigory has been involved in marine mammal research and advocacy projects in Russia, mainly in the Far East region and Arctic. He
has participated, led and organised a number of expeditions and spent total nearly two years on the water observing whales. As a whale campaigner for the
International Fund For Animal Welfare (IFAW-Russia), he has been actively involved in the IFAW-Russia campaign to have oil and gas companies
establish measures to mitigate industrial impacts on Gray Whales off Sakhalin. He's a member of number of Russian national and international scientific
panels
and advisory groups on marine conservation. For the last three years Grigory represented Antarctic Ocean Alliance (AOA) and its Marine Protected Areas
Campaign in Russia. He is also a lecturer at Moscow State University and Moscow State Polytechnical Museum.

In 2012 Grigory joined the Heritage Expedition team for four cruises along the Russia Far East coast as a lecturer, guide and Zodiac driver, and earlier this
year he worked aboard Spirit of Enderby in the Southern Ocean travelling on our 'In the Wake of Amundsen' expedition.



---
Responsible Travel
As the pioneers of responsible tourism, we've screened this (and every) holiday so that you can travel knowing it will help support the places and people that you visit, and the planet. Read how below.
Planet
In promoting conservation, we highlight the significance of this area as an important breeding and feeding ground for pelagic seabirds, as well as the importance of the Pacific Trench for cetaceans. Our conservation activity on this trip includes visiting the wildlife rich Chukotka Coast. Conservation within the Russian Federation is discussed and the work of various agencies is highlighted. Every season in Russia, we work with local researchers in the Commander Islands and the Kamchatka and Koryak Coast to assist with their research and supply transportation to these remote areas.
All of our cetacean sightings are logged and sent back to researchers to assist with the conservation of these mammals.

With our emphasis on natural history, we work principally in unpopulated areas. We visit a number of nature reserves where we work very closely with the government agencies responsible for managing the reserves.

Tourism to this part of the world is relatively new, so we prepare clients/passengers in advance of their expedition by providing extensive pre-departure information on the region they will be visiting, highlighting conservation issues and providing background information on the history and, where applicable, customs, religion and politics of the region they will be visiting.

All waste generated on our expeditions is disposed of in a responsible manner. The vessel complies with MARPOL where possible and allowable we practice recycling, otherwise all non-recyclable waste is brought back for disposal at approved sites.

Our goal in managing our vessel is to minimise fuel consumption and emissions with regular servicing and a proactive maintenance programme. We annually clean and antifoul our vessel's hull to reduce the risk of biofouling. When selecting our specialist expedition equipment, we research this carefully to ensure that they are the most suitable and environmentally responsible.

Group sizes are kept small to minimize impact and enhance visitor experience.
People
During our Russian Far East voyages we visit local historic sites, Wildlife Management Areas, and use local guides wherever possible to support the local knowledge-base and economy. We provide opportunities for passengers to meet with villagers and townspeople and learn about their unique culture and life in remote areas, and encourage respect of local customs and traditions.

Every year we operate a conservation voyage in partnership with Forest & Bird where a portion of the voyage's profits go towards Forest & Bird's valuable conservation work. We have also operated a "Cruise for Conservation" to the New Zealand Subantarctic Islands and 5% of the fare is given to a specific conservation cause. The following agencies have benefited: Save the Albatross, Yellow-eyed Penguin Trust and Marine Mammal Research Trust. We have also raised money for the Last Ocean Charitable Trust.

Money is raised from the sale of photographs, books and DVD's onboard to support the reforestation of an area of native forest purchased by the company. The company employs a part-time Conservation Officer.

We partner with True Young Explorers to provide Scholarships for young people, who could not otherwise afford to travel, to join their expeditions. We also have active membership in a number of conservation and travel organizations, including IAATO (International Association of Antarctic Tour Operators).

When a group visits a populated area a lot of care and attention is given to ensure that the interaction is meaningful and appropriate for both parties. Group sizes are kept small, local customs and traditions are respected and observed, and reasonable time is allocated to each visit. Passengers are encouraged to purchase local goods (always mindful of CITIES Agreements).
Popular similar holidays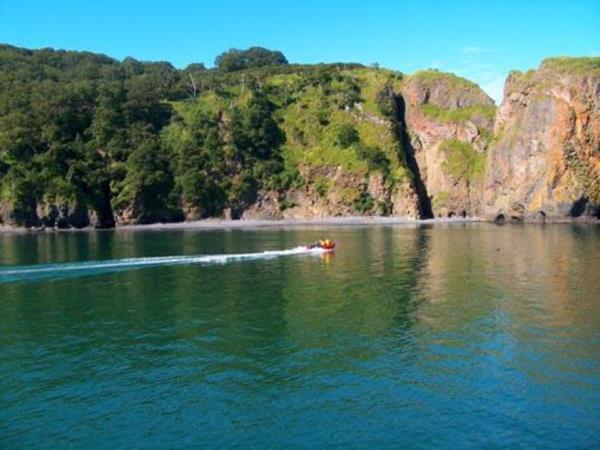 From £2555 11 days excluding flights
Explore Russia's Kamchatka peninsula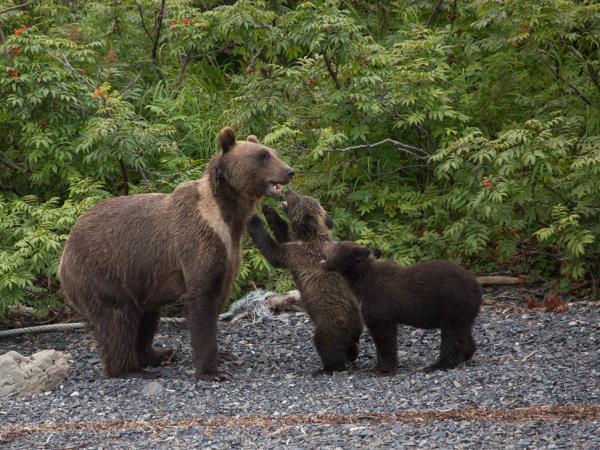 From US $13950 21 days excluding flights
Explore wild Kamchatka's volcanoes, fjords and wildlife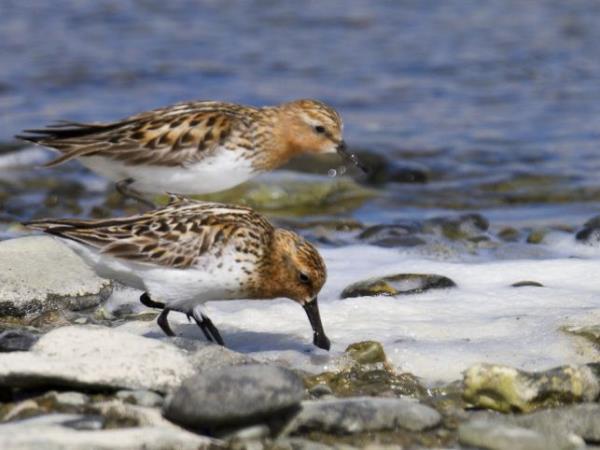 From US $9450 14 days excluding flights
Cruise Siberia's Coast on this Wildlife Packed Expedition