Thingvellir horse riding holiday in Iceland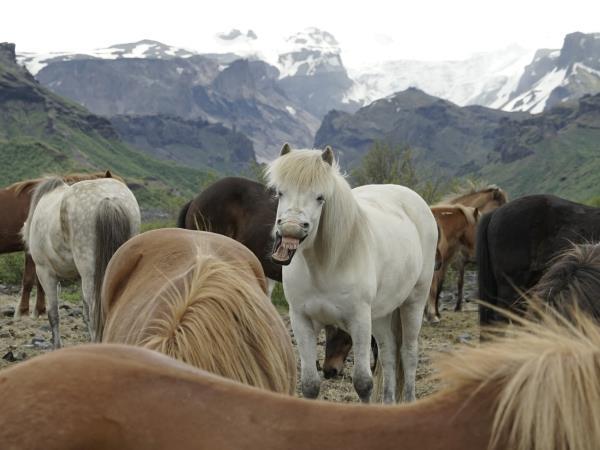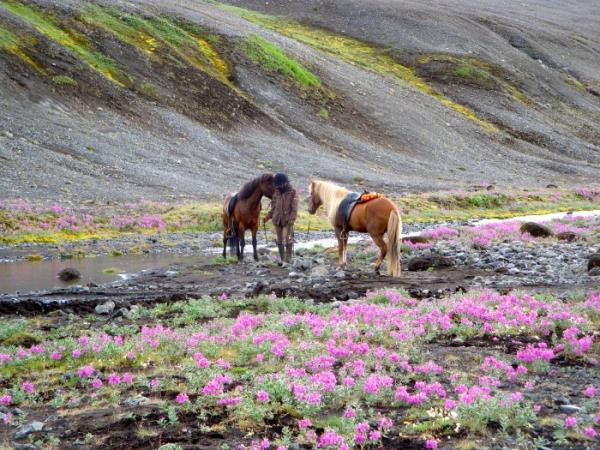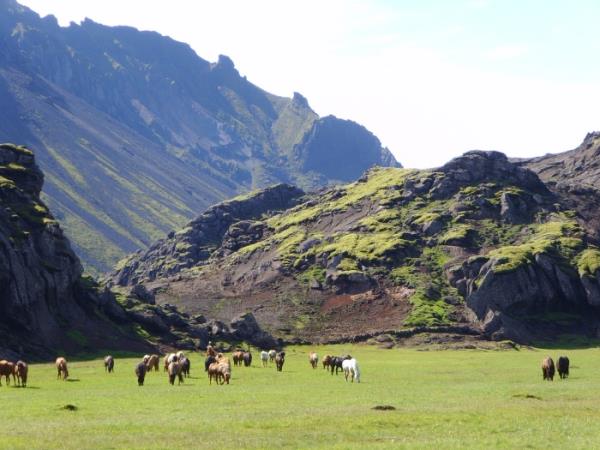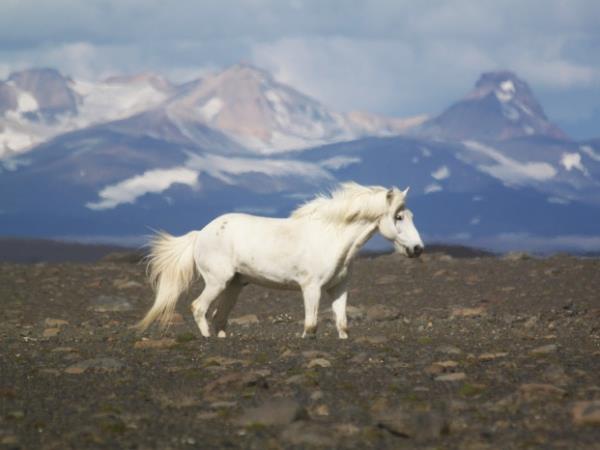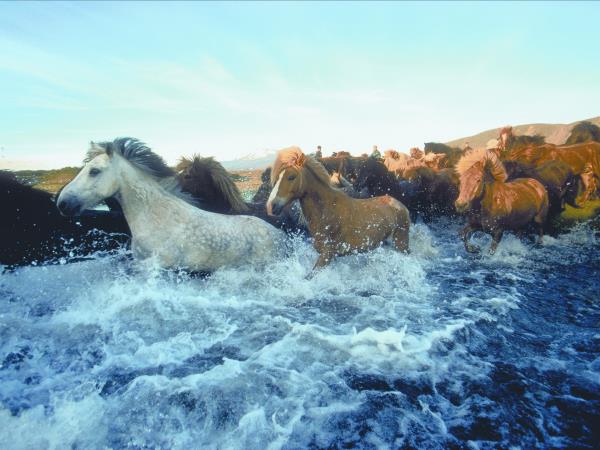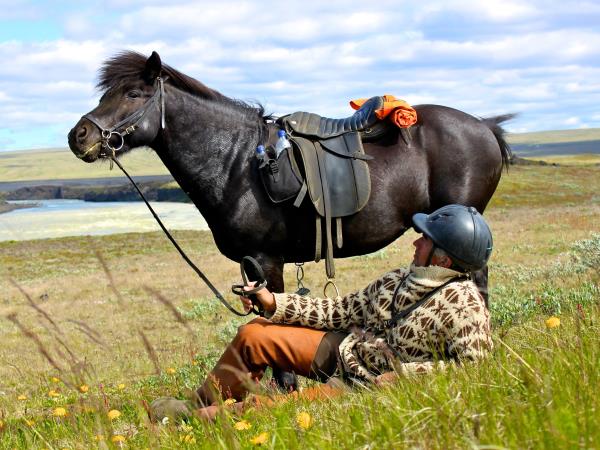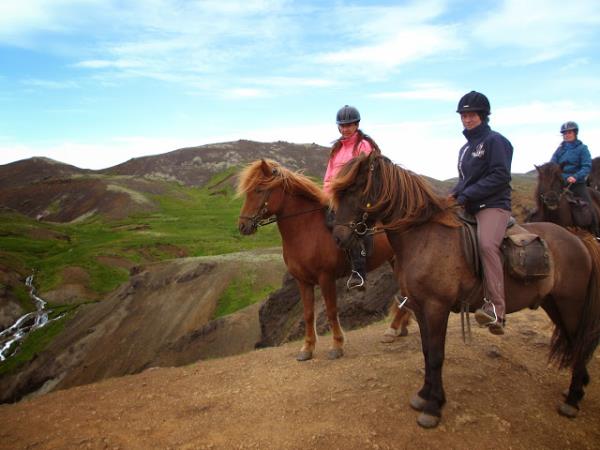 A week of horse riding in and around Thingvellier National Park, with five days of riding, staying in mountain huts and eco accommodation along the way. Guided, and in a small group.
Hveragerdi
Hengill Volcano
Thingvellier National Park
Kristnitökuhraun lava field
Maradalur, "Valley of the Horses"
Reykjadalur Valley
Húsmúli and Hengill mountains
Five days of riding on Icelandic horses
Dyrfjöll "Door mountain"
Skógarhólar
Lyngdalsheidi Moor
Laugardalshellir lava caves
Lyngdalsheidi Moor
Reykjadalur Valley hot springs.
Includes 3 nights in guesthouses 2 nights in sleeping-bag accommodation (simple mountain huts) Full board from dinner day 1 to lunch and afternoon tea day 6
Description of Thingvellir horse riding holiday in Iceland
This week long horse riding holiday in Iceland is a small group holiday, fully guided, riding from one glorious wilderness spot to another on Icelandic horses. These horses are almost as special as our landscapes, measuring between 14hh and 14:2hh they are very strong, and able to carry an adult male over rugged, volcanic terrain.

With five days of riding, covering an average of 25km per day, we ride as a group but also take a herd of horses with us as they love nothing more than to run free alongside our riders. We also then get a chance to swap horses during our daily excursions, and we believe that riding in a community of horses like this maintains the culture of Icelandic horsemanship as it should be. In addition, we also encourage riding Icelandic horses in their unique style, known locally as "tölt", a perfect travelling pace that is between a trot and a canter and yet a very smooth pace to adjust to.

During these five days of travelling by horse, as well as exploring the famous Thingvellier National Park, we explore the wild terrain of the aptly named Maradalur, "Valley of the Horses" with its unusual volcanic formations, ride through lava flows dating back centuries and follow glistening lake shores such as the twin crater lakes known as Kattatjörn.

Our final day of riding is in the dramatic environs of Reykjadalur Valley, famous for its hot springs and where we treat our horses to a 'river bath', while taking in views over the volcanic coast at Ölfús.

Price information
Check dates
For departure dates contact us on
01273 823 700
Accessibility
Accessible Overview:
This holiday is a little unconventional because, compared to a beach holiday, it requires your active participation. We are all different and an activity that's straight forward for one person may not be straight forward for another. Some destinations have age restrictions, others may require specific planning, and you may have some personal requirements. There is almost always a way of making an itinerary work for everyone and over the years we have acquired considerable experience in making the impossible possible.
Limited mobility:
Everything that we do is tailor-made so if you have restricted mobility we will ask you some specific questions which will facilitate us to exercise a proper duty of care. Once we have the information from you we can liaise with in-country hotel managers, stable owners or whatever is required to dot the i's and cross the t's.
We can be pretty flexible and adjust the duration of rides (some rides!) for a less-mobile rider.
Wheelchair:
If you require a wheelchair most of the time, or even all the time, you can still ride an Iceland Horse in Iceland. These rides are not suitable for novice riders, but if you have some experience in the saddle, then we can adapt our riding holidays for you. Please note that we do not have a hoist to lift riders into the saddle but we can provide a mounting block and guides to assist you into the saddle. You might need to stand with support and take maybe one or two paces away from your wheelchair with assistance for mounting.
Generally speaking we can't guarantee a special vehicle adapted for wheelchairs. However, we can brief drivers to assist you getting into and out of a vehicle (so long as you're OK with a little assistance) and your wheelchair can be stowed in the back.
Smaller hotels, lodges, mountain huts and suchlike don't all have wheelchair access, but if you're OK to be physically assisted, we can with pleasure provide that assistance. Larger hotels will have ramps, proper shower facilities and wider doorways. We can advise on the specifics of accommodations on this trip if you get in touch with us.
Blind or partially sighted:
There is no 'one rule fits all': please speak to us and we will run through the specifics of a given itinerary. As an example we have experience of a rider with 90% sight loss who completed a riding safari in Rajasthan. His wife accompanied him to provide an interpretation of the terrain ahead, and we paired him with an ultra-reliable horse. There was no jumping involved. Information in braille is not generally available overseas but local support from dedicated personnel is excellent.
Deaf or Limited hearing:
Air travel is feasible, even for a solo travelling deaf person. Once in-country we tend to hold daily briefings which can be summarised and relayed one-to-one from group leader to specific client.
'Free from' food:
We send all travellers a questionnaire specifically asking about their dietary needs and any allergies. This is standard practice. Do please be as thorough as possible in the information you provide us.
LGBT:
Iceland is a tolerant country and there should be no issues for LGBT travelers.
Responsible Travel
As the pioneers of responsible tourism, we've screened this (and every) holiday so that you can travel knowing it will help support the places and people that you visit, and the planet. Read how below.
Planet
We use the Icelandic horse. Sometime around the year 900 AD Norsemen brought horses to Iceland from Scandinavia, and thus began the distinctive breed that we know today. Natural selection due to the harsh climate, coupled with selective breeding, has moulded to become a resilient, multi-purpose horse. The breed society was established in 1904. The ranch we use has about 300 horses which include riding horses, stallions, brood mares and young stock.

For the last 5 years the ranch has been involved with a first class structured breeding program. The goal is to breed top riding horses—suitable for both riding pleasure and showing with a focus on producing well-gaited riding horses that are physically strong and full of stamina. The quality of life that the horses have is exemplary. The young horses grow up in large meadow expanses and diverse landscapes, where hillocks and hills, brooks and rivers and lakes are part of their everyday experience. In summer and autumn, all the young horses are together, from foals up to 4-year-olds, along with the breeding mares. This way the young horses learn to respect those that are older and stronger than they are.

During winter, the breeding mares are taken to the farm, along with their foals and the young horses in their second year. They are fed in the farms meadows that are both sheltered and with running water. Here they can be observed This location is close to the lodge used by the guests so an added bonus is that the guests can see the foals romp and play whilst the mares stand by so patient and proud. The foals stay with their mothers until the end of March/beginning of April each year. At this point, they are separated from their mothers and put in a stable where they will stay for 5-7 days. This is when they get acquainted with people for the first time. They learn to follow a person and to lift their feet. Before they are released into the meadows once more, their hooves are trimmed and the horse is micro-chiped.

Each year from the age of 1-3 years, the youngsters' hooves are trimmed and the horses are trained for a short period, they learn to lift their feet and wear a halter. The time going into basic training varies, depending on the young horse involved. The real training begins when they are over the age of three. They are taken into the stable around mid-September and worked with for about 4-6 weeks. During this period they become ride able in the company of older horses. Training continues when the horse is into its fifth year commencing in late October/early November. They are tamed and trained for about 2-2.5 months. They can then be ridden using their natural gaits. A horse's level of maturity and gait excellence determines whether to continue with them later that winter—or whether they get a break for an additional year. Most of the horses get a well deserved break at the end of the riding season they are let out into the endless fields as part of a herd. Some stay at the ranch a little longer for the for the winter rides.

On the rides the horse is always respected. There are 3 horses used per person per day so that each horse has a rest. Whilst a horse is not being used it runs freely with the ones being used so remains part of the herd,. English saddles and snaffle bits are used as they are comfortable for horse and rider. The bridles have detachable nose-bands and clips on the end of the reins so they can be easily removed when grazing.

Much of Iceland has a fragile eco system easily damaged so the rides are always small groups, headed by trained guides and kept to defined trails.
The accomodation that is used along the way takes into consideration the water and waste management with a focus on renewable resources.
People
We are acutely aware of the economic, ecological and ethical impact tourism should have on indigenous communities and fragile environments. Although riding is a form of transport that is gentle on the environment and supports a long culture and tradition it still needs to be undertaken with care.
The guides used have a sound knowledge of the ecology, geology, plants and animals of the area . They have many insights into the remarkable flora and fauna of Iceland but will also remind the riders not to stray from the trail onto the delicate mountainside causing erosion. The guides have also undertaken safety training. These skill are put to good use on the rides but are also transferable skills for those seeking employment outside the riding season.

The horse is a vital part of traditional Viking culture which is rich in sagas that date from around this time and there are frequent references to horses. The stables we use are actively involved in a breeding program that is ensuring the survival of the Icelandic horse and thus an important part of Icelandic culture. We feel we are supporting the traditions of Iceland on this trip where travellers will hear stories and learn lots about the role of the horse in Icelandic culture.

In addition we support the local economy by using locally run and owned farm house and hut. The environmental policy of the ranch encourages recycling of water, waste management, use for renewable resources and uses locally grown organic products and offers home cooking which in turn supports the local growers and provides employment.

Before our clients travel we issue them with a Field Manual which has information in it to encourage travel in an culturally and environmentally aware manner. For example reminding people that ''Used boots, riding wear, helmets, saddlebags etc., must be disinfected before arrival in Iceland and why to reminding people not to pick up rocks as little souvenirs of their ride and why.
Popular similar holidays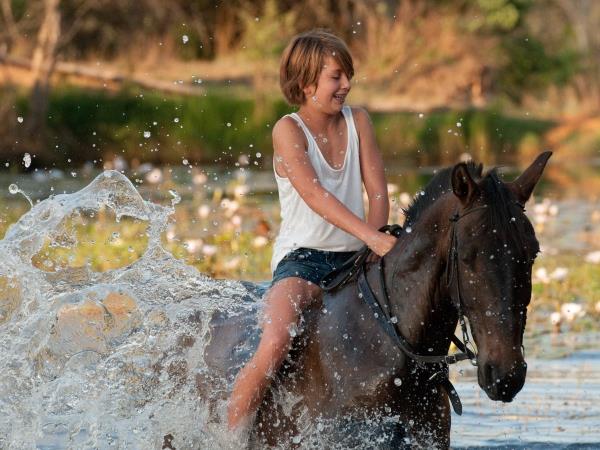 From £1525 9 days excluding flights
Family horse riding safari holiday in South Africa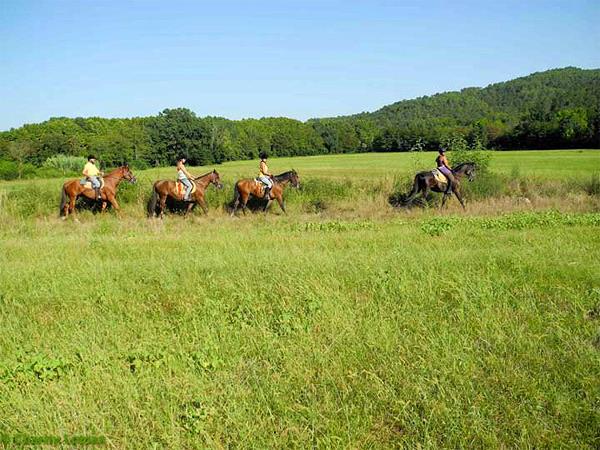 From €734 - €1165 8 days excluding flights
Horse riding in the beautiful Catalan countryside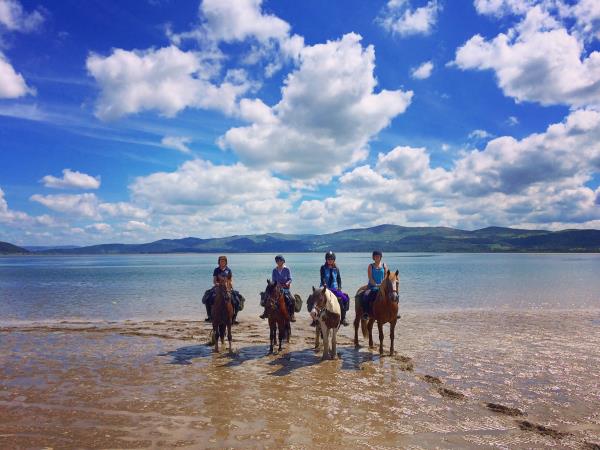 From £1800 6 days excluding flights
This is a real trail riding expedition, covering 100 miles