"A twelve day, tailor made trip around some of Myanmar's most magnificent sites. With local guides and staying in hotels along the way. Plus one internal flight. "
Highlights
Yangon | Mandalay | Bagan | Inle Lake | Ngapali | Stay in beach hut | Internal flights | Private guides
Description of Myanmar holiday, A taste of Myanmar
This Myanmar holiday is a tailor made trip, with an itinerary that takes you to many of the country's most famous cultural and natural highlights, spending two or three days in each so that you have time to really immerse yourself in this country's wonderful ways. We have created a twelve day itinerary, but of course we can tweak it, trim it or tempt you to more time there too if you are able to fit that in.

Myanmar is still relatively untouched by tourism and you will be travelling with local guides who are as committed to responsible tourism principles as we are. And also endeavour to take you off the tourist trail when possible. Starting in Yangon, the former capital, this pulsing city with its iconic Shwedagon Pagoda, is a great place to start to your holiday, with plenty of opportunities to see everyday Burmese life and soak up the atmosphere, staying in a centrally located hotel.

The next section of your holiday, after an internal flight, is in Mandalay, a city that has a colonial and royal past. Although much of the old city was destroyed during WWII it is a city of great importance for Buddhists, with Mandalay Hill an incredible pilgrimage. Staying in a river front hotel, your local guide will also take you to visit Sagaing, home to more than 6000 monks and nuns. Another favourite spot in this region is U-Bein Bridge, the world's longest teak bridge.

You have the first of two overland journeys to your next stop in Bagan, taking a six hour bus trip through rural Myanmar. Bagan is most definitely worth the journey, with the unforgettable and very moving sight of thousands of temples and pagodas stretching out across its exquisite environs. You can explore it by horse and cart, or by bike and our guide will take you to explore lesser known temples that receive far few visitors.

Your next overland trip is to Inle Lake, another bus trip of around seven hours, to see the largest freshwater lake in the country, where villagers live on or around the lake in stilt houses, many working on floating vegetable gardens and markets. You will stay in Nyaungshwe, located on a river channel that leads to the lake and which serves as a marina for boats bringing tourists out to the lake.

Your last stop is a beach one, at Ngapali on the Bay of Bengal, which you reach with one more internal flight, followed by three days to just relax. Beautifully unspoilt, this is a coastal idyll with white sand, clear waters, seafood shacks and beach lodges, one of which you will stay at for the perfect finale to your trip.


If you would like some help or advice, or just want to discuss your ideas for your next trip, do give us a call.
Departure information
Everything is tweak-able, giving you the freedom to build a unique and personal trip for your chosen date. Upgrade your accommodation for all - or just part - of your trip, slow down the pace with few extra nights here and there or add a few more active adventures along the way
Responsible tourism
Responsible tourism: Myanmar holiday, A taste of Myanmar
Environment
During any visit to Myanmar, customers will be with local guides who are fully versed on how to protect the surrounding environment and how to travel with minimum impact during any trip. In Bagan, for example, your guide will take you to explore lesser known temples that receive far few visitors, minimalising the wear and tear of human foot fall across the plains.
We also do our best to limit any carbon footprint throughout each journey, by preferring to book shared minibuses rather than domestic flights to travel between Mandalay & Bagan and from Bagan to Lake Inle. We also arrange bicycle rental in Bagan and walking tours in Yangon. Additionally, we offer each and every customer of ours the opportunity to offset their carbon emissions when booking their international flights with us.
On top of this, we also provide each of our customers with a 'How to be a Responsible Traveller' document before they travel. This includes advice and tips on how to buy locally, protect wildlife, and how to make a genuine difference to the country they're visiting.
Our responsible travel journey starts at home, from our Brighton based paperless office, where we reduce, reuse, and recycle wherever possible. Each and every day a healthy lunch is provided to our staff and any leftovers and food waste are composted. We're committed to sustainable travel and are proud to have received the thumbs up from Travelife by achieving their Better Places Partner criteria.
Community
By travelling on this itinerary, you will be supporting local families, communities, and independent businesses throughout your journey. All our guides are born and raised in Myanmar, with the majority guiding travellers around the town or village they have grown up in all their life. For example, during your time at Lake Inle you'll spend a whole day out on the water with an Intha tribesman, who will lead you away from the tourist hot spots and around the floating villages that they call home. You'll also stop for a tasty lunch of Shan cuisine with a local family. It's a unique experience which brings you closer to the locals and allows you to experience village life in Myanmar.
Our local offices also ensure all employees are well treated and that they exceed all minimum requirements for salary, work hours and rest days. This ensures that everyone directly involved in your trip receives all of these benefits and is paid and treated fairly.
As well as this we also use only small-scale and locally owned accommodation every step of the way, which not only provides you with a truly authentic experience but makes sure that the revenue from this tourism goes to the ones who need it the most.
Before you travel, you'll also receive an incredibly useful and detailed written guide that explains the local customs and cultures of Myanmar and how to ensure dignity, awareness, and mutual respect are maintained throughout your time in country. This includes information about how to dress appropriately, understanding the Buddhist religion and useful phrases so that you can travel in a truly meaningful way.
4 Reviews of Myanmar holiday, A taste of Myanmar
---
Reviewed on 11 Feb 2019 by
James Hope
1. What was the most memorable or exciting part of your holiday?

The people of Myanmar. They are so genuine and welcoming.


2. What tips would you give other travellers booking this holiday?

While Bagan and Inle are fascinating to visit they are becoming massive tourist destinations.
Luckily we were booked into lovely quiet hotels in both places just outside busiest areas so
didn't feel swamped. The local guides were excellent. If I go again I'd try to explore more out of
the way areas.


3. Did you feel that your holiday benefited local people, reduced environmental impacts or supported conservation?

Both the areas we visited through this company were pleasantly
free from plastic pollution. Other areas we travelled to independently, including islands off the
south coast of Myanmar in the Myeik peninsula, were awash with plastic. Very sad.
We visited a Water Well project near Bagan which was providing fresh
water to about 160 local families very cleanly and simply. The scheme seemed to be very well
managed and as far as I know will be copied in other communities when funds allow. We were
given a lovely welcome.


4. Finally, how would you rate your holiday overall?

Second time I've used Responsbile Travel and not let down. This trip was really well planned
from initial consultation on and no hiccups at all in travel arrangements. All the local guides
looking after us were excellent, as were the hotels. Only very, very minor complaint was that
the bikes provided by the hotel in Naungshwe near Inle were not very well maintained (dodgy
gears and brakes). Would definitely use the company again as I feel they do their research so
well.
Read the operator's response here:
What wonderful feedback about your trip to Myanmar! I agree the warm welcome from the people were the highlight for me as well when I travelled there. I'm pleased the location of your hotels in Bagan and Inle Lake worked so well for you and that the guides throughout your trip were excellent. Thank you for letting us know about the bikes, I've been in touch with our local partners who have contacted the management at the hotel who are going to have the bikes serviced. I'm so pleased you loved your visit to the water well project as travelling with meaning is what we are all about and it's great that your visit benefited the local community and that you enjoyed it so much as well! Phoenix
---
Reviewed on 26 Feb 2018 by
Kevin Fidler
1. What was the most memorable or exciting part of your holiday?

Not easy to answer as there were so many. The people are fantastic, so cheerful and helpful and in some areas foreigners are a bit of a novelty - we were asked to pose for photos quite often. Culturally the place is very diverse and different; the history of the various peoples is very interesting and although there are Buddhist pagodas and stupas all over the country there are many variations. Getting around was also great with different transport often local services.


2. What tips would you give other travellers booking this holiday?

Climate. We were there in "winter" i.e. Feb. The evenings and early mornings are cool/cold particularly in the hills and northern areas so taking trousers, socks and a warm top or jacket is essential. The temperatures very quickly rise after about 9am.

So layering clothing is a good idea. Often there is a breeze so the effects of the strong sun can be underestimated. The dress code, if there is one is very much casual. We found that lightweight, easy dry clothing was most useful and there are lots of places to get laundry done if required.

Money. Guide books state USD are useful. They are accepted but only in absolutely pristine condition and for exchange the rate is low for denominations
below $50. Frankly it is hassle and given the re are ATM's and banks all over you are better off just getting the kiat local currency.

Accommodation. We were delighted by some of the places we stayed; people are very friendly and helpful and go out of the way to make your stay pleasant. Everywhere we stayed was clean but in the outlying areas some of the facilities, like plumbing was somewhat basic. This is no problem, everything works unless you expect luxury levels.

Food. The range and quality of produce in Myanmar is amazing and the cooking is too. Curry, rice and noodles are somewhat ubiquitous though, including breakfast in some places. Their food is tasty but not particularly spicy (garlic and chillis are often given separately as a condiment). The street food varies but freshly cooked food over charcoal is usually OK. Local restaurants very often cook food in the morning and leave it so be aware of when you eat particularly lunchtime. Bottled water is everywhere and often in taxis, on buses and boats you are given a bottle automatically.

Culture. Much of the population is referred to as Burmese especially in the Shan state to the north east. The tribes within the Shan are very proud of their traditions and heritage. Buddhism is universal (though other religions are very much tolerated) and most people we met are quite devout in the beliefs and
practices. Visiting Buddhist sites is welcomed and the dress code of covered shoulders and legs is expected. Most temples, monasteries etc are well maintained so going barefoot is not a problem. Hot surfaces underfoot can be encountered and some places apparently are very slippery when wet. Photography is quite acceptable including of the monks and nuns - though be aware that whilst they may be happy being photographed some of the people
are sensitive to you doing so. Part of our holiday was walking to and staying in some of the Shan villages. We learned whilst there that not all the local people are happy with this arrangement; there is no danger of hostility but the smiles and co-operation with you invading their villages are not always forthcoming from everyone.

Transport. Traffic in Yangon and Mandalay is not good. Yangon is badly congested, Mandalay is frankly mad by our standards. Air pollution can be quite bad. In those two places you need to allow for time to get places particularly if you need to to time flights, trains etc. Local transport is great fun but it is not
quick. Also be prepared for some discomfort in seating and space.

Politics. The Myanmar people are very much aware of the current problems in the west of the country and there is some militancy in the northern and eastern areas. They will be very helpful in gently advising visitors about the military i.e. don't photograph them or try and go in any locations. The military is apparently a totally separate community so encountering them is infrequent, mainly security at certain sites. Whenever we passed a security point with army present they were perfectly cheerful and helpful.

Tipping / Donating. Tipping is not expected and confined to exceptional service. It sounds strange but over generosity can cause embarrassment. Begging,
requesting money is very much frowned upon unless the person is physically disabled (and assumed to be unable to work). Advice, actually a request was
definitely not to give anything to unaccompanied children. There is a problem with education in the country where many cannot afford schooling, some families want they children to work and obtaining money from tourists often is more desirable than going to school.


3. Did you feel that your holiday benefited local people, reduced environmental impacts or supported conservation?

The company we were concerned with Khiri who employed local guides throughout and were very good at advising us as to the best places to get genuinely local products, meals etc. A nice idea was to take some notebooks, pencils etc and donate them to the teachers at local schools for the benefit of some of the poorer children. Everywhere we stayed there requests about saving or not wasting water etc.


4. Finally, how would you rate your holiday overall?

Excellent. Different, thought provoking, interesting, great fun.
---
Reviewed on 05 Jan 2018 by
William Burr
1. What was the most memorable or exciting part of your holiday?

Ballooning over Bagan, cooking at Inke Lake and the visit to Schwedagon temple in Yangon. The hotels with the exception of the Clover Hotel in Yangon were brilliant and all very helpful.


2. What tips would you give other travellers booking this holiday?

Get a very clear programme from the Myanmar travel operator as communication and the interface did not work in Mandalay and Inle Lake. Information was missing and/ or limited leaving us to 2nd guess what was going on and what we were responsible for!!


3. Did you feel that your holiday benefited local people, reduced environmental impacts or supported conservation?

Benefited local people - yes but not sure about reducing environmental impact
and support for conversation. The local operator could make this clearer as this wasn't obvious.


4. Finally, how would you rate your holiday overall?

4 stars out of 5.
---
Reviewed on 12 Nov 2017 by
Barbara Gatens
1. What was the most memorable or exciting part of your holiday?

I love the people of Myanmar....inner beauty, friendly and welcoming. My favourite memory was "A Day in Mandalay" cooking class..... Picked up at our hotel in the morning (only 5 on the tour) travelled to a traditional tea house... then to market to choose our vegetables and fruit, cooking class in a local village, nap then bicycle ride in the country side and sunset finish. We were given the recipes and spices to take home.... Amazing day.


2. What tips would you give other travellers booking this holiday?

Pack simple and light....with clothes that can be washed out and dry fast (including shoes- I had crocks that were great for puddles/mud when it rained) Women Must cover your shoulders and no shorts or short skirts. I actually purchased a longui for next to nothing.. It was cool and comfortable in the heat.


3. Did you feel that your holiday benefited local people, reduced environmental impacts or supported conservation?

Yes, this is very important to me


4. Finally, how would you rate your holiday overall?

Fabulous
---
Popular similar holidays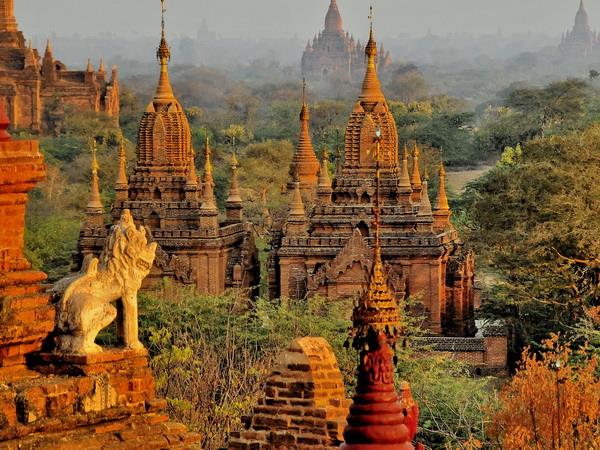 Highlights of Burma; Yangon, Mandalay, Bagan and Lake Inle
From £3200 - £3400 13 days including UK flights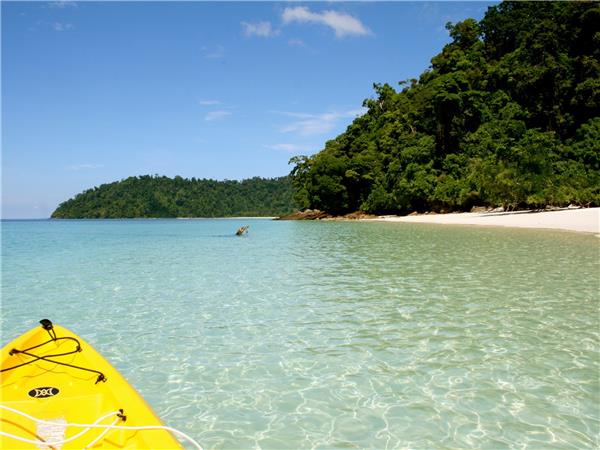 Adventurous exploration of the Myeik Archipelago in Burma
From £1715 - £1885 9 days excluding flights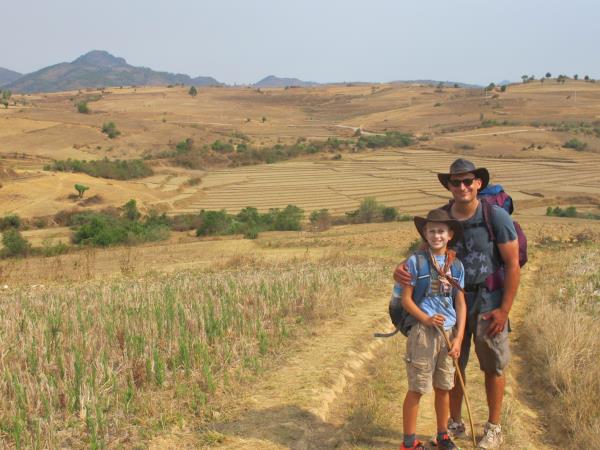 A fabulous family holiday including the best of Burma
From £1350 - £1750 16 days excluding flights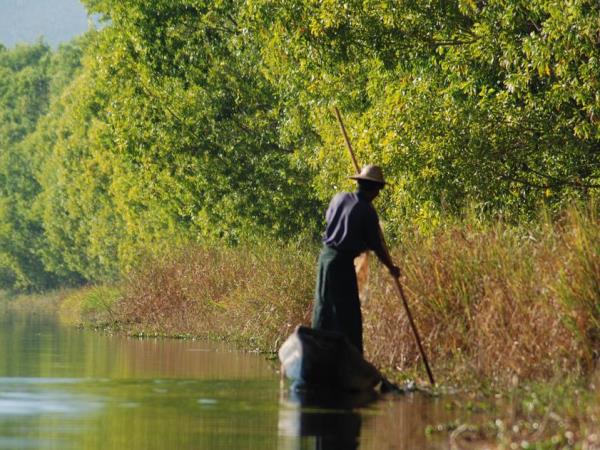 Discover a side of Burma hidden beyond the tourist trail
From £1879 - £2075 15 days excluding flights