Exploratory trekking holiday in Mongolia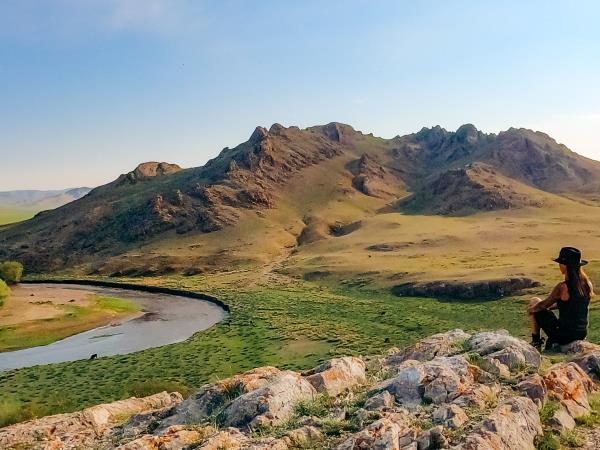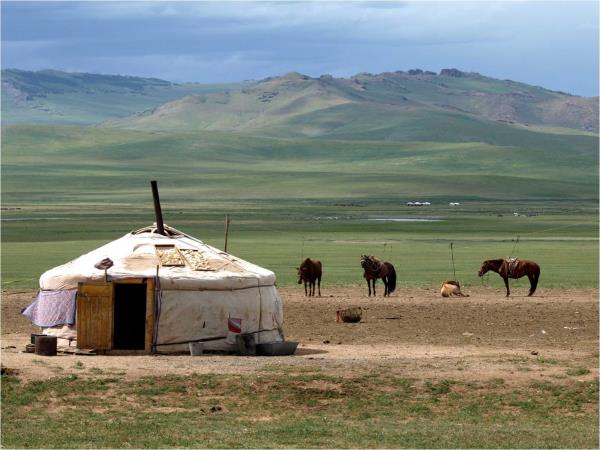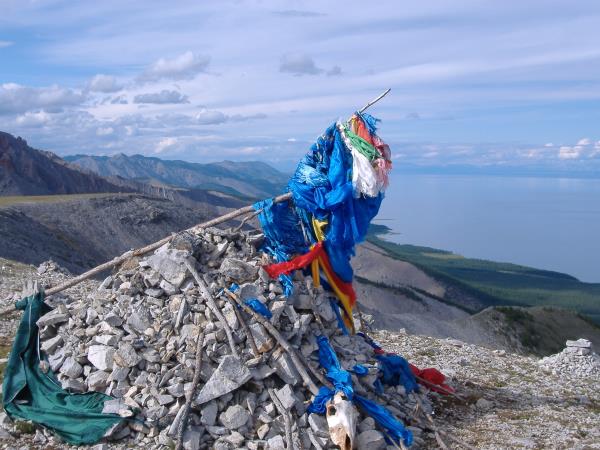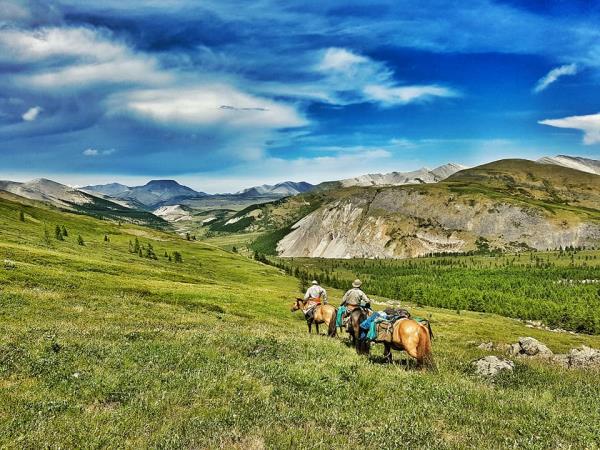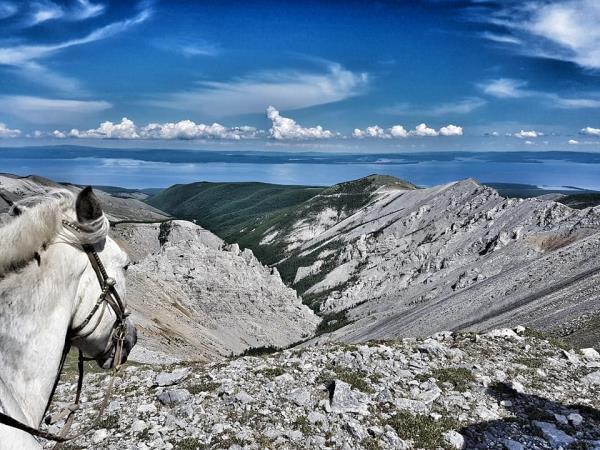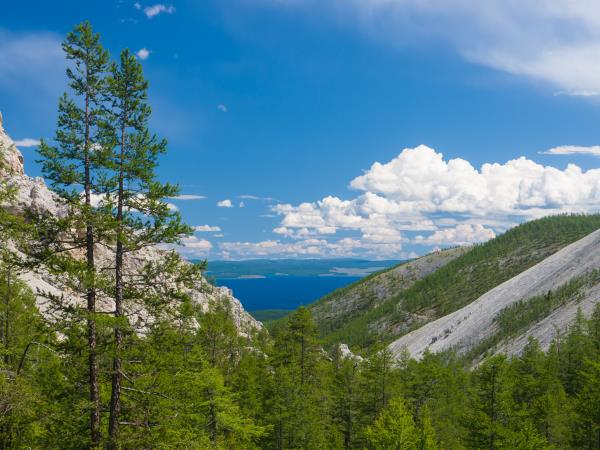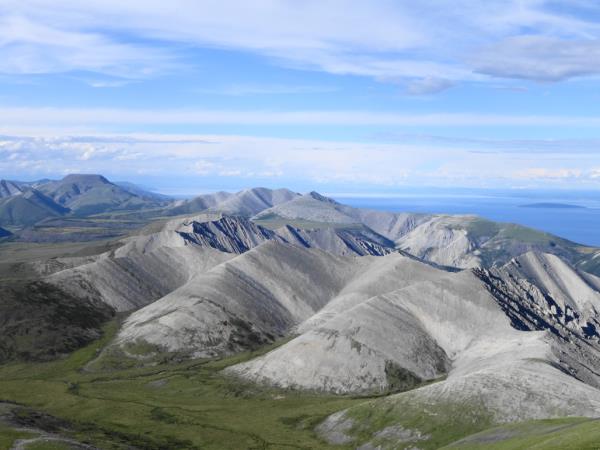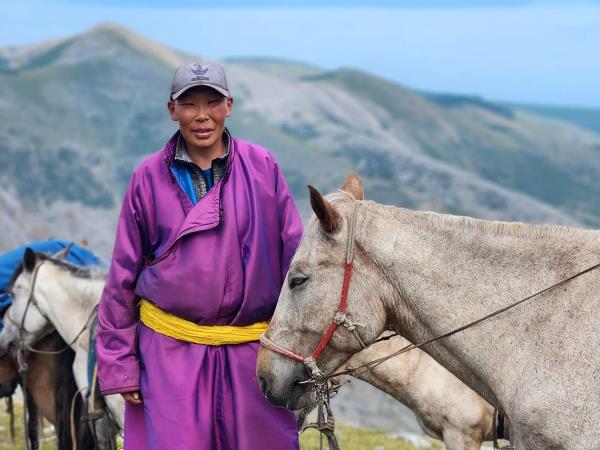 Hosted By Local Herders, Explore, Trek And Experience The Culture Of Mongolia's Khovsgol Nuur National Park
Urban city walking tour of Ulaanbaatar
In-depth slow-paced exploration of Khovsgol Nuur National Park
Burentogokh Horse Festival
5-day Khordiol Saridag Mountains Trek
2-day community trek
* The max group size of 6 as this offers our guests a more individual & personal style of experience.
* Can be adapted into a private tailor made experience to suit you.
* For those not wanting to fly we'll cover the price of your bus ticket.
Description of Exploratory trekking holiday in Mongolia
This 14-day holiday takes place in the remote north of Mongolia and focuses on the culture, way of life, and the wild, beautiful and diverse landscapes of Khovsgol Nuur National Park.

Khovsgol lake is a deeply spiritual place to Mongolians, known as the Mother Sea, and while it's a popular attraction, we can guide you to see its more local and human side. In Khovsgol a huge range of habitats meet here, including coniferous forests, steppe woodland, open steppe and mountains. This trip helps you get to know all these different areas.

Each portion of this holiday is hosted by local people with who we work in long-term partnership, for a rich insight into the culture and life of northern Mongolia. It includes a 5-day trek deep into the spectacular Khoridol Saridag Mountains where you follow the migration grazing routes of the small ethnic group, the Darkhad. It also includes a festival organised by a local resident that celebrates Mongolian horsemanship and helps to promote and keep the skills alive from generation to generation. You also get to experience traditional herding life on a 2-day trek where you discover the forest-steppe landscapes of this region accompanied by local herder Baasanchuluu (Bambakh) in the area where Bambakh grazes his livestock.
Map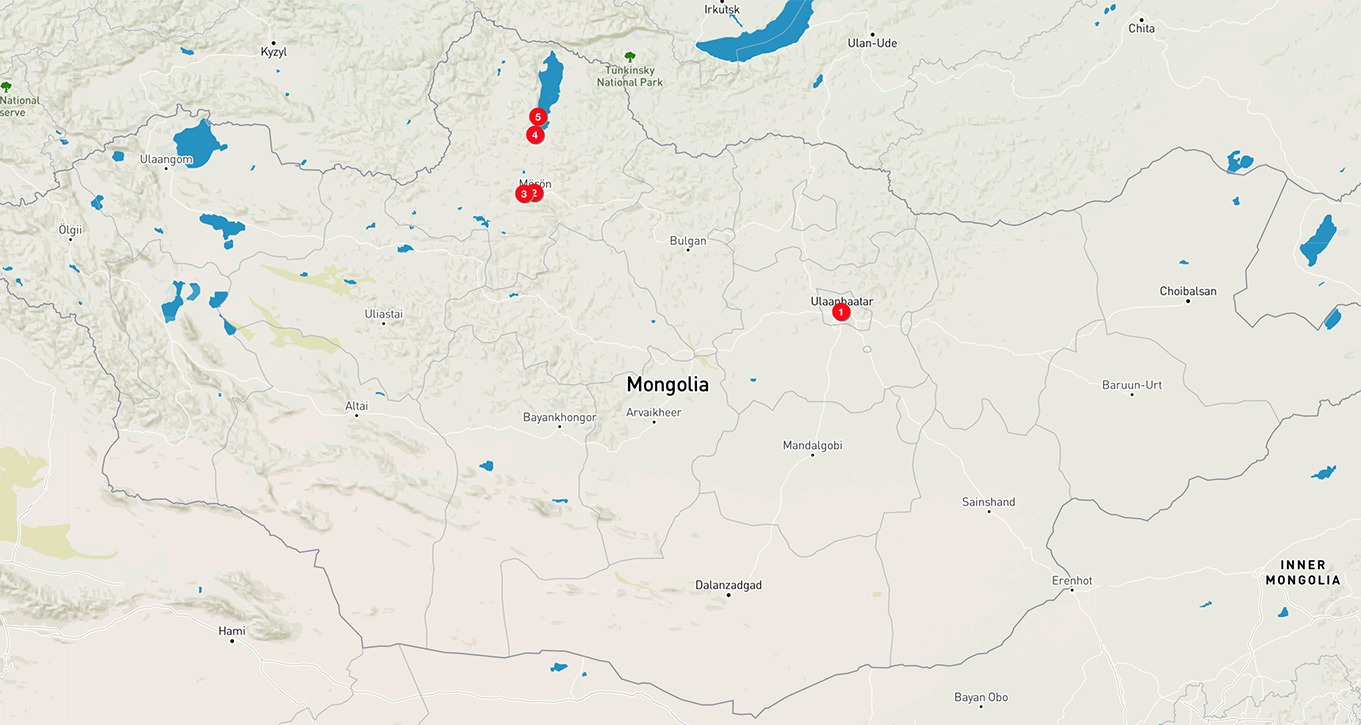 Price information
Reviews
1 Reviews of Exploratory trekking holiday in Mongolia
---
Reviewed on 01 Nov 2019 by
Britta Solberg Salas
1. What was the most memorable or exciting part of your holiday?

Oh, man--it's impossible to choose. The most memorable part for me was getting out of the jeep at our first homestay and discovering the absolute, complete
silence. It was unlike anything I've ever experienced.


2. What tips would you give other travellers booking this holiday?

Know that the horse-riding is arduous and exhilarating. Definitely not for beginners.


3. Did you feel that your holiday benefited local people, reduced environmental impacts or supported conservation?

Yes, absolutely. What little garbage we had was either burned or brought back with us. Any leftover food--what little there was because our trip assistant was
such a good cook-- was given to the dogs.


4. Finally, how would you rate your holiday overall?

Tremendous. It was everything I had hoped for and more. Every detail was skillfully taken care of, and even when things went awry (the van breaking down)
our guides were ready with a plan B. I would do this trip over and over again with the operator.
---
Responsible Travel
As the pioneers of responsible tourism, we've screened this (and every) holiday so that you can travel knowing it will help support the places and people that you visit, and the planet. Read how below.
Planet
Always a tricky one this. We can promise you the world but how do we prove it? Responsible, sustainable or ethical travel - in recent years, it has developed many labels and is now a widely-used selling tool in the tourism industry. But, what does it mean? Although there is no real clear definition, it has to be more than ensuring that we collect all of our rubbish, asking before taking a photograph or being aware of the cultural norms. That's what we should be automatically doing anyway.

Below are some of the elements of our responsible travel philosophy for our Khovsgol Trails experience where we can show real evidence of our practice:

The Glasgow Declaration | Tourism Declares A Climate Emergency

We focus solely on Mongolia and over the previous two decades we have seen the impact of the climate emergency on this vast country. Annual precipitation has decreased (the (previously reliable) seasonal rainfall pattern has become erratic) but localised severe weather events have increased. There's also an increase in desertification and a loss of biodiversity. This is combined with Mongolia's annual mean air temperature increasing by 2.24°C from 1940 to 2015 – triple the global average.

We are aware that tourism is part of the problem and as a business working in tourism we feel we have a responsibility to help combat problems including those created by tourism itself. We already work responsibly on a local level – we're a  registered Mongolian company and social travel enterprise, focusing on creating positive social change in Mongolia.  We believe that travel can and should be a positive experience for both the visitor and for the destination country itself – its natural environment, people, culture and traditions. We can provide evidence of our work. However …

Although we believe travel has to be beneficial to all concerned we also understand that it is not currently beneficial to our planet. But we can't solve this alone.  The problem surrounding climate change can only be solved by working together. This is not about cancelling international travel but it is about travelling better – travelling in a more conscious way. As an industry, we need to come together and act to make our sector more sustainable.

That's why we are a signatory of the Glasgow Declaration (a commitment to take action to halve tourism's emissions by 2030 including our own, and to report on progress made each year) as well as a member of Tourism Declares A Climate Emergency – a collective of travel organisations that have declared a climate emergency and are and taking purposeful action to reduce their carbon emissions and coming together to find solutions and to help build a new, regenerative tourism.

Managing Our Carbon Footprint

It is well documented that the tourism industry is a major contributor to global carbon emissions which are a major part of the climate emergency. As a tourism business – especially one working in Mongolia, a country where a majority of our guests have no option but to fly to – we have a moral responsibility to make sure the way we work is as sustainable as possible. It's a long road with no definitive answers but below are the achievable steps we are taking to reduce our emissions.

1) We're creating an environmental management plan and climate action plan with the help of postgraduate students on the Responsible Tourism Management Postgraduate Course of Leeds Beckett University in the UK – the only responsible tourism management MSc certified by the UNWTO.

2) We will be working with C-Level to measure our carbon footprint. Carbon offsetting is not the answer to fixing the climate emergency. But, offsetting is part of our wider environmental management and climate action plans and helps us to take responsibility for our current carbon footprint. Using C-Level we will be balancing our CO2 emissions by investing in Plan Vivo Certificates – environmental service certificates, each representing the reduction or avoidance of one metric tonne of carbon dioxide. The Mongolian Nomad Project we invest in through our carbon offsetting is of Plan Vivo Standard – based on ethical principles intended to deliver long-term climate, livelihoods and biodiversity benefits. 

3) Our Khovsgol Trails experience includes two domestic flights. Emissions per kilometre for domestic flights are always much higher because such a large proportion of the flight is spent taking off and landing. With this in mind, as a company we will be calculating the offset for all domestic flights used by our guests and paying the offset to buy Plan Vivo Foundation carbon certificates which are used to support the Plan Vivo Mongolian Nomad Project - working in partnership with the Mongolian Society of Range Management.

Water

Because of Mongolia's geographical location and climate, it faces a strain on its freshwater supply which the impact of tourism will only exacerbate. We're creating looking at how we can limit our own impact on Mongolia's future freshwater shortage which looks at the accommodation we use, the way our team uses water as part of each trip and also how we provide drinking water to our guests. Two examples of this are:

1) We do not provide bottled drinking water as apart from in the capital city, there is just no way to recycle the bottles. Instead, we take fresh drinking water from local water supply points. We provide two 20 litre water containers in each tour vehicle and provide a Lifesaver carbon filter or an Adventurer Steripen in each vehicle. In addition, we have formed a partnership with Water-To-Go. Our travellers are now able to purchase a Water-To-Go reusable filtered water bottle and receive a 15% discount. From each purchase an additional 15% is put towards buying Plan Vivo Foundation carbon certificates which are used to support the Plan Vivo Mongolian Nomad Project - working in partnership with the Mongolian Society of Range Management.

2) Also, for a majority of all of our trips we do not use the typical tourist ger camps that often have very bad eco-credentials. Instead, we use a mix of accommodation and use the locally provided town shower houses. This is where a majority of Mongolia's rural population come to shower including the families that will host you on our Spring Journey experience. The shower houses are small business enterprises operated for the local communities and a great way to support local, meet the locals and do as the locals do themselves. It also helps us to manage our own environmental footprint.

Waste

The disposal of rubbish is a major issue in Mongolia - especially plastic. As part of our Sustainable Tourism Strategy, we are working on limiting our general use of plastic and as part of this, we have created our Mini Plastic Free Mongolia Challenge which we invite our guests to be part of - as well as our team members.

As part of our Responsible Travel ethos, we work with a local Mongolian NGO (Mongolian Quilting Centre) to make fabric tote bags for our guests which we hand out for free as a welcome pack at the start of each trip. This is a souvenir for our guests but it also helps to support the project and helps us to cut down on the waste we produce. As part of your Spring Journey experience, you will also receive such a tote bag.

Also, you can book knowing that we finance our annual community two-day rubbish collection in Terkhiin Tsagaan Nuur National Park in Mongolia. Arranged through the local community and protected area rangers, we have been arranging this since 2014 - even in 2020 & 2021 despite a lack of income due to the Covid pandemic.

Group Size

Unlike a majority of the larger tour companies, where small group travel can mean being in a group of up to 12-18 people when we say small group travel this is what we mean. Our group size on this trip has been kept small - a maximum of six. This means that the family experiences during the trip become more personal and authentic for you and more respectful towards the local people you will meet and the local families you stay with. We are not an overwhelming presence - on the local communities or the local environment.

Transport

At the moment our vehicles are driver owned as it gives each driver more flexibility in the low season months. We use Russian 4x4 Furgon vans (diesel & petrol) as these are the most suitable vehicles for handling Mongolia's rugged terrain. However, we are always looking at ways to manage our overall impact including the impact made by our tour vehicles and this includes providing cycling and trekking experiences as well as using the Trans-Mongolian railway for transport throughout the country. We also have a limited number of departures for each of our itineraries. We also do not concentrate specifically on one area. Mongolia is a country of incredibly diverse yet fragile ecosystems. By limiting our presence in certain areas, we help to preserve and protect and help to avoid the area changing environmentally due to repeated and extended exposure to tourism.
People
Our company is not a world or a multi-destination specialist. We concentrate on the country we know, live in and love – Mongolia. We research, design and operate each itinerary ourselves and do not source our itineraries from other agents. That means we're part of the community that we work to support.

A Fair Deal

As a registered social travel enterprise, we look to make sure we work responsibly within tourism and to make sure our work benefits local projects, people and communities as much as it benefits our guests and us as a business. We're a little different in we believe everyone is equal. That means our guests are equal to our team who are equal to the Mongolians we work with on a more general scale. Respect is at the core of what we believe in.

We focus on creating local community partnerships that offer long-term support to local people, families and Mongolian projects – encouraging their own sense of enterprise. We also look at ways we can continue to work with each family even when their personal circumstances change. We want to continue strengthening these partnerships whilst making sure that they have a positive impact. As part of our philosophy, we don't stop working with families just because their circumstances change … instead, we look at alternative ways in which we can work with them.

All of our team are Mongolian (apart from Jess) but we don't source the 'best' guides that work the tourism circuit and that already have guaranteed work with other companies. Instead, we provide free long-term training, development and employment opportunities to Mongolian women that want the opportunity to work in tourism (whether that be for a professional reason, for development of personal skills or for economic empowerment) but that other companies won't take as they don't fit the stereotype. Our female Mongolian trip assistants are dynamic women who are searching for an opportunity to train and develop and we provide that long-term opportunity.

Volunteering & Charity

The local projects that we actively support are typically grassroots level projects that provide greater opportunities and benefits for local communities within Mongolia. One example is that as part of our free city walking tour of Ulaanbaatar - Mongolia's capital city - we take our guests to visit a local project called Nogoon Nuur. We make a donation per person we take to the project which is used by the project for maintenance on their community centre. Another example is our work with the Mongolian Quilting Centre which we pay to make fabric tote bags for our guests which we hand out for free as a welcome pack at the start of each trip. This is a souvenir for our guests but it also helps to support the project working with disadvantaged Mongolian women.

Travelling With Respect 

Our trips focus on 21st Century Mongolia - yes, you'll get to experience the traditional way of life but at the same time gain an overview as what it means to be Mongolian in 21st Century Mongolia. The people we work with are 'real' people that we form long-term local community partnerships with. They are not tourism professionals. You'll meet people from Ulaanbaatar, you'll meet herders, you'll meet Mongolians that live in the provincial centres as well as the smaller town and rural communities. However, these are real people with real lives to lead and at no point do we ask the families to change their way of life for our/your own benefit or comfort. If they don't have a shower, neither will you! (Don't panic! … see Water in the Environment section!) We ask our guests to try and embrace and enjoy any differences that they come across in Mongolia. Experiencing the differences is all part of any trip and makes it a more authentic and positive holiday for you and a more respectful and enjoyable experience for the locals as well.

An example of our philosophy is that for our Khovsgol Trails experience we use accommodation provided by local families. For this trip, that's families we work with in northern Mongolia. Families offer accommodation to help supplement their income. Most are small rural businesses providing extra accommodation. Some accommodation is offered by herders, some are offered by 'retired' herders who no longer migrate and some by families that live in small-town communities. By using this form of accommodation it provides you with a more genuine insight into the real way of life in Mongolia and it benefits the local communities through which we are travelling.

In addition, although we sometimes visit areas where tourism has become more concentrated we also offer itineraries that stretch to areas that are not necessarily considered 'highlights' by other tour companies or the guidebooks. By not focusing on one area, it also means that we help to support communities that might not otherwise benefit from the tourism industry.


Welfare Of The Horses

Mongolian horses are strong, sturdy and very tough and able to cope with riders (or equipment if a pack-horse) up to our set weight limit of 95kg. They have huge reserves of energy.

The horses are working horses, used by the local herders we work in long-term local community partnership with. When not being used as a riding or pack horse, they live free – grazing on the steppe. They are responsive, but are not considered solely riding horses or 'broken' as to the same extent as horses in the West.

We have known the herders for close to two decades and although their relationship to their horses is practical (towards their livestock, herders are neither cruel nor particularly affectionate. Although they are an integral part of nomadic life, there can be no room for sentimentality) the horses are well cared for.
Popular similar holidays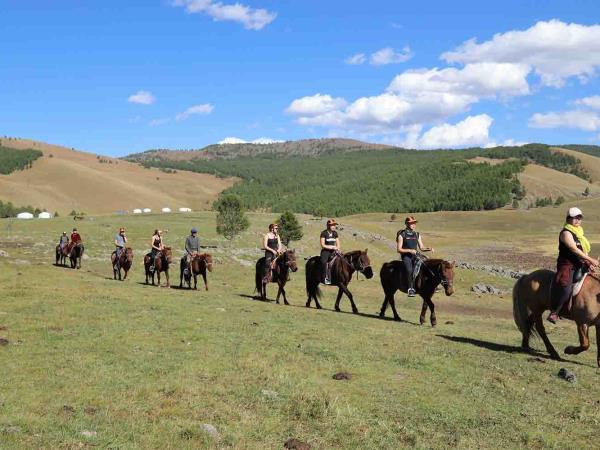 From £1899 9 days excluding flights
Horseriding & staying with local Nomadic familes in Mongolia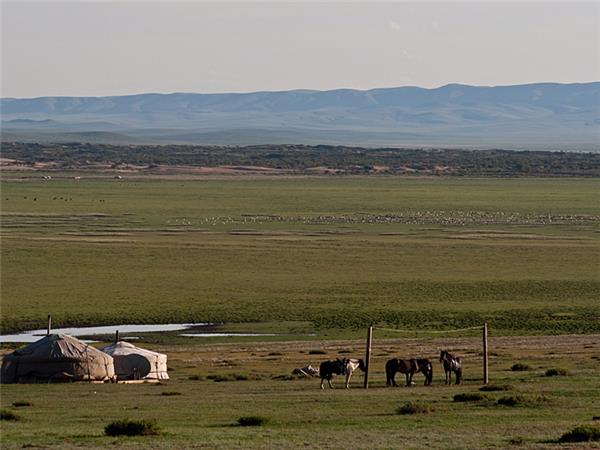 From £4999 - £6299 14 days including UK flights
Discover the remote Mongolian countryside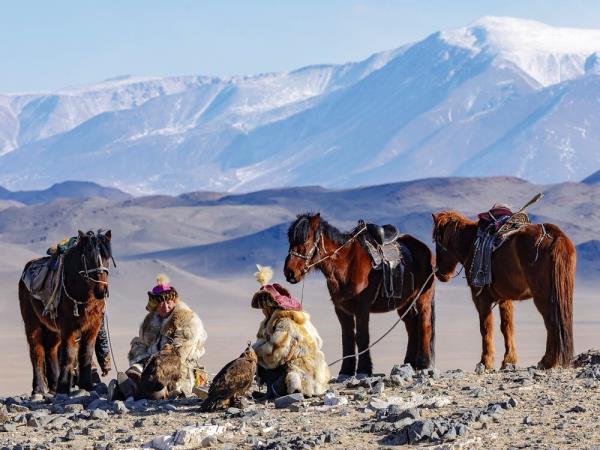 From US $1805 - US $2765 9 days excluding flights
Winter experience living with eagle hunters of Mongolia