"Volunteer for either 2 or 4 weeks as part of a small group of NGO divers and biologists. H/B accommodation combines well with dive instruction, snorkelling and learning how to conserve the marine ecology."
Highlights
PADI Open Water Dive training | PADI Advanced Open Water training | reef monitoring training | data collection dives | lionfish containment and hunting specialty training course | Tobago Cays Marine Park | High North nature reserve | Sandy Island |
Description of Carriacou coral reef conservation in Caribbean
If the setting for this Carriacou coral reef conservation holiday looks familiar thatís probably because those swaying palms and white sand beaches were used as the location for Pirates of the Caribbean however, this particular experience in the southern Grenadines, is bound to be way more exciting.

The part that youíll be playing finds you learning how to dive in the glass clear waters surrounding the Caribbean island of Carriacou as part of a volunteer team participating in a number of underwater conservation projects including coral identification and hunting invasive lionfish.

Volunteers are asked to sign up for a two or four week trip with PADI open water and advanced open water courses adding to opportunities to learn underwater photography and advanced diving techniques, including controlling your buoyancy and learning how to navigate underwater.

The company that runs this coral reef conservation holiday is an authorised NGO based on the island of Carriacou. The full time team is made up of dive professionals and marine biologists, many of whom have a very personal relationship with this area of the Caribbean after watching the continued threats to the coral continually increase over time.

Thanks to partnerships with a local PADI 5-Star instructor development centre, volunteers not only benefit from local knowledge of the coral reef but also world standard dive instruction which will also help guests get more out of the experience as they strengthen skill sets and work/life experience.

The chance to conserve the Carriacou coral reef is not only going to help the marine ecology but it will also help the local human population too with jobs dependent on a sustainable tourism industry looking to find a healthy and varied underwater ecosystem in an absolutely idyllic Caribbean setting.

Volunteers are invited to become part of the Carriacou coral reef conservation team and will undertake the following activities depending on how long they choose to stay in the Caribbean:

PADI open water and advanced open water diving courses or non-certified fun dives
Navigation and buoyancy control lessons as part of an advanced diving techniques course
Underwater digital photography training and instruction
Learn how to identify different types of coral and species of fish
Become trained in lionfish hunting, trapping and research
Discover the international protocols observed for surveying the reef including techniques on studying coral and different types of fish and marine organisms
Take part in a series of classes given by resident marine biologists
Learn how to keep equipment maintained
Snorkel with wild turtles living within the Tobago Cays Marine Park Ė the setting for Pirates of the Caribbean
Visit Sandy Island and White Island for some exceptional snorkelling sites

Half board accommodation for this two or four week trip is at a family-run hotel on Carriacou Island, within easy walking distance of the local dive centre. All equipment is also provided including course materials, dive gear and research tools.

Everything is set up for you to have an educational and enjoyable experience with a balance of work, play and relaxing on the beach, all adding up to an extremely worthwhile Caribbean holiday.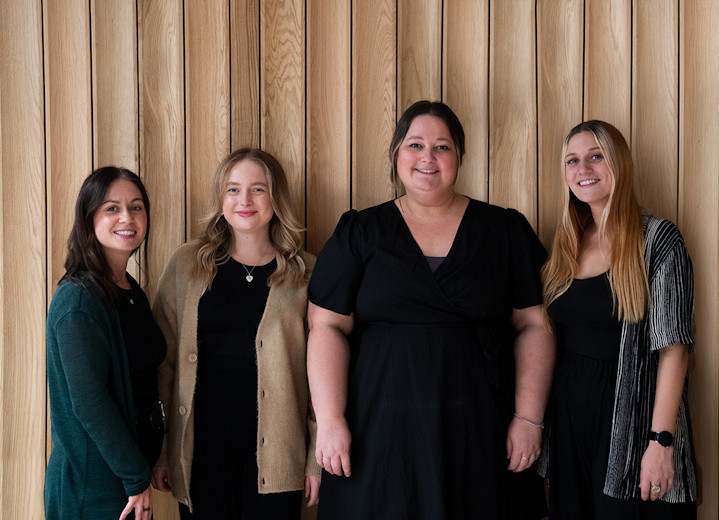 Check dates
2018: 7 Jan, 4 Feb, 4 Mar, 29 Apr, 27 May, 24 Jun, 22 Jul, 19 Aug, 16 Sep, 14 Oct, 11 Nov
Responsible tourism
Responsible tourism: Carriacou coral reef conservation in Caribbean
Environment
We are a marine conservation NGO dedicated to working with key stakeholders to help preserve and protect the fragile coral reef ecosystem around the beautiful island of Carriacou. Current project work includes:
Reef monitoring to facilitate informed decision making concerning the governance and regulation of fishing practices on the island.
Lionfish containment, in conjunction with GEF, the selection, training and subsequent payment of locally sourced men and women to form a Lionfish hunting team. With the aim of limiting the impact of this invasive species, the team conduct regular cull dives as well as organising community events aimed at increasing the awareness of the threat and to promote the consumption of the fish as a primary protein source.
Coral nursery, in conjunction with UNEP, the selection and training of locally sourced coral gardeners, the construction and population of a Elkhorn coral nursery, including regular cleaning and measurements. As of now, coral fragments are undergoing out planting and thus helping to restore the natural reef barrier in an effort to combat the ongoing threat of coastal erosion.
As part of wider environmental concerns, the team, community members and volunteers conduct regular beach clean ups to help alleviate the impact of of waste products and debris and it's contribution to marine and coral reef pollution.
Whilst water is piped, CRB and the associated dive centre utilise large water bowsers to collect rain water which is used as the 'source of choice' for the majority of the year.
Community
All of our past, present and future project work will have an important community aspect. This ranges from training and employment through to community liaison and workshops. To date, we have selected and trained 16 locally sourced divers who are actively involved in our project work.
As a team, we are always on the look out for 'shining stars', one such individual was identified in 2016 and has completed his professional training up to the instructor level, including becoming a Reef Check Instructor, as such he will play a full and active role in training the volunteers visiting in 2017 and beyond.
As part of our Lionfish programme, we identified a need to involve as many community members as possible. One target group was local artists and jewelry makers who received special training and supplies of equipment to produce Lionfish jewelry constructed from the spines and fins of the fish. Two very successful jewelry makers have now through our connections established regular supply to US based outlets.
During our volunteer season, we have specifically selected a locally owned and run hotel, thus ensuring a very valuable revenue stream for the owners. In addition, we organise, 'out of working hours' trips to locally owned bars and restaurants in order to ensure maximum community benefit from these visitors.
Popular similar holidays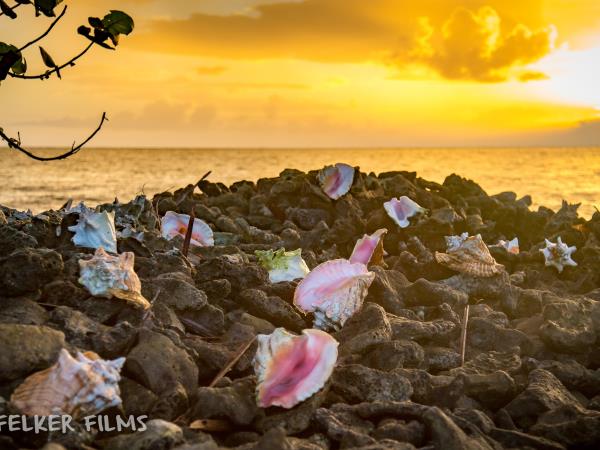 Monitor reefs in the Caribbean
From US $1330 5 days excluding flights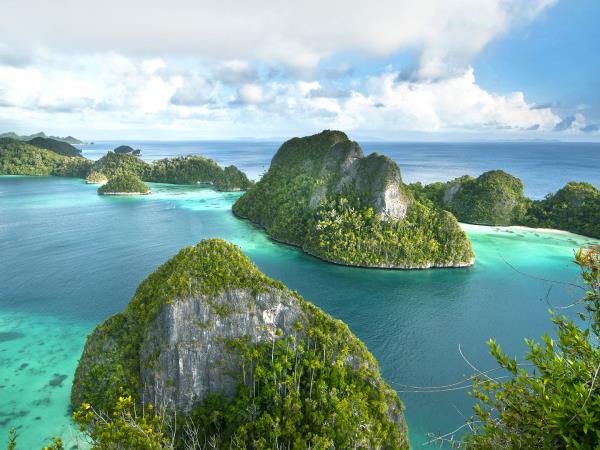 Dive and conserve the stunning coral reefs of Raja Ampat
From £995 - £3350 15 days excluding flights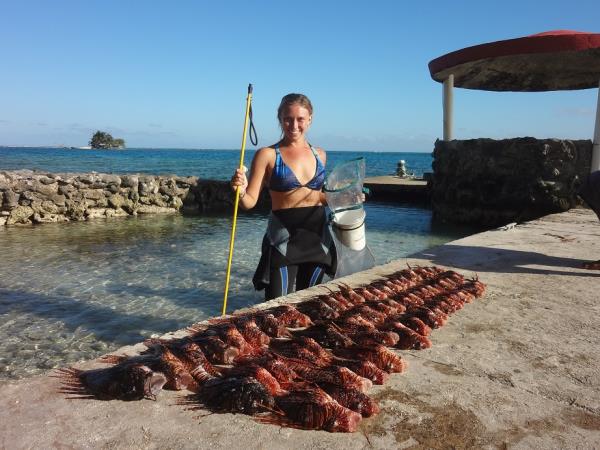 Spearfishing the invasive lionfish in beautiful Belize
From US $1330 5 days excluding flights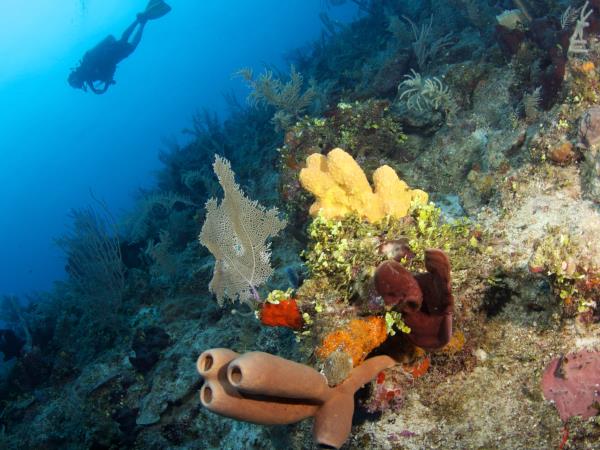 Hands-on conservation experience on idyllic Caribbean island
From US $2325 - US $4315 4 weeks excluding flights