"An eight day small group tour, travelling in a circuit of the south coast from Havana, staying in casas along the way. An itinerary with a very real cultural and community aspect. "
Highlights
Havana | Buena Vista Social Club | Stay at casas particulars | Bay of Pigs | Ciénaga de Zapata wetland | Caleta Buena | Snorkelling | Trinidad | Sierra Escambray mountains | Topes de Collantes Nature Reserve | Horse riding in Valle de Los Ingenios | Cienfuegos
Description of Cuba small group holiday, 8 days
This Cuba holiday is a small group tour, travelling with a local guide and no more than six people in the group. Although this itinerary takes in some of the classic Cuban sights, such as Havana and the Bay of Pigs and the coastal gem of Trinidad, we also endeavour to really step off the tourist trail as often as we can so that you can have a real people to people experience.

One of the ways we support Cuban people work is by staying at locally owned casas particulares homes, which are traditional guesthouses in Cuba. Starting in Havana, we explore the UNESCO old part of the city with its 16th century Spanish architecture and everyday life going on. You will learn about its history, its losses and its vibrant arts scene today. There are so many stories, and songs, to be heard in Havana.

We always try to combine Cuba's cultural heritage with its natural one, and so en route to the Bay of Pigs, for example, we have a guided nature walk in Ciénaga de Zapata, because although this region is infamous for a failed US invasion, it is actually the largest wetland in the Caribbean, bursting with wonderful wildlife. While visiting the wonderful Spanish colonial town of Trinidad, we also take time out to go horse riding in the Valle de Los Ingenios and hiking in the Sierra Escambray mountains, coming back to enjoy Cuba's great musical city at night.

Coastal gems are always a feature of this trip, of course, with a whole day to swim, snorkel and just chill out at Caleta Buena and then your final day is spent in the French colonial town of Cienfuegos, also known as the "Pearl of the South" as this beautiful UNESCO town is set on a beautiful bay all of its own.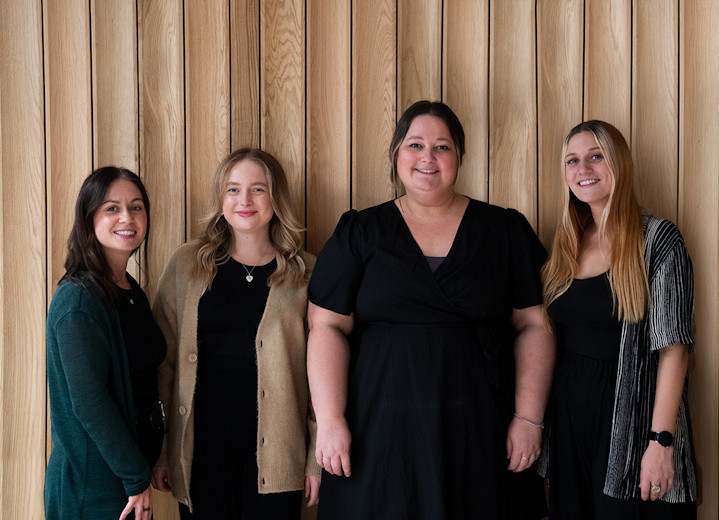 Check dates
2019: 23 Nov, 30 Nov
Responsible tourism
Cuba small group holiday, 8 days
Carbon reduction
Your holiday will help support local people and conservation. We must also reduce CO2. Learn about the CO2 emissions of this holiday and how to reduce them.
Environment
Our commitment to responsible travel is endorsed by being a member of the Global Sustainable Tourism Council. In addition, we collaborate with Aniplant, the only animal NGO dedicated to the protection of domestic animals in Cuba. In a place like Cuba, where sustainable tourism is practically unheard of, it is no easy task but we believe that slowly this will change and we hope to be a part of that change.We have been proactive in raising awareness about traveling responsible in Cuba.
We provide our travelers with information on how they can reduce their negative impact and make positive contributions to the communities they will visit in Cuba.

Animal welfare
The issue of animals in captivity is a sensitive one our travelers and for our company. The situation for domestic animals in Cuba is often appalling which is why we have taken it on as our main cause. Horse taxis and scenic rides. We do not recommend these activities as nostalgic as they may seem, many of these horses are in poor condition. In addition, the majority of them work extremely long hours, often times in extreme heat and humidity with poor tack that leaves open wounds on their bodies. Horses around the country have borne the brunt of the transportation crisis in the country especially outside of Havana. While there are animal welfare laws, they are not enforced and it is obvious the suffering they endure horses. There are plenty of bicycles taxis to get you around the cities and towns. In places where horseback riding excursions are part of the itinerary, we have carefully selected the stable in which we work ensuring the highest standards are met for the welfare of the horses.
Our guides are not permitted to take clients to places where animals are used as entertainment or are kept in poor conditions, such the crocodile farm in Peninsula Zapata.

Waste management
In Cuba, solid waste pollution is a problem all over the island and in particular in the cities and towns. Waste disposal systems are just not adequate on the island and with a rapid increase in tourism this year alone, the problem could get worse. We suggestion the following to our travelers.
Say no to plastic bags, instead canvas bags for carry items. We suggest bringing canvas carrier bags so that you can use them for when you purchase water or souvenirs rather than the oneuse plastic bags. Also, remove packaging from items before you leave home, Drinking bottle water is a must when in Cuba since the water supply is not reliably safe.
However, as you can imagine this exacerbates an already over taxed and inadequate waste disposable system. There is an alternate to bottle water which is both good for the environment and good for your budget and that is water filtration bottles that have purification systems so you are able to refill them with tap water and you have safe water to drink.
Cigarette buts should not be dropped on streets or behind bushes but put in a trash bin or in a pocket until a trash bin is available. We recommend smokers carry a receptacle to collect their butts. Plastic film cases are excellent for this and reduce the smell!

Water
As an island nation, Cuba depends largely on rainfall for its water supply. But the past years has been one of record drought but this is only half the problem, the situation is exacerbated but a crumbling water delivery infrastructure and treatment facilities. You will see in Old Havana, in particular that water tankers bring potable water to residents. Try be aware of your water usage and take steps to minimize it when possible. If you would like to read more about it, a recent article in the Havana Times, Extreme Drought in Cuba, Many are Unaware.
We also suggest, eco friendly toiletries especially coral safe sunscreen. A common ingredient found in chemical sunscreen is toxic to coral. We recommend mineral based sunscreen, with titanium oxide or zinc oxide which has been found not to harm reefs. Not only are these types of sunscreens better for the marine environment but they are better for your skin! Let's help keep Cuba's coral reefs healthy.

Tourism has a great impact all over the world, our commitment and that of our travelers is to make that impact a positive one.
Community
We are passionate about Cuba, and as it is natural we want to help to maximize the benefits that tourism can bring to Cubans. Our tours help and promote the small but growing entrepreneurial activity. That is why we almost exclusively work with casa particulares, paladares and other privately owned businesses. The casa particulares we work with are especially selected with people and stories to discover in each of them. While these private homes do not offer lists of amenities they make up for it in oodles of charm. Our biggest challenge is to offer real experiences that hotels could never provide.
In addition, we only work with local guides, so that the wealth our tourism brings to the island stays with hard working Cubans and the travelers are able to experience the true soul of Cuba and discover all its secrets. This is a way of traveling that helps the local communities grow and the visitors understand the real Cuban way of life.

Our trips:
Work almost exclusively with privately owned businesses, these include casas particulares, paladares and small shops in addition to working with independent licensed guides.
Work in partnerships with privately owned businesses, rather than state owned.
Provide employment and leadership opportunities for our guides and tour leaders.
Are safe, fun, and enjoyable for our travelers and the opportunity to interact with local people.
Limit the negative impacts to daily lifestyles of local people.
Actively discourage the participation of our groups in activities which exploit animals – wild or domestic. This includes zoos, aquariums, breeding farms (i.e. crocodile farm) as well as horse taxis and carriage rides. We strongly recommend alternatives, such as pedal taxis.
Do not promote visits to any dolphinariums, swim with dolphins, or the National Acuario in Havana.
Educate travelers about responsible tourism.
Help us to donate to the charity that we support.
Provide travelers with water filtration bottles in order to reduce the quantity of bottled water that must be purchased.

We want you have the best possible vacation while at the same time making a positive difference in the local communities.
4 Reviews of Cuba small group holiday, 8 days
---
Reviewed on 14 Feb 2019 by
Patricia Horrocks
1. What was the most memorable or exciting part of your holiday?

Difficult to be specific - it was a very good tour, we enjoyed all the places we visited... we particularly liked Trinidad. We thought we should have had a night in Vinales - too far to drive to and from Havana in a day given the dreadful state of the roads.


2. What tips would you give other travellers booking this holiday?

Take everything you need with you! We would like this to have been made clearer before we went, you can't buy anything in Cuba. Also we would have liked much clearer information on how much to tip; it's clearly a tipping culture and a poor country but since we had no idea how much our casas or driver were paid, we had no means of assessing a percentage tip. It would be helpful to have some actual examples of how much to give. Also, our driver was constantly offering to take us around eg out to dinners, not included in our itinerary - it was difficult to know if this was his job, or if we should have paid separately for each ride, or just given him a good tip at the end - which is what we did.


3. Did you feel that your holiday benefited local people, reduced environmental impacts or supported conservation?

In as much as we stayed in casas, which were very nice, clean and friendly yes.


4. Finally, how would you rate your holiday overall?

Very good in the main. Important that UK customers realise there are very few direct flights to cuba, and dates may not match tour dates (they did not for us).
Read the operator's response here:
Hi Patricia, Thank you for taking the time to make a review and I am pleased to hear you enjoyed the trip. It would be great to have an additional day in Viñales but unfortunately for only an 8-day trip, a day trip is all that is possible. Since we are US based company, mainly our travellers are Americans who have much less vacation time than Europeans so the 8-day trip is ideal for seeing as much of Cuba as possible. We do have European travellers as well and in order to match with our departure dates, it is necessary just to arrive one day before (per night) the trip starts and that is all, no other adjustments are needed. I would also like to mention that in the 'Getting Ready to Travel to Cuba' document that was sent with your travel documents, there is a section about tipping guidelines and there is even a short paragraph about why this is so important in Cuba. I believe that during your trip you emailed me about tipping and I provided again this information to you about tipping guidelines. Also, in the 'Getting Ready to Go' document and on the packing list it indicates that all toiletries and sunscreen must be brought with you to Cuba as it will not be possible to buy it there.


---
Reviewed on 25 Dec 2018 by
Sondra Mark
1. What was the most memorable or exciting part of your holiday?

My husband and I have so many good memories of our 12-day trip to Cuba. Did enjoy birdwatching with a biologist at Reserve de Bermejas near the Bay of
Pigs. Also, when we stayed in Trinidad we loved our hike to Topas de Collantes.


2. What tips would you give other travellers booking this holiday?

We are very glad that we stayed in casa particulares in Cuba. We had wonderful hosts. Our rooms were very clean. We had personal attention. We bought a piece of local pottery and put it in our carry-on luggage. It was confiscated at the Havana Airport. We were told that this item should have been packed in our checked luggage.


3. Did you feel that your holiday benefited local people, reduced environmental impacts or supported conservation?

Staying with local people in casa particulares did help locals.


4. Finally, how would you rate your holiday overall?

Our vacation to Cuba was outstanding. The tour company did a great job for the two of us.
---
Reviewed on 20 Nov 2018 by
Paul Hoffman
1. What was the most memorable or exciting part of your holiday?

Interaction with the hosts at our Casa Particulars, hiking in the mountains with a knowledgeable guide, sitting at a Casa de Musica conversing with a Cuban
and having him light you up a Monte Cristo gratis.


2. What tips would you give other travellers booking this holiday?

Bring a small umbrella, and bring small useful gifts for your hosts and guides who don't have access to good toothbrushes, colored pencils, pads of paper,
guitar strings. Be prepared to leave your hiking shoes, jeans, and shirts. Cubans are dressed well, but with substandard quality clothing. Bring a filtered water
bottle (from REI). Agree with your guide up front if you're after a "color-brochure" Cuba trip, or a "real" Cuba trip. Good guides can accommodate either. Go with an open mind.


3. Did you feel that your holiday benefited local people, reduced environmental impacts or supported conservation?

Our trip did benefit local people who cannot survive on $80/mo state wages. We did our best to minimize our impact by avoiding plastic water bottles, but you
can't get around without burning fossil fuels, especially if you're moving between cities. Just accept it.


4. Finally, how would you rate your holiday overall?

This trip is on the "exciting adventure" side of the scale. If you're looking for a place to sit by the pool and have mojitos brought to you, stick to the cruise ships.
But if you want to immerse yourself in real Cuban culture, this is an excellent opportunity.
---
Reviewed on 12 Mar 2018 by
Karl Boehmke
1. What was the most memorable or exciting part of your holiday?

Meeting and talking with Cubans about their daily experiences.


2. What tips would you give other travellers booking this holiday?

This tour uses knowledgeable local guides and stays in small casas in regular neighborhoods. Groups are small, ours was 5 people, so we did not overwhelm the local scene. We feel that we got a good sense of daily life for ordinary Cubans, much more so than we had been with a larger group staying in hotels. Activities were varied and included urban walks, mountain hikes, horseback ride, museums, snorkeling, and lots of delicious meals in unassuming family owned restaurants. Karin Eckhard was great to work with us in helping us decide which tour to take and promptly answering all our questions and concerns.


3. Did you feel that your holiday benefited local people, reduced environmental impacts or supported conservation?

The local casa owners, restaurant owners and staff members and tour guides are dependent on tourists. Most seemed committed to protecting their local environments while developing their businesses.


4. Finally, how would you rate your holiday overall?

Fascinating!
---
Popular similar holidays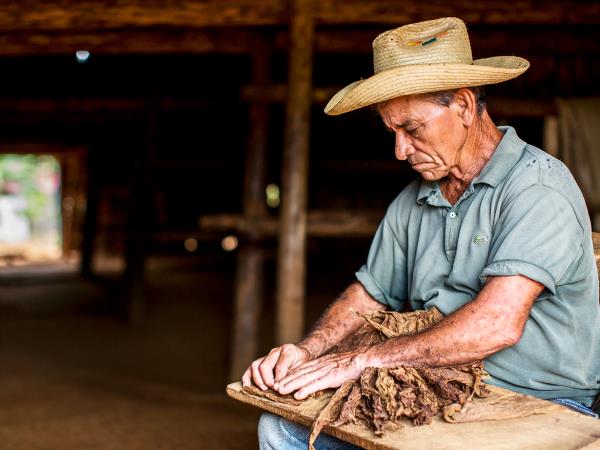 Immerse yourself in Cuban culture on this 8 day adventure
From US $690 8 days excluding flights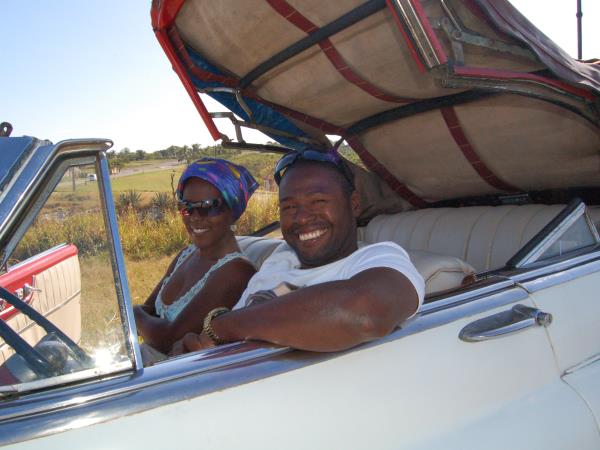 Tailormade holidays in the pearl of the Carribean
From €995 15 days excluding flights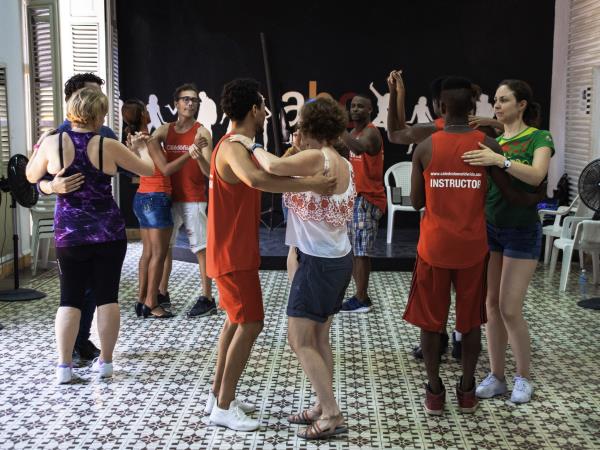 Learn to salsa with the pros in Santiago de Cuba, with tuition, day trips and nights out included
From £1560 15 days excluding flights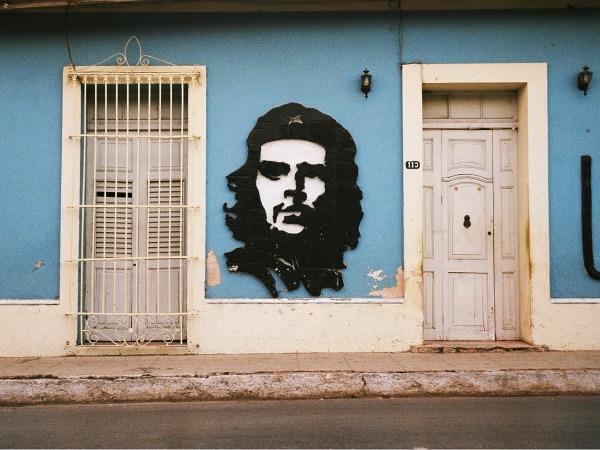 Go local in Cuba staying in friendly family B&Bs throughout
From £1255 15 days excluding flights