Description of Help rebuild Dominica after hurricane Maria
In September 2018 Hurricane Maria showed no mercy in Dominica and its forests. To understand, try and imagine no leaves whatsoever on about 95% of the islandís trees throughout Dominica. One year on, the island has made a remarkable recovery as life goes on, and is once again looking green - bursting with new life daily. The wildlife has also come out of hiding.

Thank you for considering visiting us in Dominica to volunteer with all the ongoing work that is needed following the devastation of Hurricane Maria. We welcome all hands on deck to help here at the ecolodge and, by extension, our surrounding community. Your help is beyond appreciated. The smiles across the face of the locals whenever anyone visits, let alone digs in to help rebuild, will make it impossible for you not to join in.

Staying with us: We have three cottages (post-Maria scratches fully repaired) and we have now fully rebuilt our 14 bed mixed dormitory. Full camping facilities were back up and running just after the storm, and so we are well equipped and very ready to accommodate travellers who would like to come, roll their sleeves up and tackle the long, daily list of tasks.

Eating with us: Our restaurant has been fully rebuilt, and all the usual Chefís choice delicious meals can be provided; 3 meals a day.
Facilities: All of our other utilities, power, water, cell phone service with data on your device, are fully functional. The only thing still missing is the land line and high speed internet.

Here are just a few of the ways in which you can help:

1. If you have a chainsaw and know how to use it, your help would be invaluable. We next want to rebuild our staff house and office, cutting boards from trees that fell during the storm.

2. Skilled carpenters wonít be short of a rum or two from us and our friends. We also have plenty of carpentry work going here at the lodge so all help welcome.

3. There is also still plenty of trail and garden clearing to be done, so if you are happy to chop and clear with machetes then you wonít be short of work.

4. If you just enjoy being outdoors and love gardening back home, we have endless gardening tasks here at the lodge. Having progressed well with the rebuilding, we want to concentrate on replanting and restructuring our gardens.

5. In addition to work tasks, we welcome small donations that fit in your luggage for the local village school such as books, pens, calculators, flash drives, art equipment, white board markers, reward stickers, glue, and so on.

6. Any tools or equipment that are brought that could be left upon departure will have a life of good use for sure.

For those who stay for a full week, we will give you a free guided river hiking adventure to see some stunning nearby waterfalls.

In between work tasks, we can organise optional tours to see our favourite spots across the island and arrange a number of activities. Whether you want to visit Dominica's famous waterfalls, spend a day at the seaside or snorkelling, seeking out hot springs, or visiting the vast array of historic and culturally significant sights, we can make sure your trip is as enjoyable when you aren't volunteering as it is rewarding when you are. Without even leaving our valley one can ramble along in the rivers, explore the rapidly re-growing rainforest, and check out some of the many nearby waterfalls.

We will also organise tours of the city and, for example, our Botanic Gardens so that you can not only see the extent of the devastation but also, more positively, the progress that has been made in terms of rebuilding and restoring. We will charge a fixed rate for these adventure and cultural tours of between US$50-150 depending on the activity.

Please note: ACCESS To the lodge is the first part of your adventure. A basic level of fitness is required. It is necessary to cross through two rivers, with a rope to hold on to and a pulley for your bags, making it fun, adventurous, and not too difficult. And a short 5 to 10 minute walk through the neighbouring farm.


We canít tell you how much we appreciate your thoughts and concerns and, last but most definitely not least, ask you to pause for a minute in your day to remember for those who lost their lives as a result of the passage of hurricane Maria. Thank you.

Additional pricing information

Private Cottage including breakfast for 2=US$70 /room/night.

PLUS and additional US$ 15 /person over 2 .

Mixed Dorm US$20 /person including breakfast

Camping ROOM ONLY. your tent US$10 /person/night & Tent rental US$15/person/night.

Full board add US$25 p/p/day or US$17 dinner.

Campers without included breakfast add US$35

If you would like some help or advice, or just want to discuss your ideas for your next trip, do give us a call.
Map

View
3 Rivers Eco Lodge
in a larger map
Departure information
Come as soon as you can, and stay as long as you are able to
Responsible tourism
Responsible tourism: Help rebuild Dominica after hurricane Maria
Environment
Before commencing construction we carried out an environmental impact assessment and stone is taken from the property for building work which avoids transport and pollution. All our electricity is solar, hydro and wind, and our hot water comes from a solar thermosyphon system.
We monitor the water both entering and leaving our land by testing the river water in the lab to ensure we do not cause any detrimental effects. We use low flow taps, rocks in the toilets for displacement, and grey water passes through a trap in the plug hole, a grease trap outside and then a soakaway.
All our gardens are organic and we use a rotating 4 bin composting system. Each building has 2 bins (compost and other) - there is currently no recycling in Dominica.
We are actively involved in an island wide scheme to increase general environmental awareness through our membership of the south east tourism development committee. We have also hosted a number of school visits for educational training, showing them our solar equipment, veggie oil truck and organic farming practises.
We employ only local people and have set up a local lady with a washing machine so she can not only do our laundry, but also run a small laundry service in the local village.
We have also been actively involved in creating a new library for the village - a previous customer from the USA donated a large amount of books and we installed electricity into an available room in the village which will be used for the project.
Community
The nearest village to Rosalie Forest Eco Lodge is called Grand Fond, and is home to around 1,000 people. Most of our workers are from this village, some others come from the nearest village in the other direction, Petite Soufriere, or another village near Rosalie beach called Riviere Cyrique. This is in keeping with our social policy.
As well as working closely with the local village councils to offer a number of community based activities for our guests, we also offer a community homestay programme, where visitors can spend one night with a family to experience village life for real, and the host gets a good income for their time. click here for details
Some of our other community projects include:
Computer Mission Dominica - 400 computers installed in schools and workshops on maintenance held at each school
Grand Fond Pre school Scholarship fund
The schools visit us for free to get an eco education tour.
The local school has a library for the village, using books supplied initially from one of our guests. Staff from the lodge installed all the electricity and donated the parts for the work carried out.
We bought a washing machine for a lady in the village and she now has her own laundry business. As well as doing the laundry for us and our guests, she is also able to provide a service for the villagers.
We have sponsored the village cricket team by providing them with a large amount of new equipment.
We have sponsored one of the village bands, The Blazing Squad, by helping towards the cost of a new keyboard which they greatly need, and by showcasing them, and another local band The Sucroze Band, occasionally here, at Rosalie Forest.
We have hosted environmentally educational school visits for a few of the island's schools, and continue to offer this free service to all schools in Dominica. We also offer this service to all interested parties, and all of our staff are fully trained in all of our environmental policies.
We ran an art competition in Grand Fond School to design our roadside banners. The four winners won some art equipment and a weekend at the lodge, during which time we held an art workshop and transferred their paper designs onto the large roadside banners which can be seen today around Dominica. We donated some art equipment to the school in order to run the competition.
If you would like to know more about any of our environmental policies and practices, please feel free to contact us any time, and we will always be more than happy to help.
We have a small library in our reception area, which contains a whole host of useful information and technical details about all of our systems, and other systems which we do not yet use.
1 Reviews of Help rebuild Dominica after hurricane Maria
---
In depth story review

"There were two options on this volunteering trip, one of them being trail clearing and the other was working on a construction project."
Learn more about this itinerary in Responsible Travel's interview with Bill McCarthy on his trip to Dominica.
Read full interview

"I had a really great time. And a really rewarding time too. It was just a brilliant experience and I would encourage anyone to do it."
Learn more about this itinerary in Responsible Travel's interview with Louise Allen, a volunteer on this trip.
Read full interview
---
Reviewed on 21 Mar 2018 by
Bill McCarthy
1. What was the most memorable or exciting part of your holiday?

Seeing the damage done by hurricane Maria, with respect to both the landscape (trees) and houses.


2. What tips would you give other travellers booking this holiday?

Go there, spend money, help the people there recover.


3. Did you feel that your holiday benefited local people, reduced environmental impacts or supported conservation?

The intention was to go there and see if I could help with the recovery effort. I hope that the effort did a bit of good. Not sure what to say about reducing environmental impact. With respect to supporting conservation, I helped work on the national trail by clearing downed trees and tried restore the trail to be usable.


4. Finally, how would you rate your holiday overall?

Excellent, I would recommend going to Dominica for vacation or help them recover. Read about the island before going.
---
Popular similar holidays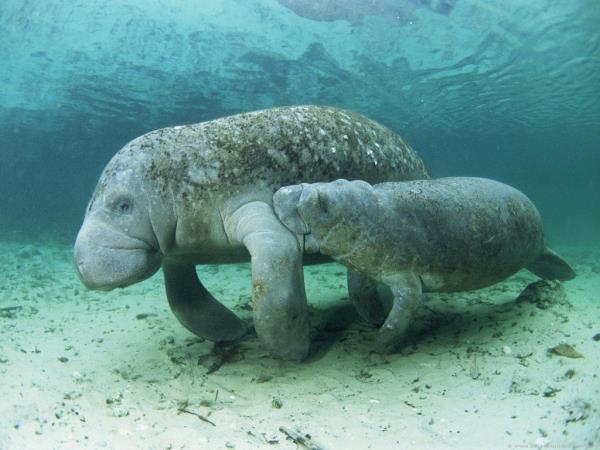 Join an award winning research team in Belize
From £895 7 days excluding flights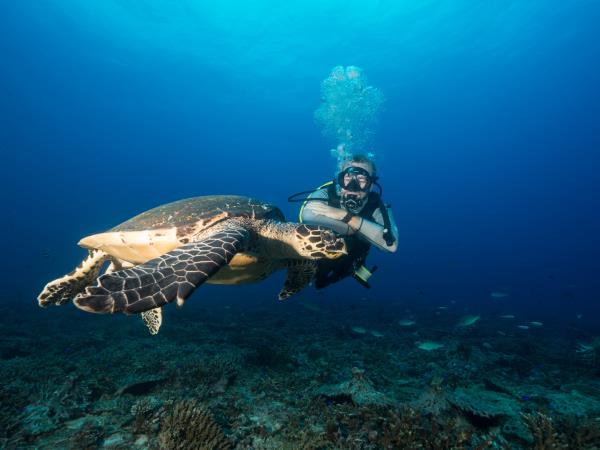 Volunteer on an exclusive island paradise in the Seychelles
From US $2800 4 weeks excluding flights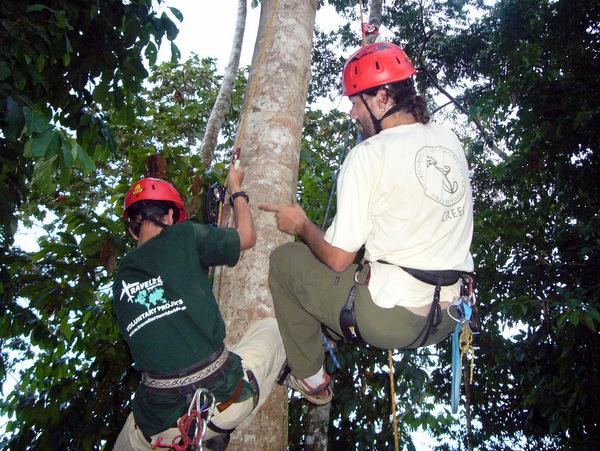 Conservation & Community Development in the Amazon. Awesome
From £1695 14 days excluding flights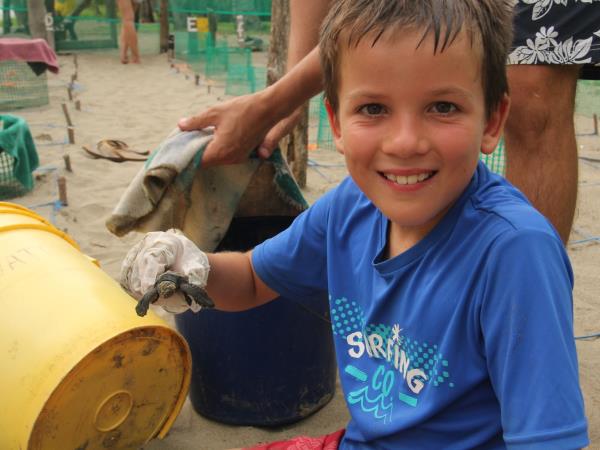 Family turtle conservation volunteering in Costa Rica
From £709 7 days excluding flights