"10-day sailing adventure around Thailand's coast and islands, featuring iconic locations such as Phang Nga Bay, Ko Phi Phi Ley and Shark Point!"
Highlights
Thailand yachting in the Andaman Sea | Phuket | Phang Nga Bay | Koh Phanak | Railey Beach | Koh Phi Phi Don | Koh Hong | Koh Phi Phi Ley - The Beach | Koh Khai Nui | Shark Point | Sailing regatta | Nighttime snorkelling | Opportunity to learn sailing | Take turns cleaning and cooking |
Description of Thailand sailing holiday, 10 days
Fancy exploring Thailand by sail with some fellow friendly adventurers?

Join us for a 10 day sailing adventure in the Andaman Sea, Thailand. You will meet and travel with open, interesting people to explore together the beautiful islands and coastline of this incredible country.

This trip is designed for people aged 25-40 years old. However, we believe that age is only a number and what's much more important is your attitude. Anyone is welcome as long as you will welcome us back. Contact us if you are not sure if this trip is for you!

While Europe is still in the grip of winter, we escape to navigate between limestone cliffs, rising straight out of the warm waters. White sandy beaches invite us to relax under palms or swim to marvel at coral reefs that support an abundance of marine life. We explore thickly forested islands which shelter emerald blue coloured lagoons – you will feel like a true adventurer!

Perfectly moderate winds make sailing easy and tidal waters give excellent learning opportunities for want-to-learn sailors. This is an active and participative holiday, where we all help sailing the yacht.

10 day allows us to explore not just must-sees such as Phang Nga Bay and Railey Beach, but further south to remote places like Koh Lanta, Ko Rok, Ko Ha and Emerald Cave. Once experienced, we do not want to come back to reality!

The wonders of nature are accompanied by the generous hospitality of the Thai people. Thai cuisine really takes some beating, sumptuous dishes that delight our taste-buds.

You will sail in crews of no more than 8 people, led by an experienced skipper. We will ask you several questions before the trip to learn about your expectations and based on these answers we will assign you to the best-fit crew. You can expect to sail with friendly, easy-going people with wide horizons.

We sail as a team, helping each other along the way and we also take turns to cook and clean the boat. It adds to the fun and you should feel the team spirit and confidence build during the trip. People tend to develop friendships during the sailing and it is often difficult to say goodbye.

Sailing in Thailand is very special. Same, same, but different!

Note : There is no fixed itinerary of travel, just a certain area to explore.
We are faithful to the true sailing spirit, planning exact stopovers according to the wind and weather. The itinerary is indicative of places we will visit. We sail the Andaman Sea (Thailand), visiting some amazing places, like Phang Nga Bay and Koh Lanta, sailing between the islands and stopping in remote bays for swimming and exploring the countryside.

Thailand is a charming country with lovely people. Let's explore it together!

If you would like some help or advice, or just want to discuss your ideas for your next trip, do give us a call.
Check dates
For departure dates contact us on 01273 823 700
SINGLE USE PLASTIC-FREE:
As a sailing operator we have seen the devastating effects that throw away plastics can have on marine environments. In view of this we have strived to eradicate the use of these plastics on our holidays.
WATER BOTTLES:
Every participant before arrival receives a packing list (sent in a PDF format) which outlines what is good to bring. We suggest to everyone that they bring a re-usable bottle for drinking (i.e. metal one) to limit the plastic usage which they can fill up at port or on board.
We fill containers with sufficient general use water at the marina for the length of the trip. This water is used for cooking and is stored in fresh water tanks on board. Any additional water for drinking is purchased in 5L bottles (which are refilled where possible when in port from local water fountains or restaurants). Alternatively, participants can bring their own refillable 5L bottle which folds down in their case.
BAGS:
We source products locally before we sail, preferring to buy product loose where possible to avoid unnecessary packaging.
On the first day, when the crew goes for provisions shopping, we advise to people to opt for paper over plastic bags or bring reusable cotton bags with them.
ON BOARD:
Plastic straws, plastic cups, plastic cutlery and crockery is not needed and not welcome on board. Each yacht has its own set of crockery, cutlery and glasses and there is simply no need of buying those. We suggest people to bring along bio-degradable cosmetics which usually come packaged in a bio-degradable bottle.
PARTNERS:
Most of the restaurants we visit serve their food on non plastic plates, tables made of wood and covered with linen table cloth, so the plastic use in this cases is limited to zero. Participants can bring their refillable bottles with them and ask if the restaurant will fill them up from the tap in destinations where the water is drinkable.
EDUCATION:
We send people a packing list that suggests bringing reusable bottles, bags and bio-degradable cosmetics to use on board (it all drains directly to the sea on a sailboat).
We actively talk about plastic on board as we make tests every day of the water quality. We have partnered with WaterRangers.ca and will be testing their sets this season. These tests allow our participants to test the water quality where we sail and add to this important research.
RUBBISH:
From time to time, we spontaneously organize a beach cleanup - we always have big trash bags on board and if we see that a beach we just anchored off is filthy, the skippers go on shore and ask anyone who wants to, to come and join them in the clean-up. We then collect all the plastics that we can and take it with us on the sailboats to the next port it can be recycled with a trash container. We are planning on partnering with Trash Hero.
Responsible tourism
Responsible tourism: Thailand sailing holiday, 10 days
Environment
We source products locally before we sail, preferring to buy product loose where possible to avoid unnecessary packaging. Each participant is asked to join in the preparation of meals and this means we have healthy, freshly produced meals on board. Any packaging is stored and prepared for collection at the end of the trip.
We fill containers with water at the marina sufficient for the length of the trip. Any additional water for drinking is purchased in large packs and we ask participants to bring their own refillable containers for drinking water. No plastic drinking straws are allowed and we avoid unnecessary plastic goods like straws, stirrers.
We are partnering with Water Rangers, a Canadian NGO, which provides water quality test kits, allowing us to use them on our sailing trips, uploading the data to open source software which is used to monitor changes in ocean water quality.
We ask all our clients to treat water as a precious commodity on board, bathrooms are shared and time spent in the shower kept to a minimum. Toilets are hand pumped which reduces the amount of water used.
Non bio-degradable cosmetics are not permitted on board, we ask clients to travel light and pack only essential toiletries for the journey.
We minimise our environmental impact but travelling as a small group, spending more time on our yacht than ashore and we respect local customs and dress appropriately. We try to visit popular places such as Phi Phi Ley outside of peak hours, which also allows us to enjoy them fully. We have time to explore remote areas where we may be alone. We support local areas by paying mooring fees and respecting the environment and wildlife. We support local cultural attractions, especially those which are run by local people and avoid any performing animal events.
By visiting remote and uninhabited bays, we want to show people the beauty of our planet. We want people to be inspired to stay out in the nature and therefore learn to appreciate and respect it. Once participants snorkel every day and see the clarity of the water and rubbish on the sea bottom, once participants sail and feel the wind, once participants hike and watch sunsets together and see the beauty of the surrounding area, once participants see the clear night sky with thousands of stars, once participants do all these for a week, every day, they learn that our world is really unique and needs preservation.
Community
People joining our trips tend to stay in touch and be a part of our community. Groups of friends form inter-cultural relations as well, friendships last over borders and time. We are becoming a little community gathered around a hobby and world view.
We believe that sailing is a very effective way of building confidence and team working skills strengthen every individual. The structure of the holiday allows solo travellers to join at no supplemental cost. A mix of solos, couples and small groups sets the basis for an enjoyable holiday, where we learn from and help each other during the week.
We tread lightly in the places we visit and make a priority to support attractions that directly benefit local people. We avoid international and chain type establishments.
We have especially made great links with family run restaurants over several years, they create a great atmosphere for our clients and we know that every penny will go to local people.
We like to talk about local cultures and teach the participants what we know about local ways of living. We try to be very realistic and not idealise islander's life style. Despite that participants of our trips tend to be inspired to change their habits, slow down and socialize more in their lives.
We want to educate people about power of their money and tell them where to shop for the money to go to the locals in the highest possible amount. We try to educate them about importance of locally sourced produce, re-cycling practices, environmental footprint and marine life preservation.
Participants of our trips tend to say that our trips are eye-opening and life changing for them at very many different levels.
1 Reviews of Thailand sailing holiday, 10 days
---
Reviewed on 24 Feb 2019 by
Craig Wakefield
1. What was the most memorable or exciting part of your holiday?

There are too many amazing moments to list, but seeing the sunset from the peak of Koh Rork, seeing a sea eagle with a sea snake in its claws fly over our yacht, learning the basics of nautical navigation, and snorkeling among the many reefs are at the top.


2. What tips would you give other travellers booking this holiday?

Stay flexible. It's Thailand.


3. Did you feel that your holiday benefited local people, reduced environmental impacts or supported conservation?

Yes. Our Skipper was very conscious and knowledgeable about how each island disposed of its trash. He made sure to pay more than fair prices for fish and squid from the local fishermen.


4. Finally, how would you rate your holiday overall?

Simply fantastic.
Read the operator's response here:
Thanks for this wonderful review. We are glad that you liked our trip so much. Looking forward to sailing with you again!
---
Popular similar holidays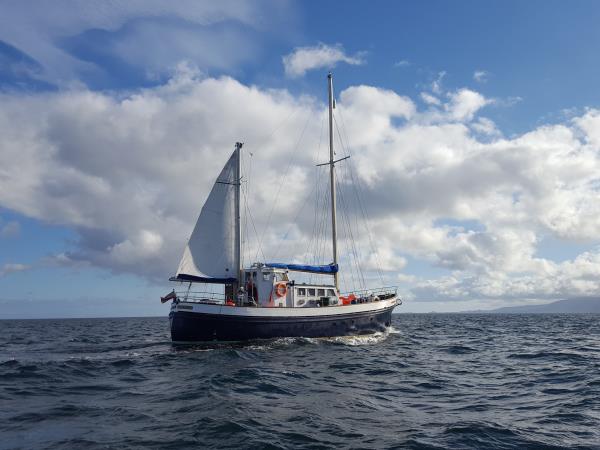 Private Charter a small ship around the Scottish Islands
From £7188 - £16410 7 days excluding flights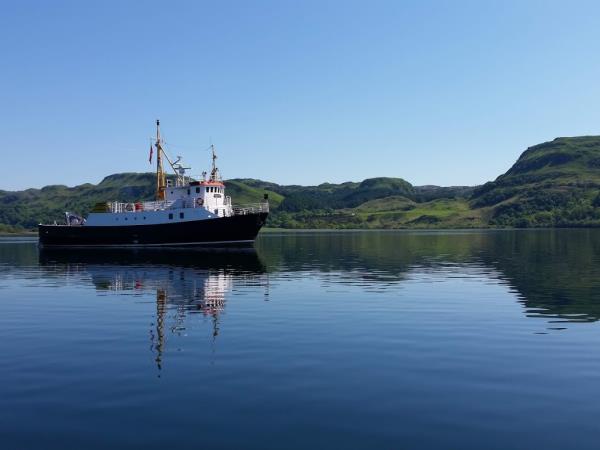 Cruise the Sounds of the Hebrides: Mull, Luing, Jura, Shuna
From £750 - £1500 7 days excluding flights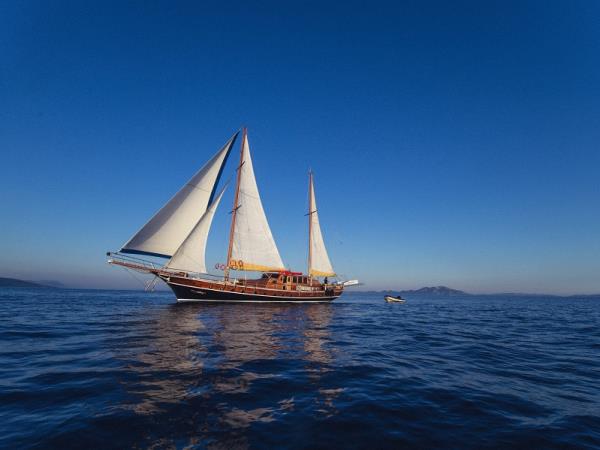 5 star services while cruising the Greek Islands in luxury
From £945 - £1179 8 days excluding flights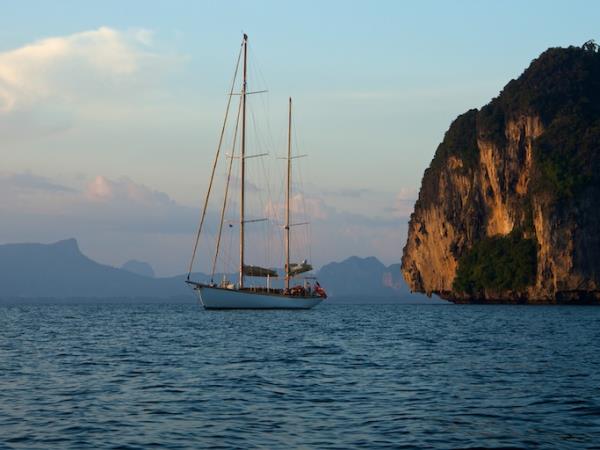 A comprehensive tour of Burma including ocean sailing
From £6130 17 days including UK flights