"Join a small group of like-minded wine enthusiasts for a week of winery and vineyard visits, as well as tasting sessions at a guesthouse in Andalucía."
Highlights
Vineyard visits | Wine tasting sessions | Guide & wine expert Tom Goetz | Meet local wine producers | Guided wine and tapas tour in Granada | Excellent Alpujarra guesthouse |
Description of Wine holidays in Andalucia, Spain
Something subtle and silent is happening on the slopes and vineyards of southern Spain. Grapes grown in lesser-known areas of Andalucía are starting to garner expert attention; and wine lovers, looking for a holiday destination, will be well advised to follow suit.

Although Andalucía has long drawn plaudits for Rioja and Tempranillo, there are several contemporaries that are also starting to swell on sunny slopes.

Regional and international wine experts alike are all beginning to recognise Andalucía's latest crop as something to behold with burgeoning boutique estates consistently coming up with award-winning wine to tempt critics away from more traditional choices. These are wines that are produced in short supply. They are valued for 'terroir' quality rather than quantity; made for wine lovers and connoisseurs, not for supermarkets.

This week-long small group tour is for wine loving holiday makers who are looking for something a little bit different in Andalucía. As part of a group of no more than 14 people you'll be treated to tastings of contemporary, classic and organic wines in the company of your guide: wine, food and travel blogger, Tom Goetz. Tom has been writing and reviewing wine, cuisine and cultural travel encounters for over a decade and is revered for his knowledge of Spanish wine, especially from in and around Andalucía.

Tom lives in Alpujarra and will take you on a journey during either during the spring season or the autumnal harvest to ensure you find out the tales behind the wine trails as well as tasting the unique pedigree of southern Spain. The Alpujarra vineyards, especially, are one of the highest in Europe which makes them not only ideal for grape growing but also incredibly scenic. Tom will fill you with the stories relating to the wine growing history and the culture of Andalucía as well as taking you through the sun-kissed slate soil landscapes that have helped to cultivate Europe's latest crop of undiscovered indigenous wines.

For six nights you'll become part of a small group of wine tasting travellers living in excellent Alpujarra guesthouse accommodation far from the mass-producing wine estates over the hills. Vineyard and winery visits and tasting sessions coincide with spring and autumn seasons to great effect and offer an authentic glimpse at life in southern Spain including excursions in and around the local area. Evening meals further encourage understanding of food and wine pairings as well as providing a relaxed social setting from where to enjoy authentic local cuisine and the company of newfound friends. A guided wine and tapas tour of gorgeous Granada is certain to be one of many gastronomic highlights over the course of this immersive week in southern Spain.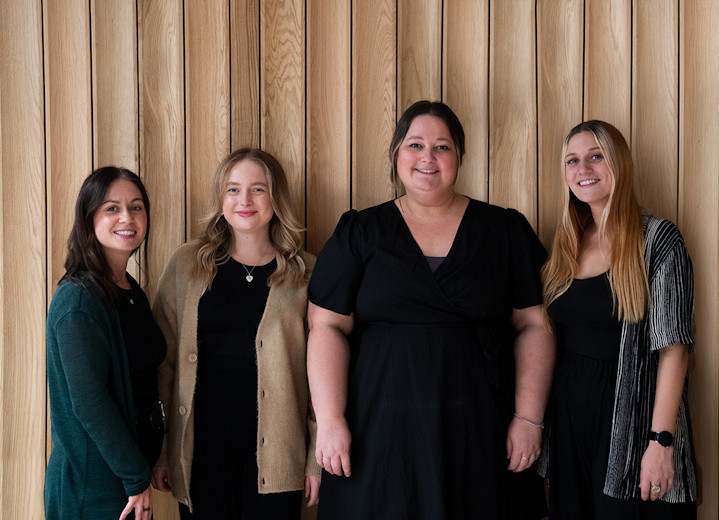 Check dates
2019: 27 Apr, 14 Sep
Responsible tourism
Responsible tourism: Wine holidays in Andalucia, Spain
Environment
Our Casa is a 400-year-old historic building which has been converted to a guest house in the village of Ferreirola in the Alpujarra of Andalucia. In developing our business in the Alpujarra our first priority was to provide low-impact, sustainable and environmentally conscious tourism.
Our activities are low impact: we accommodate groups of no more than 14 people. We organise holidays which do not negatively impact on the local environment. We always use designated footpaths for example, do not pick wildflowers, do not leave litter and do not cause any damage.
We also run a creative writing programme which also does not impact negatively on the local environment.
Environmentally conscious tourism:
Water: water is a precious commodity in this area, which is prone to drought from time to time. We minimise water use with dual flush loos, showers rather than baths, and we have a drip system for our garden watering.
Energy saving: we use low-energy light bulbs throughout the house and our outside lights are on timers.
NO to plastic! we recycle our plastic waste. We regularly encourage our local shops and market traders not to use plastic bags, but to encourage shoppers to bring their own. We encourage our guests to fill their water bottles from a natural spring nearby rather than buying plastic bottles of water.
Recycling: as well as recycling our plastic, we also recycle our paper, cardboard and glass items.
Shopping: we buy produce and supplies locally and when possible, we buy organic food and non-polluting cleaning products.
Community
Our activities are beneficial to both the local community and the environment.
The local community: members of the local community participate in and benefit from our business. We are the major employer in our village (population 28), employing three local people at the Casa. We provide economic benefits to local businesses including bars, restaurants, shops, the local laundry and the local bus company, as well as local people involved in the building industry including plumbers, electricians, carpenters and builders.
Our premises: we restored a historic building that had fallen into ruin with great care and sensitivity, rather than bulldozing the site and erecting new, high-rise buildings. Our part of the Alpujarra is a conservation area so we maintained the traditional building style and used traditional materials such as chestnut beams and launa for the roof.
Protecting the local environment: We are fortunate to be located in a Parque Natural conservation area. However, it is also an area which has suffered and continues to experience minimal economic development. Through our business we are demonstrating that sustainable tourism brings significant economic benefit to the area, and we argue that for tourism to flourish here, the unique rural environment that is the Alpujarra must be preserved and protected.
Popular similar holidays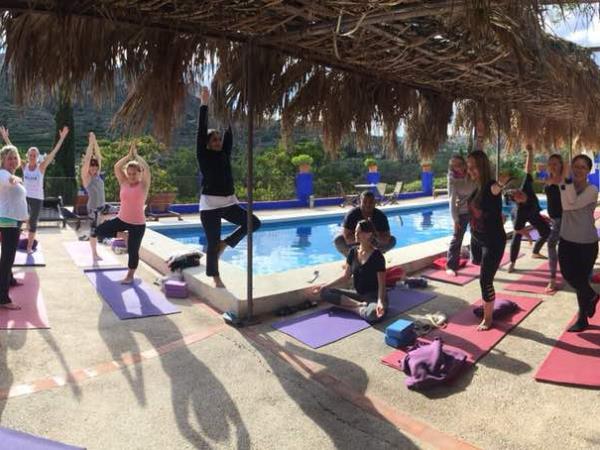 Yoga and meditation in the magical countryside of Valencia
From €516 6 days excluding flights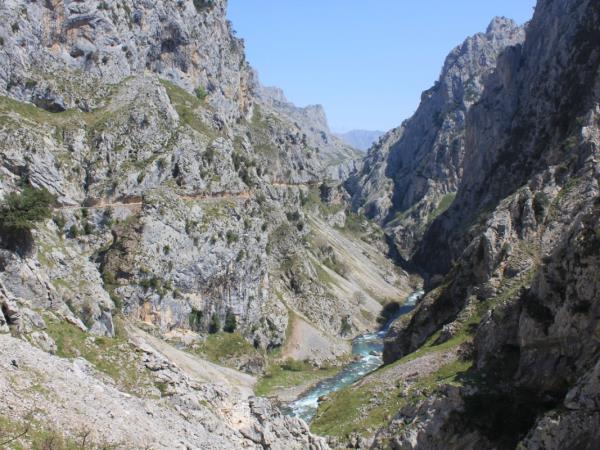 Spanish classes + stunning hikes in Picos de Europa
From €630 7 days excluding flights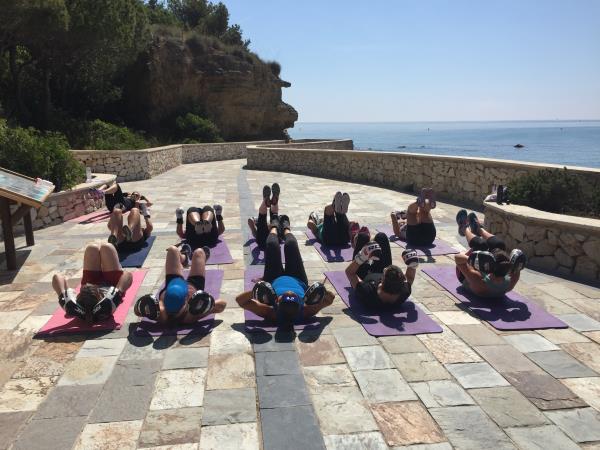 Luxury weight loss, detox, fitness & wellness retreat Spain
From £1095 - £1195 7 days excluding flights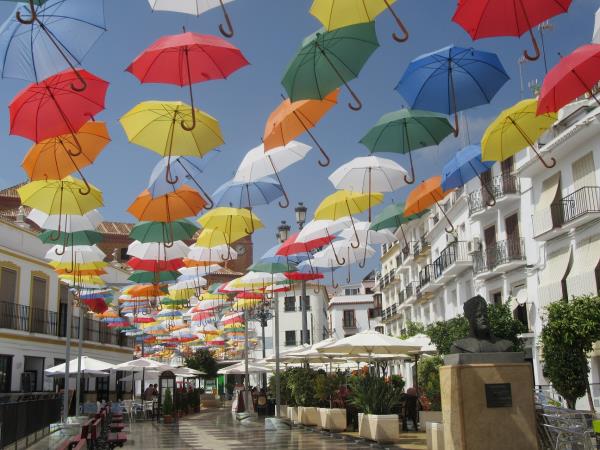 Explore your painting creativity in delightful Andalucia
From £950 8 days excluding flights