Central Spain cycling tour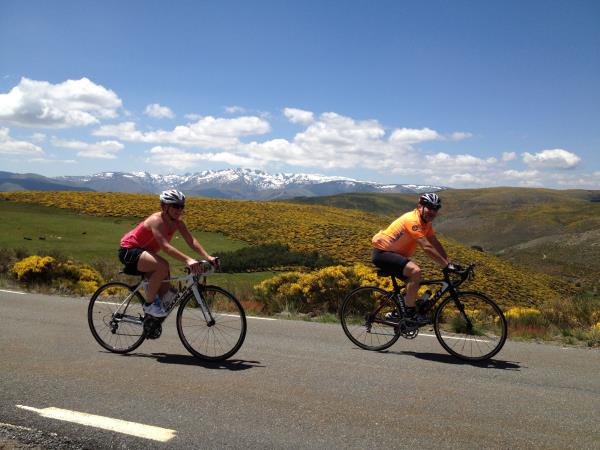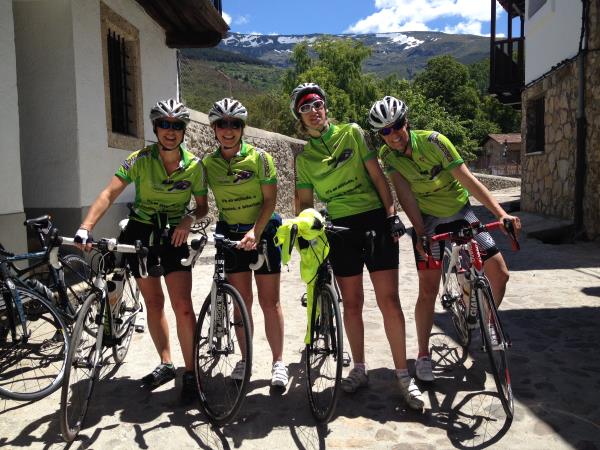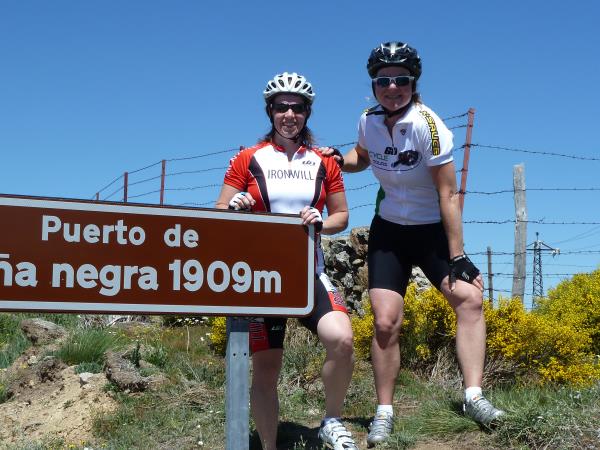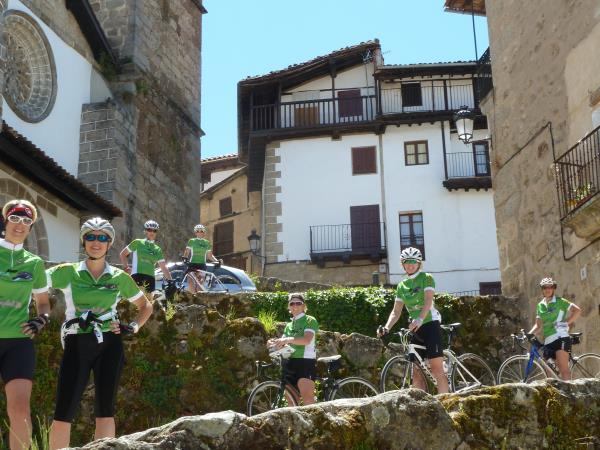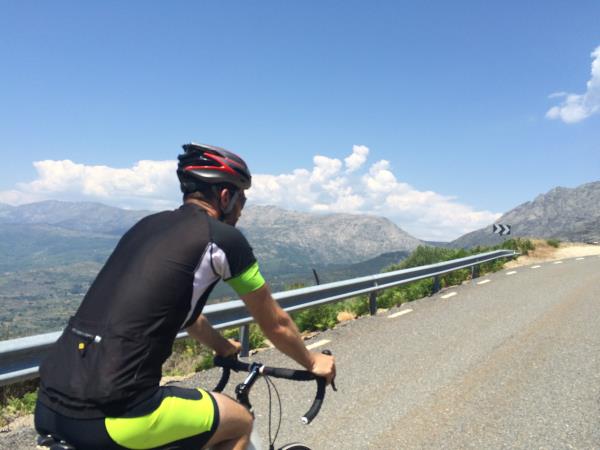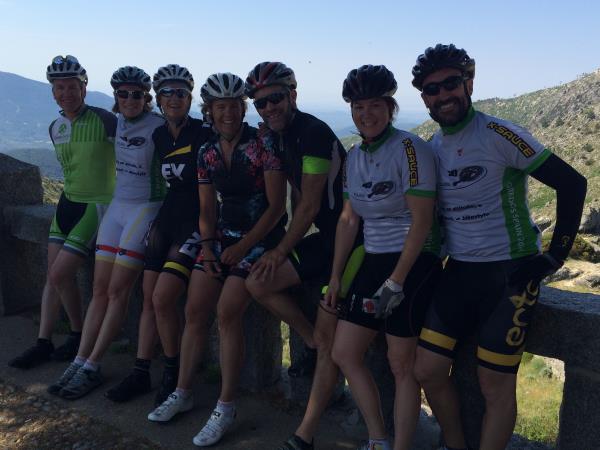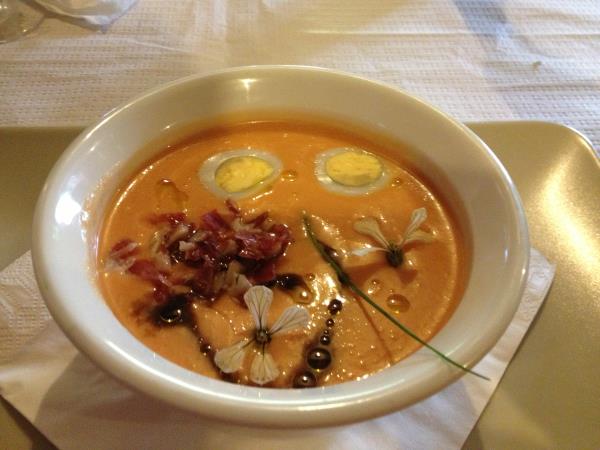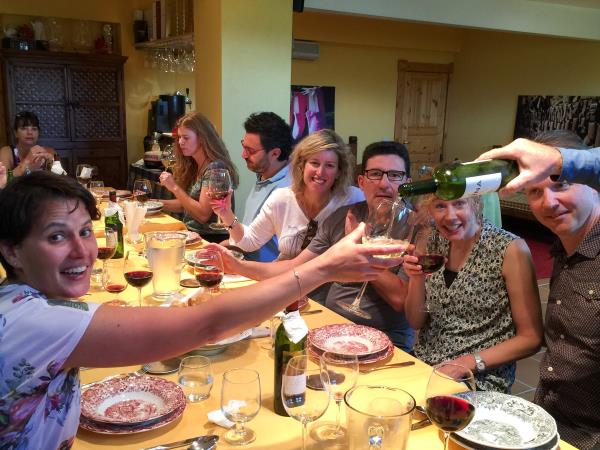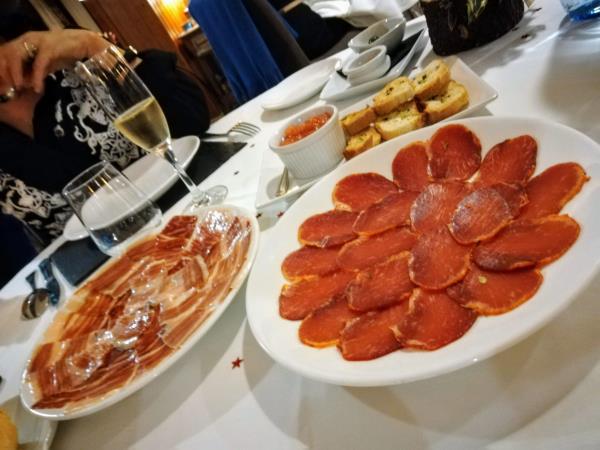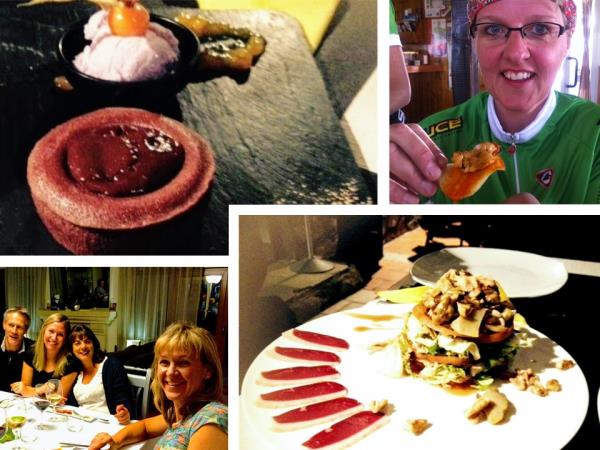 A challenging small group cycling tour of the Sierra de Gredos, complimented with sumptuous gourmet cuisine and cultural experiences.
Small group cycling in Sierra de Gredos
Gourmet evening meals
Rural spa visit
Tapas tasting in the room where the Spanish constitution was signed
Winery visit and tasting
Guided tour of Avila
Description of Central Spain cycling tour
To refer to this superb value holiday as simply a small group cycling tour of Spain would be to do it a major disservice.

Yes, it's packed with fun, challenging daily rides over a wide variety of stunning terrain around the Sierra de Gredos and the historic town of Avila. Yes you'll be in the company of likeminded cyclists and a professional guide, providing socialising as well as encouragement up those inclines.

But it's so much more than that.

Every evening you'll return to a cosy rural hotel and then dine on gourmet cuisine prepared by some of the region's finest chefs - this operator aims to use local suppliers as far as possible throughout the tour.

You'll sample tapas in the former hunting lodge of King Alfonso XIII, in the very room where the Spanish constitution was signed. You'll enjoy a guided tour, lunch and tasting session at a renowned wine bodega, and a meal at a prestigious country estate, perhaps a classic homemade Spanish stew. You will soak your muscles in a rural spa resort, walk the historic ramparts of Avila, a UNESCO World Heritage Site, and taste the finest vintages at a winery with a certified sommelier. You'll even be provided with a complimentary cycling jersey as a souvenir of your trip.

And in between these luxuries – some seriously satisfying cycling aimed at regular riders in good fitness. Daily rides vary, from 30km to over 100km, with demanding climbs in places and exhilarating descents.

But this is a holiday, not a training session. The mood is very much enjoy the landscapes, enjoy the local culture, enjoy the fun of cycling as part of a group and taking on challenges together – no pressure.

This is a wonderful part of Spain, a cycling paradise in fact. But it has been depopulated in recent years by lack of employment – your cycling tours here are win-win, as you'll have an amazing time, and you'll be contributing to employment and income for communities that have a great deal to offer, not least a very warm welcome to hungry cyclists.

Itinerary
| | |
| --- | --- |
| Day 1 | 16.00 – Arrival in Gredos and check into accommodations. We will help you get your bikes together and road ready. Time to don your specially designed cycling jersey while your hosts offer you a welcome drink and a few tapas, a general week overview and a mandatory safety briefing. Great time to for you meet the other guests, ask any questions and get ready for an exhilarating week ahead. 18.00 – Time to get rid of any jet lag and legs by doing this fun, high powered and very well-loved River Run. A sweeping 30km with a few gradual inclines just to get you used to the terrain, the altitude and give you a glimpse of the amazing scenery that will be surrounding you for the rest of our week in Gredos. 21.00 – We kick off the gastronomical part of the tour with just one of our signature meals at a well-regarded local restaurant. Cesar's magic hands in the kitchen and brother Luis and his team welcome's us to the refined dining area; a wonderful representation of local flavours with a refined yet warm service. You'll be ready to head to your inviting Rural Hotel accommodation to put your head down after this invigorating start but knowing that there is much more in the days to come. This is just the beginning…. |
| Day 2 | 8.00-10.00 - You will start each day with a gourmet breakfast, courtesy of our cozy accommodation partner, at your own time and pace. You will have been asked upon registration if you have any dietary restrictions or requirements so that we can ensure you have all you need. 10.00 – We are on the bikes and ready to go at 10 am every day. This is a holiday and not a training session; it's time to slow down, take things in, so our philosophy is: this is best achieved by a gentle start to the day. We have lots of cycling and discovery ahead, but we have all day to do it. Today we will be cycling either 70km, 100 km or 133 km depending on your desired distance over gentle, rolling terrain. This is an out and back run from Hoyos del Espino and/or Barco de Avila to Candelario, our destination, a picturesque and pristine, traditional village nestled in the Sierra de Bejar mountain range. 14.00 - We will have lunch in Candelario, Spanish style, with time to enjoy this wonderful town and delicious food. 15.30 – We then make our way back to Barco de Avila winding through the back roads with a gentle uphill slope. For those looking to burn off their lunch, they have the option of cycling back to Hoyos del Espino, an extra 35km of pedalling on a soft but steady climb back to home base. 18.00 – Time to hang out in the garden your welcoming accommodation, maybe enjoying a post ride refreshment, comparing cycling notes, tips and stories with your new-found cycling friends. Some may prefer to enjoy a well-deserved Spanish siesta – it's your choice, it's your time to enjoy! 21.00 – Get ready for our daily gastro-discovery. Gredos may look to be an austere, Castilian mountain town, but there is much more than meets the eye…you haven't met Roberto yet. Roberto has been a big supporter and enthusiast of our tours from the beginning. Roberto is a native of Gredos and Hoyos del Espino. An adventurer, like us, he ventured out to discover the wonders of what was happening in the Spanish Culinary scene and brought his experiences back to Gredos to ensure it was not just Cataluña, San Sebastian on the culinary map of Spain, but Gredos as well. Every year Roberto welcomes our tours like a part of an extended family and never ceases to surprise or amaze us. A night with Roberto at the cooking fires is a night filled with great food, laughs, fun and passion – a night to remember. |
| Day 3 | 8.00 -10.00 - Breakfast at your own time and pace 10.00 – On the bikes. We cycle out from Hoyos del Espino for our signature and toughest rides; the renown Category 1 Pena Negra-Puerto de Chia. Cycle 82Km with two 12km climbs + a 6km climb home. Total gain just under 1600m. Keep hydrated and keep a cool pace. An optional route will be provided here but we'll do all we can to try to make you crown this great cycling jewel...so go for it!!! But don't worry, we don't do it all at once. We'll stop for coffee just to 'excite" you even more after you crown the Pena Negra (just under 2000 metres) and descend 1000 vertical metres over an exhilarating 17.5kms. Not for the faint of heart but pace it and you'll love the feeling of almost soaring on the top of the world. Then, time to tackle Puerto de Chia – not as high but arguably tougher… 15.30 – Another Gredos surprise awaits you…time to meet Carolina. Nestled on the edge of the seemingly sleepy village of San Martin de la Vega del Alberche. You can't imagine how you will be greeted by her – in real cycling tour style – after all, you just did a Category 1 mountain pass! People in Gredos are always amazed and admire the prowess of our cycling endeavours so they treat us accordingly. Cava is on ice to congratulate all cyclists on their accomplishments – if it's hot, you may wear more Cava than you drink! And finally a well-deserved lunch…but try your best not to fill up too much….there are still 15 kms home. 19.00 – Tonight is spa night and just in time to sooth your tired legs after an epic day of riding. We will have a spa circuit waiting for you at the quaintly appointed rural spa, Aguas de Gredos. You can enjoy the different jet pools, hydro massages, steam bath, sauna and more. 21.00 - After such a big day of cycling, there is no doubt you are ready for a refreshment fit for a king…or queen. You're in luck as our tour continues at the Parador de Gredos. This Parador was the first of the Paradores Group inaugurated back in 1936. This was the hunting lodge of King Alfonso XIII and where the Spanish constitution was signed after the death of Francisco Franco, Spain's post-civil war dictator. Here history meets scenery and warm hospitality and we'll be having some pre-dinner refreshments and tapas in the same room the constitution was signed. A royal treat! 21.00 - A night of tapas with Luis Alfonso and Loli! With an amazing selection of both Spanish and international beers, Luis Alfonso cooks up some mean tapas to accompany these. You will note that the walls are filled with amazing photos of birds – well Gredos is a top birding destination and Luis Alfonso is not only a modest expert but has a number of hides at the back of his establishment. We can take a peek to see what has come to visit; sometimes beautiful eagles, hawks or whatever has decided to drop in. |
| Day 4 | 10.00-12.00 - A short 30-40 km ride or for those needing a break from the saddle, a hike up 40 Pines to stretch out your legs and take in some wonderful views of the Sierra de Gredos peaks. 12.00 - In the car and off for our Wine tour and exclusive winery lunch. 13.00 - Wine Tour with "Don Rafa de la Garnacha" who will explain this terroir project lead by Rafa and his partners out of their passion to revive the native Garnacha grape as a single varietal in crafting their exclusive wine. 14.30 Lunch @ Bodegas Garnacha Alto Alberche. A Gredos Autentico experience as Rafa and his team welcomes you to an exclusive lunch inside his bodega! 18.00 - Special Guided Tour of the medieval walled city of Avila. Walk the ramparts of this UNESCO site and ancient city, learn the history of this fascinating city and visit some spectacular Roman churches, the tomb of the venerated Sta. Teresa of Avila. 20.00 – Tapas in the shadow of the fortified walls of the city. 21.30 - Return to Hoyos del Espino after a day filled with exciting new cultural experiences and a look into historic Spain. |
| Day 5 | 8.00 -10.00 - Breakfast at your own time and pace. Not hard to take these gourmet breakfast's overlooking the Gredos mountains eh? 10.00 - Back in the saddle for another great day of riding. 105kms over the Puerto del Pico and into the Tiétar Valley. A historic route tracing the old Roman road & cattle transhumance still done today by herdsmen in the Autumn & Spring. A Category 1 climb back home. Total gain 1470m! We'll be stopping for a mandatory coffee and tapa in the fruit-laden valley of San Esteban. We have a short cut for those who want a quicker route and prefer to cut the suffering to a minimum! 14.30 - Lunch @km 70 Bodega Las Chicas (sorry guys!!) then 35kms to go - a few pitches then a smooth and picturesque incline home. For the shortcut, lunch at El Yantar with chef Daniel serving up some very appetising dishes. 18.00 – This evening, another Spa circuit at Agua de Gredos – you certainly deserve to have your sore muscles pampered in these soothing jet pools. 21.00 - Get ready for another culinary evening again with master chef Roberto but this time at the quaintly appointed dining room of the Milano Hotel. The Milano hotel was started by Teresa, sic "Spanish but born in Wisconsin" and her husband Paco, an astronomy apasionado. The hotel boasts a rooftop observatory with telescope and all. Paco and Teresa were actively involved in getting Gredos its recent Starlight certification. They have created a heavenly retreat at the Milano and have teamed up with Roberto to match their well-appointed hotel with his culinary magic. Roberto now runs both hotel and restaurant – we are lucky to have him continuing such a great project. |
| Day 6 | 8.00 -10.00 Breakfast at your own time and pace 10.00 - Today we will take it a bit easier. You have done an amazing job so far and today we have another Authentic Gredos experience in hand for you. We will ride approximately 60kms through some stunning terrain in the Sierra Morena that faces the Sierra de Gredos. A gentler ride through pristine valleys on over quiet hills with a few unexpected surprises along the way! Enough to whet your appetite for an amazing "Cocido Maribel" - famous in the region and afar. 15.00 - Lunch with Gredos native Isabel hosting us at her country estate. You will be in awe at her décor and her attention to detail – the Martha Stewart of Gredos. Lunch starts with tapas, 'Cocido Maribel' a homemade Spanish, 3 course stew. All ingredients are sourced locally. You'll be set for a Spanish Siesta in one of the many cozy corners of her garden and with a Gin-Tonic to aid digestion. 19.00 - Time to get our well fed and well rested bodies home and get ready for our last day of cycling – hard to believe the week is coming to an end. 21.00 - Tapas with Belen and Guillermo at La Galana – if any one still has any appetite left! La Galana is a favourite with the mountaineering crowd and Belen and Guillermo are avid supporters and organisers of many events throughout the year that reflects Gredos deep ties to this adventure sport. Belen's tapas and desserts have won awards in the annual Gredos Tapa festival. |
| Day 7 | 8.00 -10.00 Breakfast at your own time and pace 10.00 – On the bike again for our last epic ride in Gredos (for this tour anyway…) and we'll be taking you to discover yet another beautiful part of Gredos. 80kms nice rolling loop across a different terrain in Gredos stretching into the picturesque Burgohondo valley. Our mandatory coffee stop along the way as we pass through the village of the former Captain of the Real Madrid football team, Iker Casillas and also the village of Carlos Sastre one of Spain's great pro cyclists! You´ll love the quiet roads and wild scenery and by now you'll be feeling like a pro yourself! 15.00 – Lunch at the Venta del Obispo. This family business has long been a stopping place and watering hole for travellers heading over the mountains towards the south. After lunch a slow 20km incline home. 18.00 - With the sun setting and the tour winding down, this is yet another great opportunity to kick back and enjoy a beverage on the terrace of your beautiful accommodation and share memories of the tour with your fellow cyclists as you start to pack up your bike and your belongings. But the night is still young, and there is still another great evening planned to ensure you leave with more great memories. 21.00 – Get ready for another incredible meal with Roberto at bar Drakar. It's Friday night and the ambience in Hoyos del Espino and Cafeteria Drakar is warming up for a night of fun and laughs. Another signature meal will be prepared by Roberto as he offers a specially designed tour menu. The table will be buzzing with stories, laughter and maybe some tears. Don't be surprised if a dance is quickly improvised, the locals buy you a round or you find yourself dancing on your already worn out legs at one of the local discos…it's your last night in Gredos so Carpe Diem! |
| Day 8 | 8.00-9.00 - Your last breakfast as you enjoy the views of the spectacular scenery that has accompanied you on your cycling adventure throughout the entire week. Close your eyes, take a mental picture of this wonderful moment, then take it with you. You are leaving Gredos, but you are taking a part of it with you. 10.00 – 11.00 Packing up and farewells with tears in your eyes and cramps in your legs…Gredos will have left a footprint in your heart! |
Price information
Check dates, prices & availability
Responsible Travel
As the pioneers of responsible tourism, we've screened this (and every) holiday so that you can travel knowing it will help support the places and people that you visit, and the planet. Read how below.
Planet
Our tours are inspired by our love of cycling, hiking and moreover our appreciation of our natural surroundings - what better way to enjoy nature than to be a part of it in a non-invasive way. Our goal is to promote these cycling paradises we have discovered for our tours, in a sustainable, responsible way; supporting the local community and businesses of these rural areas we have come to know and love. We understand that depopulation is a modern threat in these areas. Many of the people we partner with, are young entrepreneurs who have taken the risk and made a choice to carve out their livelihood in these areas.

We actively promote reusable drinking bottles, encourages conserving water at hotels by reuse practices, etc. (as our accommodation partners do), collecting any waste or packaging when in nature and recycling/disposing of it correctly. We typically will do coffee/snack stops and lunches at cafes/restaurants, when possible, along the way to avoid consuming any prepacked foods and to support local businesses.

Our guides brief on regional park, wildlife, and other preservation practises avoiding any restricted or sensitive areas.
We also strive to reduce the use of paper and printing in our office opting for ebrochures and digital media to promote. We do print a very small quantity (under 500) of one-page leaflets for people who are less digitally connected.

We state that once you arrive, you only need your bike and feet to move around for the rest of the week as all rides, restaurants, activities are within walking distance. If there is a cultural or winery visit that requires transportation, we hire one or two vehicles (locally) to transport all people.

As cyclists and hikers, we are already aware of our footprint on the environment and limiting our carbon impact.
People
We are a collaborator and founding member of the rural regional commerce association of the North Gredos region (ASENORG) where we started our flagship Gredos tour. All elements of our tour involve and support and locally owned businesses/individuals (hotels, restaurants, grocery stores, guides, cleaning services, transportation, other activity and service providers (spa, ziplining, horseback riding, etc), food and beverages including local breweries and wineries) to build our tour package. We purposely stage our tour out of one place to make a bigger impact on the local economy and reduce our carbon footprint driving from point A->B->C, etc.

It is part of our DNA to partner with local businesses and individuals to give people an authentic experience of what the region they are visiting, is all about. We bring the people on tour together with the locals and by mid-week everybody knows everybody. This is a key differentiator of our tours; as founder and weekend Gredos resident, I leverage the relationships I have built locally and my direct involvement in each of these areas and bring it as a cornerstone piece to our tours.

Our Women Only tours have promoted charity project Trampled Rose. Our cyclists have attended local gastronomical events and awards ceremonies, supporting local initiatives such as the mountain broom festival in June. We promote the local Tapas Festival via social media and all activities related to our local partners. We have agreed to promote a crowd-funding initiative to be launched in Gredos in the new year. We do tours of the UNESCO sites near our tour base. We visit local breweries and wineries (small, off the grid projects) that promote the recovery of old grape varieties and brewing or winemaking traditions. We also try to provide a connection between the different regions where we stage our tours in order to bring people from different regions together so that ideas and experiences can be exchanged and leveraged.

* The objective of ASENORG was to identify, promote and elaborate offerings around the key differentiators of the North Gredos region, involving its local businesses. These differentiators centred around cultural or geographical attributes such as the mountains for outdoor adventures, transhumance as a cultural practice to migrate cattle, gastronomy, dark skies, or the variety of birds or spectacular mountain broom. Different leaders and businesses aligned with each area to build out a strategic plan to promote these regional treasures with the objective of attracting more sustainable tourism and fighting depopulation of the area.
Popular similar holidays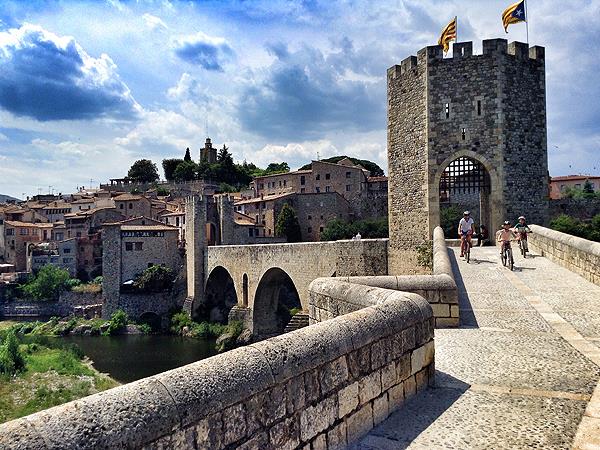 From €350 - €770 8 days excluding flights
Customised road cycling tour in Girona, Catalonia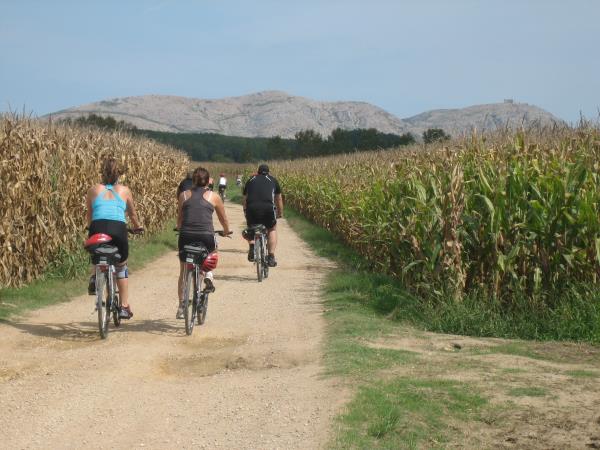 From €600 - €800 8 days excluding flights
Self guided cycling holiday as you live like a local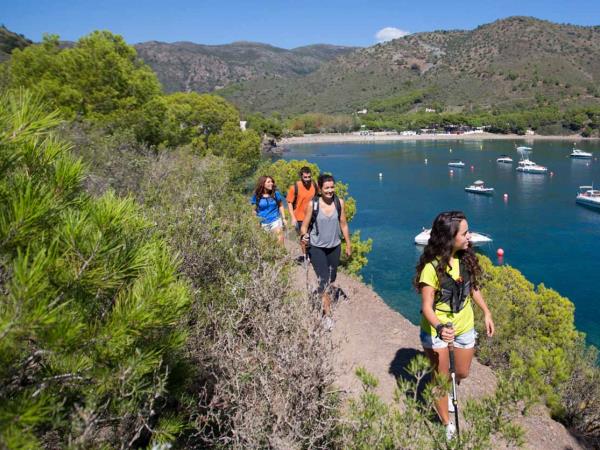 From €485 - €750 8 days excluding flights
Cycle holiday based from self catering accommodation Palamos