"Immerse yourself the marine life of the Red Sea, with multiple trips to swim with dolphins and sea turtles, an overnight dolphin safari, and a tranquil beachside resort."
Highlights
Swim with sea turtles | Three day trips to swim with dolphins | Optional: overnight dolphin safari on a boat, snorkelling over a reef, excursions to local towns, markets or Luxor, scuba dive training, camel rides
Description of Cruise and swim with dolphins in Egypt
The southern Red sea, with its calm, aquamarine water, is one of the most special places in the world to encounter wild dolphins. Here in the offshore reef, we offer the opportunity to meet and swim with dolphins in Egypt all year round, and to have the amazing experience of snorkelling on the surface while the curious cetaceans swim below.

This dolphin holiday in Egypt includes one night spent onboard our boat and the remaining nights at a nearby resort with day trips to see the dolphins in the Red Sea. Spending this additional time onboard the boat means we have time to cruise down to a remote coral reef and swim with dolphins in the Red Sea in the early morning and late evening, experiencing their behaviour at different times of day and spending plenty of time with them. All cabins are en suite, meals are cooked by an onboard chef and you will be well looked after by our attentive crew. You'll also have a friendly, local guide who has been with us for 15 years. Please note that this is not a group tour; outside of the scheduled boat trips your free time is your own to plan activities or relax as you choose.

The remaining nights will be spent in the Eco-Village Resort, ideally located right by on the shore, meaning you can relax on the beach or snorkel and swim in the colourful reefs. As well as taking boat trips out to meet the dolphins, you can ride a camel through the desert, explore ancient Egyptian sites at Luxor, learn to scuba dive or head out shopping.
If you prefer, you can also opt to spend the entire trip at the beachside resort: seven nights' accommodation plus three daytrips out on the boat to swim with wild dolphins in the Red Sea reefs and a day snorkelling with turtles in a nearby bay. To suit your budget, we offer a range of accommodation options and full board with varied, buffet-style meals. You can book this trip on any dates, at any time of year – spring and autumn are the most popular seasons so book well in advance at these times.

Within the marine park reserve that we visit, there is a large pod of spinner dolphins – you can expect to swim with these. Bottlenose and common dolphins also live in this part of the reef, as do colourful reef fish and other marine life. We never initiate contact; our policy is to let the dolphins approach us on their own terms. In our years of experience in Egypt, we have found that the dolphins are playful and generally enjoy human contact; they love surfing the bow wave when the boat is moving, and meeting the swimmers when we are in the water. We tend to enjoy frequent meetings – these are beautiful and memorable experiences.

With its shallow beaches and warm, calm seas, this swimming with dolphins in Egypt holiday is ideal for families. The resort is also surrounded by a "house reef" full of colourful marine life – ideal for snorkelling during your free time.
Day-by-day itinerary
| | |
| --- | --- |
| Day 1: | Arrival in Egypt, transfer from airport to the beachside Eco-Resort and welcome drinks and meal depending on time of day. |
| Day 2: | Orientation day. You'll receive a briefing on snorkelling around the resort, and can arrange extra excursions. On your fist or second day, you'll take a trip out to a protected beach swim with sea turtles. |
| Day 3-7: | If staying at the resort the whole time, there are three full day excursions for swimming with dolphins in the Red Sea. Departing at around 9:30am, you'll be transferred (40 mins) to the boat and return around 4pm. Lunch is included on the boat. If you've opted for the overnight dolphin safari, this trip is all arranged for you. When you're not on the dolphin swimming trips, you can book excursions through our local guides, snorkel on the reef or relax at the resort. |
| Day 8: | You may be able to arrange an extra excursion to Marsa Alam town or the Old City of El Queseir on the way to the airport, depending on the time of your return flight. |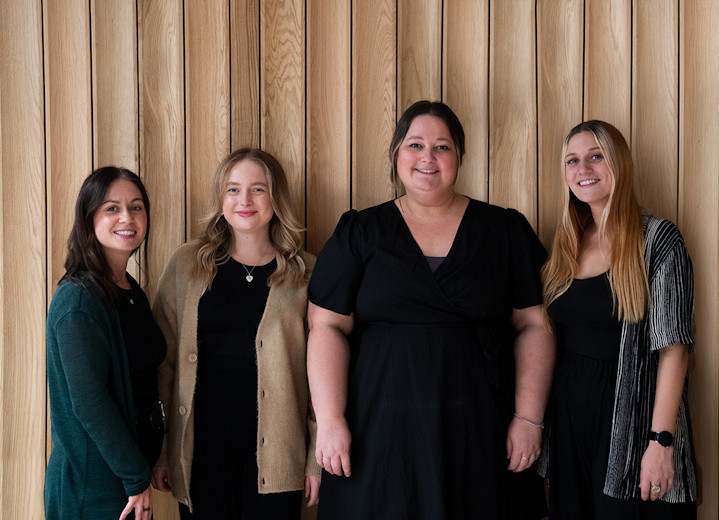 Departure information
The Eco-Village resort holiday is available year round and can be adjusted to suit any holiday dates. The Onboard Adventure dolphin safari runs in November.
Responsible tourism
Responsible tourism: Cruise and swim with dolphins in Egypt
Environment
Our local boat company, crew and guides have an environmentally responsible policy. They act to cause low impact on both the coral reef and the dolphins by educating the swimmers and divers. They have a special anchoring system which does not harm the reef and is a permanent fixture which a crew member has to swim underwater in order to secure the boat. They issue the guests with non plastic bottles which can be refilled and re-used after being cleaned.
The eco dive resort we work with conducted a similar study on another reef which has a lot of tourists. The dolphins were being negatively impacted, so after the study, a zoning protocol was implemented and the number of swimmers and boats in the area is controlled. We plan to provide important information about this other relatively undiscovered group of dolphins on another offshore reef so they can also be protected if tourism increases.
Also there are various conservation initiatives in the area such as at the resort we use; there is an ongoing study on sharks. Through education, "Shark School" and creating a protected marine reserve (HEPCA) the decreasing population of sharks seems to be making a recovery. We give our guests a lot of information with ideas of how they can contribute to the preservation of the reefs and the marine life.
We have also started a campaign called "Tourists Against Trash" (TAT). Every guest is given a bag in which to collect some of the huge amounts of waste plastic littering the desert. They are asked to be very visible and this actually has already encouraged the local Egyptians involved in tourism to clean up the litter which had previously been ignored. They are keen to please the tourists and if the tourists appear to want the plastic bottles removed, they will comply. The tourists are informed of how a flood from the sea into the desert could pollute the ocean dramatically as the build up of plastic is huge.
We work closely with the Red Sea Rangers to ensure the preservation of the dolphins and abide by Marine Park Regulations as well as the International Dolphin Watch Code of Conduct. We are Approved IDW Dolphin Swim Operators.
Community
We work only with Egyptian owned eco-resorts, companies who employ local workers. The boat crews and guides tend to be from fishing families who know the sea and local reefs well. By coming here, you help to provide employment for local people who have would otherwise not have the opportunity to earn good wages in work that allows them to follow their traditional employment on the sea.
Together we are involved with a dolphin research study. This is to monitor the behaviour of the dolphins by collecting data from studying their behaviour. We have arranged for marine biology students to work on this study, hosted by our boat company using photo ID, and documenting patterns of behaviour, especially with regards to the "moods" of the dolphins in order to ascertain the best times to enter the water that will not disturb their rest time. The intention is to use this data to provide a protocol for a low impact effect from the tourists who visit this offshore reef. There is a long term plan to create a "Dolphin School".
2 Reviews of Cruise and swim with dolphins in Egypt
3.5 out of 5 stars
---
Reviewed on 21 Nov 2017 by Clive Freemantle
1. What was the most memorable or exciting part of your holiday?

Swimming with dolphins on the overnight trip- the guide provided by the yacht was excellent and the staff were very attentive and helpful


2. What tips would you give other travellers booking this holiday?

The components of this holiday may be better arranged without this company. The holiday company's services are based entirely on the services of their representative, Khaled. Do not rely on the repeated assurances and descriptions of Khaled given by this company. He is not reliable and one of the poorest representatives we have ever encountered. He is vastly more interested in private clients to whom he devotes his complete attention; we were tacked on to trips he arranged for them - on our first trip with him, he dropped us off, but the private clients (who were with us on all our trips) later told us that he'd guided them around OUR resort (they weren't staying there) and had given them advice and guidance along with arranging special experiences for them- all day; in fact we subsequently found out more about our holiday from the private clients (fortunately one spoke English) than Khaled! From beginning to end he did not attend to any of the services offered in the notes sent by the company who rely totally upon him, save for a period of 8 hours following our complaint to the company. He did not meet us at the airport (in fact we had to twice argue with the man sent to collect us before he admitted that he was our transfer- he wasn't even showing the right sign), there was no refreshment offered, not even a bottle of water, on the 3 hour drive to the resort following our 5 hour flight. Khaled did not guide us on the house reef, he did not enter the water at any time, anywhere; so for example, he did not take photographs as suggested, we were not provided with a day boat as the reef (we were advised of this change orally by the company AFTER our last reef trip), he did not give us a briefing on the resort or the rules- we had to find out for ourselves! We wrote an email to the company but nothing changed save for the aforesaid 8 hours immediately following the assurance of the company that they'd spoken to him and that things would improve. He then reverted to looking after private clients. The reef trips are not advertised to be short, but the longest was an hour and the shortest snorkel trip given was 40 minutes. The company asked us to take a package out to Egypt for them- in the end we didn't, but speaking to airline security yesterday, they advised us that the request was extremely reprehensible.


3. Did you feel that your holiday benefited local people, reduced environmental impacts or supported conservation?

Yes. The Resort was strictly directed to improve and protect the environment. Unfortunately there are subsequently several rules to be observed and our guide took two days before he finally answered our initial questions as to how to, eg use the house reef, meaning we lost an afternoon of snorkelling on our short holiday. The poor command of English in explanations by other staff left us confused and hesitant.


4. Finally, how would you rate your holiday overall?

Extraordinarily poor assistance by the company; we would have had as much assistance if we'd just had a local taxi driver to take us from A to B, save for the 8 hours on Wednesday when Khaled had a brief period of being helpful (after we'd complained by email). The location is lovely and the experiences available, when not reliant on the company representative, are superb. The location is 5 star, but we will rate the holiday below as the one provided by the company- it is not one star as we did receive 8 hours of adequate service from Khaled on one day (last Wednesday).
Read the operator's response here:
Dear Clive
This is the first time in 10 years that a guest has had a less than excellent experience with our dolphin guide. I sincerely apologise, this should not have happened as excellent customer service is our goal as a company. I am glad you called the office on day 2 and we were able to resolve the issue, give you clear explanations and ensure the guide gave you more information.
After speaking to you I am aware that you did really enjoy your close encounters with the dolphins and you commented on their social behaviour. Also glad you enjoyed the overnight dolphin safari with other guides who accompanied you in the water and great encounters with dolphins and sea turtles.
Our main guide said he did not accompany you in the water as he felt you were competent and experienced. He does have other guests from the resort in his groups. He accompanies people who are nervous in open water. I am really sorry you did not have as much one on one personal attention as you should have at the beginning.

The role of the dolphin guide is to ensure you had great opportunities to see dolphins. The arrangements went as planned. He fell short on inadequate explanations. We have given your feedback to him and we are ensuring this does not happen again by giving both the guide and the guest a check list of what needs to be explained on site to ensure nothing gets missed.
I am glad you really loved the resort and the location. I can assure you that we are doing everything we can to ensure the customer service standards will be consistently excellent and you feedback has really helped us to intervene here, so thank you.

---
Reviewed on 29 Jan 2012 by Candida Perkis
1. What was the most memorable or exciting part of your holiday?

Put simply, this is probably one of the best holidays I've ever been on and this is largely down to the exceptional customer care that this company offers both in the UK and in Egypt. The highlight of course was swimming with wild dolphins out in a protected reef in the middle of beautiful clear blue sea. Beyond that though the location, the food, the helpfulness of the staff, the accommodation and the attention to detail were all excellent.

2. What tips would you give other travelers booking this holiday?
As a lone woman traveller I'd had reservations beforehand about how safe I might feel. There was no need. From the moment I was picked up at the airport and throughout the whole week I did not once experience anything that made me feel uncomfortable. The staff are all incredibly helpful and the guests are of all ages and include lone travellers, couples, groups and families.

On a practical level, a few tips...

If you go in the cooler months, take warm clothes for on the boat/evenings/sleeping in. Expect to need to wear a wetsuit when you're in the water. If you're staying in the tents, take a torch. There are beautiful bright stars to see at night, but it's pretty dark out on the beach. Wi-fi is available at a charge but it can be a bit intermittent, so don't expect to be connected 24/7. There are some books there about Red Sea fish and dolphins/sea mammals - borrow them, or take one with you. It's so much better to know what you're looking at when you're snorkelling amongst such amazing varieties of fish.


3. Did you feel that your holiday benefited local people, and minimized impacts on the environment?

I was very impressed with the eco-credentials of this whole holiday. On-site you are given a bottle of water which you then refill all week from one of the numerous water coolers around ths site; towels/bedding is changed only if you want it and there's a clear system in place; bin liners are biodegradable; food is all locally sourced. Over 200 local people are also employed in one way or another; the whole development is very low density and its very presence mitigates against the risk of some hideous chain hotel springing up on this bay.

The dolphin trips are very well regulated. The reef where they can be found is in a protected area and numbers of boats, location and times of swimming are all restricted so that the least impact possible occurs. A ranger is present on the boats to ensure regulations are adhered to and hefty fines can be imposed if restrictions contravened. Additionally, monitoring is going on by a regional NGO and they come onto the boats to give briefings about the work they're doing and the habits of the dolphins. The charge of 15 euros to enter this protected area is used to invest further in the environmental protection work. Additionally, the local people working here, and in particular with this company, are passionate about protecting their environment and this shines through.


4. Finally, how would you rate your holiday overall?

It was excellent. I can't fault it. I very very rarely go back to somewhere I've been on holiday. I am definitely going to return and next time I plan to take my children and try out the overnight trip at sea that is offered.

---
Popular similar holidays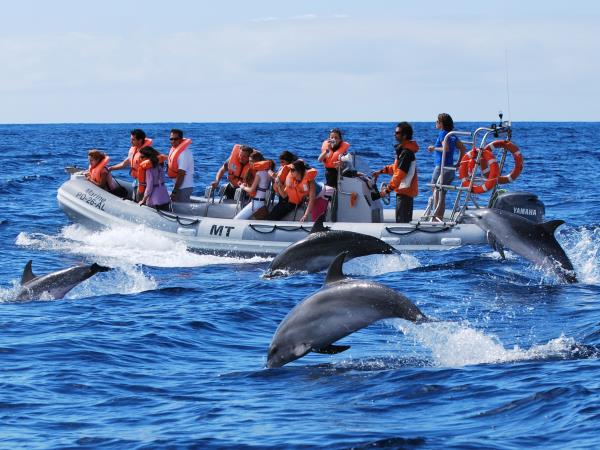 Live a dream and swim with wild dolphins
From £530 - £770 8 days excluding flights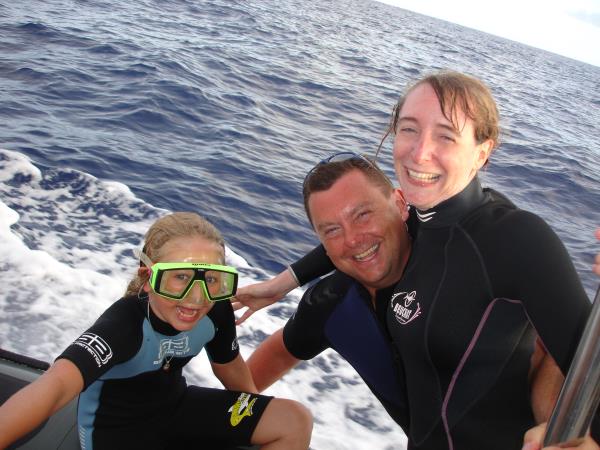 A family focused adventure and experience of a lifetime
From £550 - £700 7 days excluding flights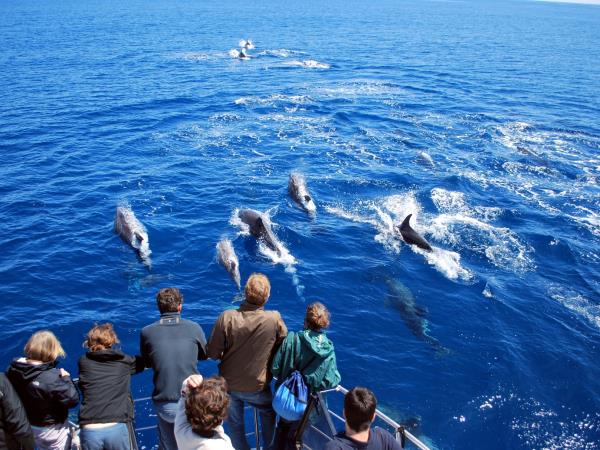 Snorkelling with dolphins on São Miguel Island, The Azores
From £1375 - £1575 8 days including UK flights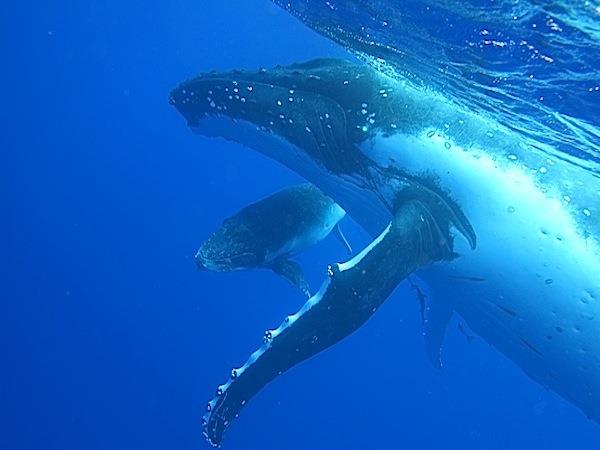 Humpbacks whales, wonderful food and tropical islands
From AU $4700 6 days excluding flights