"A two week, tailor made holiday exploring not only the country's great cities but also remote rural spots and small communities. Travelling with a driver guide with some domestic flights. Staying in ecolodges, homestays and hotels. "
Highlights
Hanoi | Ky Son | Mai Chau Valley | White Thai villages | Hoi An | Troung Son mountain villages | Ho Chi Minh Trail | Cookery lesson | Ho Chi Minh City (formerly Saigon)
Description of Vietnam tailor made holidays
This Vietnam tailor made holiday itinerary has been crafted in a way that ensures you experience both big city culture and small community life in this wonderful country. Travelling with a driver guide, and using domestic flights to speed up your journey to the places we recommend, you can see a lot in two weeks.

Starting in the capital city of Hanoi, we recommend two nights to enjoy this charming, cultural hub, with its tree lined boulevards and colonial architecture. There are many ways to enjoy this thousand year old city, strolling around pagodas, taking a culinary tour or heading off into the many back streets and suburbs on a local cyclo. Your driver guide will be on hand to organise everything for you.

Your next stop is very much in contrast to the big city lights, being driven to Ky Son where you can stay at a local homestay and just enjoy the rural landscapes of inland Vietnam, with its paddy fields and farms, tea terraces and traditional houses. The Mai Chau Valley is another wonderful rural area, where the White Thai culture is predominant and where you will have time to learn about these people who are distantly related to tribes in Thailand, China and Laos.

After taking your first domestic flight from Hanoi to Danang, with private driver guides supervising all transfers, as is the case throughout the trip, your next stop is the ancient town of Hoi An. As well as having time to take in the highlights of Hoi An, such as its old town lit by lanterns, colonial architecture and famous tailor outlets, you can also explore the nearby Troung Son Mountains. We recommend you spend a night in the foothills, in the heart of a village community. This will also give you a chance to explore sections of the famous Ho Chi Minh Trail.

One final domestic flight takes you to Ho Chi Minh City (formerly Saigon), where you will have time to experience its mix of markets, temples and crazy motos, as well as its poignant Reunification Palace and War Remnants Museum. From here you can take an international flight to Bangkok and then homewards, after a two week trip that brings you into the heart of Vietnam.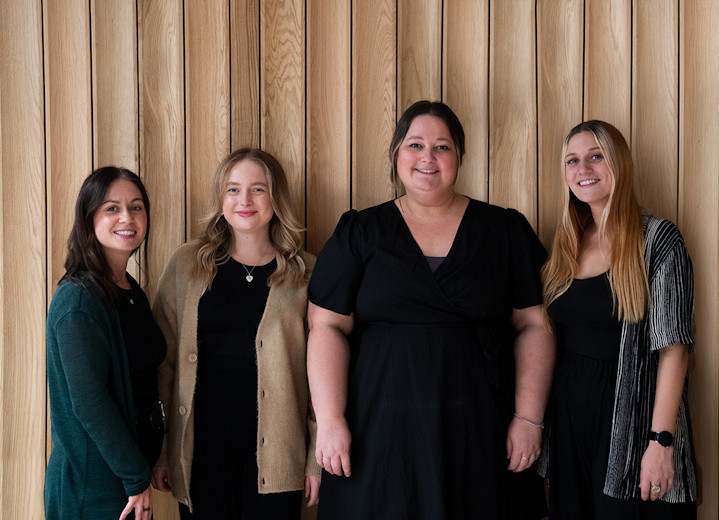 Departure information
This trip can be tailor made throughout the year to suit your requirements
Holiday type
Tailor made holidays
This trip can be tailor made to create a unique holiday for your individual requirements by travel experts with intimate knowledge of the destination. It is a more individual trip that will suit those who enjoy immersing themselves in new cultures and environments, with the flexibility to plan a trip at your own pace. Quality and value are the hallmark of these trips, with most services being provided on a private basis.
Responsible tourism
Responsible tourism: Vietnam tailor made holidays
Environment
We encourage all our clients to take carbon reduction seriously and endorse Friends of Conservation's 'Carbon Reduction Map' system, whereby you can easily calculate how much you should contribute for your flight.
Recognising the many benefits that travel brings, Friends of Conservation offer travellers the opportunity to mitigate some of the environmental impacts of flying by supporting community and conservation initiatives.
These include alternative energy and forestry programmes in Kenya and projects in Asia, South Africa and South and Central America that focus on habitat acquisition, conservation and renewable energy activities.
Many of the tours and excursions in this itinerary avoid using cars to reduce carbon emissions : the tours of Hanoi by cyclo and on foot, by boat in Hoi A, and on foot.
During this trip you will stay at eco lodges and homestays which are built from local materials, and in the case of the eco lodge use biomass and solar energy.
It is worth also mentioning the things we have chosen NOT to include – such as Halong Bay. Many people would consider this to be a highlight of Vietnam, but we do not feel that the current overcrowding on the bay makes this a responsible option. Despite being UNESCO protected the bay is becoming polluted and rubbish-strewn in part, so for a truly responsible itinerary we would not include this.
Plastic water bottles – used by locals and visitors alike – are a massive problem to dispose of, especially in these rural areas, so we recommend that our clients purchase a water bottle with in-built water filter, and are working with a company called Pure Hydration to offer a 10% discount on their products as an incentive for our clients to support the reduction of plastic water bottle usage.
Community
There are many opportunities to support the local community in this itinerary.
Many of the excursions included in the itinerary provide an authentic social and cultural insight into the local Vietnamese way of life. Using traditional methods to generate a source of income through tourism is of massive benefit to maintain the local culture. Some examples of this include the following :
- The early bird tour and the educational talk in Hanoi
- Wet rice growing and fisherman and waterways tours in Hoi An.
You will stay at Mai Chau Eco lodge. Located in the very heart of the Mai Chau valley, the lodge is built from local materials, uses biomass and solar energy, and employs almost entirely from the local community.
During your trip you will spend time in a homestay with a local host family. The homestay is built in the traditional architecture and is a wonderful opportunity to learn more about the culture and lives of your host family. Not only will this give you more of an insight into Vietnamese life but you will also be contributing to the local economy by staying in a local family owned homestay.
Locally run NGO's and charities will be thrilled with your visit and we will give you some suggestions for projects to visit and support closer to your time of travel. You will have the opportunity to support a variety of these in the vital work they do with Vietnam's vulnerable and disadvantaged members of society. They often receive little or no help from the government so your visit/donation is much appreciated and needed to sustain their ongoing good work. One example of this is Streets restaurant in Hoi An which we recommend for lunch or dinner during your time in the area. STREETS International is an innovative social enterprise initiative with the purpose to develop and operate sustainable programs for street kids and disadvantaged youth in Southeast Asia and throughout the world. STREETS prepares vulnerable, orphaned and other disadvantaged young people for careers in hospitality.
There are so many wonderful textiles, crafts and home wares to buy in this region and by buying from carefully selected organizations that we can recommend you can help support local communities and their skills. For example, Craftlink, a not-for-profit organisation that seeks to assist small Vietnamese producers develop their businesses and find market opportunities. Many of the poorer and more marginalized people of Vietnam, such as the hill tribe minorities and street children, are being left behind by the economic miracle that is sweeping Vietnam. This shop provides a retail outlet for the many people to sell their textiles and crafts and are paid fairly for their work and encourages the conveyance of the traditional skill to the next generation therefore preserving textile skills for the future.
The most important responsibility of tourism is to experience the real attributes of a country and contribute to the local economy.
2 Reviews of Vietnam tailor made holidays
---
Reviewed on 25 Apr 2013 by
Patricia Stoat
1. What was the most memorable or exciting part of your holiday?

We enjoyed it all - wonderful food, pleasant, well informed guides, new experiences.
Hanoi is a beautiful and really buzzing city; we'd love to go back. Mai Chau valley is beautiful and developing fast; Halong is like visiting another planet - so strange, so awe-inspiring.


2. What tips would you give other travellers booking this holiday?

Enjoy!


3. Did you feel that your holiday benefited local people, reduced environmental impacts or supported conservation?

We were able to buy a variety of local handicraft products, and stayed in locally owned accommodation, including homestays [which we recommend]. Travel by train was interesting and reduced environmental impact.
We would very strongly recommend that tour operators, and conservationists, put pressure on the Vietnamese government to clean up Halong Bay!!!!


4. Finally, how would you rate your holiday overall?

An excellent experience, all the connections and transport arrangements worked, we saw a great deal of the country and had well-informed and helpful guides.

---
Reviewed on 29 Apr 2009 by
Margery Nzerem
1. What was the most memorable or exciting part of your holiday?

It was a great holiday, and it is very hard to single out one thing. Our trip to the northeast was one of the best bits (I was honoured to be invited to join the other giggling grannies on the floor of the Tay house - if only I was as limber as they are!). The water puppets in a village setting were wonderful. Hanoi is fascinating.


2. What tips would you give other travellers booking this holiday?

Allow plenty of time in Hanoi - we had 2 days, including a half day tour with our guide, and it was not enough. By the time we'd been to the museums, sat by the lake and people watched, mastered the traffic in the old city, ate countless ice creams, shopped, become expert chopstick users and become hooked on noodles, and just soaked up the atmosphere - we'd run out of time! Another day would have been good. And - expect to spend more then you expect on shopping. We never buy things for ourselves when on holiday, but this was very much an exception. The quality of the crafts is so high, we found it impossible to resist.


3. Did you feel that your holiday benefited local people, and minimized impacts on the environment?

Yes.


4. Finally, how would you rate your holiday overall?

Brilliant! Vietnam hadn't been on my internal list of places to go, but my husband wanted to. And it was great - now I want to go to Laos. I won't give it 5 stars, but only because we've had so many wonderful holidays I can't honestly say which was the best. If the star system didn't come with those descriptors, this would be a 5 star one.

---
Popular similar holidays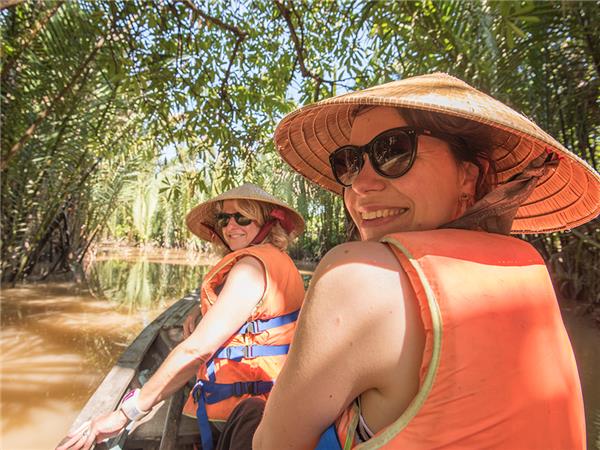 Capture the spirit of Vietnam on this compact adventure
From £724 - £910 10 days excluding flights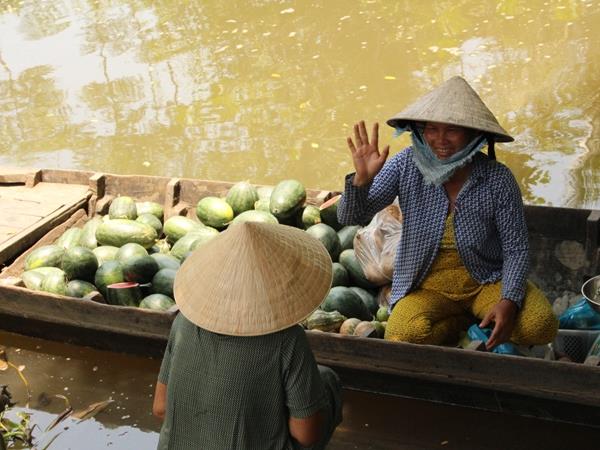 From bright lights, to beaches and junk boats
From £1448 13 days excluding flights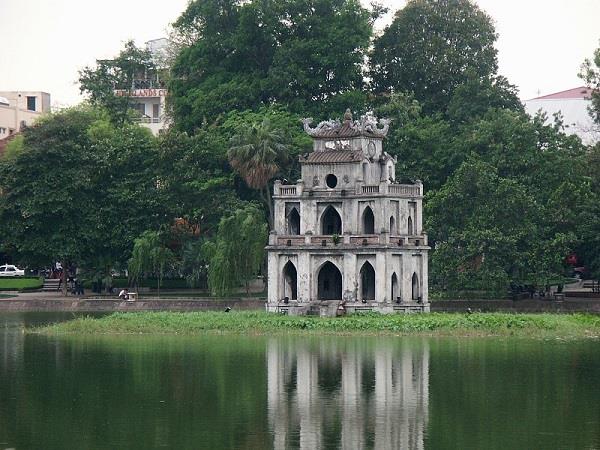 Tailor made Vietnam holidays
From US $2183 14 days excluding flights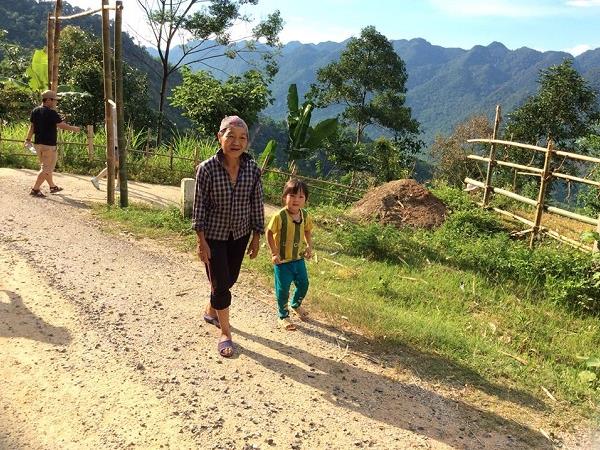 Tailor made hiking holiday in Vietnam
From US $2148 14 days excluding flights