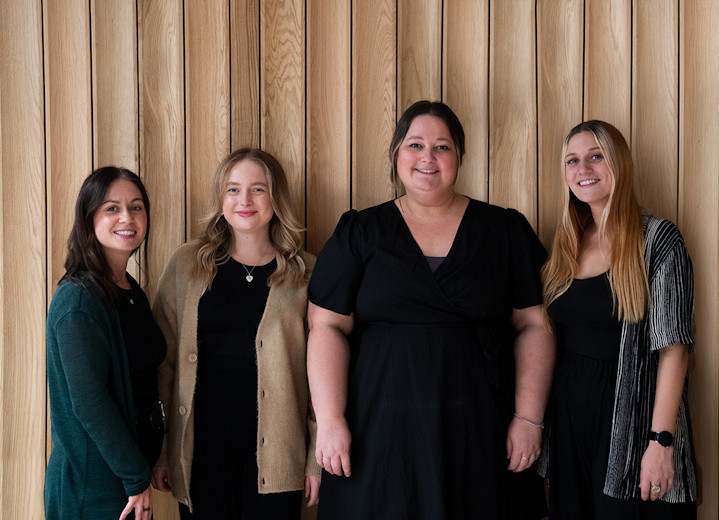 Departure information
Available all year round. Our placements are very flexible, you can choose your own start and finish dates.
Holiday type
Volunteer travel - what's it all about
Are you looking for an adventurous trip with a purpose, or on a gap year or career break? If you want to make a difference in some of the world's most important conservation areas - and in community projects - then volunteer trips are for you! Volunteers tend to have a sense of adventure, and come from a range of different backgrounds and from all over the world.
Edward Abbey said 'sentiment without action is the ruin of the soul'.
Responsible tourism
Teach children in Cambodia
Carbon reduction
Your holiday will help support local people and conservation. We must also reduce CO2. Learn about the CO2 emissions of this holiday and how to reduce them.
Environment
The children in this rural area often grow up in great poverty and so it is incredibly important for volunteers to share their time and energy. Here the children are in a safe environment where they can learn, play, and grow with positive role models and encouragement provided by you, the volunteer.

Information on how to leave minimal negative impact on the environment is given to each volunteer prior to their departure as part of their documentation. This is also highlighted in the volunteer's induction on arrival.

Group travel is promoted wherever possible and carbon neutralising of flights is suggested and encouraged when volunteers are booking flights.

Regarding transportation between home and your project, we encourage you to use the local buses in order to keep pollution and energy use to a minimum. Regarding recreational transport, if taxis are required, you will be encouraged to share with other volunteers in order to lessen the impact of pollution wherever possible. We also always recommend the use of public transport, where possible. To this end, all nearby public transport routes are shown to all new arrivals.

Having regard for the local community by being consciously aware of your impact is encouraged in all our documentation for all our projects in all our destination countries. This is because we feel very strongly that many countries are subject to, for example, water shortages, high cost of energy and high impact of energy usage. We also stress the negative impact of litter, particularly on the beaches where it can be swept out to sea and harm the marine life, and general pollution. Thus we encourage our volunteers to be aware of these possible impacts so that they contribute positively and not negatively to the community in this respect.

You'll be encouraged to include references to environmental conservation into your school lessons, where possible, as we believe that learning the necessity of environmental care is most effective when demonstrated to children, who can then grow up to be environmentally responsible adults.

SOME OF THE POSITIVE EFFECTS TRAVELLERS HAS ON THE LOCAL ENVIRONMENT:

We provide our volunteers with many tips on how to be a responsible traveller regarding the environmental impact they have.

We want you to be immersed in the culture, by living and working with local people. We work with local communities, local charities, local government bodies and local schools. We also often partner with local organisations whom we have vetted to ensure that they are committed to the projects they run, that they have the same responsible attitude to the local community that we do, that they are eco-friendly and have ethical policies.

In our projects and in our headquarters offices, we take an environmentally responsible attitude towards recycling and reusing of waste products. Our volunteers are given pre-departure Information that encourages them to minimise waste and reduce their use of water and electricity, in other words, to live sensitively in the environment that they're working in.

Travellers also give donations as and when required by projects. This is often done through our charitable arm, The Bridge The Gap Foundation.

Our projects enable vital conservation, research, care and education work to take place directly where it is most needed. For example, we kept a Species Survival Conservation project in South Africa afloat until completion after it was threatened by lack of funds. Our volunteers contribute, all over the world, to projects that would not exist without them.
Community
We are passionate about mutually beneficial interaction with the local community. We've been working in Cambodia, and in this local community, for a few years so our interaction with all local institutions and businesses is pretty extensive and continually expanding. They embrace the idea that volunteers can be a direct, positive role-model in the children's everyday lives while they are there.

The children themselves remember the impression you have on them and as they grow, this impression can make all the difference.

You'll stay in a locally owned a basic yet comfortable volunteer house with a maximum of 4 volunteers per room. You'll be encouraged to the everything local - local transport, locally sourced food, locally produced souvenirs ... thus supporting the local community economically.

Your food is included druing your stay and meals are typical Cambodian fare, including plenty of rice dishes, meat and some western-style food, all locally sourced! You'll be encouraged to use local eateries and locally sourced food.

Your help here is of enormous benefit to the local community. This is a sustainable, on-going project and your work here contributes to, and helps to continue, the long chain of worthwhile achievements in this community.

Social Responsibility:
The information we provide prepares our volunteers for their placement and how to deal with the local people. It also briefs our volunteers on the Do's and Don'ts and ensures that they are aware of the possible impact of their behaviour.

Cultural sensitivity:
Volunteers receive an induction and orientation on arrival which covers things like being sensitive to the culture you're in, everyday processes which will be different to what you're accustomed to, how to have the maximum beneficial imprint and the minimum negative impact.

We stress the importance of responsible tourism, cultural differences and acceptable/unacceptable conduct. Where appropriate, volunteers are briefed on local customs, particularly those that are different to the volunteer's accepted norm.

Economic Responsibility
For 25 years our volunteers have lived in local communities, spent their money with local traders and brought funding to the projects they work with. Travellers employs local staff and works with local support staff. This helps to fund the project directly and through bringing money into the local community.

The organisations we work with are often struggle to financially support and maintain the work they do, so every penny raised makes a real difference.
Our aim is to create always a Win-Win-Win situation in terms of the benefits for, (a) the local communities and institutions you work in, (b) our Volunteers, i.e. you, and (c) for Travellers. We do not embark on any project that is not beneficial to all three of these stakeholders.

Before our Volunteers depart on their projects, we provide them with comprehensive information about their project and country:
(1) A detailed Programme Guide to Volunteering which we've produced in-house.
(2) A detailed Country Factfile,
(3) A detailed Project Description Booklet specific to their Project.
(4) Safety Book: This book is produced by Travellers and has common-sense but necessary general safety tips while travelling, as well as safety advice relevant to your specific destination country.
Popular similar holidays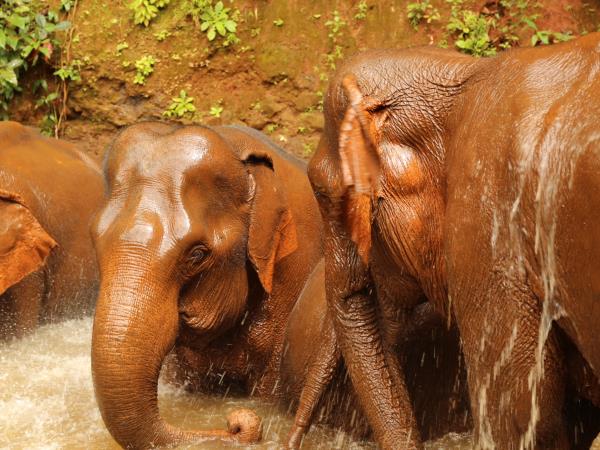 Volunteer with rescued Asian elephants
From £795 7 days excluding flights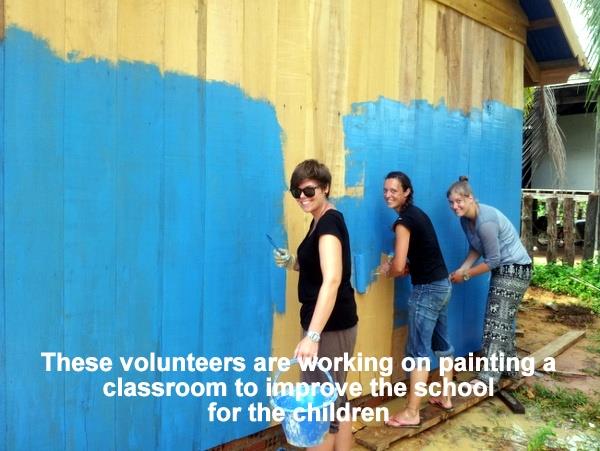 Help renovate and improve community schools, and more
From £645 7 days excluding flights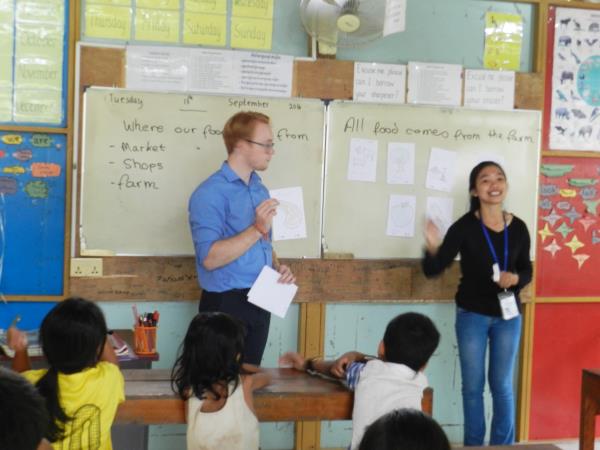 work with a local NGO to support communities near Angkor Wat
From £1218 4 weeks excluding flights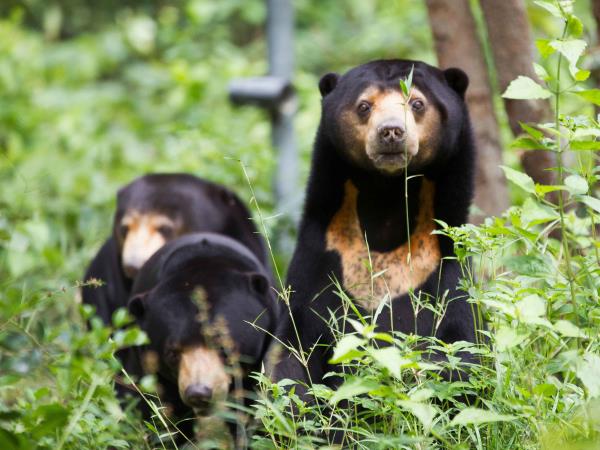 Care for rescued bears in tropical Cambodia
From £695 7 days excluding flights