"Seven day yoga retreat in Central Portugal, practising the Dynamic Yoga method, in the foothills of the Serra de Estrela Mountains."
Highlights
Serra de Estrela mountains | Dynamic yoga method | River swimming | Mud baths in River Zêzere | River swimming | Glamping option | Ayurvedic meals | Holistic treatments
Description of Yoga holiday in Portugal
There's a characterful restored farmhouse just underneath the wonderfully rustic village of Amieira within the remote mountainous region of central Portugal. This idyllic setting provides the backdrop to this yoga holiday in Portugal where you'll be invited to stay in one of the farm's lovingly restored stone cottages or in one of the bedrooms within the farmhouse or, perhaps, a super Soulpad belle tent within the surrounding forest. The choice, is yours.

As you'd expect of a yoga holiday in Portugal - that featured in the Guardian's top 25 retreats - the surrounding natural world works in harmony with the restored accommodation with woodlands, gardens, fruit orchards and natural pools and rivers all to be found within close proximity of the property.

Everyone is welcome on our yoga holiday in Portugal with retreat itineraries for beginners through to yogis featuring daily classes, afternoon workshops, health consultations, massages, therapies and guided forest walks and mud baths within the nearby River Zezere.

Prices for accommodation start from 800€ if sharing the stone cottage to 890€ for a private room or personal space in a Soulpad belle tent or, alternatively, you can share a tent as a couple for 800€.

Retreats take place nearly every weekend during March through to October with a great team of yoga instructors and trained therapists on hand to aid your comfort and well-being. During March and April you can expect to find Tashi Dawa, followed by Katherine Smith who'll be teaching us about nutrition and yoga as part of her Wild 'n' Whole sessions during May, August and October. Vinyasa flows throughout the summer months with Fleur van Hille and in May Pete Packard returns for another wonderful Yoga and Thai massage retreat.

An integral part of this yoga holiday in Portugal is nutrition and you'll find hearty Ayurvedic veggie dishes served daily using as many ingredients as possible from the retreat's very own kitchen gardens and the surrounding local farmers and vegetable sellers. Pulses, grain, rice and low quantities of sugar and salt are integral to each and every meal, as well as honey, but please let us know about any personal food requirements that you have so we can tend to your needs in the best way possible.

What's included on our 7 day yoga holidays in Portugal:

Transportation back and forth from Oleiros
Three Ayurvedic meals per day
Five morning and four afternoon yoga sessions
A 30 minute health consultation
60 minute massage and/or acupuncture session
All extra 90min treatments are 80€
Rio Zezere mud bath and a visit to the village café to say ciao to our local friends
Daily swims within the nearby natural pools and rivers
We also have a well-equipped library, Wi-Fi access and a piano and other musical instruments
Complementary fresh water, herbal tea, coffee, fruit and nuts are also replenished daily.

Finally, in previous years, some of our guests have really benefitted further by taking a few days either side of the week's retreat to discover more of the mountains, central Portugal and further south along the coast. Please let us know if this is something that you too maybe thinking of and we'll be happy to make some suggestions. Also, you can talk to Rosy on the Responsible Travel helpdesk as she has previously been on a yoga holiday in Portugal with us, and had a great time!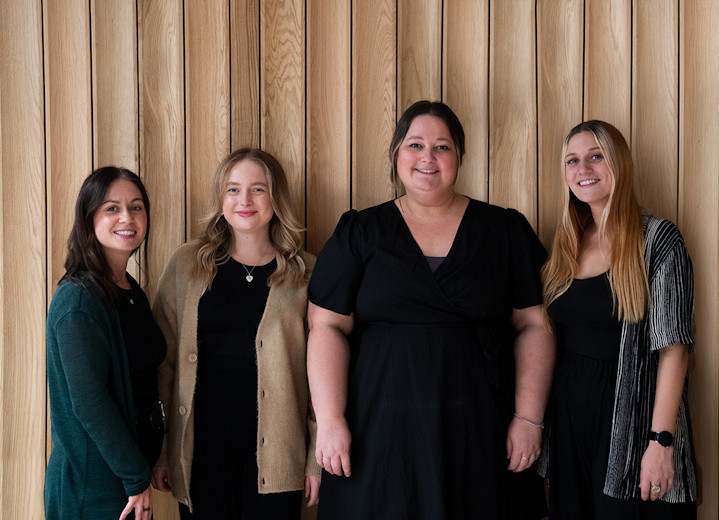 Check dates
2018: 19 Aug, 26 Aug, 2 Sep, 16 Sep, 23 Sep, 30 Sep, 7 Oct, 14 Oct, 21 Oct
Our top tip:
If you play piano, bring your sheet music. You don't get many yoga retreats with a grand piano.
Trip type:
Small group holiday.
Solos:
Solo travellers welcome. (Small) surcharge for single room.
Accomm:
Choice of cottages or glamping style tipi or bell tent.
Included:
Accommodation, all meals (Ayurvedic), 6 morning and 3 afternoon yoga classes, health consultation and/or acupuncture treatment, transfers from Oleiros
Responsible tourism
Responsible tourism: Yoga holiday in Portugal
Environment
We came from London with a mindset of "light footsteps" to produce the minimum environmental impact possible. However quite quickly we grew to realise that what we actually wanted to do was have the maximum possible impact on the environment through our life here. By managing the forest responsibly, clearing the bush vegetation on the forest floor to enable the larger trees to thrive and at the same time protect the forest and village from the ravages of fire. By producing tractor loads of our own compost to enrich the soil. By nurturing and encouraging a much larger array of biodiversity in the plants and wildlife. We have planted thousands of trees, shrubs and plants with the sole purpose of encouraging more bees, insects and birds to be able to make their homes in this part of the forest. Along with hundreds of deciduous woodland trees that will alter the micro climate of the valley as they grow tall, wide canopied and strong over the next few decades.
Gardening and Farming: We are learning, through experience and through the wisdom of our elderly neighbours, most of whom have lived off the produce of these valleys all their lives, how to live more in balance with the resources of the forest. To this end for the last 10 years we have managed to grow a substantial quantity of organic produce to feed ourselves, family and guests. We will be planting many thousands more forest trees with species that we hope overtime will increase the biodiversity of this largely mono-cultural forest and encourage the development of a deciduous woodland floor and to stimulate a growth in woodland bird populations.
We live on the edge of wilderness and are privileged to share this forest home with a number of other wilder inhabitants whose families have lived here for generations: wild boar, stoats, foxes, badgers, rabbits and partridges all make regular appearances. The lberian lynx and a mature stag spotted rarely.
The four original stone cottages were all renovated according to the traditional Portuguese methods of building with clay, stone, wood and lime and are excellent examples of this environmentally appropriate approach to the hand built shelter. We have added a few creature comforts of modern living too.
Water and Energy: The water to all the houses comes from our bore hole and is pure rock filtered spring water straight from the mountain. It's fresh and full of vitality. We are increasingly using the traditional water sources gravity fed from the river and the Moorish water mines to irrigate orchards and crops. All grey water from the houses is also used to irrigate trees and ornamental plants, so we ask our guests to choose carefully the products they bring with them. Ironically, Environmentally friendly branded products are not always the best for irrigation as many have high salt content, good for the oceans but harmful for plants in the gardens.
Water is heated using Thermo Dynamic panels that work efficiently all year in rain, wind and sun. Central heating in the houses during winter is from a number of wood burning stoves using firewood from our own pine, eucalyptus, willow and olive trees: trees are the best solar energy converters around. Research has shown that forests thrive where they are managed sustainably like this.
Electricity is currently from the national grid, although Portugal is one of the pioneers of alternative energy in Europe – wind, wave and solar. We are surrounded by wind turbines on the ridges of all the foothills for miles. One day we hope to be completely off grid by harnessing solar and also water energy from the 2 rivers that run through this valley.
Waste: Our local council of Oleiros provides excellent recycling facilities in the village of Amieira, which makes it easy for us to recycle the plastic, glass and tin packaging we use. All degradable waste is composted on site. Cardboard and some of our kitchen waste feeds the worms in our worm café, who work hard eating all year to create the best liquid fertiliser for our kitchen garden crops and once a year provides a tray of perfect compost to start out the Spring seeding.
The rest of the kitchen waste is composted along with the contribution of our guests in the delightful dry toilets here. Our indoor dry toilets, made from the chestnut panels of old wine vats and marble, use sawdust and chippings cut from the heathers and shrubs in the forest. When added with all kitchen food and garden waste in our compost structures, stored for a year, it turns into tractor loads of nutrient rich compost for the orchards and newly planted woodland trees. It takes a little more human effort on our part, but we suspect our trees are much happier as a result. The land here is stony and much of its soil's nutrients are therefore washed away in the winter rains. For those trees and plants to thrive It is essential we regularly add back nutrients so along with our own compost we buy lorry loads of goat, chicken and rabbit manure from our neighbours each year.
Transport: It is not easy to arrive here using low carbon transport. We are a remote retreat space in the geographic centre of Portugal. Our local town is supported well by coaches from Lisbon and Porto, although the nearest train station is an hour's drive away in Castelo Branco with an infrequent and slow local bus service to Oleiros.
Community
The best people to ask about our community involvement would be our lovely Portuguese neighbours and the 8 local people we employ full time on our teams. They'll tell you what they think about us when you arrive. We're proud to be considered their friends, but in reality it often feels like we're their students. They have been our best teachers since we arrived, always with open houses and gardens ready to show us how it's done, teach us their language and tell of their history. In return we help them with their olive, wine and crop harvests. It's a great honour to now be able to buy their produce too for our yoga retreat menus. Our own olive oil is delicious, but their's has a few more tasty decades worth of experience.
Eventhough it is possible for us to source cheaper building materials, plants and food from further away, we have always chosen to support our local town economy too wherever possible.
We buy local. It has always been important to us that our local economy benefits directly from our family life and retreat business in Portugal. All the building materials and manpower used in the 4 year restoration work on the 4 small stone houses were sourced locally. We employed, and still do, our neighbours to help us build in the old traditional Portuguese ways with natural materials of clay, stone, straw and wood, and to clear and manage the forest around us. We buy the majority of food for our yoga retreats from the local shops in our nearest town of Oleiros and also as mentioned directly from our neighbour's own produce – their tasty olive oil, potatoes, onions, salads, beans and corn. We grow our own herbs, salads, fresh beans and tomatoes.
We seek to distribute the revenue made from our retreats directly to our community. We are partnering with Mossy Earth to be one of their reforestation and rewilding sites in their carbon offset service.
There isn't a day that goes by where we don't give thanks for what the Portuguese families built with their hands in this valley a hundred years ago. The stone work in the terraces and river walls run for miles and miles in every direction. The daughters of the men who built the original farmhouses that we renovated are still alive and living in our village up the hill. A documentary will shortly be coming out that capture some of the stories of our neighbours born in the houses we now live in. We feel very connected here.
Wider afield, the kids have helped us all integrate quickly at the beginning by being such fantastic contributors to their local school in Oleiros. It's a small town of less than 5000 people spread over 465 sq km (population density 1 person per 4 square kms), and it hasn't taken us long to feel really part of it.
You will be warmly welcomed in any café or restaurant in our town. It's a region of Portugal famous for its hospitality.
35 Reviews of Yoga holiday in Portugal
---
Popular similar holidays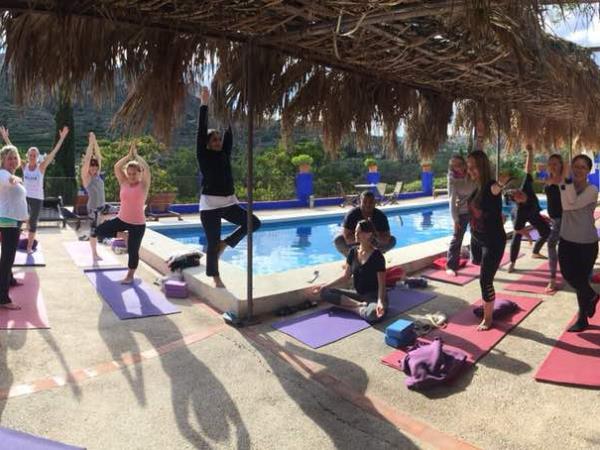 Yoga and meditation in the magical countryside of Valencia
From €516 6 days excluding flights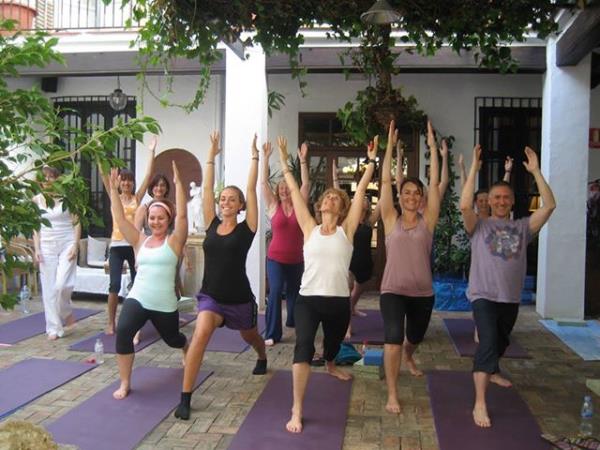 Retreats by the sea offering more than just fabulous Yoga
From £575 - £795 6 days excluding flights
Yoga, massage and mud baths in the Portuguese mountains
From €800 - €900 7 days excluding flights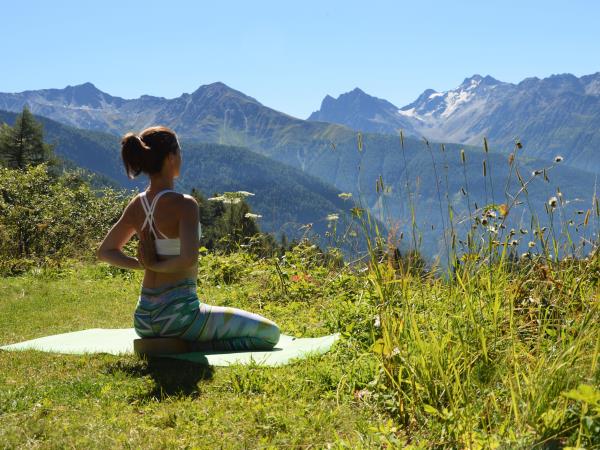 Experience morning yoga combined with stunning alpine hikes
From €850 - €940 7 days excluding flights