Antarctic wildlife photography expeditions
---
ANTARCTICA TRIPS WITH PACKHAM & CARWARDINE
A one off place such as the Antarctic merits a one off team to take you there, and once in a while we are proud to offer just that. If driving around Brands Hatch with Hamilton, Rosberg or Prost on hand to guide you around every chicane and straight is the way you would like to do it, then
travelling to Antarctica with Chris Packham, Mark Carwardine and Paul Goldstein
is like getting the grandstand ticket. Especially if wildlife and photography are what get your heart racing. This creative and scientific collective have enough qualifications and experience in zoology, conservation, wildlife photography, the polar regions and international broadcasting between them to give them incontestable pole position. And once in a while, the three of them co-lead their own wildlife photography trip to Antarctica with 100 places for anyone who wants to go on the ride of a lifetime.
The expedition officials
---
There are key officials on an Antarctic wildlife expedition who monitor and control the activities throughout, to ensure the smooth and safe running of the event. As these are special chartered expeditions, and not regular departures, these roles are shared very much by Chris, Mark and Paul, who are a bit like the race television crew who help to make it look so spectacular. They do this by keeping a watchful eye night and day just so that you can get the right shot. They give informative and informal chats, humorous anecdotes and then shout 'action' when the right moment comes along. They are on board, literally and metaphorically, around the clock. Behind the scenes, however, there is also the all important expedition leader. He or she has the technical responsibility, as well as being in charge of the 60-strong crew, taking decisions about where the vessel can go and when, depending on ice conditions, access, tide and weather.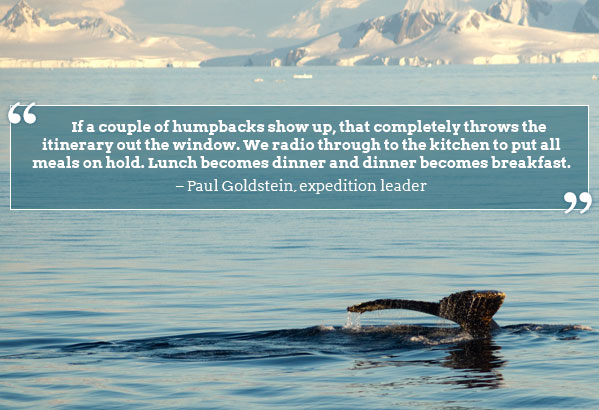 Making every moment mean something
---
There is one big difference between Formula One and this top trio. For Chris, Mark and Paul, the way to get results in the Antarctic is to go slowly. Make every moment mean something. Stop and breathe it all in. The Antarctic is, for this team, almost a spiritual experience, not one that is about speed at all. The way in which they can do that is to throw all ideas of an itinerary out the window and go with the flow. Or floe, as the case might be. If they see signs of a blue whale or a colony of penguins, they will put the brakes on. If conditions are right and they are able to gain on land access to beauty spots such as Paulet Island, with some of the most spectacular tabular icebergs in the world, not to mention its stunning Adelie penguins, they certainly won't be rushing you back on board. Dinner can wait. Read more about
wildlife that you may see on this Antarctica expedition
.
In case you need credentials
---
Chris Packham is an award winning BBC wildlife presenter, leading conservationist, Vice President of the RSPB and also great adventurer. Indeed, The Times summed him up perfectly as 'the heir to David Attenborough'. Mark Carwardine is an award winning zoologist, leading journalist, broadcaster and wildlife photographer and Paul Goldstein, is a highly experienced wildlife guide, committed conservationist and also award winning photographer. Paul has over 30 years of experience working in the travel industry, too. He is the one who creates the sail plan for the charter, and coordinates everything to ensure that Chris and Mark are both available to complete the team. They have done these charters together, and separately, on many occasions. Read more about their impressive team dynamic in our
interview with Paul Goldstein
.
All hands on deck
---
One of the reasons why this specialised Antarctic expedition is so unique is that these leading wildlife experts are on hand to help, teach, inspire and be inspired alongside you throughout the trip. There is nothing 'celebrity like' about it. They are unquestionably eminent leaders in their fields, and in our view they certainly deserve a gong before dinner. But they will have nothing of the sort. Despite their impressive biographies they muck in at mealtimes with everyone else, do off the cuff talks which are far from scripted, chat with you about specific photographic software and give talks about technique. They are also an amusing team, who are quick to find fun in every situation. It's not all reverential, silence on deck stuff here with these guys. Although many people are new to photography on this trip, it is worth getting to know your camera before you come, so that you can maximise any time spent with the professionals. Also, you don't have to be a photographer to come along. If wildlife is all you want to see, then this is still Formula One for all things fauna.
Read more in our
Photography tips for Antarctica guide
.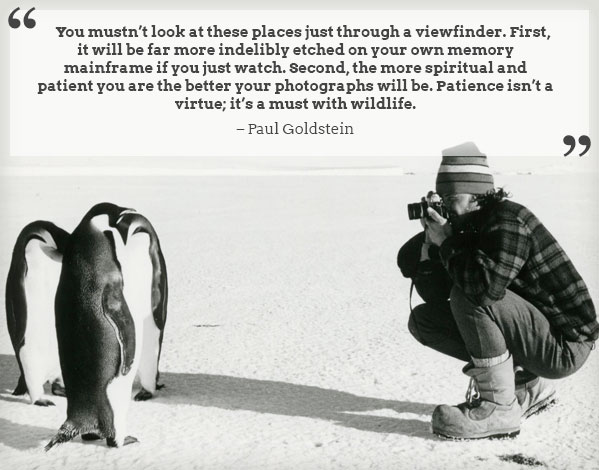 The vessel
---
When travelling to the Antarctic, the ability of the vessel to cope with the extreme conditions is key. The ship on this special wildlife photography charter is the RCGS Resolute, a state of the art expedition ship with an excellent ice rating. Very new to the Antarctic expedition fleet, it is considered one of the most exclusive and capable to be hitting the Antarctic waters. Unique to this trip, they are limiting the number of passengers on board to 110, even though the maximum capacity is 146.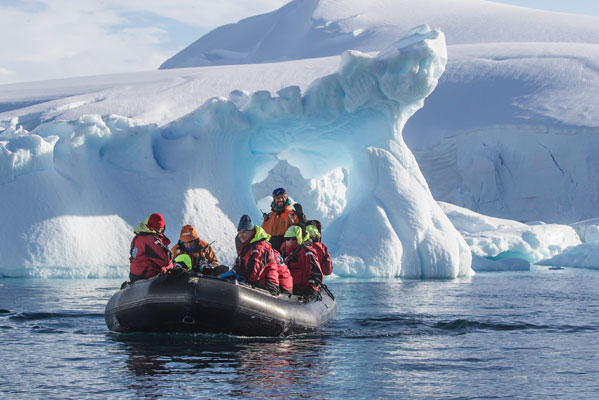 There are 14 Zodiacs on board for excursions, of which there will be plenty, as well as two bars and lounge areas, each with fantastic viewing windows. The spacious outer decks have 360 degree viewing platforms, which is what a dream come true for wildlife fans. After all those hours wildlife watching you will also appreciate the spa, sauna, steam room and (hot) salt water pool.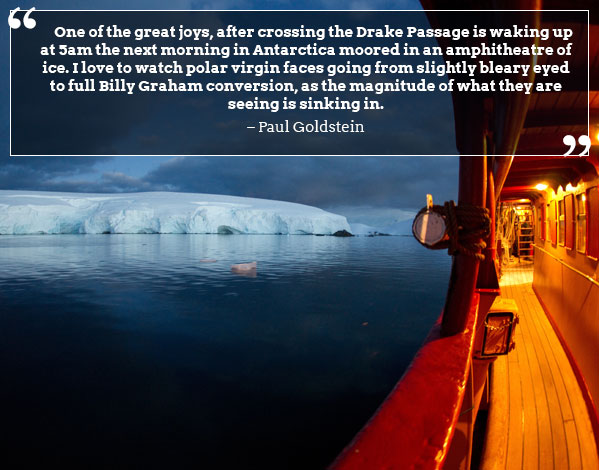 When you have time to sleep
---
Your nights may well be disturbed by great wildlife sightings, and let's face it there is nothing a photographer likes better than throwing on boots and a coat to get the shot of a lifetime, even if it is the middle of the night. However, when you are sleeping, you will do so in style on this expedition ship. There is a choice of cabin styles, some with port holes and others with full on panoramic views. You can have twin or double beds and the cabins are roomy with a lounge area to while the hours away during the crossing of the notorious Drake Passage. They are also all en suite.

Hello.
If you'd like to chat about Antarctica or need help finding a holiday to suit you we're very happy to help.
Rosy & team.
01273 823 700