Hike, bike & canoe holidays in the Balkans
An old narrow-gauge railroad once ran between Dubrovnik in Croatia and Mostar in Bosnia-Herzegovina. During the Balkans war of the 1990s, the surrounding communities were torn apart by the hostilities, and the historic station houses along its route were left scarred by fierce conflict. In late 2016, in an attempt to bring tourists back to this now-peaceful region, an EU-funded, cross-border project saw the line converted into a 160km cycling route.
The
Ciro trail
is an enthralling journey that takes you through the Balkan countryside, with the opportunity to stay in boutique hotels en route that have been converted from bullet-pocked but still handsome station houses.
Not only is riding through this picturesque region the backbone to a thrilling hike, bike and canoe holiday in the Balkans, it also means that you'll be directly putting money into parts of the Balkans that have seen little in the way of tourism in recent years, and helping with regeneration efforts after one of the most traumatic periods in recent European history. The end of hostilities, and the fall of communism, has had far reaching consequences in the region. Bosnia-Herzegovina, Europe's youngest democracy, had the world's
highest rate of youth unemployment
in 2016 and the country is experiencing a 'brain drain' as jobseekers look abroad for work instead. A recent study found around half of young Montenegrins was considering leaving the country. Tourism creates jobs that prevent communities in the region from being hollowed out.
"I think the highlight of this tour is really in the diversity," says Tomi Coric from our specialist Balkans activity holiday provider, Epic Croatia. "In this small triangular area you have such great diversity in landscapes and culture. One day you're in a medieval coastal village in Croatia, the next a remote area of Bosnia with just a handful of inhabitants. People can see, feel and taste the differences every day." Exploring on foot, on two wheels, and on water, you'll be able to pick out details of three neighbouring countries along a broadly triangular journey that takes you into parts few other tourists reach. You can do a hike, bike and raft tour in Croatia alone, but it makes a lot of sense to cover
three countries
on the same trip, given you then only need one flight.
A typical trip will get underway in Dubrovnik, continue through the Konavle Valley and Montenegro's beautiful Bay of Kotor, then connect with the Ciro trail before a day in Mostar and finally end in Dubrovnik again, a three-hour transfer away. "If I had to describe this trip in just three words," continues Tomi, "it would be Diversity of course, Details because you're visiting places and people that most tourists get nowhere near, and History. Specifically the 1990s war, these ruined villages, and learning about how communities are managing to rebuild themselves, especially through tourism such as this."
Hike
Leaving Dubrovnik behind you'll spend a day walking through the Konavle Valley, following an old Austro-Hungarian military trail up into the peaks to around 1,200m above sea level for stunning panoramas over Croatia's Adriatic coast. Dubrovnik is a popular cruise port, which has made it a victim of overtourism, but is nevertheless one of Europe's most attractive cities. If you have the time, adding a day or so either side of your trip to wander its 16th-century walls and limestone streets is recommended, especially as trips run off season.
The ambience in the Konavle Valley, however, could hardly be any more different. Forested with pine and cypress, and dotted with small villages where you can see well-preserved old water mills, the valley is home to many old ways of life – you can sometimes see people gather in village squares for folk dancing, wearing traditional dress made of silk. There's not a nightclub or a Game of Thrones t-shirt in sight.
Bike
Taking to the saddle, you'll then spend three days or so cycling along the region's idyllic coast, first through the Konavle Valley, then into Montenegro and its Bay of Kotor, dotted with islands and a UNESCO World Heritage Site for its medieval architecture, and finally into Bosnia and Herzegovina, through the Popovo polje, a karstic plain, and along the Ciro Trail.

You'll have a professional local guide with you, able to explain the history of the region as you go. The Ciro trail terrain is a mix of tarmac and gravel, but there is a 20km stretch that still contains some unexploded landmines. It's well-marked though, and your guide will ensure you stick to the path.
Canoe
Giving your lower body a rest, an easy-going canoe trip on the Trebizat River is a pleasant way to bring the tour to an end. You'll take a relaxed paddling pace, pausing regularly to swim or take photos, as you meander downriver for around 8km. This is probably the least strenuous part of the journey and of course, if it's your first time in a canoe, your instructor-guide will ensure you know the ropes before setting off.
Leaving the river behind you should have time for a few hours of sightseeing around the historic city of Mostar, which is most famous for the Ottoman-era Stari Most bridge, but the views across the rooftops from the minaret of the Koski Mehmed-Pasha mosque are also worth seeking out.
Our top Balkans Holiday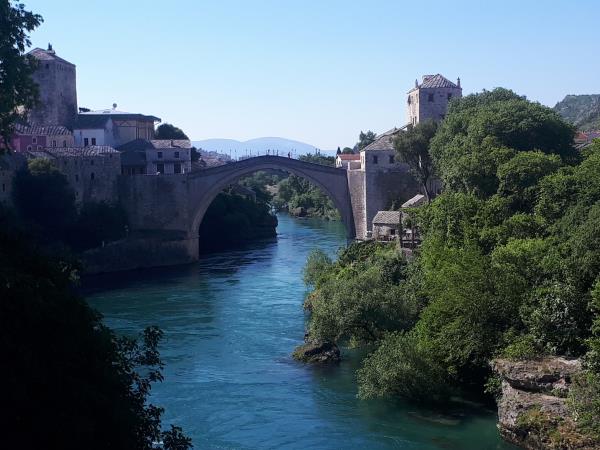 Bike, hike and paddle in Croatia, Bosnia-Herzegovina, Montenegro
From
€1300
7 days
ex flights
Small group travel:
2023: 24 Jun, 30 Sep
If you'd like to chat about Balkans or need help finding a holiday to suit you we're very happy to help.

A typical hike, bike and canoe tour in the Balkans is a week-long affair, involving three days of cycling bookended by a day of hiking, and a short river-canoeing session. For the cycling, hybrid bikes are laid on, and helmets can also be provided unless you prefer to bring your own. These trips are pretty much all-inclusive, with all meals and transfers part of the package. Lunches are often picnics, because in this region there are practically endless spots to pause beneath a tree, by a lake or on a hilltop overlooking the coast.

This type of holiday is suited to the active traveller naturally, those that prefer to divert from the regular tourist hotspots. But it's also not especially strenuous – if you're in reasonable fitness, walking regularly, you will have no difficulties. On the bike you'll be riding for 60-65km each day, but over generally flat terrain. A support car also accompanies you throughout, so if you do want a little rest one day, just ask.

These are small group tours, making for a sociable, supportive atmosphere. They provide valuable income to out-of-the-way hotels, restaurants, taxi drivers and guides – an expert local guide will be with you the whole time, ensuring that you don't get lost and filling you in on the history and culture of the region.

You'll usually start and finish in Dubrovnik – some trips will also include a guided tour of the city which is well worth taking up. And given how crowded Dubrovnik gets in the summer, it's great that these trips typically operate in April/May and October. The shoulder spring and autumn seasons promise fewer people on the coast, reliably pleasant weather and lush vegetation as you head into the Balkan countryside.