WHERE TO SEE BISON IN THE WILD
---
BISON WATCHING MAP & HIGHLIGHTS
Białowieża National Park in eastern Poland provides protection for an ancient old growth forest that once stretched across the whole of Europe. Wild bison were reintroduced to Białowieża in the 1950s and staying at a guesthouse in Białowieża village, around four hours' drive from Warsaw, is the best way to explore the area on a small group tour. Bison in Yellowstone National Park, on the other hand, have been around since prehistoric times with hotspots such as Lamar Valley and Mammoth Hot Springs providing a protected environment to support a bison population upwards of 5,500. Bozeman in Montana is the best base for a bison watching holiday here as it sits between the park's north and west entrances, and just a 2.5-hour drive from Old Faithful geyser.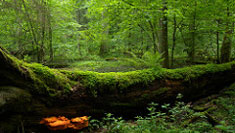 Białowieża National Park
There are about 800 wild bison living inside Białowieża National Park with local knowledge absolutely imperative for finding these surprisingly elusive beasts close to the marked paths leading through dense old growth forests. Alongside bison, Białowieża boasts boars, martens, wolves and lynx, as well as rare species of bird including pygmy owls and lesser-spotted eagles.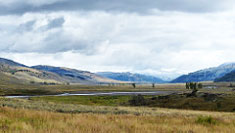 Yellowstone National Park
America's first national park still packs a punch when it comes to mountain scenes and geothermal features including Old Faithful and Mammoth Hot Springs. However, it's the animal encounters that are the most memorable. Lamar Valley is the place to head to for bison with regular 'bison jams' blocking the road. Keep an eye out too for elk, bighorn sheep, coyote and wolf tracks in the snow.



Hello.
If you'd like to chat about Bison watching holidays or need help finding a holiday to suit you we're very happy to help.
Rosy & team.
01273 823 700
BISON WATCHING HOLIDAYS ADVICE
---
TIPS FROM OUR BISON WATCHING FRIENDS
The incredible aspect about visiting Yellowstone in the winter is how quiet the park is. The lack of human traffic and noise disturbance also encourages wildlife to roam with a lot more freedom. Winter in Yellowstone reminded me of the rawness of nature and how we are only visitors in its domain.
Bison watching guides
---
"Our group was accompanied by a wolf and wildlife tracking guide (best job title ever!) and although the goal of the day was to observe wolves, it was the information on bison which I found to be the most interesting. Typically, guides are employed during the summer but these specialist guides work all year round. They build up a database of knowledge and become acquainted with the behaviour and mannerisms of bison in Yellowstone. Not only are they delivering information about the geology and geothermal aspects of the park but they're also explaining how animals interact with each other through firsthand recollections and fascinating details."
Bison in Yellowstone
---
"The sheer size of bison and the volume of herds in Yellowstone are both really unexpected. I think many people forget that Yellowstone is actually a wilderness area and wildlife, including bison, call this park home. It's their natural habitat as opposed to being a zoo simulation of what a wilderness wildlife park should be like. I feel Yellowstone does a great job informing people how to interact with wildlife and for this reason bison have learned to live simultaneously with humans in the park."
Getting up close
---
"Once we were snowshoeing through a forest, covered in heavy snow, when we came to an area divided by the Boiling River where a herd of bison were grazing. We were able to watch them from a close, yet safe, proximity on the other side of the bank without disturbing them. I watched their mannerisms and how they interacted with each other and how the young mimicked their parents. The young bison had their heads covered in snow after digging down for grass."
Safety first
---
"Lamar Valley is a popular place to watch bison and other animals throughout the year. Being the size they are, bison are incredibly easy to spot but can also be quite dangerous if calves are with the herd or if people get too close. Yellowstone authorities give visitors a map and booklet when they enter the park and this has important information on how to safely interact with wildlife, but having a tour leader and specialist guide is definitely the best way to see bison in the safest way possible."
Tip: Have a listen to
this TED podcast
which discusses how the reintroduction of wolves into Yellowstone has affected every aspect of the national park, from deer numbers to water courses.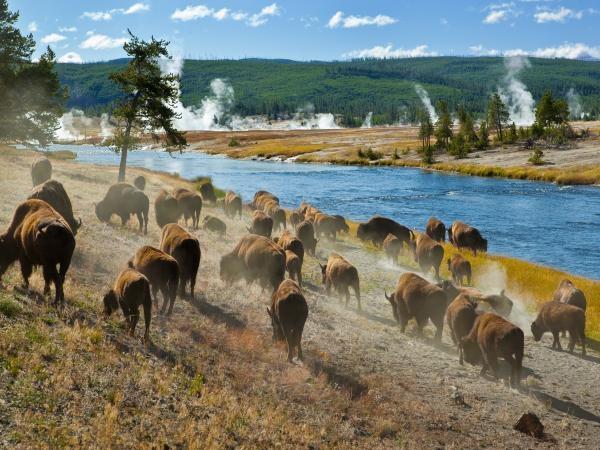 Wildlife trails in world famous national parks
From
£5449
12 Days
ex flights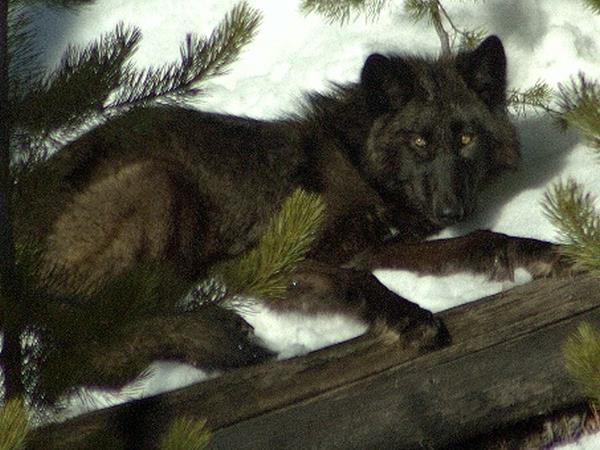 Expert guided trips to track & watch wolves in Yellowstone
From
£2615
7 Days
ex flights