Best time to go to Bolivia & Peru

May-Oct are the chilliest but driest months - bringing clear air and sapphire skies to the Andes, and more pleasant temperatures in the Amazon.

Nov-Mar are incredibly soggy, and the Inca Trail closes for renovation during the Feb downpours; however, Machu Picchu remains open for those arriving by train, so you'll find it wet but crowd-free. The dry season means a better chance of clear mountain views as well as better wildlife watching in the Amazon, as the wildlife clusters around shrinking rivers, and mosquitoes dissipate. Just be sure to pack for cold weather as nights dip to freezing at high altitude. Do book well in advance if travelling during peak season (Jul-Aug), Inca Trail permits are limited and can sell out months in advance.
Our Bolivia & Peru Holidays
Our top Bolivia & Peru Holiday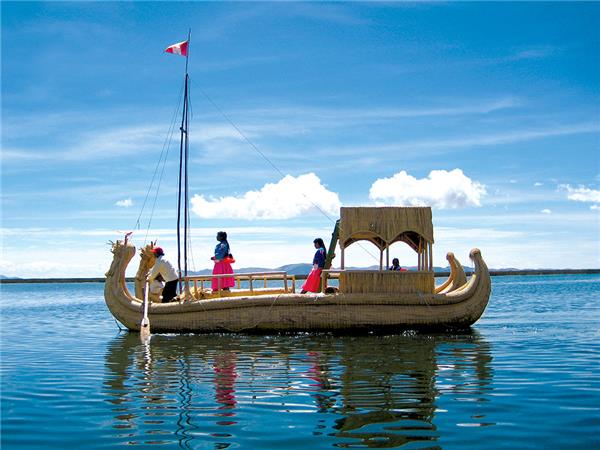 Explore the Amazon Andes and Inca trail
From £3753 to £4545 25 days ex flights
Small group travel:
2023: 13 Jul, 3 Aug, 17 Aug, 7 Sep, 14 Sep, 21 Sep, 2 Nov, 16 Nov, 27 Nov
2024: 14 Mar, 21 Mar, 11 Apr, 25 Apr, 9 May, 6 Jun, 27 Jun, 11 Jul, 1 Aug, 15 Aug, 29 Aug, 5 Sep, 12 Sep, 19 Sep, 3 Oct, 31 Oct, 14 Nov, 5 Dec
If you'd like to chat about Bolivia & Peru or need help finding a holiday to suit you we're very happy to help.

Things to do in Bolivia & Peru
Things to do in Bolivia & Peru...
There's something incredibly timeless about Andean culture. Perhaps it's the unchanging nature of the mighty mountain backdrop, the traditional clothing and long braids, or the haunting flutes, but you really do feel you've been transported back a couple of centuries. A holiday in Bolivia and Peru allows you to discover both Aymara and Quechua cultures throughout the villages, archaeological sites and markets. The beating indigenous heart is Lake Titicaca, a deep, vast inland sea that spans both nations and is the subject of many myths and legends.
You can't say you've explored Peru unless you've been to Machu Picchu. This mountaintop citadel displays extraordinary Inca stonework in one of the world's most dramatic settings, and every visitor who steps through the Sun Gate feels as if they are discovering it for the first time. Hike the classic, four-day Inca Trail, opt for a longer, less travelled route through the mountains, or arrive by train with panoramic viewing windows.
Few modern travel experiences make you feel as much of an explorer as a three-day jeep tour across the Uyuni salt flats and surreal desert of Bolivia's Altiplano. However luxurious your vehicle and accommodation, you can't escape the extreme altitude, dust, dryness, freezing nights and brilliant white days – this is Adventure with a capital A. See flamingo-filled lakes that change colour at dawn, mud and methane-spewing geysers, Dali-esque rock formations and the vast, blinding salt pan. Bring plenty of memory cards, and your sunglasses.
Things not to do in Bolivia & Peru…
Rush. Dwarfed by neighbouring Brazil, Bolivia and Peru may look small enough to whizz through – but they are deceptively massive, with dodgy roads, flooding and hairpin mountain bends all hindering long journeys. You'll need a couple of weeks just to see the highlights of both countries, with a few internal flights thrown in – but if you can stretch to three or even four weeks, there will be time to explore beyond the classic tourist haunts and get under the skin of what really makes these countries so special. You also need to slow down to ease the effects of altitude, so spend time acclimatising in Cuzco before heading onto the Inca Trail, and build up to the extreme heights of Lake Titicaca, La Paz and the Salar de Uyuni as you ascend ever higher through the Andes.
Stay high. There are enough Andean treasures to keep you busy for months, but it's well worth stepping away from these jewels and descending into the emerald kingdom of the Amazon for at least a couple of days. Easy flight connections take you to Puerto Maldonado, the gateway to the Peruvian Amazon, or Rurrenabaque in Bolivia, from where you can head off into the national parks and reserves. Stay in gorgeous jungle lodges, meet local communities, cruise along winding rivers, take thrilling night hikes and look out for everything from caimans and capuchin monkeys to capybaras and anacondas.
Bolivia & Peru travel advice
Why combine Bolivia and Peru?
Georgia Philactides, from our leading supplier Intrepid Travel, shares her top tips with us about travelling to both countries:
"The main reason many people do combine these two countries is due accessibility. Peru and Bolivia border each other and travelling overland from Peru to Bolivia or vice versa is pretty straightforward. As much as there's similarity between Peru and Bolivia there's diversity. Both countries offer an abundance of culture along with jungle and the Andes. Peru lies on the coast whereas Bolivia is a landlocked country."
Alternatives to the classic Inca trail
Alternatives to the classic Inca trail
"I've visited Peru multiple times (the first time in 2007) and my highlight was recently hiking the Inca Quarry trek, which is an alternative trek to Machu Picchu. It's a remote trek in the Sacred Valley area. For three days we didn't see any other tourists, we did however trek through some small communities and shared some very special moments with some of the local people. In Bolivia my highlight was heading out to the very remote Uyuni Salt flats, exploring the very dramatic landscapes and taking lots of 'perspective' photos due to the lack of visual reference points."
The best time to visit
"If you are planning on hiking in Peru then I would recommend travelling from May to October, as this is the dry season meaning the most pleasurable time to trek. It's also a great time to visit the salt Flats as they won't be flooded so you'll have full access to explore (From December to March the Salt Flats are likely to flood). Despite there being some benefits when the flooding happens, like the mirror effect the water creates, you will generally see more of the Salt Flats when it's dry. Make sure you research the time of year you are visiting and pack accordingly; the weather can vary dramatically even if you're just visiting one country."
More about Bolivia & Peru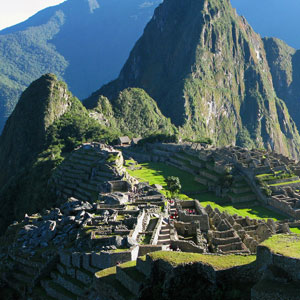 Delve into our Bolivia and Peru travel guide to see how combining these two countries couldn't be easier. You'll discover a variety of Andean cultures – with Inca and Aymara communities dotted along your route, and experience two of South America's greatest sights: Machu Picchu and the Salar de Uyuni.