Botswana luxury travel map & highlights
---
MAKE THE MOST OF YOUR TIME
Distances in Botswana are vast – it is double the size of the UK and Ireland combined – and roads are often poor, so flying is the most practical way to get around, and the go to transport for a luxury itinerary. It skips the bone juddering road journeys, allows more time for game watching and makes it possible to see a good amount of the country in a single week. Light aircraft flights from the gateway towns of Maun and Kasane give jaw dropping views of the Kalahari and the Okavango Delta and, for added convenience, some luxury lodges have their own airstrips. Read more in our
Safaris in Botswana travel guide
.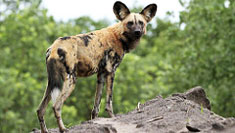 Chobe National Park
Nourished by the Chobe and Linyanti Rivers, Chobe is Botswana's oldest national park, and boasts one of the highest concentrations of wildlife in the whole of Africa. Elephants – numbering over 50,000 – congregate along the riverbank during the dry winter months alongside thousands of buffalo. Big predators are commonly sighted here, along with giraffe, hippo and over 450 species of birds.
Linyanti Reserve
This private Reserve is one of Botswana's most remote wildernesses, a 125,000 hectare concession bisected by the Savuti Channel, on which it depends.When it dries up, so does the surrounding flora. There is excellent game viewing by the water and, further afield, woodlands remain intact as few elephants stray this far from their migration route. Wildlife includes rare sitatunga antelope, lion, leopard and wild dog.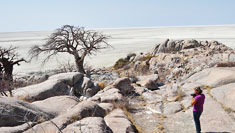 Makgadikgadi Pans Game Reserve
Once part of a huge, African super lake, Makgadikgadi now consists of many large salt pans which are seasonally covered in water and grass. Wildebeest, zebra and flamingos congregate here, and ancient baobab trees dot the surreal, salt desert. Kubu Island, in the middle of a blindingly white pan, is a sacred spot for local communities; concentric dry stone walls speak of its ancient inhabitants.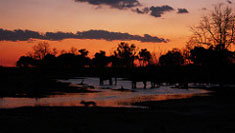 Moremi Game Reserve
The Okavango Delta's only national protected area, Moremi shelters a fantastic variety of wildlife in its islands, floodplains, grassland and forests – including the Big Five, thanks to the recent reintroduction of rhino. Moremi was originally established by local BaTawana to protect the land from hunters and farmers; their success is evident in the reserve's unspoiled ecosystems and well controlled tourism.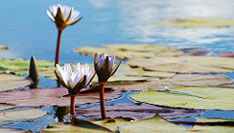 Okavango Delta
The immense oasis of the
Okavango Delta
literally pours life into the parched Kalahari Desert. It's Africa's largest inland delta, spreading over 15,000km
²
, where 122 species of mammals live– including the Big Five – along with over 400 species of birds. There are numerous reserves, lodges and camps; float past giraffes, elephants, warthogs and lions on a dugout canoe, or join a community guide for a bush walk.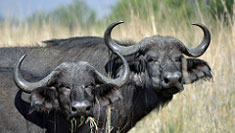 Savuti Marsh
The Savuti River channels water 100km across the Chobe National Park into the immense Savuti Marsh. Famed for its large predators, the rainy season floods also attract 450 species of birds, along with huge herds of zebra and wildebeest. The dead trees along the channel grew during dry periods - the channel can dry out for decades - and were drowned when the waters returned.


Botswana luxury travel advice
---
TIPS FROM OUR FRIENDS IN THE BOTSWANA

Simon Mills, from our supplier Native Escapes, is an expert in travel to Africa and has packing tips and advice on what to expect from a luxury holiday in Botswana:
What you can expect from a luxury holiday to Botswana
---
"Botswana's wilderness is second to none, in my opinion, and the wildlife viewing is exclusive by the very fact that the government there has restricted the number of bed spaces, which restricts the number of visitors, therefore creating a privileged safari experience. Compared to Tanzania or indeed South Africa you are unlikely to see another vehicle whilst out on a game drive (especially in the Delta, Linyanti, Savute and the Pans). Botswana is a fly in destination; the roads (and I use the term loosely) are virtually nonexistent sand tracks, with no rescue service, signs or comfort. A journey that might take 25 minutes by light aircraft will take six to eight hours on a bumpy sand track road. This, of course, all comes at a price; it is a high end safari destination, and the costs correspond."
Why choose Botswana?
---
"A luxury trip in Botswana will include all the usual safari activities, game drives, bush walks and in the Delta and Chobe safari activities on the water, too, either in a boat or a mokoro (dugout canoe). The difference in Botswana, compared to South Africa or Kenya, say, is the lack of other visitors and the sheer density of the wildlife. It is a very special experience."
Packing tips
---
"Aside from camera, binoculars etc, you won't need to pack too much and will be limited to a soft holdall, as that is all that will fit in the light aircraft. Laundry is included in the rate for most camps, so you can travel relatively light."
Simon Rowland from Wildfoot Travel is a big fan of Botswana and offers his insights for choosing a luxury holiday here:
What is luxury in Botswana?
---
"The term 'luxury' is subjective and could have various meanings and connotations depending on individual expectations and importantly the traveller's previous experiences. For me, a perfect luxury safari is one which allows me to experience wildlife, birds, culture and wilderness whilst being surrounded by quality, aesthetic, well designed and well thought about lodges. While being high quality and extremely comfortable, they should be designed to blend in with the local landscape and enhance my experience rather than get in the way of it."
What luxury lodges offer
---
"A high end, quality lodge must balance absolutely professional service from staff who are exceptionally well trained, with an almost laid back informality. They need to be friendly and courteous but totally genuine, allowing the warm personality of the local staff to show. For me, 'over pampering' gets in the way of the amazing wildlife experience we are there to immerse ourselves in. The thought that you are on an adventure must prevail.
Cuisine must be first class, but it should be understood that in the bush, choice will and should be limited. Dinning together is an absolute must for me, too, because socialising with different and interesting fellow guests is a great part of a safari for me, but understandably not for everyone. Some five star lodges in Botswana don't offer shared dining which I feel goes against the essence of a safari."
Responsible tourism tips
---
"Travel goes hand in hand with responsible travel in Botswana, regardless of the quality of the accommodation. The government have been very wise and sensitive when it comes to sustainable tourism in the bush. There are stringent rules and regulations and a huge encouragement to be eco friendly and sustainable with the use of solar and other natural energies. All of the safari lodges by law have to be small and low impact, only allowing in most cases between six and 10 rooms. Whether the lodges are located within national parks or private reserves, laws are keen surrounding sustainable tourism which should act as a guide and marker for other African countries, but alas in some cases it does not. All grades of lodges encourage the use of local community whether this be bushman guides or lodge staff. I'm a huge fan of Botswana and one of the main reasons is because they are ahead of the curve when it comes to animal protection. No hunting is allowed and the government banned elephant rides in 2016! Wonderful."
Tips from our travellers in Botswana
---
ADVICE FROM THOSE WHO HAVE BEEN THERE
At Responsible Travel, we think the best people to advise our travellers are often... other travellers. They always return from our tours with packing tips, weather reports, ideas about what to do – and opinions about what not to.

We have selected some of the most useful Botswana travel tips that our guests have provided over the years to help you make the very most of your holiday - and the space inside your suitcase.
"Relax and enjoy! Take insect repellent with DEET in it." – Lucy Maclellan

"Where wildlife is concerned – go with an open mind, no expectation, as the wildlife are free to roam, no boundaries, therefore you may not see your chosen game. We lost out on our Wild Dogs. They had moved into a private concession in the Linyanti Marshes, but there is always another time!!! Do your research very thoroughly before you book your trip. Speak with different wildlife companies, ask questions. They should have the experience to take you through everything before you book. Check out the website of the camps you intend to visit and gather as much information as you require before deciding. Botswana is not a cheap place to visit, but this enables the camps and staff to offer you the experience and comfort which you ask for. If you have a specific interest in Birds or animals etc, always confirm with the operator that there is a qualified Guide in camp to meet your requirements. DO YOUR RESEARCH FIRST!" – Michele Grainger

"Pack less. You don't need many clothes on safari... no dressing." – Jill Jesson

"Go to the bushcamps! Its fab. Environmentally, the solar-powered bushcamp was definitely the most ecological of the 3 camps we stayed at." – Judith Frehner

"Be sure you don't mind flying. Lots of flying, and some of it on some pretty old and/or small planes. If we had known, we would have maybe have chosen a different beach destination than Mozambique, as this added quite a bit of flying." – Dirk Bettels on a Southern Africa luxury wildlife & beach holiday

"Do it! Money well spent." – Katrin Nyman Metcalf