Burma cycling holiday routes
---
Map & Highlights
Burma is the largest country on the Southeast Asian mainland – but happily for cyclists, its main attractions are clustered in a neat little circuit to the north. You'll have to fly from Yangon to Hehoe (near Inle Lake) or Nyaung U (close to Bagan) – from there, your route unfolds overland. Most days there will be a relatively short bus transfer to drop you and your bike off – but you'll cover as much of the landscape as you can on two wheels. Typically, you'll cycle 30-70km in a day, with a couple of shorter stints thrown in to give your calves a break – it's particularly satisfying to travel between Burma's highlights under your own steam.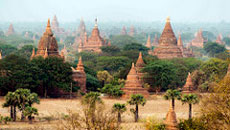 Bagan
A cultural cyclist's dream, Bagan's pagodas and stupas glint as far as the eye can see above the classic, heat-induced haze. You'll never cover it all on foot, and few tourists venture to the remoter spots– so cycling is a superb way to get around. Explore ancient temples, and caves concealing striking murals, or bike out to Ananda's Buddhas and brick monastery or the markets of Nyaung U on the banks of the Irrawaddy.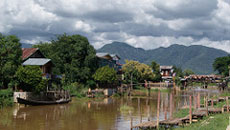 Inle Lake
Freewheel down from the Shan highlands and onto the bustling banks of Inle Lake, where you can explore the temples, floating markets and artisan workshops on two wheels, two feet and by boat. Cycling gives you the opportunity to see a great deal of the lakeshore, with minority villages, rice paddies and sugarcane plantations, stupas, sanctuaries and silk weavers – hop on and off to greet the locals as you please.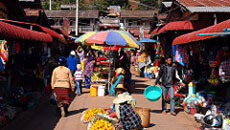 Kalaw
High on the Shan Plateau, Kalaw was once a British hill station where officers escaped the searing heat of the lowlands. Today, it affords the same relief to trekkers and cyclists. The tranquil town is set amid a lush landscape of pine trees at over 1,300m altitude, and you can pedal past wildflowers in the spring and summer, alongside tea plantations and through busy local markets which move each day.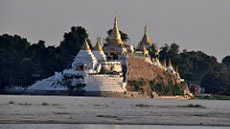 Mandalay
While you can cycle round Mandalay itself, the real joy of having a bicycle here is the many local attractions that are within easy pedalling distance. It's a short journey to the ancient, teak U Bein Bridge, and another pleasant ride along the Irrawaddy River to Mingun – famous for its 90 ton bell and its incomplete pagoda; the king who built it was tricked into believing that if it was ever finished, his Kingdom would end.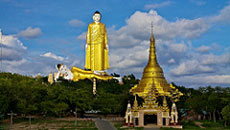 Monywa
Go bonkers over Buddhas en route to Monywa – hope off the saddle for a visit to the 700 year old stupas at Thanbodday, containing over half a million Buddha images. Boditahtaung's pagoda has Burma's largest reclining Buddha, and Monywa itself has the tallest standing Buddha in the world – you can climb up the steps inside this gleaming golden statue, rising 129 metres above the surrounding landscape.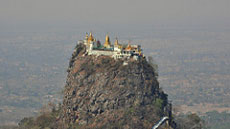 Mount Popa
This unusual volcanic plug is topped with a Buddhist temple commemorating the 37 Great Nats (spirits) – their statues denote their often unconventional pastimes, including whisky drinking and womanising! Some tours cycle the (mostly flat) 50km from Bagan, for those who would prefer cycling to stupas; others drive you there so you can pedal back. But remember, there are 777 steps to reach the temple!

Hello.
If you'd like to chat about cycling in Burma or need help finding a holiday to suit you we're very happy to help.
Rosy & team.
01273 823 700
Advice for cycling in Burma
---
TIPS FROM OUR FRIENDS IN BURMA
Megan Devenish, from our leading supplier of cycling holidays in Burma, shares her top travel tips:
Why cycle?
---
"The beauty of cycling in Burma is the pace. If you're on a trekking holiday, you can only see a certain amount and engage with a certain amount of people on the way. On a bus it's completely different. But on a bike ride – the highlight of this trip for me wasn't any of the tourist highlights, it was the smaller sections in between and all the smaller places we stopped off in. All the villagers come out to talk to you, all the kids come out of the schools and wave at you… on a bike you're going at just the right speed where you can interact with people but you're not obtrusive. You can just stop and say hi."
Local support
---
"You don't need to know a thing about your bike, the local team is on it. They use really good, brand new trek bikes and the local team are all really enthusiastic cyclists so they really look after them. You always have a front marker and a back marker so you're never going to get left behind. The local guides on all of our trips are always a real pull, they make or break a trip. As tourism hasn't been around for long in Burma these guys are fairly new to the job, but they're really, really keen to get as good as they possibly can – they're brilliant. They've both got a proper passion for cycling and belong to the Yangon cycling team, so they add a lot."
Photography tips
---
"Most people travel with a bum bag – you really don't need to travel with a lot of stuff as the support vehicle is with you all the time. Some people take backpacks because they want to take huge cameras, but it's all a bit cumbersome and hot. Most people just take a smaller camera which fits in a bum bag. That's the nice thing about cycling – if you pass something you can just jump off your bike and take a photo. The keen photographers really appreciate that as they are off their bikes more than they're on them! But on the bike you're not too obtrusive; as long as you engage with people before you take their photo, it's not the same as turfing out a busload of 20 people who all take photos then get back on again."