Outdoor recreation in California
California's climate is so kind, you'd be crazy not to make the most of the great outdoors while you're here.

The state has a long history of environmental awareness, conservation and a sporty, adventure-loving culture. Thanks to this, many of its most beautiful wilderness regions – national treasures like Yosemite and Death Valley – have enjoyed decades of protection as national parks. While the wildest terrain remains supremely remote, many wonderful areas are accessible, with well-maintained trails and campsites. Almost a third of California's gloriously scenic coastline is also protected.

For locals and visitors alike, this adds up to mile upon mile of beautiful, unspoilt landscapes, beckoning you to explore.
To help sustain these remarkable Parks and Outdoor Recreation areas visitors are encouraged to a) leave no trace environmentally and b) support local businesses by buying local food, produce, crafts and tourism services.
Hiking and climbing
California is a region of ancient, rugged contours, sculpted by glaciers, volcanoes, earthquakes, the ocean and the baking sun. How better to appreciate it than to lace up your boots or climbing shoes and set out on foot?
For epic scenery, you can't beat the magnificent parks of the Sierra Nevada – Yosemite, Sequoia, Kings Canyon and Mount Whitney – where you'll find thundering waterfalls, enormous redwoods and plenty of eminently baggable peaks. Come here in late spring and prepare to be dazzled by the wild redbuds, lilies and dogwood flowers. For those who don't have time to stray too far from San Francisco, there's Marin County. Dozens of enjoyable hiking routes cover the attractive bluffs, meadows and forests of the Marin Headlands, Muir Woods and Point Reyes National Seashore.
If you're feeling adventurous, you could try the North Coast, where you can trek through misty, fern-draped redwood forests, or Lassen Volcanic National Park, a primeval landscape of hot springs, mud pots and smouldering craters. In Southern California, Death Valley and Joshua Tree National Park offer dazzling desert trails across the mysterious, barren-looking landscape, dotted with sculptural trees and climbable rock formations.
While the top prize for climbers has to be Yosemite's El Capitan – a multi-day climb and the ultimate high – committed hikers will love the John Muir Trail. This truly challenging long-distance route, leading through Yosemite, Kings Canyon and Sequoia National Parks, takes the name of a naturalist who campaigned tirelessly for the preservation of the American wilderness in the late 19th century. It's thanks in no small part to his efforts that national treasures such as the Yosemite Valley and the Sequoia National Park remain gloriously unspoilt today.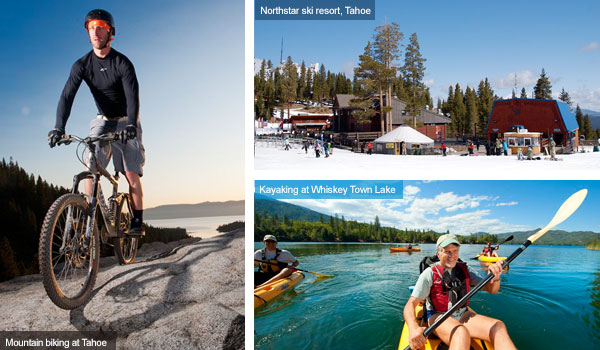 Cycling
Californians love cycling – in fact, they proudly claim to have invented mountain biking. The locals like to get around by car every bit as much as other Statesiders but when it comes to travelling just for fun, cycling is big news. The eight-day AMGEN Tour of California, the state's answer to the Tour de France, attracts crowds of spectators in May each year. But plenty of Californians like to do more than just watch professionals on the move. Whether you're a triathlete, a tourer, a mountain biker or an occasional cyclist who just fancies bowling along the beachfront, set off on two wheels and you'll find yourself among kindred spirits.
Watersports
The Beach Boys sang about it. Whales, dolphins and pelicans cavort in it. There's more than 800 miles of it. It is, of course, the wild, breezy stretch of Pacific Ocean which breaks magnificently onto the Californian shore. It attracts surfers, sea kayakers, snorkelers and scuba divers from all over the world. Kitesurfing and stand-up paddle boarding may still be novelties elsewhere, but here they're long-established. Who knows what the next big thing in watersports will be?
Inland, too, there are plenty of thrilling ways to get waterborne in California. The state's beautiful lakes and bays are lovely locations for wakeboarding, canoeing, sailing and windsurfing, and California is also home to some of the world's best rivers for whitewater rafting.
Winter sports
Popular culture may have California pegged as a sun-drenched state where summer lasts all year – but for some, it's all about the snow. Skiing and snowboarding are phenomenally popular here. Throughout the winter months, all eyes are on the weather reports. The snowfall in eastern California is reliable enough to ensure there'll always be several destinations with perfect conditions to choose from. Determined skiers sometimes even hit the slopes in summer, by heading for the icy heights of the High Sierra.
When the winter sports season is in full swing, downhill enthusiasts from Los Angeles head north to Mammoth, while those from the San Francisco Bay Area travel inland to the resorts clustered around Lake Tahoe. The resorts are all privately-owned commercial set-ups, and each one has its own atmosphere and appeal. If cross-country's more your thing, you'll prefer Tahoe Donner or one of the few skiing spots in a national park – Badger Pass, Yosemite. Either way, it's straightforward to rent equipment and fix up lodgings, lessons and lift tickets; the latter can be bought online in advance.
Get planning
There's a huge variety of outdoor activities on offer in California – more than enough to see you right through the year. Some activities are, of course, seasonal. Winter is the time for
skiing
,
snowboarding
, whale-watching and
desert hikes
, for example, while for
kayaking
,
rock climbing
,
whitewater rafting
and bouldering, summer is best. But other pursuits, including
walking
,
cycle touring
,
mountain biking
and
surfing
, are possible in all seasons, provided you pick your destination with a little common sense.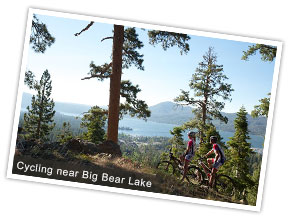 If you decide to head right out into the wilds, it's essential to wise up on a few precautions. As well as taking care not to harm the environment, it's essential to safeguard yourself from the elements, wild animals and dangerous plants.
Many of the precautious you should take are pretty obvious – only light a fire in a permitted area, for example, keep your provisions in a bear-resistant canister, never use soap or detergent near lakes and streams and, on remote stretches of coast, keep a tide table to hand. But there are others you wouldn't necessarily know: you should avoid brushing against cholla cacti or poison oak, for example, both of which can cause a painful irritation.
Some visitors book a specialised activity holiday; others choose to be totally self-sufficient, bringing all their own kit, planning their own itinerary and setting off without assistance. It's also possible to join an organised group, hire a guide or instructor or rent some gear once you're in California. You'll find plenty of individuals and companies ready to help in the many cities and towns where outdoor activity enthusiasts congregate, all over the state.
Find more information on activities in California here:
hiking and walking
,
climbing
,
cycling
,
water sports
and
winter sports
.
Responsible Travel would like to thank the California Tourist Board for their sponsorship of this guide