California travel information
California, the third largest state in the USA after Alaska and Texas, is situated beside the Pacific Ocean in the far southwest of the nation, bordered by Oregon, Nevada, Arizona and Mexico. It's easy to get here from abroad or from elsewhere in the States.
Where
The three main airports (in Los Angeles, San Francisco and San Diego) have excellent international and domestic connections. If you're thinking of doing a lot of touring, it's well worth considering an open jaw flight or two one-way flights, arriving at one airport and departing from another.
While much of the country is mountainous, railway lines and major highways follow the coast and the Central Valley, making it straightforward to get from city to city overland.
See our
map and region information
.
Travelling to California
Major international airports
Los Angeles (LAX)
California's largest and busiest airport, on the coast, 20 miles southwest of Downtown LA. Served by public buses and taxis.
San Francisco (SFO)
Northern California's principal airport, on San Francisco Bay, 14 miles south of Downtown San Francisco. Served by the BART (Bay Area Rapid Transport) rail and bus network and taxis.
San Diego (SAN)
. Conveniently located four miles northwest of Downtown San Diego. Served by public buses and taxis.
An easy way to get from any city airport to your destination is to use a door-to-door shuttle service. These are shared minibuses which stop to pick up or drop off pre-booked passengers. Shuttles charge fixed rates. They're cheaper than taxis, though not as speedy.
Train and bus services
Amtrak
.
The Cascades
train service from Vancouver (British Columbia), Seattle, Portland and Oregon connects with the daily
Coast Starlight
train service, which runs down the west coast from Seattle to San Francisco and LA. Amtrak also provides Thruway services from Chicago, Alberquerque, New Orleans, St Louis and Dallas.
Greyhound
. Connects California's major cities with many points in the US, Canada and Mexico.
Travelling around California
City transport
Each city has its own public transport network. In the major cities, there are several options: Metro trains and buses in Los Angeles; MUNI (Municipal Railway) and BART (Bay Area Rapid Transport) trains, buses, streetcars and cable cars in the San Francisco Bay Area; buses and trolleys in San Diego.
All the major cities have dedicated cycle lanes but in some cities, such as Los Angeles, these don't cover the entire city, just recreational areas. The most bicycle-friendly Californian cities are San Francisco, Santa Cruz, Santa Barbara and San Luis Obispo.
Car-free travel: by coach or train
Californians love to spend their time out and about, surfing, hiking and biking, and rely on their cars and domestic airlines to get them there. Many visitors opt to follow suit by renting a car or booking flights, but that's not the only way to get around the state.
Amtrak
. The daily
Coast Starlight
train service from to San Francisco, Sacramento, San Luis Obispo and Santa Barbara to LA and the frequent
Pacific Surfliner
from LA to San Diego are among the United States' most scenic railroad journeys. There are also train services from the San Francisco Bay Area to Truckee near Lake Tahoe and Auburn in the Gold Country, and a San Joaquin Valley line between Oakland or Sacramento and Bakersfield. A
California Rail Pass
buys you seven days of travel within a 21-day period.
Greyhound
. Intercity bus service serving practically every city in the state.
Megabus
. Low cost coach services between LA, San Francisco and Sacramento.
Driving in California
It takes around 12 hours to drive the entire length of the state. Rural freeways have a 70mph speed limit. Elsewhere, the limit is 65mph on multiple-lane highways, 55mph on two-lane highways, 35mph on city streets and 25mph in school zones. Many cities are extremely congested at peak times (7–10am and 3–7pm, Monday to Friday).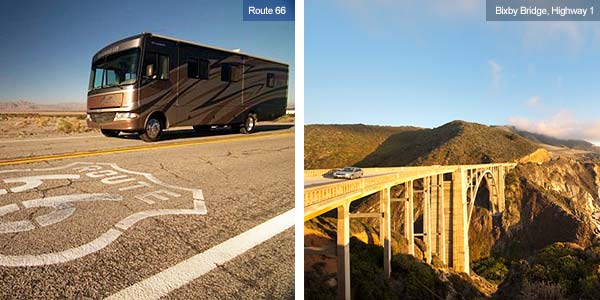 Driving distances from Los Angeles
| | | |
| --- | --- | --- |
| Destination | Miles (km) | Time |
| Santa Barbara | 95 (152) | 1 hr 30 mins |
| Palm Springs | 107 (172) | 1 hr 45 mins |
| San Diego | 121 (194) | 2 hrs |
| Fresno | 219 (352) | 3 hrs 15 mins |
| San Jose | 340 (547) | 5 hrs |
| Oakland | 370 (595) | 5 hrs 30 mins |
| Sacramento | 384 (617) | 5 hrs 30 mins |
| San Francisco | 382 (614) | 5 hrs 30 mins |
| Yosemite | 310 (498) | 5 hrs 30 mins |
| Napa Valley | 400 (643) | 6 hrs |
| Lake Tahoe | 483 (777) | 7 hrs 15 mins |
| Shasta | 618 (994) | 9 hrs 15 mins |
| Yreka | 640 (1029) | 9 hrs 15 mins |
| Crescent City | 729 (1173) | 11 hrs 30 mins |
Need to know
Business hours
Typically 9am to 5pm, but many offices and shops have extended hours.
Currency
American dollar ($, USD)
Dialling codes
To phone the USA from other countries: +1
To phone other countries from the USA: 011
Electricity
110 volts / 60Hz. Plugs have two flat pins or two flat and one round.
Emergency numbers
911 for police, ambulance or fire
History and culture
California's Native Americans lived in many small, scattered communities, thriving on the region's natural abundance. Little knowledge of their culture remains, as they had no permanent architectural structures or written texts. Long isolated by the Sierra Nevada Mountains, the Sonora and Mojave Deserts and the thick redwood forests of Northern California, they gradually succumbed to disease when they came into contact with outsiders.
The first Europeans to visit California were Spanish explorers, who landed in the mid-1500s. Colonisation began in earnest in 1769 and by 1823, over 20 Spanish Catholic missions had been built. In 1848 the discovery of gold in the American River at Coloma sparked California's Gold Rush, a frantic period which lasted barely a decade but changed many people's fortunes. During this time, in 1850, California became the 31st State. When the gold petered out, agriculture took over as California's most profitable activity.
The 20th century saw the growth of California's creative and manufacturing industries. The Hollywood boom began in 1911 and gathered pace in the 1920s, and the dotcom boom burst into life in the 1990s. In the 21st century, a state-wide interest in renewable energy and sustainable living has come to the fore.
Language
English
Recommended reading
Useful California guidebooks include The Rough Guide to California (Rough Guides, roughguides.com), California (Lonely Planet, lonelyplanet.com), California Hiking (Moon Travel Guides, moon.com), The John Muir Trail (Cicerone, cicerone.co.uk) and The Pacific Crest Trail (Cicerone, cicerone.co.uk).
And read up about
responsible tourism
in California.
State holidays
1 January – New Year's Day
Third Monday in January – Martin Luther King Jr Day (civil rights activitst, born 15 January 1925)
Third Monday in February – President's Day (honours Washington, Lincoln and all subsequent US presidents)
31 March – César Chávez Day (civil rights activitst, born 31 March 1927)
Last Monday in May – Memorial Day (honours those who have died while serving in the United States Armed Forces)
4 July – Independence Day
First Monday in September – Labor Day
11 November – Veterans' Day
Fourth Thursday in November – Thanksgiving
Fourth Friday in November – Day After Thanksgiving
25 December – Christmas
Find more
events
.
Time zone
Pacific Standard Time (PST) = GMT-8
Weather
In California, the weather and climate vary from region to region. The south and east are typically much warmer than the north and west. Temperatures can range from over 120F (48°C) in the deserts during the summer months to well below freezing in the mountains in the winter.
California's Indian Summer (mid-September to mid-October) brings pleasant weather to the entire state. Areas that are typically hot begin to cool off and the coastal regions that experience foggy, changeable conditions in summer become clear and warm.
Read about our
10 things to see and do
in California.
Find
places to stay
, including
hotels
and more
unusual
places to stay.
Written by Emma Gregg and Katie Cook
Responsible Travel would like to thank the California Tourist Board for their sponsorship of this guide