Central Coast, California
By far the most romantic, dynamic and scenic way to travel between San Francisco and Los Angeles is to take the Pacific Coast Highway down the Central Coast. This exhilarating, conservation-conscious region offers some of the very best coastal scenery in California, and indeed in the world. Its highlights include the underwater kelp forests of Monterey, the rugged cliffs and coves of Big Sur, the serene Spanish Missions and the immaculate beaches of Santa Cruz and Santa Barbara. Look out to sea and you have a chance of seeing sea otters, seals, pods of dolphins or migrating grey, blue or humpback whales. And the sunsets, of course, are out of this world.
Geography
The 350-mile Central Coast hugs California's rugged western seaboard from Monterey Bay to Santa Barbara. This mountainous region includes Monterey, San Luis Obispo, Santa Barbara and Ventura counties. Two principal road routes run through it from northwest to southeast: Highway 1, which follows the coast from Monterey and Carmel to Point Lobos, Big Sur, Willow Creek and Morro Bay, and Route 101 which runs inland down the Salinas Valley, parallel to the coast, then continues along the coast through Santa Barbara to Los Angeles.

Santa Barbara
Grant from the Santa Barbara Adventure Company talks about why Santa Barbara is the "perfect little town". [00:34]
Weather
The weather on the Central Coast can be very changeable, particularly in the cooler northern areas, but it's nearly always pleasant: daytime temperatures rarely waver beyond 64-73°F / 18-23°C all year round and by July the ocean is easily warm enough to swim in a bikini. May and September are the best months to visit. There's very little rainfall in summer but winter can sometimes bring mist and rain, with January, February and March the rainiest months.
Things to do
Explore the deep at Monterey
Monterey's superb
Monterey Bay Aquarium
, a world leader in marine research and conservation, features excellent educational displays of turtles, sharks, barracuda, jellyfish and a vast array of other species. It also promotes awareness of sustainable fishing principles among local restaurants and the wider community through its Sustainable Seafood Programme. With cute, whiskery-faced sea otters to coo over, rays you can stroke and penguins to giggle at, the aquarium is a brilliant place for kids. If it gives you a taste for the underwater world, you could book a scuba dive in the underwater kelp forest of Monterey Bay, nearby, and maybe meet a sea otter face to face.
Why not take the train or a walking tour to reduce carbon emissions
Cycle through Big Sur
South of Carmel, Highway 1 winds its way around the unforgiving contours of Big Sur, a magnificent 90-mile stretch of rocky cliffs with the Pacific surf crashing relentlessly below. Though narrow in parts, this is a favourite route for cyclists. A great place for a breather is Julia Pfeiffer Burns State Park where you can wander the redwood canyons, swim in the ocean or sunbathe on the beautiful sandy Pfeiffer Beach. For a relaxing break in beautiful, organic surroundings, you could treat yourself to a stay at the Post Ranch Inn.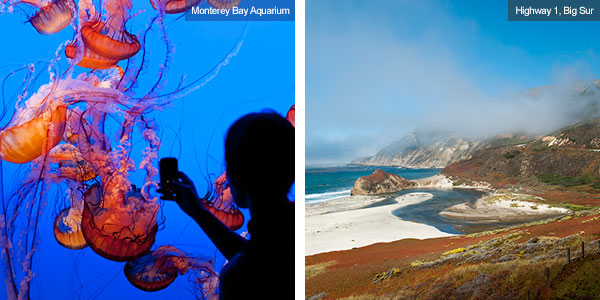 Enjoy the peace of the Spanish Missions
In the late 18th and early 19th centuries, Spanish Catholic monks made it their lives' purpose to introduce the local Native Americans to Christianity. The bases they built for themselves were centred on a church, with extensive gardens, orchards and pasture. Some of the Missions have recently been restored and are among the beautiful examples of early colonial architecture in North America.
Mission Santa Barbara
and
Mission San Miguel
and the
Carmel Mission
are among the most serene, with peaceful cloisters and pretty fountains.
Watch the scenery fly by from the Coast Starlight train
Hop on the Amtrak train at San Luis Obispo for the 100-mile run to Santa Barbara and you can admire this stunning section of the Pacific coast from the comfort of your seat. On Thursdays, Fridays, Saturdays and Sundays, volunteer guides from the Goleta South Coast Railroad Museum give talks on local heritage during the journey.
Take a Red Tile walking tour in Santa Barbara
The lovely coastal city of Santa Barbara fully deserves its reputation as the American Riviera. With charming Spanish colonial architecture, palm lined avenues and an immaculate beach, this is a thoroughly pleasant place to potter about. The Red Tile walking tour passes some of the most interesting landmarks downtown, such as the whitewashed adobe buildings of El Presidio and El Cuartel, Casa de la Guerra and the Santa Barbara Museum of Art, home to works by Chagall, Kandinsky and Miró.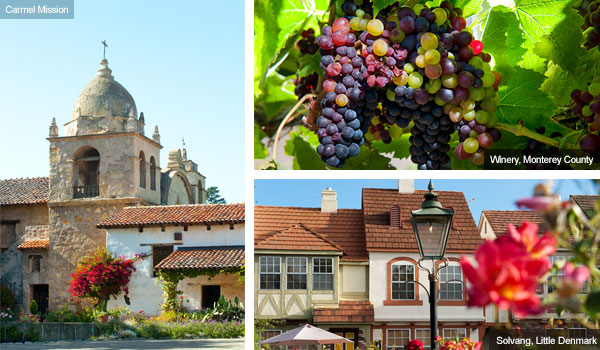 Kayak, snorkel and scuba dive in the Channel Islands National Park
Take a boat from Ventura to this chain of five protected islands, 24 miles offshore, and you can paddle around their crystal clear waters by kayak, or take the plunge and snorkel or dive in pristine kelp forests and underwater caves. If you have time to visit just one of the five and would like a true wilderness experience, perhaps camping overnight, Anacapa would make a good choice. The best time to visit is between February and April, when migrating grey whales are often seen nearby.
Discover local food and wine
San Luis Obispo is an unpretentious wine region that could well be the next big thing. The numbers already stack up: there are over 200 wineries around the small town of Paso Robles alone, producing acclaimed Syrah and Viognier. Other wine regions worth checking out include San Benito County and Santa Ynez Valley. Further north, the small town of Gilroy, south of San José, is famous for garlic – there are all sorts of delicious and eccentric garlicky treats on offer during its July garlic festival. Other foodie highlights on the Central Coast include local, organic olive oil, fruit and almonds. If you enjoy steak, try a Santa Maria barbecue of juicy sirloin, slow-cooked over a red oak wood fire.
Visit California's Little Denmark
West of Santa Barbara is a small town built 100 years ago by Danish settlers, in Danish style, complete with windmills, half-timbered houses, a Hans Christian Andersen museum and a replica of the Little Mermaid statue. Several generations on, Solvang remains a Little Denmark. Danish specialities you can sample here include ableskivers (little fruit-filled pancakes) and of course, Danish pastries.
Find more information on
California geography
and
10 things to see and do
in California
Responsible Travel would like to thank the California Tourist Board for their sponsorship of this guide