Climbing in California
Varied terrain, excellent facilities and perfect weather combine to make California a paradise for rock climbers. Whether you're an expert or an absolute beginner, you'll find plenty of challenges to test your mettle and get your heart racing – from a fun afternoon of bouldering to a multi-day ascent up the face of California's most famous rock, El Capitan.
Yosemite National Park
It's like somebody's hit the zoom button: everything looks bigger in Yosemite. Waterfalls, many storeys high, roar like thunder in spring, the trees are gigantic and granite domes tower over the valley floor.
The one that hardcore climbers all want to conquer is El Capitan, a massive, moody granite monolith on the north side of Yosemite Valley. Strictly for experts, it attracts hopefuls from all over the world. There are several routes up its sheer face to the 3000ft (900m) summit, all strenuous.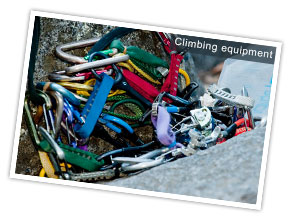 Professionals occasionally make a play for the speed climbing record by zooming up the prow, called The Nose. At the time of writing, the record stands at just under two and a half hours. But a team of fit, experienced climbers will typically spend four or five days in the ascent, hauling their gear with them and camping overnight on the sheer walls. If you're wondering how this works, visit
www.nps.gov/yose
, which has loads of useful information including how to improvise that most crucial piece of kit, the poop tube.
Luckily for less experienced climbers, Yosemite also offers more modest challenges. Among the best intermediate-level walls are Washington Column, Leaning Tower and Liberty Cap.
Such is Yosemite's popularity that the national park authorities have put regulations and guidelines in place in an attempt to minimise litter, erosion and destruction of delicate flora.
Rock climbing
Sabra, owner of Cliffhanger Guides rock climbing tours talks about climbing in the Sierras and El Capitan in Yosemite National Park. [02:07]
Alabama Hills
This highly scenic but relatively low-key destination just south of Lone Pine, near Sequoia National Park, is graced with beautifully weathered, ochre-coloured metamorphosed volcanic rocks, created 150 million years ago. Huge, potato-shaped boulders of 82-85 million year old biotite monzogranite are also found here, many standing on end. The other attractions for boulderers and climbers are the dozens of natural arches with names like Mobius, Lathe, Eye of Alabama and Whitney Portal.
Joshua Tree National Park
This world-class SoCal park spans two deserts, the Mojave and the lower Colorado. Almost as famous among climbers as Yosemite, it has more than 400 climbable rock formations featuring 8000 short routes of varying levels of difficulty. Most of these are fairly low (under 230ft / 70m) and a large number are easy to reach on foot, so it's possible to string together several climbs in a single day. Originally, climbers would only come here in winter when the Sierra Nevada was choked with snow; these days it's a popular destination in its own right.

Joshua Tree National Park
Sabra, owner of Cliffhanger Guides climbing tours, talks about the bohemian spirit, climbing and wildlife in Joshua Tree National Park and the desert. [02:02]
Stoney Point
Overlooking Chatsworth, a northern suburb of Los Angeles, these impressive sandstone outcrops are popular with boulderers. There's a good variety of routes to choose from. It's best avoided for a few days after heavy rain, as this can make the sandstone dangerously crumbly – and on a hot summer day, you'll fry.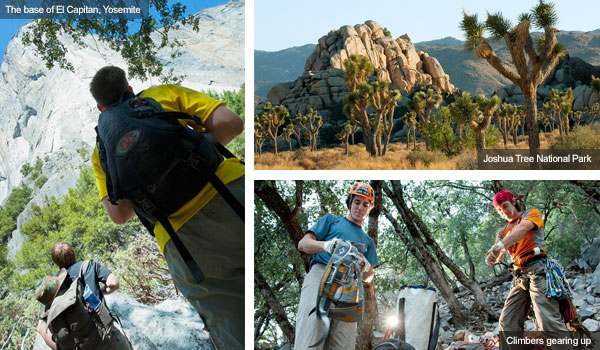 Pinnacles National Monument
Popular with Bay Area climbers of all abilities, this is a superbly spiky-looking range of volcanic breccia around 40 miles inland from Monterey. Its interesting geological form provides many natural hand and foot holds and there are numerous routes to follow. The weather here is typically dry and comfortable all year round and the trails attract hikers as well as climbers. Interestingly, bees love it too – over 400 (generally harmless) species are found in the park, making it the world's leading bee diversity hotspot.
Bishop and Mammoth Lakes
Southeast of Yosemite and around 40 miles apart, these twin towns make up the outdoor adventure capital of the Eastern Sierra. Here, rock climbers mingle with hikers, fly-fishermen, mountain bikers and, in winter, skiers. From Bishop, the main targets are the High Sierra peaks around Rock Creek, around 20 miles north, and Tuolumne in northern Yosemite, both of which are best tackled in summer. Mammoth Lakes is within easy reach of Mammoth Mountain, a broad-based volcano which can be climbed at any time of year. At weekends, both towns are stuffed with weekenders from LA.
Truckee
The small town of Truckee, north of Lake Tahoe, is a good base for climbing Donner Summit. Except in winter, when the area can be snowbound, the granite crags are easily accessible, just ten minutes or so on foot from the main road. There's masses for climbers to choose from here, including bouldering, sport climbing and traditional climbing routes with beautiful views of Donner Lake and the forest surrounding it.
Find more information on activities in California here:
hiking and walking
,
cycling
,
water sports
and
winter sports
Responsible Travel would like to thank the California Tourist Board for their sponsorship of this guide