Cycling in California
Californians love cycling – in fact, they proudly claim to have invented mountain biking. The locals like to get around by car every bit as much as other Statesiders but when it comes to travelling just for fun, cycling is big news. The eight-day AMGEN Tour of California, the state's answer to the Tour de France, attracts crowds of spectators in May each year. But plenty of Californians like to do more than just watch professionals on the move. Whether you're a triathlete, a tourer, a mountain biker or an occasional cyclist who just fancies bowling along the beachfront, set off on two wheels and you'll find yourself among kindred spirits.
To make the most of the possibilities, you could plan your whole trip around cycling. Several companies organise guided group rides lasting anything from a couple of hours to a couple of weeks, or longer.
Urban cycling
Cycle in San Francisco? With all those hills? Are you crazy? In fact, the city is pretty cycle-friendly and has plenty of bike shops where you can hire whatever you need. Golden Gate Park, in particular, is a beautiful place to pedal around, with over 75 miles of dedicated trails. Cycling the toll-free pavements across the Golden Gate Bridge to Sausalito is a thrill, and you can hop back by ferry.
In Los Angeles, head for the South Bay Bicycle Trail, which stretches for 22 miles from just north of Santa Monica to the South Bay. Nothing can beat the feeling of mingling with the other cyclists, skaters, skateboarders, runners and walkers on this quintessentially Californian beachfront route. Santa Barbara has well-marked cycle paths, too, including a three-mile recreational path along the attractive waterfront.
Cycle touring
With a little imagination, there's no limit to the long-distance itineraries you could cook up. The Pacific coast route is an obvious target – its highlights include the remote north, where the beaches are wild and empty, and Big Sur, where Highway 1 snakes dramatically in and out, following the striking, rugged contours. Then there's the Monterey Peninsula Recreational Trail, an 18-mile track which follows a disused railway line and connects with the marvellously scenic 17-Mile Drive between Pacific Grove and Carmel.
Inland, Sonoma County is a good region to explore, with relatively traffic-free backroads leading through fine scenery with the option of stopping off every now and again to check out a winery. The small, attractive town of Healdsburg makes an appealing base, especially in early autumn, harvest time, when the weather is mellow and the vines are heavy with ripe grapes.
Although much of your CO2 impact will depend on how you've travelled to California, Cycling and using local transport is a great way to reduce emissions on arrival
Humboldt Redwoods State Park is inspiring in an altogether monumental way – take the winding, 32-mile Avenue of the Giants and you'll be cycling alongside magnificent redwoods, the skyscrapers of the natural world. And for the most monumental scenery of all, there's Yosemite – stick to the relatively flat paved routes on the valley floor and you can see a lot of this superb national park in a short visit.
If you're up for a long-distance intercity challenge, you could join a two-week cycling holiday which starts in San Francisco, cruises through Napa Valley, alongside the Pacific Ocean, up to Point Reyes National Seashore, back round San Francisco, down to Monterey, through the Central Coast Wine Country and on down the coast to Santa Monica. You'll enjoy a lot of spectacular sightseeing from the saddle, with some excellent places to stop for a breather along the way.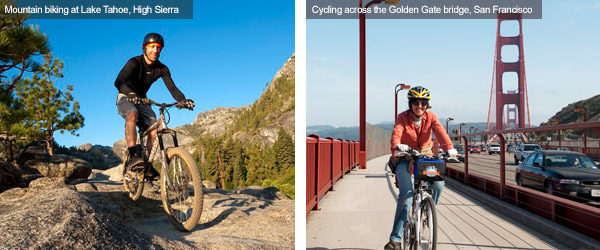 Mountain biking
California was the birthplace of mountain biking, so where better to put a pair of chunky tyres through their paces? Mount Tamalpais (Mount Tam) in Marin County, Northern California is the place where it all began. Here, in the 1970s, a bunch of hippies, athletes and geeks reinvented the wheel by customizing heavy 1930s bikes and bombing downhill on them for a rush. Ever since mountain biking went mainstream, Mount Tam has grown steadily more popular, with great woodland tracks and occasional ocean and bay views as a bonus. It's linked into the Bay Area Ridge Trail, an ongoing multi-use trail project.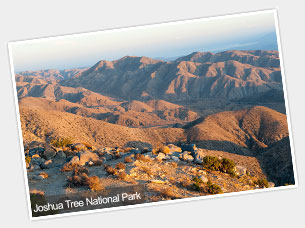 When the snow recedes from the Eastern Sierra ski resorts at the beginning of summer, they turn into great places to ride. Top choices include the superbly steep, 70-mile dirt track on Mammoth Mountain and the marked trails close to the shores of Lake Tahoe.
If you're visiting in winter instead, you could take a bike to the deserts of Southern California. Joshua Tree National Park and Death Valley National Park both have stunningly austere arid landscapes to explore. Off-roading isn't allowed here, but on two wheels, you can leave the relatively busy paved roads behind and head off along the empty backcountry roads, surrounded by nothing but sand, scrub and sculptural cacti.
Common sense cycling
There are, of course, some common sense safety matters to take into account, including keeping an eye on weather and climate conditions. On the whole, the Californian climate is highly conducive, but it's wise to stay away from the deserts in summer and the mountains in winter. Under 18s must wear a cycle helmet, by law, although helmets are not compulsory for adult riders. National park rules ask that you respect the wilderness and stay on the tracks (either paved or dirt) in order to minimise soil erosion. And if you're heading off into the wild, make sure you're well stocked with water, maps or a GPS and a basic repair and survival kit.
Responsible Travel would like to thank the California Tourist Board for their sponsorship of this guide