Gold Country, California
When James W Marshall first found gold at Sutter's Mill on the American River near Coloma in 1848, his discovery launched an era which transformed the Californian landscape. A walking tour of the Californian state capital, Sacramento, will introduce you to people, places and events from this fascinating, fast-moving period of time.

You can learn more by touring a few of the Gold Country's attractive and entertaining historic towns and museums. Many of these are dotted along Highway 49, which will also lead you to some excellent wineries. Alternatively, for present-day white-knuckle excitement, you could test your mettle on the region's gnarly whitewater rapids and mountain biking trails.
Geography
The Gold Country lies on the lower western slopes of the Sierra Nevada in central California. It includes the state capital, Sacramento, and the towns of Nevada City and Plymouth. A major highway, Interstate 80, links the region to San Francisco and Nevada and a more historic road, Highway 49, runs across it from north to south.
Weather
Summer in the Gold Country is truly golden with hot, dry days, perfect for ripening grapes on the vine. Temperatures typically reach around 95°F / 35°C by day in Sacramento and are only slightly cooler in the south; July can be scorching. Winter can be cold, with rain and snow, but the temperature normally stays above freezing.
Learn about the places, people and events that shaped California's history with a local guide and tour of Sacramento
Things to do
Visit the state capital, Sacramento
Sacramento has been California's state capital since 1850 and its grand, neoclassical
State Capitol
was completed 24 years later. Free tours of the cool, marble interior are conducted daily, on the hour. The building is surrounded by gardens dotted with exotic trees. Just a short stroll away is the California Museum (californiamuseum.org) which gives an upbeat account of state history and culture. The oldest part of the city, Old Sacramento down on the riverfront, features many buildings dating back to the Gold Rush era. Train buffs won't want to miss the California State
Railroad Museum
, which has several beautifully restored locomotives. Round off your visit with a treat in one of Sacramento's vintage ice cream parlours, an evening in an elegant old movie house or a drink in a friendly speakeasy or dive bar. The Downtown Sacramento Partnership (downtownsac.org) runs guided tours.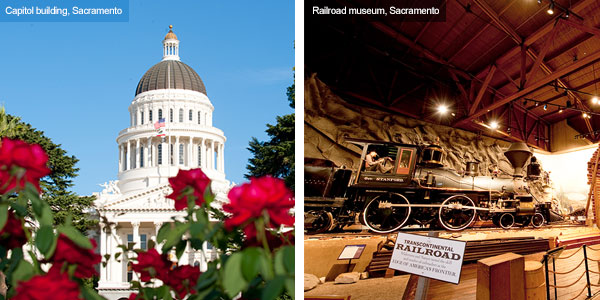 Visit the historic goldmining town of Nevada City
With narrow, maple-lined streets of elegant Victorian buildings with wrought iron balconies, Nevada City is everyone's idea of a perfect little country town. Stroll along Main Street and Broad Street to browse antique shops for vintage toys and books, or treat yourself to a Cornish pasty for lunch – the goldmines near Nevada City used to bring Cornish miners to the town. At the Nevada City Winery, you can sample vintages from one of the state's oldest vineyards. Nevada City is a good base from which to explore the places of interest along Highway 49, such as Downieville, the Empire Mine State Historic Park, Auburn, the Amador wineries and Columbia State Historic Park.
Hit the single-track mountain biking trails at Downieville
The supremely attractive Gold Rush town of Downieville is a favourite destination for mountain biking. A famous cross country race, the Downieville Classic, takes place each August, with crowds of riders tearing along a ruggedly picturesque, 29-mile course from Sierra City to Downieville. Hiking and off-road motorcycling are popular here, too.
Empire Mine State Historic Park
Situated near Grass Valley, the largest and richest mine of the Gold Rush era is now a verdant state park (empiremine.org) where you can admire some of the mechanical contraptions that helped make people's fortunes. More than 5.8 million ounces of gold – an astonishing 181 tons or 164,427kg – were extracted here.
Go whitewater rafting on the American River
The American River is wildest in winter, but it's still a bubbling, foaming torrent in summer, when anyone who can get their hands on a tube or raft jumps in to bump along its forks. Auburn has several rafting companies who will give you the ride of your life down the famous South Fork rapids. Coloma, the heart of Gold Rush country, is also a popular launch spot.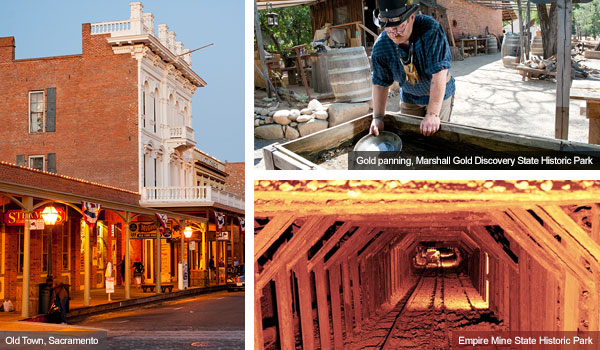 Admire the ancient mortars at Indian Grinding Rock
If you're interested in Native American history, head for Indian Grinding Rock State Historic Park near Pine Grove, east of Sacramento. This small park was created to preserve a slab of marbleiszed limestone bedrock dotted with faint petroglyphs and with almost two thousand small cup-like holes, made by Miwok Indians grinding acorns and seeds for food. First used as much as 3000 years ago, this grinding rock is the largest example of its kind.
Pan for gold at Columbia State Historic Park
Time-travel to the 1850s by visiting this open air museum of the Gold Rush era. Columbia is a real town in that people live here, but its beautifully preserved hotels and shops are manned by people in period costume who re-enact the past. Take a wander here and you'll feel as if you're strolling around a movie set. That's not far from the truth, as film crews regularly use Columbia as a location. There are fun activities on offer, including panning for gold and dressing up for vintage-style photos.
Ride a vintage steam train in Jamestown
The small town of Jamestown, southern gateway to the Gold Country, is home to Railtown 1897 State Historic Park (railtown1897.org), situated on the old Sierra Railway of California. The park is home to a lovingly preserved collection of vintage steam trains, many of which have starred in Hollywood movies. Train rides are offered at weekends from April to October.
Find more information on
California geography
and
10 things to see and do
in California.
Responsible Travel would like to thank the California Tourist Board for their sponsorship of this guide