High Sierra, California
The High Sierra region is California's mountainous backbone. Home to magnificent valleys, waterfalls, rocks and peaks, gorgeous wildflower meadows and many of the oldest, most massive trees on the planet, this is a region which makes a powerful impact on the senses. It inspired Ansel Adams, arguably the greatest ever American landscape photographer, and it continues to inspire countless artists, walkers, climbers, naturalists and skiers.

The options for outdoor activities are practically endless. Best of all, the winter sports hubs of Tahoe and Mammoth are within a manageable driving distance of the Pacific coast – so if you've ever wanted to surf in the morning and ski in the afternoon, this is the place.
Geography
Marking the eastern limit of Central California, the High Sierra is a thinly populated, mountainous region which includes the Sierra Nevada ranges and the towns of Truckee on the northwest shore of Lake Tahoe and Mammoth Lakes further south. Within the region are some of California's most remarkable national parks, Yosemite, Kings Canyon and Sequoia, noted for their dramatic mountain scenery, waterfalls and forests.
Weather
Summer days in the High Sierra are clear, sunny, dry and often surprisingly hot, with temperatures in July and August averaging 95°F / 35°C. Winter can be cold: the temperature hovers around freezing in December, January and February, with the heaviest snowfalls in February. Up in the mountains, there's snow on the ground throughout the winter months, sometimes lasting until early June on Mammoth Mountain. In the peak season for skiing and snowboarding, reports of fresh powder send winter sports fans tearing along the highways to the resorts to make the most of it. Once the melt gets underway in March and April, Yosemite's waterfalls gush with full force – they're at their best in May and June.
Things to do
Walk in Ansel Adams' footsteps
Ansel Adams, who made many visits to Yosemite during his photographic career, did much to cement the image of the Californian wilderness onto popular consciousness. The small but rewarding
Ansel Adams Gallery
in Yosemite Valley sells limited edition Ansel Adams prints and runs guided camera walks to some of the spots which inspired Adams' best work.
Hike up Half Dome in Yosemite National Park
Of all the hikes in Yosemite, this is the one that everyone wants to try. It's popular, so you need to book a permit in advance visit
www.nps.gov
and
www.recreation.gov
for details. Every summer and autumn, a pair of cables are fixed onto the face of this magnificent granite peak to act as handrails for hikers as they make the final 400ft/122m climb to the summit. In hot weather the steep ascent can be tough going, but the glorious views will fill you with a tremedous glow of achievement.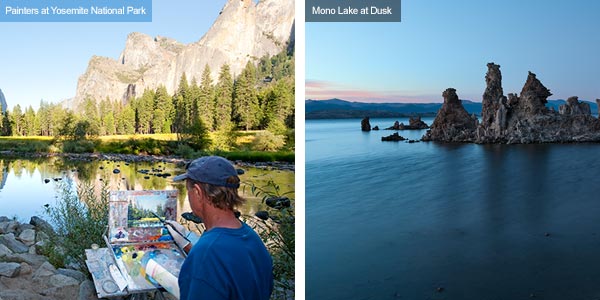 Go green in Yosemite
Yosemite National Park encourages visitors to keep the landscape pristine and protect the wider environment by following straightforward guidelines. You can make your visit even greener by travelling into the park by YARTS public bus, then getting around on the park's free hybrid shuttle service.
Go green in Yosemite. Travel into the park by YARTS public bus, then get around on the park's free hybrid shuttle service.
Chill out in Mariposa
If you'd like to base yourself in a town while you explore Yosemite, Mariposa is the best choice. This friendly little Gold Rush town is home to California's oldest courthouse, which has been in continuous use since 1854. Mariposa County has a reputation for rural tranquility – there are no cities in the county, just small towns, and no traffic lights.
Marvel at Mono Lake
Mono Lake, which Ansel Adams captured in black and white in the 1940s, has inspired countless other photographers before and since. Situated immediately east of Yosemite National Park, it has an eerily ancient atmosphere, the tufa columns on its bank adding a touch of surrealism to the scene, like props from a sci-fi movie set. Staff at the
Mono Basin Scenic Area Visitor Centre
run informative tours in summer.
Go whitewater rafting on the Kern River at Kernville
Spend a few hours on the thumping, foaming Kern River and your adrenaline levels are sure to hit a new high. There are several professional rafting operations in Kernville who will take you out for a half day or full day trip, anytime in spring and summer. Even absolute beginners can give this heart-racing sport a go.
Camp out at the Giant Sequoia National Monument
To see the world's most massive tree, General Sherman, and four of its near rivals, head for the Giant Forest in Sequoia National Park. This park has the world's greatest concentration of mighty Sequoiadendron giganteum, the largest of the redwood species. They're certainly impressive, but if you'd prefer a quieter wilderness experience, it's worth continuing south to the Sequoia National Forest. It was relatively recently, in 2000, that its giant sequoia groves were declared a National Monument. Among them is the sixth largest sequoia in the world, the Boole Tree. Before the logging boom of the turn of the 20th century, it had many equally gigantic neighbours. It's presently over 268ft/82m tall and 113ft/34m in circumference, with an estimated bole volume of well over 40,000cuft/1200m3. Pitch a tent at Princess Campground to enjoy the gentle company of these giants.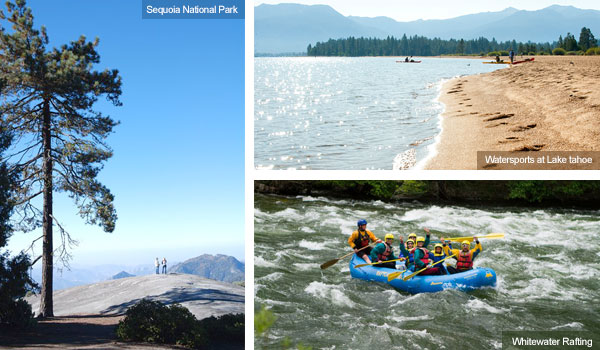 Learn to stand-up paddleboard on Lake Tahoe
Make this the year you learn a new watersport. If you haven't tried stand-up paddleboarding yet, Lake Tahoe is a brilliant place to start. The clear, shallow water is so inviting, you won't mind a bit if you fall in. It's good for kayaking, too – you can paddle from lodge to lodge. The best time for both sports is May through to October.
Spend a winter's day in Squaw Valley
Lake Tahoe is surrounded by many superb skiing and snowboarding destinations, but the one that's consistently voted the best is
Squaw Valley
. Start the day by grabbing a coffee at North America's first ski-in Starbucks, then hit the slopes. For a change of scene, have a go at snowtubing or dogsledding, practice a few twirls on the skating rink or get a fresh perspective on the landscape by heading off on a short cross country or snowshoeing trip. When you're ready to refuel, you can choose from welcoming, family-friendly eating options. And when you're ready to unwind, the hot tub is waiting.
Mountain bike down Mammoth Mountain
When the snow disappears from the ever-popular winter sports resort of
Mammoth Mountain
, mountain bikers move in for the summer shift, letting the gondolas and shuttles carry them in style to the Bike Park trailheads near the summit. There are 90 miles of summer trails to try. Beginners can opt for easy-going runs with safe-sounding names, while experts test themselves to the limit on the Chain Smoke, Velocity and Kamikaze trails. To soothe your aching muscles afterwards, head for the Travertine, Crowley or Buckeye hot springs.
Find more information on
California geography
and
10 things to see and do
in California.
Responsible Travel would like to thank the California Tourist Board for their sponsorship of this guide