Microbreweries in California
California's growing craft brew scene is really making waves. Founded by a tiny Sonoma brewery called New Albion Brewery in the 1970s, this young industry is now evolving rapidly. It has yet to establish recommended brewing procedures and as a result, the brewers are only limited by their imagination – so their flavourful beers keep getting better and better.
In order to be classified as a microbrewery, the brewery must own no less than 75 percent of the operation and must produce no more than two million barrels of beer per year. New Albion Brewery used to produce under 400.
Today, microbreweries and brewpubs are located throughout the state, but
San Diego
has the most dynamic beer scene of all. There are over 50 microbreweries or brewpubs here and more pubs seem to open every month.
It was
Stone Brewery
that ignited the San Diego craft beer movement. When it opened in 1996, its extreme flavours rocked people's senses; it has since grown into one of San Diego's most successful microbreweries, with an amazing restaurant and beer garden. You either love or hate the taste of their strong beers, but luckily there are plenty of fans. Arrogant Bastard Ale, one of Stone Brewery's most bitter beers, is the top seller.
The local distinctiveness of food and drink depends on visitors seeking out and supporting these small scale businesses
While Stone Brewery is large for a microbrewery,
Hess Brewing
, San Diego's first nano-brewery, is possibly the smallest. They handcraft their beer in 50-gallon batches – that's just 1.6 barrels at a time. All their equipment is handmade and their beer recipes are unique.
San Diego isn't the only place with a booming microbrewery scene. Up in
Northern California
, microbreweries mingle with wineries on some of the well-known wine trails.
Anderson Valley Brewery
near Mendocino features an 18-hole disc golf course (where you throw frisbees into targets) as well as a tasting room. In nearby Healdsburg is
Bear Republic Brewing
, whose Racer 5 IPA can be found on grocery store shelves and on tap across the state.
Another well-known North Coast microbrewery is
Lagunitas Brewing
in Petaluma. Lagunitas offers tastings, tours, and occasional live music shows in their outdoor beer garden. As the taproom always has special brews that can only be found on the premises, it's well worth dropping in.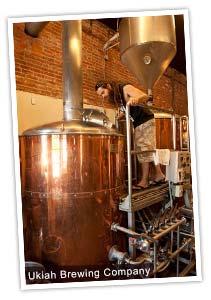 The
Sierra Nevada Brewing Company
in the small city of Chico in the Sacramento Valley, an energy-efficient brewery dedicated to using sustainable ingredients and packaging, produces a Pale Ale that's the second best-selling craft beer in the United States, after Samuel Adams Boston Lager, and is exported to the UK.
And in Huntington Beach, Orange County,
Brewbakers
offer beer-lovers an original twist – you can drop into their brewery and bakery to brew your own. They have a loyal local following, and even sell rhizomes so that their fans can plant their own hop garden at home.
Many microbreweries are tucked away in business parks rather than on grand estates, so tracking down tasting rooms can often be a bit of a scavenger hunt. However, luckily for craft beer fanatics there are several beer festivals that are worth checking out.
Going strong for over 20 years, the
Sierra Brewfest
takes place each August in the Sierra Nevada foothills. Craft brewers from across the state make the pilgrimage to this weekend event. Another long-runner is the one-day
San Diego Festival of Beer
in September which features more than 70 microbreweries, many of them local.
Mendocino's
Boonville Beer Festival
takes place each May and features beer from over 60 craft brewers. This large event is a little off the beaten path, but first come, first served camping is available on the festival grounds making it a fun weekend getaway.
Like wine-lovers, craft beer connoisseurs are experimenting with food pairing. Creative caterers
Community Tap and Table
in Sacramento run classes and events to help you find out exactly which dishes bring out the best in your favourite tipple.
Whether you choose to find your new favorite brew at a beer festival or you prefer to belly up to the bar, California's microbreweries won't let you down. Be warned, once you start sampling some of the award-winning craft brews, you'll never look at a Budweiser in quite the same way again.
Find more information on
farm to fork
produce and
wineries
in California
Written by Emma Gregg and Katie Cook
Responsible Travel would like to thank the California Tourist Board for their sponsorship of this guide