Museums in California
California has an abundance of excellent museums, many of which are commendably eco-friendly thanks to a commitment to the state-wide Green Museums Initiative.

It would be impossible to cram more than a handful of museum visits into a short stay without missing out on the other amazing experiences the state has to offer, so help you decide which to choose, we've picked out some favourites.
History of California
Alcatraz Island
San Francisco. Take the ferry to the site of the USA's first military prison, where Civil War deserters and Native Americans were cooped up in the 19th century and Al Capone did time in the 1930s. For maximum creepiness, take a twilight tour.
Bodie State Historic Park
Bodie, High Sierra. Visit the best preserved ghost town in the Wild West, an atmospheric huddle of timber shacks built by gold miners in the late 1800s. It's fascinating to visit: the general store and workshop are still stocked with goods and some homes still have their original furnishings and decorative oddments.
California Museum
Sacramento. Presents a commendably balanced account of Californian history through exhibits on Native American culture, Japanese immigrants and the technology boom.
Columbia State Historic Park
Columbia, Gold Country. Columbia is a perfect example of a Gold Rush Town; the entire 1850s business district is an open-air museum.
Empire Mine State Park
Grass Valley, Gold Country. The Empire was California's oldest and most productive gold mine. Costumed guides show you around the owner's 19th century cottage. From 2014, you'll be able to take an underground tour of the mine.
Mission San Antonio de Padua
Central Coast and
Mission San Juan Capistrano
Orange County. These are two of the most tranquil and evocative of the 18th century Spanish Missions dotted along Highway 101, with lovely gardens to wander in and lovingly restored ecclesiastical architecture to admire.
Oakland Museum of California
Oakland. This modern museum celebrates Californian ecology, history, art and technological prowess. Prize exhibits include prints by Dorothea Lange, a Depression-era photographer whose work helped engineer social change.
La Plaza de Cultura y Artes
Los Angeles. This sleekly designed new museum tells the story of LA's Mexican-American heritage.
United States and world history
Maritime Museum
San Diego. This outstanding collection of historic ships includes the Star of India, a splendid 1864 merchant bark that's the world's oldest active sailing ship, and HMS Surprise, which appeared in the movie Pirates of the Caribbean: On Stranger Tides.
Ronald Reagan Presidential Library
Los Angeles. Offering fascinating insights into Reagan's career in acting and politics, this museum features Reagan family memorabilia and a recreation of the Oval Office as it was in the 1980s.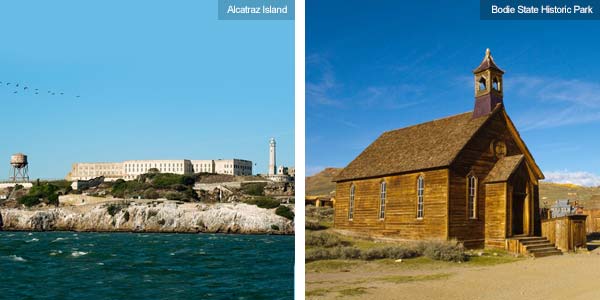 Culture and community
Bowers Museum
Santa Ana. In attractive 1930s Mission Revival and modern buildings, this museum exhibits African, Asian, South Pacific, Pre-Columbian and native American art and has a wing for kids (see below).
GLBT History Museum
San Francisco. The USA's first museum devoted to gay, lesbian, bisexual and transgender culture, with a permanent collection of documentary photography and artifacts and a busy programme of films and other events.
The Grammy Museum
Los Angeles. Located in LA Live, Downtown LA's entertainment complex, this popular music museum celebrates the Grammy Award winners with recordings, videos and ephemera such as stage costumes and hand-written lyrics.
MACLA
San José. The contemporary arts space at the Movimiento de Arte y Cultura Latino Americana stages thought-provoking exhibitions and events on life in the United States seen through Latino eyes.
Mendocino Art Center
Mendocino. This large community arts hub hosts cultural events and exhibitions of paintings and sculpture by local creatives.
Museum of Man
San Diego. One of many museums located in San Diego's gorgeous Balboa Park, this is a fascinating exploration of the hominid fossil record and early civilisations including the Maya and the Ancient Egyptians.
Yosemite Museum
Yosemite National Park. This, the oldest purpose-built museum in a United States national park, presents clothing and everyday objects used by the Ahwaneechee people, native to the Yosemite Valley.
Preservation of cultural heritage and diversity is an important part of responsible tourism, your entry fees and any donations you feel able to give are are vital for conservation
Fine and contemporary art
Getty Center
Los Angeles. Designed by Richard Meier, this is a massive, modernist temple to art and the influence of its founder, oil baron J Paul Getty. It houses substantial collections of ornate furniture, decorative objects and photography.
Hearst Castle
Central Coast. The former holiday retreat of William Randolph Hearst is California's stateliest home, with outrageously extravagant interiors and masses of art – even in the many pools.
Los Angeles County Museum of Art
Los Angeles. Come here for works by Andy Warhol, Jeff Koons, Roy Lichtenstein and Ansel Adams, plus European greats such as Rembrandt, Cézanne and Magritte. This is one of the USA's leading art museums.
Museum of Contemporary Art
Los Angeles. Spread over three sites in the city, MoCA is home to breathtaking work by Mark Rothko, Jackson Pollock, David Hockney and other 20th century legends.
Museum of Contemporary Art
San Diego. MCA San Diego is Southern California's best art museum outside LA, with fine collections of Pop Art and indigenous Mexican art and headline-grabbing temporary shows. There's a second branch in the plush oceanfront enclave of La Jolla.
Orange County Museum of Art
Newport Beach, Orange County. This satisfying museum specialises in 20th and 21st century Californian art and has a lively programme of short-term exhibitions.
Palm Springs Art Museum
Palm Springs. Housed in one of Palm Springs' many examples of striking 20th century architecture, this collection includes work by renowned Californian artists and sculptures by Henry Moore and Barbara Hepworth.
The San Diego Museum of Art
San Diego. Broad in scope, this American and international fine art collection is a centrepiece of Balboa Park. It's particularly strong on Spanish greats such as El Greco, Velázquez and Goya.
San Francisco Museum of Modern Art
San Francisco. With cutting-edge exhibitions and unsurpassed American photography from the likes of Ansel Adams and Diane Arbus, SFMOMA is a world leader. The collection will be scattered around various San Francisco venues from June 2013 until early 2016, when a newly revamped building will be unveiled.
Santa Barbara Museum of Art
Santa Barbara. American landscape painters are well represented in a collection which also includes works by Chagall, Miró and Kandinsky.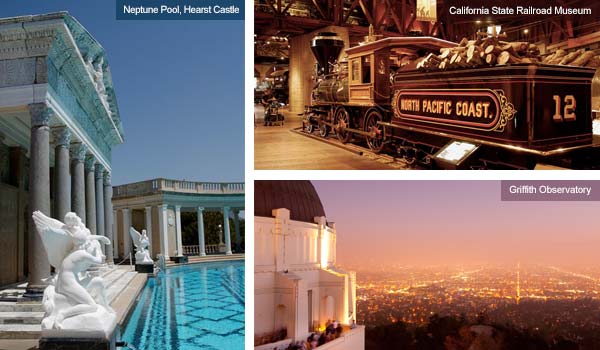 Science
California Academy of Sciences
Golden Gate Park, San Francisco. The Academy has been around since the 1850s, but the current incarnation of its natural history museum, completed in 2008, couldn't be more modern. Architect Renzo Piano designed the building to be eco-friendly in the extreme and it has received a Platinum certification under the LEED (Leadership in Energy and Environmental Design) scheme. Inside are three main exhibition areas – natural history exhibits, a planetarium and, in the basement, an aquarium arranged around the lower storey of a rainforest that stretches right up to a dome in the roof. Star residents include a colony of African penguins, sharks and Nemo-like clownfish.
Chabot Space and Science Center
Oakland. Massive, state-of-the-art museum with epic exhibits, working telescopes and planetarium shows.
Griffith Observatory
Los Angeles. Located in Griffith Park, this boasts an impressive arsenal of telescopes, a planetarium and exhibits on the history of astronomy.
Natural History Museum of Los Angeles County
Exposition Park, Los Angeles and
Page Museum
La Brea Tar Pits, Los Angeles. NHM occupies a florid Spanish Revival building and gives pride of place to casts of dinosaur fossils. Many of them were retrieved from La Brea Tar Pits in West LA; head over there and you can continue your dinosaur trail at NHM's satellite museum, the Page.
San Diego Natural History Museum
San Diego. As well as child-pleasing displays on dinosaurs and crocodiles, this museum covers climate change and more whimsical topics such as man's relationship with horses, plus a new section on Californian habitats.
Tech Museum of Innovation
San José. In the heart of Silicon Valley, this hugely popular museum is a must for fans of robots, virtual reality and CAD programming.
Transport
California State Railroad Museum
Sacramento. This is the largest railroad museum in the United States, home to gleaming locomotives, an intact Pullman sleeper and wonderful old diner cars.
Railtown 1897 State Historic Park
Jamestown, Gold Country. An essential stop for vintage train buffs, with beautifully restored steam locomotives.
Museums for kids
The Bowers Kidseum
Santa Ana, Orange County. The children's wing of Santa Ana's highly popular general interest museum has plenty to occupy curious young minds.
California Science Center
Los Angeles and Discovery Science Center (discoverycube.org) Santa Ana, Orange County. Though not exclusively for kids, these far-reaching museums about space, the planet and the human body are supremely youngster-friendly, with plenty of simulations, buttons to press and games to play.
Children's Creativity Museum
San Francisco. This imaginative, educational centre is all about what they like to call the 21st century three C's – creativity, collaboration and communication. Visitors can record songs, invent machines and take crash courses in stop-motion animation.
Children's Discovery Museum
San José. Fun, with a host of interactive exhibits and play areas to teach children about the environment, art and technology.
Exploratorium
San Francisco. Highly rated science museum that encourages kids to find out answers to scientific questions by seeing, touching and doing. Its new site at Pier 15 opens in April 2013.
Find more information on attractions in California here:
spa and wellness
and
urban attractions
Responsible Travel would like to thank the California Tourist Board for their sponsorship of this guide